Introduction
This is an analysis to see:
How Tesla (NASDAQ:TSLA) compares to the sector on some of the main financials (R&D, gross margin, SG&A).
Whether Tesla will be able to use revenue to finance the R&D necessary for its expansion plans and be profitable at the same time.
The reason to focus on these two questions is that I see opposing arguments: bulls point to a gross margin of about 25% comparing favorably to General Motors (NYSE:GM) and Ford (NYSE:F). They argue that increased revenue will provide the necessary funds for expansion. Bears point to losses that they claim will never turn into a profit.
The analysis will focus on whether there is or will be room on the income statement for R&D expenses without incurring losses. I will not touch upon the cash flow side of things. All data used come from or are derived from financial statements from the companies mentioned.
Let's start with an overview of yearly revenue and profit/loss: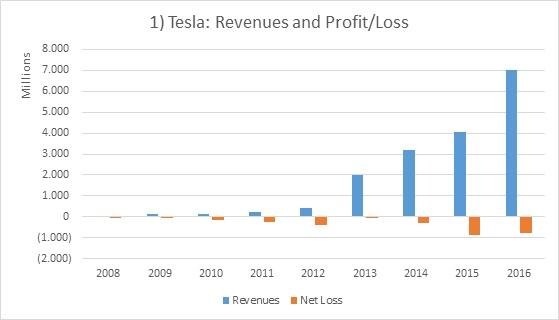 Revenues have clearly increased strongly. Unfortunately, losses have too. The same pattern continues into Q1 2017. Let's break this down into some key financials as reported by Tesla, relative to total revenue: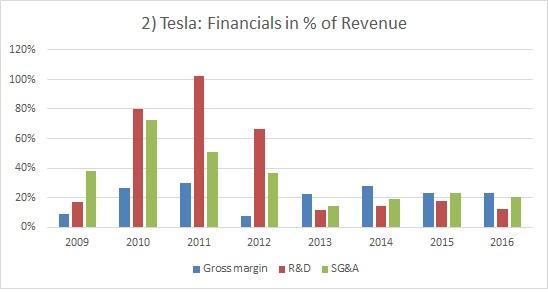 The period up until 2012 was a start-up phase with wild fluctuations of gross margin, research and development (R&D) and selling, general and administrative (SG&A), making it unsuitable for extrapolation. The analysis will be based on the more stable years starting from 2013.
Tesla's Gross Margin compared to the Industry
Gross margin is on average 24% over the last four years. Not bad, especially when compared to the competition such as General Motors with a meager 11%. However… this depends on an important question:
Is Tesla's reporting practice of gross profits in line with the rest of the sector?
The answer is a resounding and unequivocal: "That depends on who you compare with."
I will compare Tesla to the major car companies because that is what tends to be done by bulls and because they have a similar market cap.
Tesla does not include R&D expenses in cost of sales. Some companies don't either but Ford, General Motors, BMW (BMW.DE) and Mazda (OTCPK:MZDAY) do include R&D. Since gross margin is calculated as revenue divided by cost of sales, naturally this inclusion leads to a lower gross margin.
Accounting for R&D for an apples-to-apples comparison of average gross margin over the last four years leads to: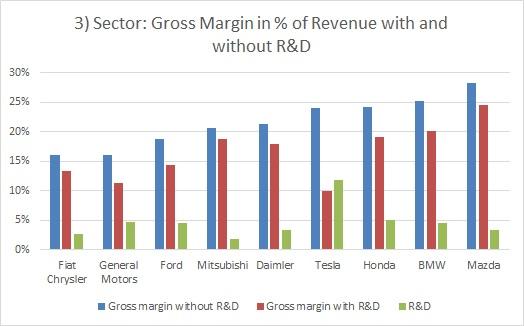 We can see that Tesla's gross margin excluding R&D (= as reported by Tesla) is quite decent though not exceptional. Some companies have higher gross margin, others lower. Tesla's gross margin including R&D is the lowest of the companies shown due to Tesla's much higher per revenue expenses on R&D. Note that the absolute R&D expenses of competitors are still higher than Tesla's because they are based on much higher revenues.
Tesla's Selling, General and Administrative (SG&A) compared to the Industry
Gross margin and gross profit alone do not determine what funds are available for R&D. There are several other expenses of which selling, general and administrative (SG&A) is the main one. This is not included in gross margin, but we do have to subtract it before we get to profits or losses. In the case of Tesla per revenue SG&A expenses have been considerable in every year. Tesla's SG&A expenses and those of some competitors look like: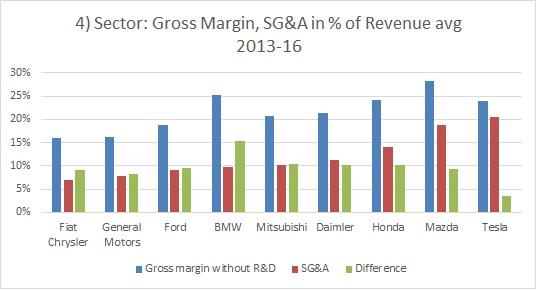 Tesla has the highest SG&A expense of this set of car manufacturers. The second highest is with Mazda but there it is compensated by having the highest gross margin. As a result, Tesla has by far the lowest percentage of revenue available for R&D ("Difference" in the graph) while having the highest need for it. Note that in this overview smaller expenses such as interest payments have not been taking into account so the real available amount is slightly lower.
Possible reasons why Tesla's SG&A per revenue is higher than competitors' include:
Tesla has relatively low revenue hence relatively high SG&A
Tesla might report some costs in SG&A that others report under cost of sales. There seems to be a positive correlation in the sector between gross margin and SG&A, so this wouldn't be too farfetched.
Whether the first or second reason plays a bigger role depends on:
Does Tesla's SG&A scale with revenues or does its relative weight diminish as revenue increases?
Tesla's Ability to Auto-finance its Expansion with Revenues
Figure 5 shows the relationship over time between revenues and SG&A: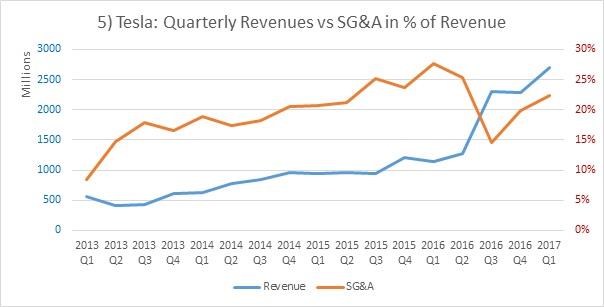 It seems that Tesla does indeed include some items in SG&A that others report under cost of sales. In any case when revenues go up so do SG&A expenses. There is a dip in Q3 2016, partially due to regulatory credits sales and what looks like a timing difference between revenues and expenses. Other than that, SG&A per revenue remains fairly stable. All in all the data don't suggest an impending improvement in SG&A.
Figure 6 shows the combined result of gross margin and SG&A per revenue: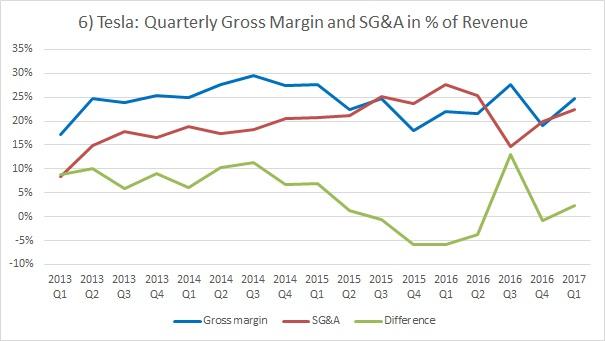 The difference is what is left from revenues after paying for cost of sales and SG&A. This is the maximum amount of self-generated funds available for R&D. Until about 2014 this was about 10% of revenues. Due to reducing margins and increasing SG&A it then went below zero, with the peak in Q3 2016 we saw before. If we average out this peak, then the result hovers around zero. This means that for the most recent years, SG&A alone was almost enough to wipe out all gross profits, meaning no income available for R&D. This happened in a period of strongly increasing revenues, so we would have expected to see the opposite. Note that I haven't even accounted for all expenses. Interest expenses lead to a further reduction of available funds of about 2 to 3% of revenues.
Other Considerations
Here I have mainly looked at gross margin and SG&A and to a lesser extent interest expenses. To briefly mention some other items that may be of concern:
Capital raises: In order to be able to expand Tesla will need fresh capital. If this is done via debt, then interest expense will go up reducing profits.
Interest expense per revenue: This may go down as Tesla grows revenues, especially when next rounds of capital raising are done via stock emissions.
Capital expenditure: As a cash outlay, this does not have a direct effect on the income statement. However, it will lead to higher charges for depreciation which will affect profits.
The Model 3 and later the semi-truck are a bit of a wild card. It remains to be seen if it will be possible to improve gross margin, given the lower sales price of the model 3. See here for an analysis.
I have compared Tesla to car manufacturers and left out Tesla Energy. It is only a small part of the company in a sector with traditionally low margins. I don't expect it to lead to any material improvements regarding overall margins.
Conclusion
Tesla's gross margin without R&D is comparable to that of its competitors.
Tesla's SG&A per revenue is higher than that of other car manufacturers and just about wipes out gross profits even before R&D is taken into account.
As yet there is no indication of economies of scale being at play in spite of increased production. When revenues grow, SG&A expenses grow at the same pace. Going forward, Tesla has to improve its operating costs in order to have room for R&D expenses without incurring losses or even to reach the R&D levels of competitors, let alone the elevated levels that Tesla needs to develop its planned new models.
Based on past performance, it seems inevitable that in order to finance its expansion Tesla will have to incur either more debt or emit more shares. It will not come from revenues and gross margin.
Disclosure: I am/we are short TSLA.
I wrote this article myself, and it expresses my own opinions. I am not receiving compensation for it (other than from Seeking Alpha). I have no business relationship with any company whose stock is mentioned in this article.
Additional disclosure: I am short TSLA via long-term out-of-the-money out options. I have no positions in any of the other companies mentioned.