Over the years, I have carefully built a portfolio of business development companies ("BDCs") that I am constantly having to adjust including my recent sale of Hercules Capital (HTGC) for the reasons discussed in "HTGC: External Management Analysis". Some of the primary considerations when building a portfolio include:
I will discuss these items in the upcoming articles of this series.
After investors have carefully identified BDCs that fit their personal risk profile....
Recommendation Categories:
I have decided to categorize investors' needs for each BDC holding as the following: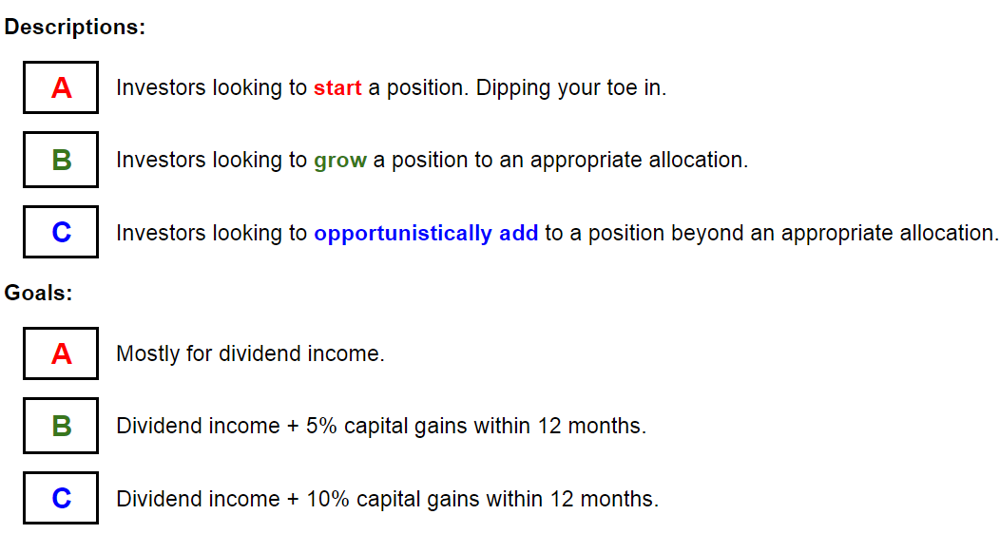 A - This is for investors that do not currently have a meaningful position in a certain BDC and would like to "dip their toe in" with a starter position and then continue to buy more on the dips. I suggest buying a small amount of shares closer to its target price.
B - This is for investors that already have smaller positions and would like to grow them to a proper allocation for a diversified portfolio. I suggest adding to these positions at prices closer to 5% below its target price as I recently did with TCP Capital (TCPC) due to favorable pricing during its recent equity offering as discussed in "TCPC Equity Offering: Is It Still A Buy?".
C - This is for investors that already have full positions and would likely only add at opportunistic prices of around 10% below target prices. Active traders might choose to sell these shares for capital gains at a later date to re-balance the portfolio.
Sample BDC Google Spreadsheet:
As mentioned earlier, BDC pricing can be volatile so I use Google Sheets to track real-time changes to pricing compared to my target prices so that I can make quick decisions. Also, I have found that the best pricing is usually in the first 30 to 60 minutes of the trading day as discussed in the previously mentioned articles (sale of HTGC and purchase of TCPC).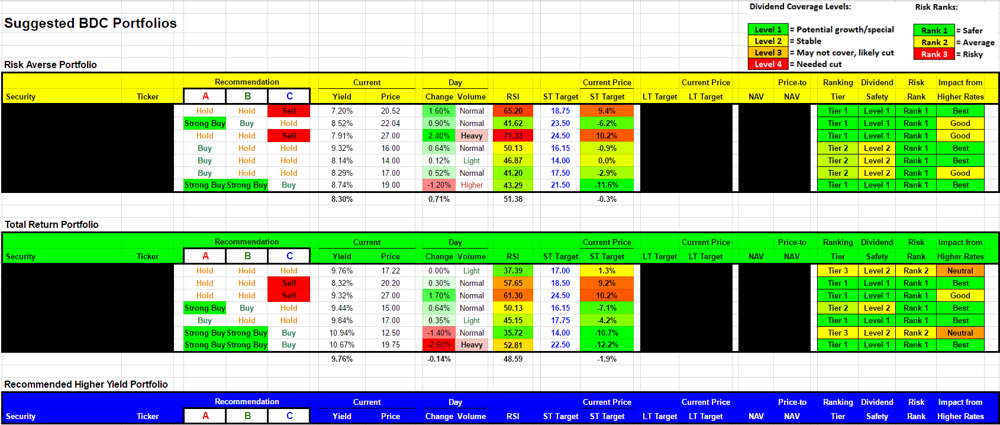 Maintaining a BDC Portfolio:
I will discuss this further in upcoming articles, but my personal BDC portfolio is far from perfect, and I am constantly making adjustments and looking for opportunities to grow certain positions while trimming others.
Even the higher quality BDCs such as the previously mentioned HTGC and FS Investment Corp. (FSIC) do not always perform as expected and need to be sold at times as mentioned in "Investing In High-Yield BDCs And Why Timing Matters".
As shown below, the average yield is 9.4%, which is appropriate given Corp B yields are currently below 5.6%. Keep in mind that a 3.5% spread is the historical average - BDCs still have room to run which is why I have been making purchases this month.

Disclosure: I am/we are long ABDC, ACSF, AINV, ARCC, BKCC, FDUS, FSIC, GAIN, GARS, GBDC, GLAD, GSBD, HCAP, MAIN, MRCC, MVC, NMFC, PFLT, PNNT, SAR, SCM, SLRC, SUNS, SVVC, TCAP, TCPC, TPVG, TSLX, WHF.
I wrote this article myself, and it expresses my own opinions. I am not receiving compensation for it (other than from Seeking Alpha). I have no business relationship with any company whose stock is mentioned in this article.