You can't always get what you want. But if you try sometime… you get what you need.
- The Rolling Stones
This article is the fifth in a series considering why financial markets don't work. The series looks at the bright side. Yes, our financial markets lack some things. But with a little tinkering, most problems could easily be solved.
Here we shift from the London OTC markets - markets that work very well if you are one of four American dealer banks [Bank of America (NYSE:BAC), Citigroup (NYSE:C), Goldman Sachs (NYSE:GS), or JPMorgan Chase (NYSE:JPM)]. You can depend on the advantages provided by your regulatory overseers, The Bank of England and the American Congress, to provide many advantages over other traders. But for the rest of the investor world, London OTC markets are an inefficient, dangerous trap.
Stock index futures miss the target
Stock index futures, in contrast, take traders to the opposite extreme. Futures markets, dominated by the CME Group (NASDAQ:CME), are easily the world's most efficient markets for investors who, unlike the dealer banks, are not favored by under-the-radar government manipulation. In fact, stock index futures would dominate common stock trading, if the objective of trading stock index futures were the objective of the trading public.
But no. The bizarre fact is that stock index futures achieve a closely related but different goal from that of stock market traders. What?? Futures exist to provide a forecast of stock prices on specific future days. They do an excellent job. The problem is, that is not what stock market traders want. I know. Bizarre.
Futures are purpose-built to do something, forecasting future stock prices, that is only peripheral to the objective of the trading public. Stock traders have a different objective. They want to enjoy the profits resulting from ownership of the average investment in the stock market.
So, the problem the CME, or its putative competitors, ought to consider is this: "What could we list for trading that would meet investor objectives?" Don't you think?
What goes wrong at the CME?
But people who have erred in the creation of an investment product rarely think like that, for some reason I don't fully understand.
Instead, such people, including the CME, take their unwanted plow horses, dress them in riding silks, and tell you they are the thoroughbreds you want. This human tendency is exposed by an example; a somewhat schizophrenic analysis provided by the CME itself. The CME compares two instruments, stock index futures on one hand, and index exchange-traded funds (ETFs) on the other. "Which does a better job of returning the market's changes in value?" they ask.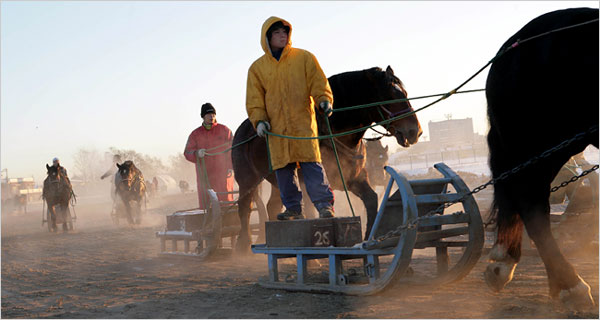 The CME is the purveyor of futures, so there is one possible conclusion they are going to reach - the more efficient of the two instruments for replicating the S&P 500 is stock index futures. We should take this analysis with a grain of salt, of course. The CME discussion is simply facts twisted to reach a conclusion that is transparently false.
But this report is a fun analysis that reveals that the CME knows it's taking a plow horse to the Kentucky Derby and thinks you don't know that. And the CME tale reveals to the careful reader a CME awareness that they have the wrong horse. Investors are looking for an investment horse that:
mirrors the returns of the entire stock market.
has the lowest possible commissions and fees and the greatest liquidity.
That the CME's race is a close one is interesting, since S&P 500 futures are plow horses looking for a field to plow at Churchill Downs. S&P futures can't match the long-term performance of any sound stock investment portfolio, let alone the S&P 500, in a race over a normal racetrack, because futures are not an investment. Futures are a zero-sum game - a bet. In a contest with a stock ETF, over any fair period of comparison, ETFs will outperform futures since ETFs are purpose-built for this objective.
What stock index futures do better than index ETFs
But interestingly, plow horse or not, over CME's chosen racecourse, the race is beguilingly close. This tells you something about investor behavior, and another thing about ways in which futures tech is better than stock market tech.
ETFs must, most of any given trading day, do something very like what stock index futures do - forecast future stock prices. The thing is, both markets forecast future stock prices by depending on the same recent history.
It is tempting to believe that since ETF traders have many different future stock price objectives - some plan to sell within the next 5 milliseconds; others, in five years - the change in ETF prices as news occurs would be different from the change in the futures price - where the focus of the forecast is on only one point in time; the delivery date, one to three months in the future. One reason that the CME can conclude that futures are better than ETFs in capturing future stock returns is that this difference in investor objectives - many different future stock prices for ETFs; one for stock index futures, is immaterial. Don't ask me why, but the evidence is heavily tested and verified by researchers other than the CME.
And over these less-than-a-day intervals, stock index futures do a better job of reflecting the events of the trading day in the price than do ETFs. In the end, both markets react identically to new information, but futures get there first. Maybe stock index futures are better compared to quarter horses than to plow horses.
Importantly, the technology of trading plays a role in this horse race, and stock index futures trading technology is manifestly superior to ETF trading technology.
The paradox of trading stock index futures and index ETFs
Over short periods of time, futures work better than ETFs in capturing changes in market opinion because futures are not an investment. Strange but true. Investments themselves are cumbersome beasts. Ownership of something is far more expensive than simply betting on the price because of the costliness, riskiness, and delay ownership creates. And nobody with responsibility for clearing in the spot stock market seems interested or concerned with reducing these costs.
But in the end, there is no alternative to ownership. Otherwise the bet on the price is never verified by transfer of property. The thing that makes an ETF a superior choice over the longer term is that it is an investment. That is, if the investment produces unexpected income, both ETF owners and stock index futures buyers enjoy any increase in the stock's price. But ETF owners collect the higher income, stock index futures buyers do not - because with an index ETF, the property is transferred from seller to buyer.
But investors could have it both ways
It would be quite easy to improve on either of these two instruments if an instrument that duly reflects what economists call an "externality" were considered. Yes, ownership is a necessity to assure the prices in a betting market like futures adhere to the realities of the underlying ownership market. But not everyone needs to take ownership to assure the bettors price conforms to the real stock price. In fact, the lesson of the futures market is that the adherence of the futures price to the real stock market requires only a small percentage of traders to take ownership.
So what might an investor learn about investing to mirror the market from this CME study? The main takeaway is that there are unnecessary properties of both futures and ETFs that hobble investment returns.
What's wrong with S&P futures?
It's very clear what is wrong with S&P futures. They are futures. In other words, they only reflect the value of the S&P 500 index itself once in every three-month interval, on final delivery day in March, June, September, and December. Every other day the price of the futures contract is a market forecast of the S&P on one of four days each year. There is no need for that to be true.
It's tempting to dismiss this shortcoming as an anachronism. Quarterly settlement is logical for grain and cattle. But not for common stock. And that is one part of the explanation. A second part of the story is lack of imagination on the part of exchanges. And last, but not least, there would be regulatory barriers. But it is strange that nobody gives it a try.
Disclosure: I/we have no positions in any stocks mentioned, and no plans to initiate any positions within the next 72 hours.
I wrote this article myself, and it expresses my own opinions. I am not receiving compensation for it (other than from Seeking Alpha). I have no business relationship with any company whose stock is mentioned in this article.