What happened?
After General Electric (NYSE: GE) reported negative cash flow from operations of $1.6 billion in the past quarter it has been one thing after another. Between the downgrades of the stock and authors coming out with articles stating a dividend cut is in the cards I'd say sentiment on the stock was at an all-time low.
General Electric performance stats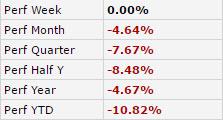 Source: finviz.com
Now, Bloomberg reports the European Commission is coming after some of General Electric's cheese as well. The EU is reviewing whether General Electric submitted misleading information to EU officials examining the company's $1.7 billion deal to buy LM Wind Power.
GE may be in trouble for telling regulators it did not have any plans to develop a new giant wind turbine when it actually had such a project on hold, according to the report. The EU began to suspect it had been misled shortly after giving its stamp of approval to the deal in March, and GE is now said to be scrambling to explain that it did not intend to misinform regulators. The punishment for breaking the EU's rules can be as high as 1% of a company's annual sales.
This was the last thing General Electric investors wanted to hear. Unfortunately, it could be construed as the first thing General Electric investors expect to hear. For the last few quarters it has been one thing after another. Like one never-ending game of whack-a-mole as I've said previously.
Nonetheless, the stock has just bounced off support at the $27 mark in the face of the onslaught of bad news.
Current Chart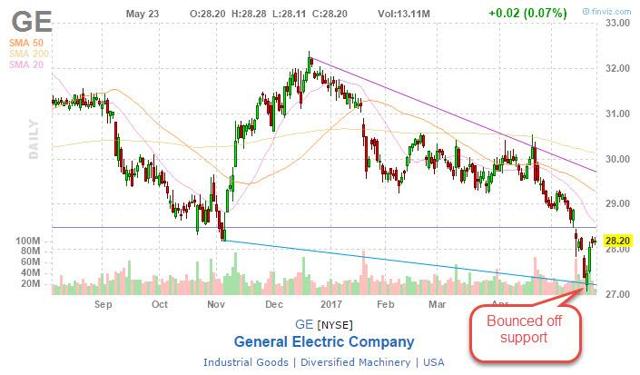 Source: finviz.com
This is telling to me and has piqued my contrarian instincts.
Contrarian Mindset
A contrarian believes that the certain crowd behavior commonly referred to as a "herd mentality" can lead to exploitable mispricings in stocks. Widespread pessimism about a company's prospects drives the stock price so low it overstates the company's risks and understates its prospects for increased profitability and growth. Identifying these buying opportunities in distressed stocks can lead to above average gains. Hopefully you have some dry powder on hand and can take advantage. I believe General Electric's perils have been overestimated creating a buying opportunity in the stock. Let's put on our rose colored glass now and go over the major reasons why.
The cash flow issue has been overblown
Reporting negative cash flow from operations is never a good thing. The issue is compounded when CFOA comes in a billion dollars below the already negative estimate.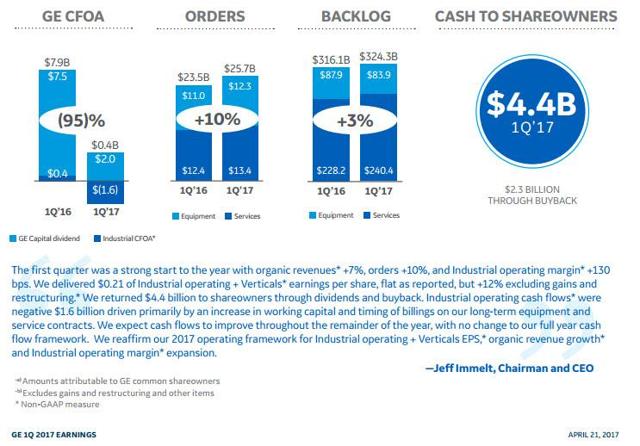 Source: ge.com
Even so, General Electric had guided for negative cash flow from operations. Nonetheless, this has actually now become a positive. The company management kept its guidance for $10 to $12 billion in CFOA for the year. So $1 billion isn't lost, it's just late. I believe General Electric will come through with the cash-making this the time to buy, not sell.
Immelt's has an Ace left to play
As I state at the end of each of my articles, the true value of my articles is provided by the prescient remarks from Seeking Alpha members in the comments section. One such comment was just made by long-time Seeking Alpha member Mike Slattery. Below is a screen shot of Slattery's full comment.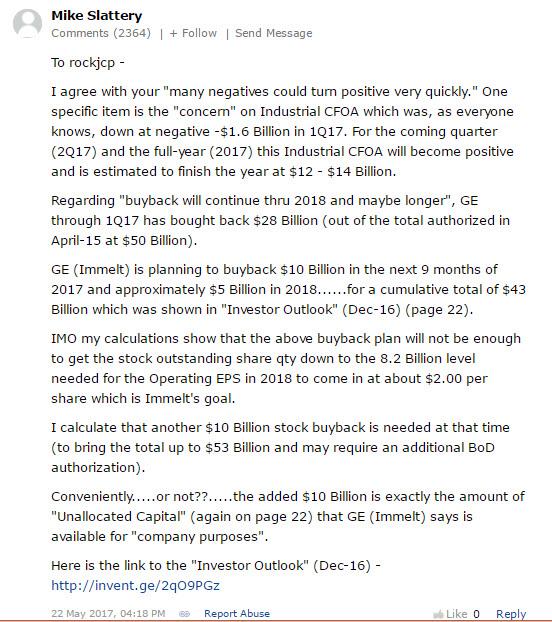 In his comment Slattery makes an extremely prescient observation that General Electric could meet the 2018 $2 EPS number by increasing the buyback by $10 billion. Slattery then points out the company "conveniently" has $10 billion on the books marked as "unallocated capital" available for "company purposes."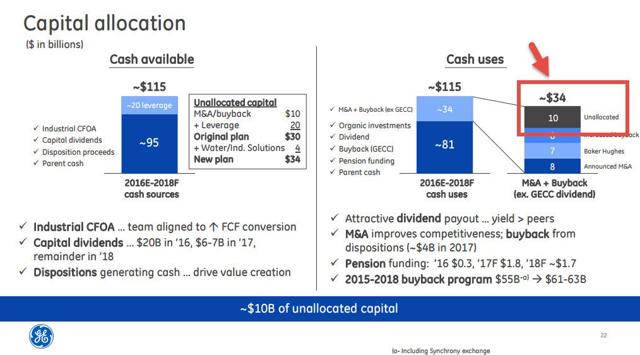 Source: ge.com
One big caveat though, this is all conjecture at this point. Even so, it does give me some minimal relief just knowing the $10 billion is there. Thanks for making the exceptional point Mike! Now let's take a look at General Electric's valuation metrics to see if all the bad news has been priced in.
Valuation Analysis
General Electric's stock is trading at a significant discount to its peer group. In fact, General Electric's forward price-to-earnings ratio is the lowest of the five top industrial conglomerates.

Source: finviz.com
The forward P/E ratios for the top five largest industrial conglomerates are as follows: General Electric 14.96, 3M Company (NYSE: MMM) 20.68, Boeing (NYSE: BA) 17.92, Honeywell International Inc. (NYSE: HON) 17.09, and United Technologies Corporation (NYSE: UTX) 17.31. It also has the greatest five-year EPS forecast of 12.28% and the lowest PEG ratio of 2.13 as well. The stock also currently offers the highest yield of 3.4% in over a year.

Source: dividends.com
I'd say all the bad news has been priced in and then some.
The Bottom Line
If you are in for the long haul, hold on to your shares. I am not buying all the gloom and doom out there right now. I believe President Trump's pro-growth agenda will eventually be approved. The repatriation of overseas funds and reduction in corporate tax should go far to achieving General Electric's EPS goals. All they need to do now is cut the Keystone Cops routine and execute. I think General Electric can do it. Those are my thoughts on the matter. I look forward to reading yours. Please use this information as a starting point for your own due diligence.
Your input is required!
The true value of my articles is provided by the prescient remarks from Seeking Alpha members in the comments section below. Is General Electric a buy or sell right here? Why or why not? Thank you in advance for your participation.
Final note: If you enjoyed this article, please click the "Follow" button. I would greatly appreciate it.
Disclosure: I am/we are long GE.
I wrote this article myself, and it expresses my own opinions. I am not receiving compensation for it (other than from Seeking Alpha). I have no business relationship with any company whose stock is mentioned in this article.