Housing with related finance and spending have driven some 84% of Canadian GDP over the past 7 years, as prices leapt and domestic buyers prostrated themselves on credit. By province, the impacts were greatest in the largest growth centers - BC and Ontario - as shown here. However, as Alberta and Saskatchewan are now discovering, what debt fueled frenzies give, they also take back in the mean reversion period. More payback is coming.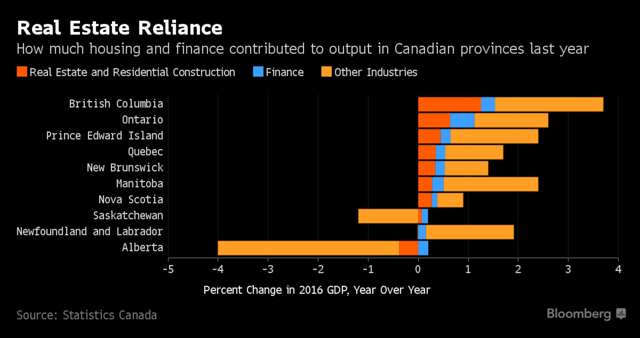 Meanwhile, as more information is revealed in the Home Capital (OTC:HMCBF) story, there is more evidence of industry-wide fraud, reckless practices and wilful blindness by institutions and regulators alike. See "In Home Capital's Mortgage Mess, Blame The 'Unlucky' Brokers":
Between 2013 and 2016, suspected instances of fraud among mortgage brokers jumped 52 percent in 2016 from five years prior, according to Equifax, a consumer credit and research firm. Nearly two-thirds were from Ontario.
While insiders apparently call the brokers who got caught submitting fraudulent information not criminals but just "unlucky brokers", in truth it is the Canadian economy and taxpayers who will end up paying for this dark chapter of rampant speculation and credit abuse. While some are downplaying the risks by saying defaults are still low, we should consider that the country is not yet back in recession and the stock market has not yet entered the next bear market. Once that gets underway, as in 2008-09 and 2001-02, we will discover where all the debt bombs are buried. Only Canada got off light in the last two global downturns. This time we are unlikely to be so "lucky".
Disclosure: No positions.