Tech Data (NASDAQ:TECD) is a wholesaler and distributor of computing products and software. As a distributor, its business model is pretty much linear, which is reflected in the margin development in the last five years, which is pretty stable: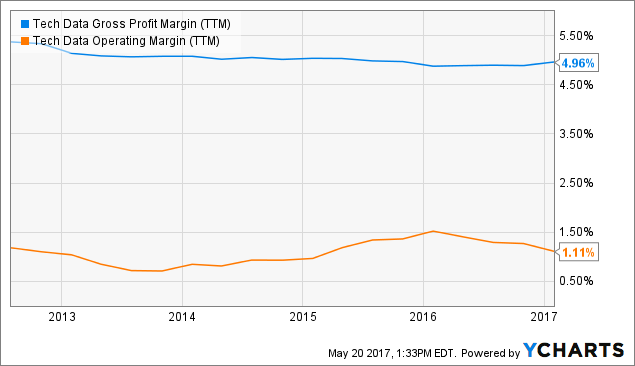 Still, its shares have run very impressively: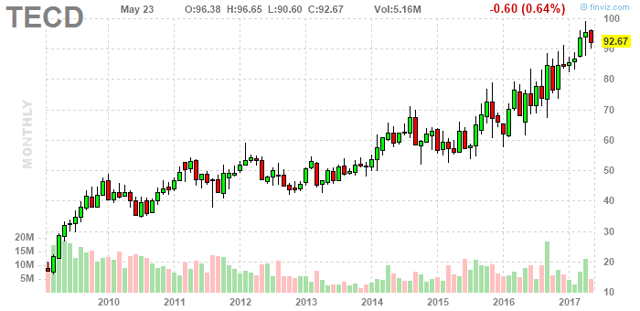 Considering the linearity in the business model, one would think this would be driven by top-line growth but, well, not really.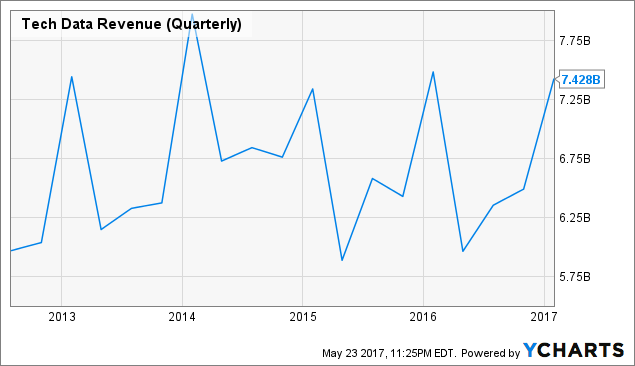 There seems to be a faint uptrend in earnings but no more than that: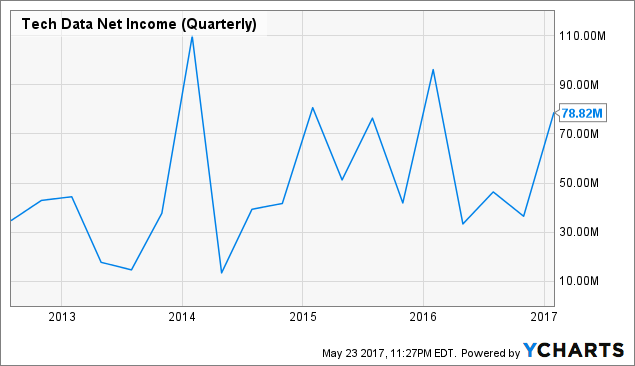 What has actually driven the stock price higher is this, using strong cash flow generation for share buybacks: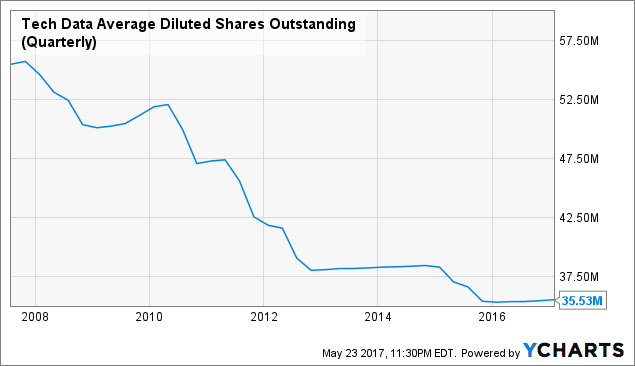 The big question is what will be the impact of the acquisition of Technology Solutions from Avnet (NYSE:AVT), which closed just over a week ago?
On the Q1CC, management couldn't provide firm answers as it only had a week or so to assess the situation since the acquisition closed. However, there are quite a number of interesting data points:
In the first two years, roughly $100M in synergies will emerge, $50M in each year (in the first year, this will be tilted towards the second half). There will be a one-off cost of $150M to achieve these synergies (excluded from non-GAAP).
The acquisition opens up new market opportunities in Asia and an opportunity to re-enter Latin America.
The $100M synergies do not include anything with regards to sales (not even sales personnel, which might very well be duplicative in some areas); it's pure cost savings.
One of the reasons Technology Solutions was so attractive as an acquisition target is that it also uses SAP as an enterprise software system, and the two systems combined delivers a lot of functionality which the competition doesn't match, according to management (during the Q4CC).
Management alluded to cross-selling opportunities. Technology Solutions has more of a vertical approach, adding value in specific industries, for instance.
The acquisition will add significantly to earnings. Management had already noted earlier that the combined pro forma EPS would be double that of Tech Data on its own.
Not mentioned on the CC, but Tech Solutions was a big competitor, so acquiring it might give Tech Data a little more pricing power, we would assume.
So, there are important advantages for the acquisition, especially the footprint in Asia, what should be the fastest growing market. What did Tech Data have to pay? From the PR:
The total purchase price at close was approximately $2.6 billion (subject to certain post-close adjustments), including $2.4 billion in cash, and 2,785,402 shares of Tech Data stock, representing approximately 7.3 percent of Tech Data's shares outstanding (after issuance of the new shares). Tech Data financed the cash portion of the purchase price through a combination of $1.0 billion from its recent public debt offering and $1.0 billion of bank term loans, and the remainder from drawings under other credit facilities and cash on hand.
The increase in debt is just what the doctor ordered for a balance sheet which had so little leverage, at least this is what SA Pro contributor Terrier Investing argued recently. The cash on the balance sheet lowers ROE, but it gives the company options to either acquire others or return cash to shareholders.
It has done the latter, and it seems like a pretty good fit. There was more good news on the Q4CC:
Q4 sales were $7.4B, a decline of 1% year over year. On a constant currency basis, sales were up 2%. It missed expectations by $70M.
The currency impact is due primarily to a decline of 16% in the British pound to the U.S. dollar.
Worldwide gross profit was $371M, an increase of $16.4M. On a constant currency basis, gross profit grew approximately $27M (an increase of 8%).
Net income was $195.1 million, compared to $265.7 million in the prior year, but note that the Q4 2016 quarter was inflated by LCD settlement gains of $98.4M, net of taxes.
GAAP EPS was $2.22, compared to $2.72 in the prior year quarter. Non-GAAP EPS was $2.45, 28 cents above analyst expectations and an increase of $0.16, or 7%.
The company generated more than $650M of operating cash flow and earned a return on invested capital of 14%.
For fiscal year 2017, net cash provided by operations was $657M.
The company has a cash balance of $2.1B. However, since this was at the end of the quarter (March), this includes approximately $1B in proceeds from the recent public debt offering, which was utilized just recently to partially finance the acquisition of Technology Solutions, so by now, the cash should be more like $1.1B.
What is also noteworthy is that Apple (NASDAQ:AAPL) constitutes 24% of its business. If the people who expect the start of an iPhone supercycle in the autumn are right, this could provide a bit of a boon to this name as well.
Guidance
While the company refrained from guidance, it does see the overall IT landscape spending as flat, with pockets of growth (the cloud, security). Management did argue that this doesn't necessarily mean that Tech Data's revenue will be flat.
Some customer segments are growing significantly, though, like education, Federal Government, healthcare, and SMB. Here as well, the Technology Solutions acquisition helps as the latter has a more vertical approach to the market and brings significant knowledge about some verticals.
The company also benefits from a consolidation wave in technology, when it sees bigger companies that are clients taking over smaller companies that aren't. On the other hand, that puts these companies at a stronger position, so increased business might come at the cost of some margin pressure.
The company plans to use the strong operational cash flow to deleverage the balance sheet. Management expects to "achieve a total debt to adjusted EBITDA ratio of approximately 2.8 times within 18 to 24 months," per Q4CC.
The company could also have incremental sales from Dell/EMC, which is coming back into the channel, as it was previous distributor for Dell (NYSE:DVMT), EMC, and VMware (NYSE:VMW), but it hasn't quantified the effect.
Valuation
There is a fairly simple way of looking at this. The company paid $2.6B for Technology Solutions, but this buys a pro forma doubling in earnings per share. Prior to the acquisition, the company had 35.45M (diluted) shares outstanding.
On September 19 of last year, when the deal was announced, the share price was roughly $80, so the company paid slightly less for Technology Solutions than it was worth itself. That seems imminently fair, given the pro forma profits.
Given the cost synergies and cross-selling opportunities and the deleveraging, the results will be bigger than the sum of the parts, given time. However, the share price has since also appreciated a fair amount; it's now $92+, so one could argue that much of the expected gains are already priced in.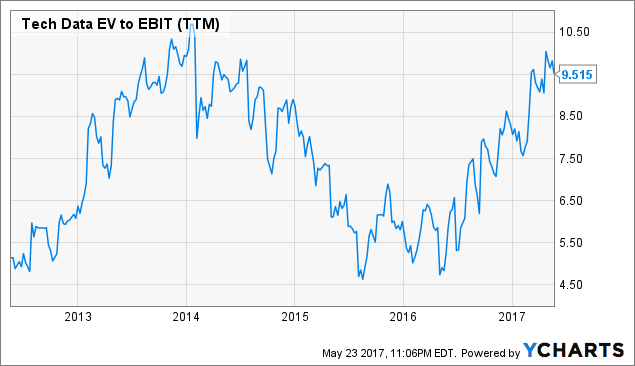 The price to book value has also steadily climbed: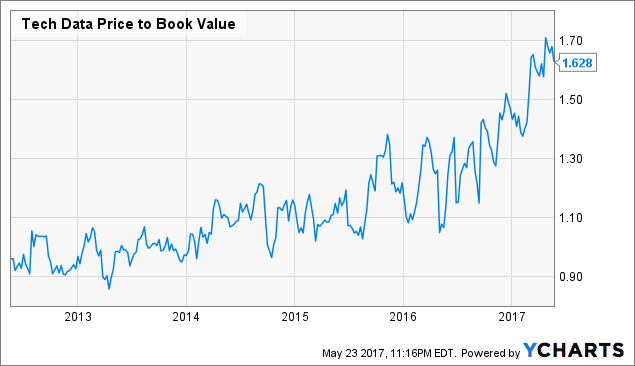 While these valuation measures are steadily rising, they do not reflect the acquisition of Technology Solutions, so we have to look to some forward measures, like forward P/E.
With the rally in the shares, they have gotten steadily more expensive from the lows in 2016 approaching the previous top at the beginnings of 2014. Given what has happened to the overall market we don't see this as too problematic.
With an average analyst estimate for EPS in fiscal year 2019 (starting April 2018) of $10.13, this isn't really expensive either.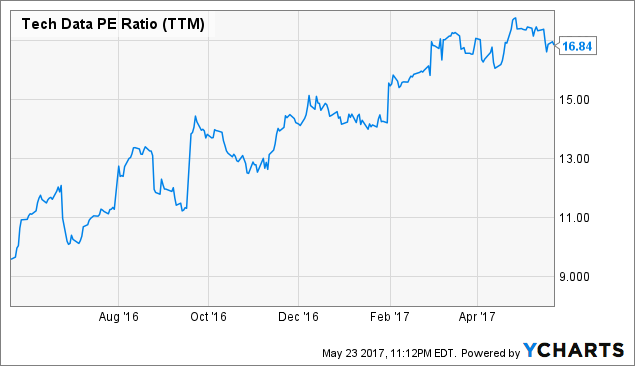 Conclusion
Given the lack of any significant leverage prior to the acquisition of Technology Solutions, we regard the acquisition and the accompanying debt a reasonable price for the prospect to basically double earnings per share.
The synergies are not only on the cost side. There seem to be ample cross-selling opportunities as a result of the expanded footprint, and Technology Solutions adds valuable knowledge in specific verticals.
Tech Data management has a proven track record, and we trust it to bring the leverage down again using the strong operational cash flow generation.
While much of the gains are already being priced in, management has such an excellent track record that we still see upside for the shares, even if these will not be dramatic or immediate. One could take advantage of pullbacks.
Disclosure: I/we have no positions in any stocks mentioned, and no plans to initiate any positions within the next 72 hours.
I wrote this article myself, and it expresses my own opinions. I am not receiving compensation for it (other than from Seeking Alpha). I have no business relationship with any company whose stock is mentioned in this article.