It's easy to get caught up in market euphoria when everything seems to be going up. The possibility of price reversal tends to slip further away from the mind of investors, the higher the stock market climbs. It is crucial for investors to keep an eye on valuations during times like these. Fortunately, there are always places for your money - even when the market is as expensive as it is today. For long term investors seeking some direction, check out these three "damaged" names that will prove profitable over the long term.
Exhibit #1
Nike Inc. (NYSE: NKE)
Dividend per share (yield): $0.72 (1.37%)
Consecutive increases: 15
5 year dividend growth rate: 15.6%

Reason for under performance?
Nike is facing growth and margin concerns thanks to competitive pressures from other manufacturers such as Under Armour, Inc. (NYSE: UAA) and adidas (OTCQX: OTCQX:ADDYY). The growth rate of futures orders - a commonly used indicator of revenue growth has dropped from the high teens, to a slightly negative rate over the last two years. A slowdown in revenue growth has been seen as well. Any time a stock's growth - especially a stock that has set such a high growth bar for so long - is questioned, the share price will face hard resistance. Nike has been in an extended fall, with shares falling from the high $60s, to the low $50s.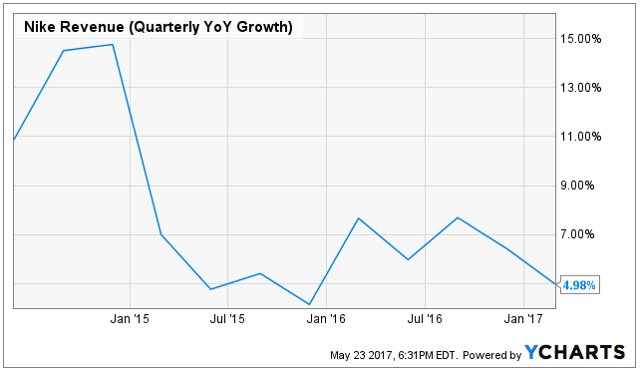 Long term value proposition
While growth may be slowing, the challenges at Nike are grossly over stated. While Under Armour is the new kid on the block, competition has been around in the form of adidas for decades. Nike is still throttling earnings estimates every quarter. Futures orders are also becoming less relevant to the top and bottom line as Nike is pushing product directly to consumers as e-commerce is trending up. Futures orders do not efficiently track the activity of this to market strategy. Analysts still expect double digit growth out of Nike over the next five years. With shares trading in line with its 10 year average valuation at 21.5X earnings, Investors should still expect to average double digit gains over the long term from this price level, as its fall from the high $60s has washed away its over valuation.
My extended analysis of Nike can be found here.
Exhibit #2
Exxon Mobil Corporation (NYSE: XOM)
Dividend per share (yield): $3.08 (3.72%)
Consecutive increases: 35
5 year dividend growth rate: 10.0%

Reason for under performance?
Oil companies as a whole have been struggling the past several years as a global supply glut of crude has pushed commodity prices through the floor, taking the profitability of oil stocks with it. Peaking at over $100 per barrel in summer of 2014, oil has dipped as low as the $30s, and has lived in the high $40s to mid $50s for a while now. Over the course of these lean years, oil majors have bled money and taken on debt to fund operations. The dividend has slowed to a low single digit growth rate. Cash flows from operations have been out paced by CAPEX and dividend expenses.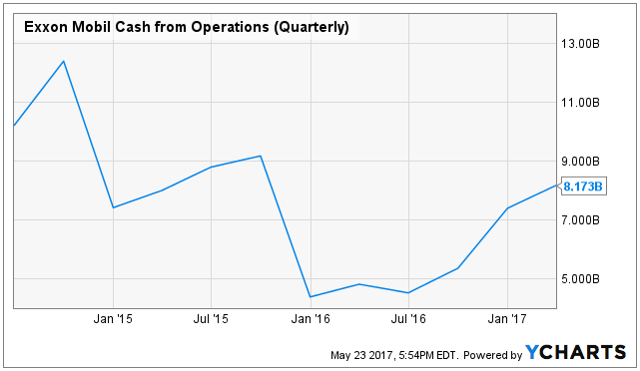 Long term value proposition:
After a few years of pain, oil majors have adjusted to the lower crude prices. CAPEX has been slashed, and undesirable assets have been sold to help raise cash. Exxon Mobil represents this field as the "best of breed". The dividend is yielding higher than its 10 year average of 2.44%. Exxon Mobil has made strides in lowering its "break even" point on crude, as its Q1 earnings showed signs that the worst is over for Exxon. Its $8.9B in cash flows from operations and asset sales more than covered CAPEX and the dividend - meaning the company can stop borrowing, and begin healing its balance sheet.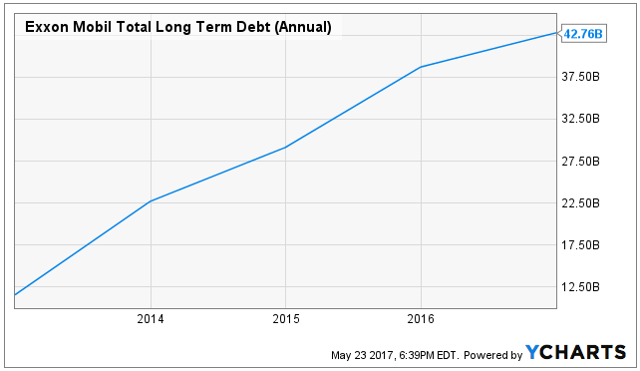 While it may take some time for Exxon to patch itself up financially from the past few years (meaning low dividend growth/lack of share repurchases in the near term), Exxon Mobil has survived the oil crisis, and will again thrive over the long term. In the meantime, investors can sleep well at night with a generous dividend that can be reinvested to compound returns down the road.
My extended analysis of Exxon Mobil can be found here.
Exhibit #3
Walt Disney Company (NYSE: DIS)
Dividend per share (yield): $1.56 (1.46%)
Consecutive increases: 7
5 year dividend growth rate: 30.1%

Reason for under performance?
The largest business segment at Disney - its Media Networks segment has become an anchor on the operational results of the company. The issue is within operations of sports network ESPN. The network is losing subscribers while at the same time being bloated with very expensive sports broadcasting rights contracts with the NBA, and NCAA. As sports content becomes increasingly accessible from mobile devices, the traditional cable channel has lost ground in recent years as it has struggled to adapt. The network is losing the company money.

The uncertainty in how Disney should deal with this has troubled analysts and investors alike. Disney recently cut massive amounts of staff from the network to shake things up, but it likely will not be enough. Whether Disney can reinvent the segment for profitability, or spin off ESPN altogether - it remains a dark cloud in the meantime.
Long term value proposition
Look too hard at ESPN, and you will miss the fact that Disney as a whole (outside of ESPN) continues to run on all cylinders. The parks and movie studios are surging, and even with the ESPN struggles, Disney has still managed to send earnings soaring for years.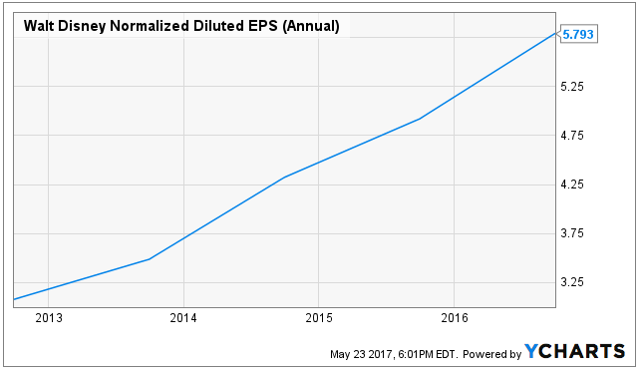 Over the past five years, Disney has managed to grow earnings at a per annum rate of 17%. With the ESPN concerns, the growth rate over the next five years has been slashed to an estimated rate of 9.4%. However, the valuation is attractive for such a quality brand - even at 9.4% growth. Disney will earn about $6 per share this year, placing shares at less than 18X earnings. Disney is trading at a slight discount to the market while projected to hold similar earnings growth rates. While analysts will tell you the ESPN topic is challenging, a long range view could pay off. Walt Disney is one of the highest quality brands on earth, with 9% growth as a worst case scenario moving forward. If Disney can find a solution for ESPN, the upside is much higher looking forward.
My extended analysis of Walt Disney Company can be found here.
When the market trades near all time highs, it can be difficult to determine the best course of action for your money. I believe that these three top tier companies are a great place to begin looking in an overheated market. Each has short term challenges weighing them down, making them attractive to a contrarian investor with a long term view. The core business of each is intact, making each a candidate for P/E expansion when the market eventually reverses opinion on these stocks.
If you liked this article, please find my profile icon at the top of this page, and hit the "Follow" button. I enjoy engaging with those who comment and am always looking for feedback that allows me to improve on the content I provide. As always, thanks for reading.
Disclosure: I am/we are long NKE, DIS, XOM.
I wrote this article myself, and it expresses my own opinions. I am not receiving compensation for it (other than from Seeking Alpha). I have no business relationship with any company whose stock is mentioned in this article.
Editor's Note: This article discusses one or more securities that do not trade on a major U.S. exchange. Please be aware of the risks associated with these stocks.