I believe, as many do, that the retail industry is evolving, but I don't believe that online only retailers will kill brick and mortar. Consumer preferences are clearly changing, and more customers prefer to shop online. However, certain questions arise. Is an online only model more competitive than doing both (omni-channel model), and can brick and mortar retailers become omni-channel retailers without losing competitiveness? The facts as they stand today lead me to believe that brick and mortar is here to stay, and online only retailers aren't.
Online Only Retailers have no Competitive Advantage
Online only retailers are trying to use current technology to eliminate the cost advantage created by years of merchandising and logistics experience. They won't, not with today's technology. Every tangible product uses some square footage of space and requires equipment and people to move them around, whether that product is in a store, a warehouse or a vehicle. Online shopping does nothing to change the volume and the speed at which goods are sold, and therefore the same amount of space is needed along the value chain. Sure, you may need a smaller number of stores to accommodate the "new way" of shopping, but if the volume and the speed at which products are consumed remains the same, the products must be stored in larger warehouses, larger stores or both. While there are cost advantages to consolidating warehouses, that potential efficiency is not exclusive to online retailers, and so omni-channel retailers will gain efficiency as they optimize their own stores. In fact the ability to ship from a store gives brick and mortar retailers a cost advantage, given that their stores are already close to major population centers. Online shopping also does not provide an exclusive ability to predict customer orders better than brick and mortar retailers. As such inventory balances along the supply chain of the online only retailers will likely not be any lower than that of brick and mortar. Some people would say Amazon(AMZN) does it, well that's because of the third-party fulfilment service. The third-party guys have to store their inventory somewhere.
Online-only retailers outsource logistics (see Wayfair (W), Amazon 10k filings) to the likes of FedEx Corporation (NYSE:FDX), United Parcel Service (NYSE:UPS), and XPO Logistics Inc. (NYSEMKT:XPO). This logistics expertise is therefore available to everyone, including the brick and mortar stores. In addition, the sunk cost involved in making an online store work such as expertise in data analytics, cloud computing, pricing algorithms, and web design is very affordable to the established brick and mortar players. In fact, incumbents such as Wal-Mart (NYSE:WMT), Bed Bath and Beyond (NASDAQ:BBBY), and Target (NYSE:TGT) are very advanced in building their online capabilities, and have only experienced a small dent in profitability (Source: Company 10-K filings).
On Q4 FY-16 conference call Wal-Mart CEO Doug McMillon said:
"E-commerce continues to grow with direct-to-home and Club pickup. While we have more work to do to deliver the results we expect to achieve, we believe we're on the right track to win with members and accelerate growth. We're the second-largest U.S. online retailer by revenue, one of the top three online retailers by traffic and our Wal-Mart app is among the top three apps in retail. We acquired Jet.com in the second half of last year and welcomed Marc Lore, the CEO of our U.S. e-commerce business. Marc is moving quickly... we now have over 35 million SKUs, more than quadrupling the number available at the beginning of the year. We recently announced free two-day shipping on millions of items with a minimum order of $35. The acquisitions of ShoeBuy and Moosejaw, in addition to Hayneedle, gave us immediate expertise and capabilities in new, more upscale categories of merchandise." (Source: Q4 FY-16 conference call transcripts)
On Q4 FY-16 conference call BBBY CEO Steven Temares said:
"CapEx for the year included the following; enhancements to our digital capabilities; ongoing investments in our data warehouse and data analytics; … investments in new systems and support to accelerate the expansion of our online assortment; the replatforming of One Kings Lane's systems and integration of its support services; spending related to the opening of our new distribution facility in Lewisville, Texas; the expansion of our customer contact center in Layton and enhancements to its systems." (Source: Q4 FY-16 confernce call transcipts)
On Q1 FY-17 conference call Target CEO Brian Cornell said:
"We believe that the future retail is both digital and physical and successful retailers will need to provide an outstanding experience in both. For digital shopping, the challenge is to make it more experiential, delivering more of the inspiration you can find in a physical store. To elevate the digital experience in furniture and décor, which are already large and growing online businesses for us, we recently rolled out 360 degree shoppable living room, which serves as a digital showroom. The experience will initially present about 120 products across four design aesthetics." (Source: Q1 FY-17 Conference Call Transcripts)
In the Land of Differentiation Brick and Mortar Wins
In the land of differentiation, which is better, a beautiful young lady (or guy) showing you how a pair of pants will make you look like a star, or the highly intelligent IBM Watson? A lot of online only retailers have tried the differentiation strategy, with a view that having a higher cost structure may not be so bad. The harder they tried, the faster they failed (more on this later). In an industry where goods are commodity-like, and store brands are not many, differentiating on the basis of product is very difficult, if not impossible. It is easier to differentiate by managing in-store touch points and the quality of customer service.
Online Only Retailers Already an Endangered Species
Over the last five years, many of the online only retailers have filed for bankruptcy, and many of those who didn't have been bought out by brick and mortar retailers for a fraction of the capital invested. This kind of "blood in the streets" has investors scared of even putting their toe nail, much less a toe back in online retailing. This point was clearly expressed by Tristan Walker, an entrepreneur in the space when he said:
"No one wants to fund e-commerce companies anymore. There's been no shortage of e-commerce companies that have just failed recently. No one wants to fund a retail business. " (Source: Recode)
This perspective on e-commerce also is shared by Robert J. Moore (CEO of RJMetrics) when he said:
"Over the past few years, VCs and e-commerce companies have developed a somewhat tumultuous relationship. As the online retail sector continues to grow at an impressive pace for its scale, investors still struggle to separate wheat from the chaff when it comes to new entrants. This has led to a few big wins, many big losses, and an overall hesitancy for many funds to make new investments in the space at all." (Source: RJMetrics)
The number of e-commerce deals that have been funded by venture capitalist has declined precipitously over the last six years (Source: RJMetrics). Bed Bath & Beyond paid US$12Mn for One Kings Lane, after it achieved a frothy post money valuation of more than US$800Mn 2.5 years earlier (Source: Fortune and Company 10-K filings). This leads me to believe that online-only retailers already are at a cost disadvantage, while having a head start in digital infrastructure. The question is, what will happen when the big guys have fully functional online stores?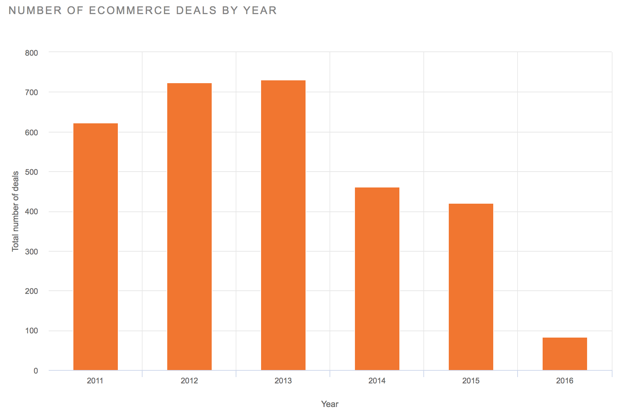 (Source: RJMetrics)
Amazon has Diversified
There is a reason why smart guys have been saying that Jeff Bezos (Amazon's CEO) is amazing. Indeed he is, but not because he is the smartest merchandiser in the business. He is a very smart business man because he diversified his business, after realizing that online only is doomed to fail. Amazon today consists of two business units, the hugely profitable Amazon Web Services, and the not so profitable Amazon retail (Source: Company 10-K filings). In fact, over the years Amazon and others such as Wayfair (Source: Company 10-K) have been gradually shifting their retail business away from competing directly with brick and mortar retailers to assisting the small mom and pops to do so. Data from Statista and (company filings) show that over the period 2007 to 2017 the share of Amazon sales that is due to third-party retailers have grown from 26% to 50%.
According to Amazon's 10-K filing they:
"strive to offer our customers the lowest prices possible through low everyday product pricing and shipping offers, and to improve our operating efficiencies so that we can continue to lower prices for our customers." (Source Company 10-K).
This shift must have happened because products offered by those outside of Amazon are more profitable, where Amazon collects a 10%-15% commission on every sale done through their website (Source: Amazon's Website). Even with that kind of set up, today Amazon's retail unit has a 0.37% operating profit margin on US$123.7Bn in sales in FY-95 Wal-Mart had US$82.5Bn in sales and a 5.0% operating profit margin (Source: Company 10-K filings )- more than twice as profitable with a similar scale after adjusting for inflation. Amazon also uses third-party logistics companies to handle a majority of their shipping requirements (see Amazon's 10-k filings). As such Amazon is effectively competing in merchandizing, business process outsourcing (proving an online infrastructure to small retailers that can't afford the upfront cost), and web services (providing infrastructure for global compute, storage, and database). Jeff Bezos, being a very smart guy, is even thinking of going into brick and mortar with Amazon Go by leveraging his capabilities in handling big data.

Brick and Mortar is here to Stay
Many pundits believe that the amazing Amazon will destroy brick and mortar. Looking at the economics of Amazon, I believe that Amazon is now cheering on the mom and pops to compete on price with Wal-Mart, Target, and Best Buy (NYSE:BBY). While I do believe that Amazon will likely have many more successful years, I do not believe that the small mom and pop shops are more efficient than the likes of Wal-Mart with US$486Bn in sales, Target with US$68Bn, and Bed Bath & Beyond US$12Bn, just because they are selling on Amazon's platform. Very soon the brick and mortar retailers will own similar online functionalities as those available to the mom and pops. Let's face it, a lot of growth that Amazon has seen in recent times have been because traditional retailers had limited online presence and the small mom and pops took market share. Furthermore, many of the prices we see on Amazon today are similar and some even higher than the prices of the same goods at traditional retailers (Source: Amazon Website).
Conclusion
In my opinion the way of the future is omni-channel, where the experts at merchandising gradually retain their dominance as they offer more compelling online capabilities. The industry will continue to evolve and many retailers will fall by the way side, but brick and mortar is here to stay.