Domino's Pizza (NYSE:DPZ) is a restaurant giant with over 13,800 locations in 85 markets. The company's revenues come from company-owned restaurants, franchised restaurants, and supply chain. Strategically, the company mostly operates through its owns supply chain that generates 62% of its total sales. Not surprisingly, the supply chain incurs the largest operating expense line on the company's P&L. Since May 2012, the stock went up by 483%, while S&P 500 gained 75% in value. The fast food giant McDonald's (NYSE:MCD) gained even less - around 50% over the same time period: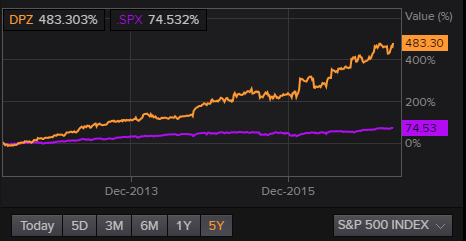 (Source: Thomson Reuters)
The growth in market capitalization is not random: the company has shown 24 straight quarters of comparable sales growth worldwide and 93 quarters of same store sales growth internationally. It leaves the question of how such a massive restaurant chain could overcome traffic difficulties, which affected competitors like Red Robin (NASDAQ:RRGB) and Sonic (NASDAQ:SONC), which are smaller than Domino's Pizza? Shake Shack (NYSE:SHAK) saw same stores sales growth falling down to 4.3% in 2016 compared with 13.3% in 2015. The reason behind Domino's Pizza's strong top line may be the large and highly diversified fleet of 13,800 restaurants and stores worldwide. Has the revenue growth always been so successful? Not really. Since the appointment of Domino's current CEO, J. Patrick Doyle, back in 2010 the top line's growth has decreased to just 2% per annum, accelerating afterwards: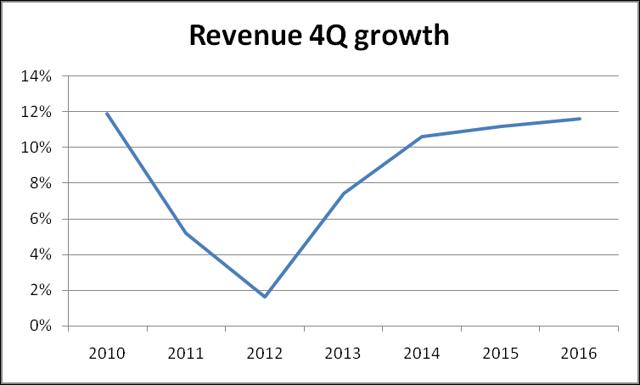 (Source: annual reports. Infographics by author)
Domino's Pizza's margins are getting higher each year topping the level of 18.4% for the operating income margin and 8.7% for the net income margin: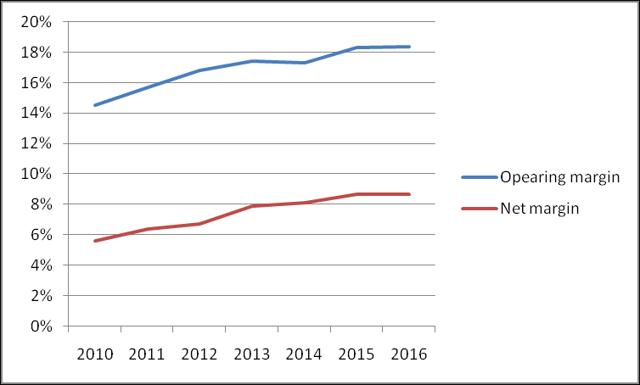 (Source: annual reports. Infographics by author)
While the company moves further with its margins, it is still far behind its peers, and its net margin is below the market average. McDonald's is showing the highest figures of 31.5% and 19.0% for the operating and net margins, respectively. Unless the market has fully priced in the positive trend in margins, the stock has a lot of room to grow, as evident in the example of McDonald's.
Not surprisingly, Domino's Pizza's ROA metric of 29.6% is the highest among its peers and far ahead of the market average of 14.4%:

(Source: Thomson Reuters)
Turning to the balance sheet, the company currently has three times more debt than equity which may seem a lot at the first sight. While the company's property, plant, equipment (further expressed as PP&E) constitutes 19% of its total assets, about 68% of McDonald's' balance sheet consists of PP&E. The low ratio can be explained by the franchising model. If PP&E is not the reason for the large amount of debt, then what is? It turns out the growth of debt coincides with the progressing share repurchase and dividend program. As we can see on the diagram, the amount of dividends per share is constantly growing and now reaches $1.52 per annum. As for the payout ratio, we see the significant increase from 25.5% in 2013 to 36.3% in 2016 as a percentage of net income:

(Source: Morningstar)
Although the last year's debt balance of $2.15B total debt seems heavy in absolute terms, it has changed by 190% since 2006, while the amount of current assets has grown by 198% over the same time period. That said, the reason behind the stock still being at its higher bound is the strong market sentiment, which has allowed Domino's to lift such a heavy burden: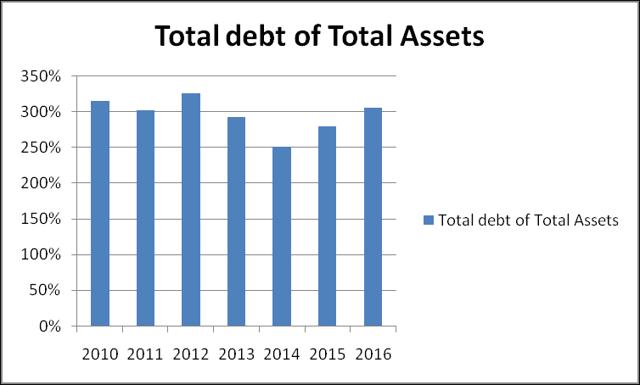 (Source: annual reports. Infographics by author)
Rumors are saying the debt levels have grown significantly since the appointment of Doyle and that this should drop down the stock in the nearest future. However, what we see is the current ratio being ahead of the peer mean, while the average days sales outstanding metric is the same as McDonald's: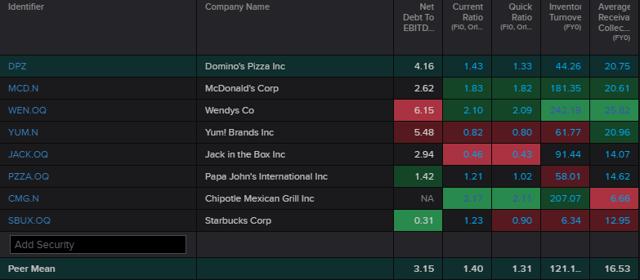 (Source: Thomson Reuters)
Overall, given the specifics of Domino's Pizza's business model, we find that the debt ratio is not extraordinary. However, the high debt levels will likely hinder the growth of shareholder compensation in the mid-term.
DCF Valuation
To strengthen our analysis, we have built a DCF valuation model based on the following assumptions:
Revenue growth of 12% and decreasing by 0.1% each year until 2021;
EBITDA being flat at 20% of revenue; Net income at 9.6% of revenue and increasing by 0.3% each year until 2021;
CFO being flat at 12% of revenue;
CAPEX at 2.7% of revenue and decreasing by 0.1% each year until 2021;
The discount rate, or WACC, to be constant at 6%;
The growth rate of free cash flows in the terminal period to be at 0%;
The EBITDA multiple in the range of 25x to 27x.
Starting from the Gordon Growth Model, we have obtained a fair value range of $171 to $288 in the base scenario which implies an upside opportunity of -8% to 42%. In order to narrow the range, we used the EBITDA multiple method for the terminal period: the chosen multiple is 26x EBITDA applied to the projected EBITDA figure in the terminal year. The result is the range of $303 to $343 per share, implying an upside opportunity of 52% to 72%. This seems quite optimistic given the conservative assumptions both in terms of revenue growth and the EBITDA multiple: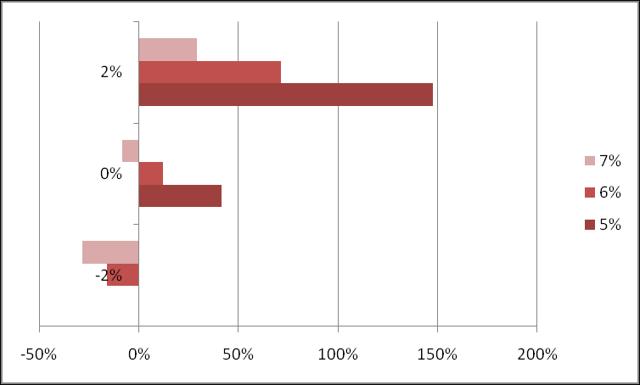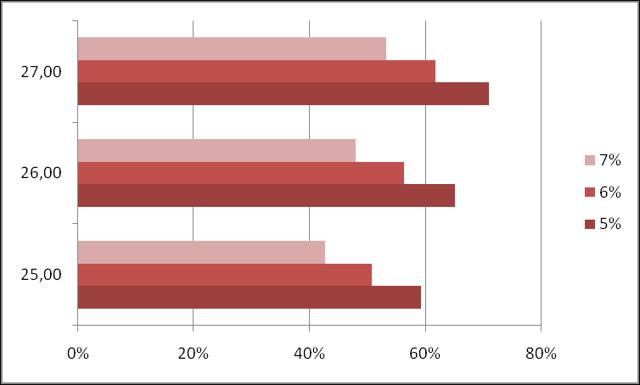 (Source: Author's DCF model)
Conclusion
From what we have seen above, it is evident that Domino's Pizza is a strong company with a solid brand, incredible revenue growth and margins. The mounting debt is a problem mostly in a stagnating or declining market, which is not the case for the company. In addition, other companies utilizing the same franchising model have similar leverage levels and are valued with comparable cash flow multiples.
In our valuation model, we found that Domino's Pizza's shares are significantly undervalued, which we attribute to the discount associated with the debt burden. Without the discount and given the conservative assumptions for the forecast period, the stock yields an upside opportunity of 48% to 65% over the next 24 to 48 months. Hence, we issue a BUY recommendation with a target price range of $300 to $340 per share. In addition, investors should consider utilizing stock options, in particular, using the collar strategy to protect the position from abrupt negative changes in the stock's value.
Societe Financiers is an investment research team focused on long-term, long- and short-only ideas. Our research objective is to cover equities in various regions, such as North America, EMEA, Asia, Australia, and Emerging Markets.
Readers should consider whether any advice or recommendation in our research articles is suitable for their particular circumstances and, if appropriate, seek professional advice, including tax advice. The price and value of investments referred to in our research articles and the income from them may fluctuate. Past performance is not a guide to future performance, future returns are not guaranteed, and a loss of original capital may occur. Fluctuations in exchange rates could have adverse effects on the value or price of, or income derived from, certain investments.
Certain transactions, including those involving futures, options, and other derivatives, give rise to substantial risk and are not suitable for all investors. Transaction costs may be significant in option strategies calling for multiple purchase and sales of options such as spreads.
Disclosure: I/we have no positions in any stocks mentioned, and no plans to initiate any positions within the next 72 hours.
I wrote this article myself, and it expresses my own opinions. I am not receiving compensation for it (other than from Seeking Alpha). I have no business relationship with any company whose stock is mentioned in this article.