JBS (OTCQX:JBSAY) is based in Brazil and is the second largest food company in the world. Management got caught bribing the President of Brazil and the stock has gotten crushed. Its 78.5% share of Pilgrims Pride is worth almost as much as what the stock is trading for. JBS is a value investor's dream come true.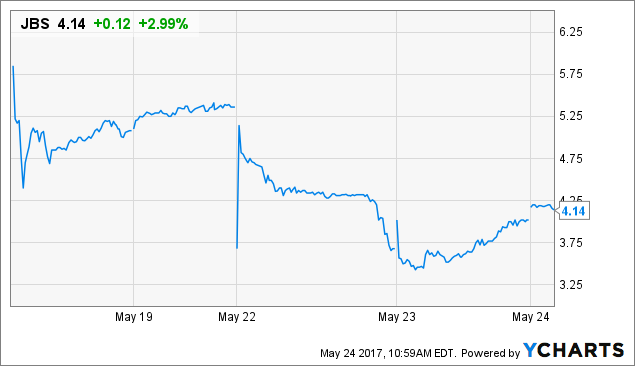 JBSAY Price data by YCharts
The company has 2.73 billion shares, the stock trades for 6.71 real, and the market cap is 18.32 billion ($5.58 billion). It takes 3.28 real to buy one dollar. Sales were 170.3 billion ($51.9 billion), it the stock trades at 10.7% of sales. That's cheap. Pilgrim's Pride (NYSE:PPC) has a market value of $7.78 billion. JBS owns 78.5% worth $4.56 billion.
JBS sells its products under the names of Seara, Friboi, Massa Leve, Swift, and Doriana. 51% of sales come from the U.S., 3% Canada, 3% Mexico, 3% South America, 15% Brazil, 5% Europe, 3% Africa, 1% Russia, 12% Asia, and 4% Oceana (Australia etc.). As you can see, it gets the majority of its sales in the U.S. Only 15% from Brazil where all of the trouble is.
The company IPOd in 2007. Since then, it's been on a buying binge. JBS took its piece in Pilgrim's in 2009, Seara 2013, Tyson Brazil/Mexico in 2014, Primo and Moy Pork in 2015. What's great is that management did not issue shares, though they have taken on a lot of debt.
JBS is soup to nuts in meat, or I guess I should say boots to beef. The company runs slaughter houses, tanneries, and even sells the finished product in the grocery store. Pork, beef, and chicken (or frango as they say in Portuguese, not to be confused with the Spanish pollo).
91.7% of debt is dollar denominated and 8.3% in the real. 59.4% is from commercial banks and 40.5% in public debt. JBS USA has 44.2% of the debt. 46.8% is JBS SA, and 9% Serra. On the asset side, 10.7 billion real ($3.26 billion) is in cash, 9.8 billion real ($3 billion) in receivables. On the liability side, 9.68 billion real ($2.95 billion) is in payables and a whopping 58.55 billion real ($17.85 billion) in debt. The company has broken even in free cash flow but back in 2014, it made 2.225 billion real ($678 million).
As you may know, a major shareholder, Joesley Batista, recorded former Brazilian President Michel Temer, taking a bride from JBS. Temer stepped down and the stock got crushed. More bad news came out and the stock took a huge hit on May 22. The Bautista family is in negotiations to pay a 11.2 billion real ($3.44 billion) fine to the government. The family's investment vehicle will pay the fine, not JBS. Management is extremely squirrelly. They've been caught offering bribes and running cattle on what is supposed to be land saved for the rain forest. The government forced JBS to close 33 of its 36 plants in Brazil.
JBS USA has a series of bonds that trade over par. Evidently, the bond market is not concerned with the company's solvency. They do have other bonds that have gotten crushed. S&P rates the debt BB. I'd agree with that. Remember, they can sell shares of Pilgrim's Pride. There are some issues that are trading down. We also purchased a few bonds yesterday. The cusip is U0901CAG5, the bonds mature 7/15/24, and they are trading at 96.37. They were trading at 105 just a few days ago.
JBS was supposed to IPO its International division on the NYSE. Management may halt the IPO. They're kind of busy now if you know what I mean. The Bautista's own 44.35% of shares. The Brazilian government owns 21.32%. The government will not force JBS out of business. That would be dumb. Furthermore, you can bet those slaughterhouses won't be closed forever. People have to eat and the Brazilian government has to pay its bills. Maybe it should be called Pilgrim's ashamed and not Pilgrim's Pride with all of the corruption.
In my opinion, the sellers have been emerging market mutual funds. As JBS is a big fish (or was) in a small bond, these funds must own shares. When these funds stop selling, the stock will rise. We bought shares yesterday and are already at a 9.64% profit. We own the ADR which represents two shares. I tried through Schwab and Interactive to buy through Sao Paulo but neither have a trading desk down there.
Here's a couple of scenarios. Time goes by, everyone forgets about the scandal, the slaughterhouses reopen, the stock goes up. Another scenario is that more bad news comes out and the stock gets killed. Or, it IPOs the international division and it's worth a lot. Or, JBS sells its share of Pilgrims Pride. Or, the debt becomes unmanageable and bad things happen. My biggest fear is that ETFs and mutual funds will continue to sell and that we caught a falling knife. The last scenario is that the Bautista family has to sell shares to raise money for the fine, thus putting downward pressure on the stock. Or, they have to raise cash and sell their shares to private equity firm or another meat packer.
I liken JBS to BP after the Gulf accident. The stock was beaten down to the point that it was a no-brainer. Or American Express (NYSE:AXP) back in the 1960s when it lost money on a company claiming to have more soybean oil than it actually did. Buffett loaded up on American Express and made a killing. I think this will happen with JBS. Believe it or not, I faxed Berkshire Hathaway (BRK.A, BRK.B) a copy of this article. It will be interesting to see if Mr. Buffett returns my phone call.
Disclosure: I am/we are long JBSAY.
I wrote this article myself, and it expresses my own opinions. I am not receiving compensation for it (other than from Seeking Alpha). I have no business relationship with any company whose stock is mentioned in this article.
Editor's Note: This article discusses one or more securities that do not trade on a major U.S. exchange. Please be aware of the risks associated with these stocks.