The recent Q1 results for Glu Mobile (NASDAQ:GLUU) were a huge departure from past quarterly reports. The new CEO actually delivered on smashing booking forecasts without having a mega hit for a one-time bump to results making my investment thesis for buying the stock at $2.
The stock is now up at $2.65 following the strong bookings guidance for 2017. Should Glu Mobile really only be worth $360 million?
Due to a lack of new games and the dismal recent results, the market actually bought that Glu Mobile was only going to generate Q1 bookings around $54 million. The number fit with the recent trend despite the obvious success of the Crowdstar games so investors ignored the success of Design Home.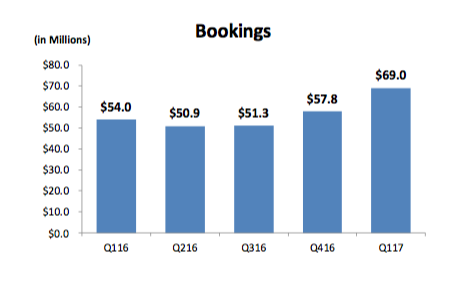 Source: Glu Mobile Q117 presentation
The actual bookings level of $69.0 million far exceeded estimates. The encouraging part is that Glu Mobile confirmed my thesis that the mobile-game developer doesn't need a mega hit in order to generate value for shareholders when the market cap was under $300 million.
For Q1, the Crowdstar games generated bookings of $26.4 million, but the key is that the legacy games produced bookings of $42.6 million. Evergreen titles like Kim Kardashian Hollywood, Cooking Dash and Deer Hunter all saw solid bumps in results highlighting how operations under the past CEO were part of the problem.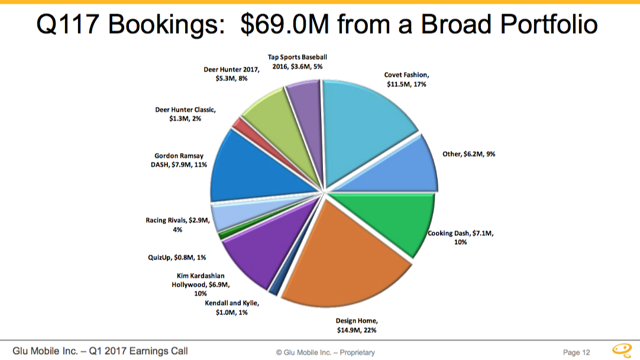 Source: Glu Mobile Q117 presentation
These key platform games saw solid sequential quarterly results despite aging during the quarter:
Gordan Ramsey DASH - $7.9M, up from $7.0M.
Kim Kardashian Hollywood - $6.9M, flat from $6.9M.
Deer Hunter 2017 (renamed) - $5.3M, up from $3.6M.
Cooking Dash - $7.1M, down from $7.6M.
Total - $27.2M, up from $25.1M.
The improvement in live operations also led to better results for the recently purchased Covet Fashion that produced Q4 bookings at a $12 million range and only dipped to $11.5 million for Q1. Note that total bookings for the Crowdstar games only grew $14.2 million sequentially highlighting how the expected declines of old platform games is what led to the big quarterly beat considering Glu Mobile didn't publish a new title during Q1.
The new CEO plans to spend aggressively on user acquisition for Design Home that could provide upside to the bookings guidance. The game has now reached a top 25 position after five months on the market. As well, MLB Tap Sports Baseball 2017 has been a solid new release this quarter though nothing near mega-hit levels.
Despite a 30%-plus surge in the stock from $2 levels, Glu Mobile is still compelling due to the huge bump in bookings guidance. The new midpoint is $285 million for 2017 and the stock only trades at an enterprise value around $300 million with over $70 million in cash on the balance sheet.
The key investor takeaway is that Glu Mobile remains extremely cheap based on limited bookings' bumps from new games. The new era of relying on live operations for consistent revenue growth places the stock in a new era that will ultimately warrant a higher valuation more consistent with gaming stocks that typically trade at much higher multiples of net sales or bookings.
Disclosure: I am/we are long GLUU.
I wrote this article myself, and it expresses my own opinions. I am not receiving compensation for it (other than from Seeking Alpha). I have no business relationship with any company whose stock is mentioned in this article.
Additional disclosure: The information contained herein is for informational purposes only. Nothing in this article should be taken as a solicitation to purchase or sell securities. Before buying or selling any stock you should do your own research and reach your own conclusion or consult a financial advisor. Investing includes risks, including loss of principal.