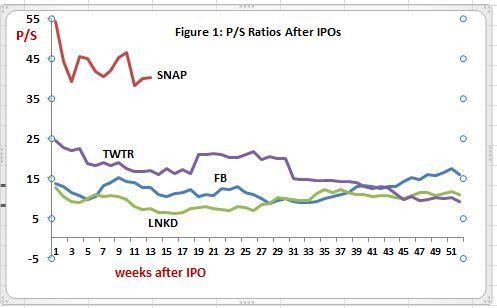 Valuation on Snap's (NYSE:SNAP) stock could be analysts' worst nightmare. You can hardly find any positive numbers in the income statement to do meaningful calculations with. Without foreseeable profit, free cash flow or dividends, most of the conventional fundamental valuation models do not apply. The effectiveness of the balance sheet approach, or the book value based valuation, is also limited by the $400 million intangible assets and over $1 billion cash from IPO out of the total assets of $1.72 billion (company 10-Q). That is, there are no real assets to be valued.
What Are Snap Shareholders Looking At Now?
Therefore, before doing a proper valuation, we need to first ask what Snap shareholders are looking at now. In the only quarterly report available, Snap barely missed Q1 revenue, daily active users (DAU), and the earnings; met the average revenue per user (ARPU). As it is fully expected that an IPO company will not see profit soon, the near miss of revenue was reacted harshly because it is related to the slowdown in DAU. Therefore, it is safe to assume that Snap shareholders are more concerned with the long-term growth prospect in revenue. In the social media industry, revenue is jointly determined by the ARPU and DAU. For example, a 5% growth in DAU, coupled with an 8% growth in ARPU, would result in a 13% growth in revenue.
So, for SNAP's valuation, I choose a framework which focuses on future revenue growth. The revenue-based, Sales Franchise Value Model ("SFV") is presented below as Equation (1):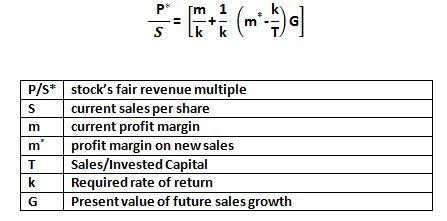 The logic behind the SFV is that the revenue multiple, or price to sales ratio (P/S), is determined jointly by the future growth in revenue and improvement in profitability. Based on Equation (1), the key factor to determine the current fair P/S ratio is the annual revenue growth rate for the current year, 2017. For the future P/S ratio, the relevant revenue growth rate is for the next year, 2018. To estimate the future revenue growth, simple math requires estimating both the growth in DAU and ARPU for each time period.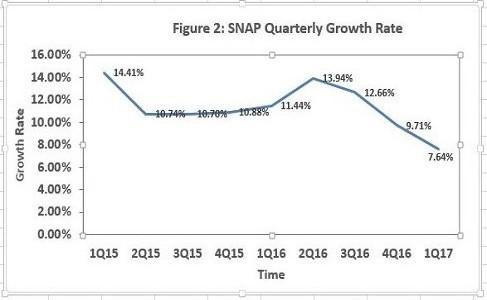 (Source: Company 10-Qs)
For the baseline case, the actual growth rate for the quarterly average daily active users for the past four trailing quarters is computed (Figure 2) with the Q1 growth rate around 7.64%. To my surprise, Snap's DAU growth has already been showing signs of declines into single digits since late 2016. The decline has been attributed to Instagram's launch of a similar "Stories" product. However, the real concern is that Delmondo has shown the decreasing DAU growth even before the Instagram's Stories launch. Similarly, SNAP displays the same disturbing trend in ARPU, an important measure for its ability to monetize the users. This could be also caused by the steep competition from Instagram's fight for users.
More importantly, the level of competition quickly rises to a different order as soon as Snap joins the fight with Facebook (NASDAQ:FB) and Google (NASDAQ:GOOG) (NASDAQ:GOOGL) for advertising dollars. Historically, Snap has been a significant underperformer in ARPU compared to peers, as the peers regularly produce ARPUs somewhere between $5 and $8. While briefly hitting $1.05 in Q4 2016, Snap's Q1 ARPU went back down to $0.90. This is the basis for the next 12-month ARPU estimates which are more likely between $0.90 and $1.00.
However, reflecting the confidence level of guidance changes in valuation is much trickier. The risk level of the forecast is usually reflected in the level of the discount rate, k, in Equation (1). An intuitive interpretation of an "x%" discount rate is that market will shave x% off the fair value to adjust for the uncertainty of the forecast. Throughout this study, I used the discount rate, 11%, which was the discount rate prevailing around Snap's Q1 announcement.

In short, in Table 1, the 12-month P/S ratio by 2018 under various scenarios of DAU growth and ARPU are computed with Equation (1). Given the estimates that quarterly DAU will most likely grow somewhere between 7% and 8% in next 12-month period, along with the ARPU between $0.90 and $1.00, the fair P/S should be between 19 and 24 (in red). Specifically, my best SFV estimates for SNAP's P/S ratio should come down from the current 45 to 19 or 21 within 12 months.
2. Peer Analysis
Alternatively, SNAP's P/S may be compared with its peers. However, the selection of the relevant peer and time point requires further care. The comparison is only meaningful if the peer has a similar business model and in a similar risk environment. For the first reason, I select Facebook, LinkedIn, and Twitter (NYSE:TWTR) for their obvious similarities in their social media business models to Snap's. For the second reason, I use the one-year period after each stock's IPO, as it is not sensible to compare the three-month old Snap to a five-year old Facebook, a six-year old LinkedIn, or a three-year old Twitter if using the current time point. The logic of using the same post-IPO period is based on the premise that newly IPO stocks should have faced similar risks.
Therefore, in Figure 1, the revenue multiples for the four stocks are "lined up" relative to its respective IPO timeline. Clearly, Snap has been clearly in a different "camp" than Facebook, Twitter, and LinkedIn. SNAP's price to sales ratios have been ranging between 40 and 50, while the other three stocks were between 10 and 20. SNAP is traded twice as expensive as the peer at the same time after the IPOs.
The disparity seems even more alarming, considering that on virtually every fundamental front, the peers have been better than where SNAP is now. Three months after IPOs, Facebook, LinkedIn, and Twitter all had a higher DAU and ARPU than Snap; all three companies were already or near profitable. So, it stands to reason that, at a minimum, SNAP's P/S ratio should be cut in half to a level closer to the peer's. Coupled with the Street's estimate that Snap's 2018 revenue will double, then SNAP's 2018 price target should stay the same at around the current $20.
3. Compared to Instagram
In addition to the peer analysis at a common historical point, another obvious comparison can be made between SNAP and its current archenemy, Instagram. A simple examination will easily reveal the relative valuation between the two close competitors. Statista has estimated that Instagram's revenue will grow from $1.095 billion to $9.511 billion from 2015 to 2021 (Table 2). Even with Instagram's wide range of private valuation between $20 billion to $50 billion, it would be equivalent to an effective P/S ratio between 5.26 and 18.26, a much more reasonable and similar order with the other big three. This is yet another piece of evidence suggesting that SNAP's price to sales should come down significantly in line with others.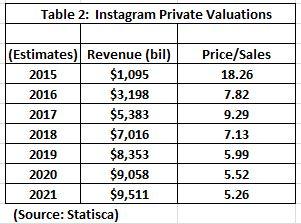 Caveats
As usual, even the best quantitative metrics may not include all qualitative and risk considerations. In above valuations, the pricing of the following factors has not been included.
Dual-Class Share Structure Discount
But to protect "founders' visions," the 230 million shares sold in the IPO have no voting rights. With over 88% of the voting rights, Spiegel and Murphy practically have complete control of the company. One clever move is that Snap has instituted the dual class share structure at day 1 of IPO. Because Snap is still on its honeymoon with the shareholders, they would give the founders the full benefit of doubt.
In contrast, with almost 10 years in public eyes, it did cost Under Armour (NYSE:UAA) CEO Kevin Frank 10-15% to establish the same dual-class share structure in 2016. Currently, Facebook's Mark Zuckerberg is still in court to fight for his.
Lock-Up Expiration
Though, one thing is real. There is an inevitable negative impact from the lock-up expiration on the near horizon. It is estimated that close to one quarter of the 1.18 billion shares outstanding may be freed up from lock-up option by the end of year, and some shares may be sold in late August. Close to 100 million out of the 230 million IPO shares are held by executives and VC firms which are known to "jump ship" as early as they can. Academic study has shown that there will be a negative market impact in the order of -5% two months leading into the expiration of the lock-up option. For the immediate same-day selloff effect, it is estimated that the selling of 100 million shares, equivalent to three days of the average daily volume, may amount to a negative price impact of 5-8%.
Cautions
Although SNAP's relative valuation, or P/S ratio, should come down to one half of the current level, it is not necessarily suggesting that SNAP is overvalued by 50%. As the Street has estimated that Snap's 2018 revenue will double, it will easily offset the simultaneous drop in revenue multiple and leave the stock price at the current level.
Disclosure: I/we have no positions in any stocks mentioned, and no plans to initiate any positions within the next 72 hours.
I wrote this article myself, and it expresses my own opinions. I am not receiving compensation for it (other than from Seeking Alpha). I have no business relationship with any company whose stock is mentioned in this article.