Much has been written by me and others regarding Chevron's (NYSE:CVX) long-term growth prospects, its position in the U.S. Permian Basin, and its position in Asian LNG - the Gorgon Project. However, not much has been analyzed regarding a deep dive appraised valuation of Chevron's entire balance sheet, assets, liabilities and net worth. In this discussion, we will do exactly that - a deep Chevron balance sheet dive.
We based our balance sheet analysis on our discounted cash flow, profit and loss, and operating cash flow models that generate a present value asset valuation, projected earnings, and projected net operating cash flow per equity share and per barrel of oil equivalent - Boe per production basis.
We discount each individual operating region of Chevron's proven (1P) oil and gas reserves as disclosed in CVX's annual 10-K. The upstream data is provided under the SEC's Supplementary Oil & Gas - FASB 69 disclosure requirement.
Under the FASB 69 ruling, Oil & Gas companies are required to disclose:
Proved (developed & undeveloped) oil and gas reserve quantities
Capitalized costs relating to oil and gas producing activities
Costs incurred in oil and gas property acquisition, exploration, and development activities
Results of operations for oil and gas producing activities
A standardized measure of discounted future net cash flows relating to proved oil and gas reserve quantities
The FASB 69 data reports remaining proven reserves as of year-end 2016 for each consolidated and major equity operating region. A reserve is considered proven if it is probable that 90% or more of the resource is recoverable while also being economically profitable. Price changes can have a significant impact on the classification of proven reserves. A probable resource that can be recovered using current technology but is not economically profitable is considered "technically recoverable" but is not a proven reserve. These are resources with less than 90% probability of being recoverable but more than 50%. Resources below a 50% probability of being recoverable are labeled possible resources.
CVX reports six consolidated global regions: the U.S., Africa, Asia, Other Americas, Europe, and Australia/Oceania. CVX also reports two non-consolidated equity regions: its 50% owned Tengiz and Other Equity region that includes Venezuelan operations Petropiar (Hamaca), Petroboscan (Boscan) and Angola's LNG project.
Historical production volumes and costs are provided along with historical and projected development costs, and historical oil & gas prices. Future oil & gas production is based on Company reports of projected production by region and country in its quarterly reports, press releases, presentations, and conference calls.
Our model creates a profit and loss statement for each proven reserve region by discounting the region's cash flows until its proven reserves are extinguished. The discount rate employed is a weighted average cost of capital - WACC, as calculated using the Capital Asset Pricing Model. Our calculated WACC was 8.8% for Chevron.
We begin with Chevron's actual realized or reported oil and gas price per region for each year, going back to 2005. For each proven reserve region, we compare Chevron's realized oil and gas price with the actual spot Brent oil and Henry Hub gas price for each region to derive a price differential for oil and gas. Each reserve region will have a different oil and gas price differential. The price differential can be either a premium or discount. The price differential is applied to forecasted oil & gas prices for each year of projected oil and gas production. Oil & gas prices can be adjusted for any hedging activity, but Chevron like the other international majors does not hedge prices due to its vast geographical diversity and vertical integration from upstream to downstream activities. Essentially, its argument is that it has a natural hedge due to the vast scope of its global operations.
The price forecast begins in 2017 with Brent oil at U.S. $55/bbl and Henry Hub at U.S. $3.10/Mcf and is escalated at 10% over the life of each region's production. By escalating prices at 10% and discounting the cash flows at 8.8%, we have essentially created a conservative flat oil price case. Prices going forward in present value terms are essentially valued at $55/bbl.
Lifting or production operating expenses are divided into actual wellhead production costs, shipping, transportation and handling, taxes other than income taxes, and production related general & administrative (G&A) costs. These lifting/production costs are escalated at various rates separately for oil and gas depending on the particular region, and its historical pattern. The escalation rates can vary from 1% to 5% or even higher. Development costs for proven undeveloped reserves are based on FASB 69 disclosed historical costs incurred by Chevron per region, and future development costs disclosed by Chevron under FASB 69.
The table below summarizes the discounted cash flow results per consolidated region by present value (PV) in US $ Millions, and by boe of production.

Chevron's U.S. region has the highest PV in total dollar terms led by the upside potential of the Permian Basin, and its position in the deep-water Gulf of Mexico.
Chevron's Interest in the Permian Basin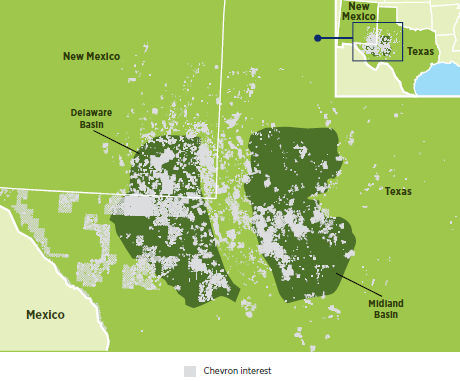 Source: Chevron's 2016 Annual Report Supplement
Chevron's Interest in the U.S. Gulf of Mexico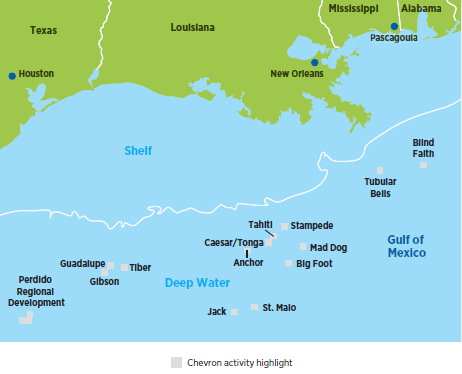 Source: Chevron's 2016 Annual Report Supplement
Australia has the second highest dollar valuation driven by the massive natural gas reserves that will feed the Gorgon LNG project. However, Australia's $/boe valuation is relatively low at $18.77 compared to the other regions due to the higher gas weighting that commands lower prices relative to oil. Other Americas has a low overall valuation due to its lower oil and gas reserves relative to the other regions, and higher production costs.
Chevron's Interest in Australia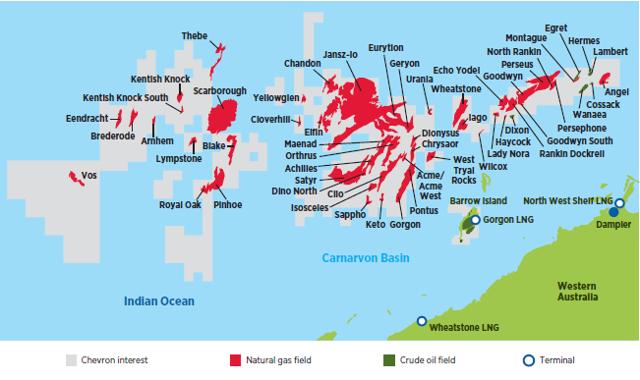 Source: Chevron's 2016 Annual Report Supplement
Chevron's Australian Gorgon Project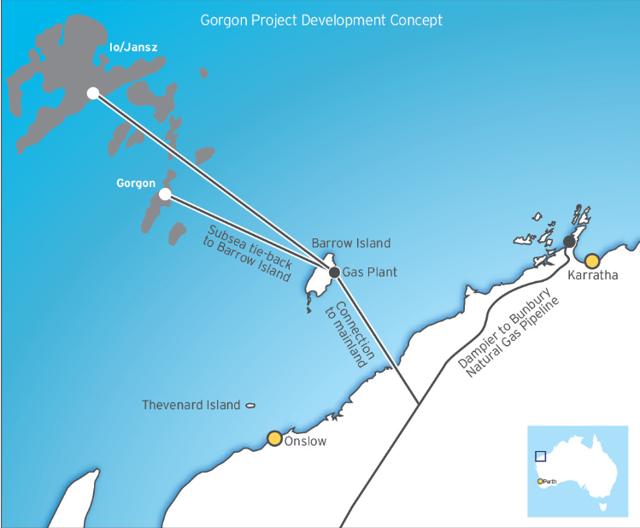 Source: Google Images
Next we assigned a valuation for consolidated non-proven resources; these are either probable or possible resources. Essentially, it is acreage or real estate that oil companies accumulate for future exploration. Chevron, like the other international majors, does not report probable or possible resources; rather the company discloses its acreage by global region. The valuation is based on geographical location of the region: the degree of historical exploration success, current production levels if occurring, oil and gas realized prices and production costs for the region, and current M&A activity in the region. Essentially, a region's acreage value is related to its proven reserve value.

The PV valuation for Chevron's two major non-consolidated equity interests is in the table below. CVX's Tengizchevroil is a joint venture between Chevron (50% interest), Exxon Mobil (NYSE:XOM) (25% share), KazMunayGas (20% share) and LukArco (5% share). The joint venture was formed in April 1993, when the Kazakhstan government granted an exclusive 40-year right to Tengizchevroil LLP to develop the Tengiz and Korolevskoye oil fields located in the north-eastern reaches of the Caspian Sea in Kazakhstan.
The significant oil-based resource potential of CVX's Tengizchevroil dwarfs Chevron's consolidated regions.
Chevron's Tengiz Operation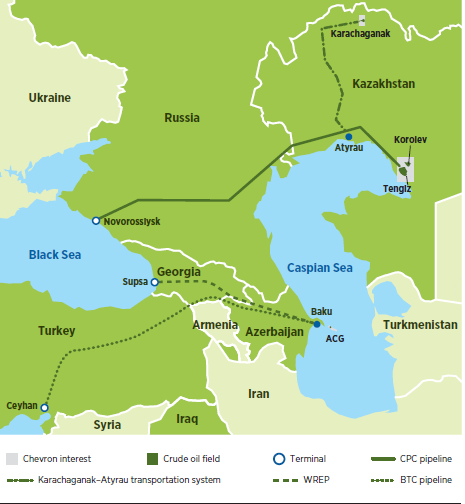 Source: Chevron's 2016 Annual Report Supplement
Chevron Model Metrics
Since 2010, Chevron's global oil & gas production has drifted lower, hitting a trough in 2014. Global production is now expected to increase forward as many projects that were under development in earlier years have now moved into production; i.e., Australia's Gorgon project, Jack/St. Malo project in the Gulf of Mexico and more recently production from the Permian basin.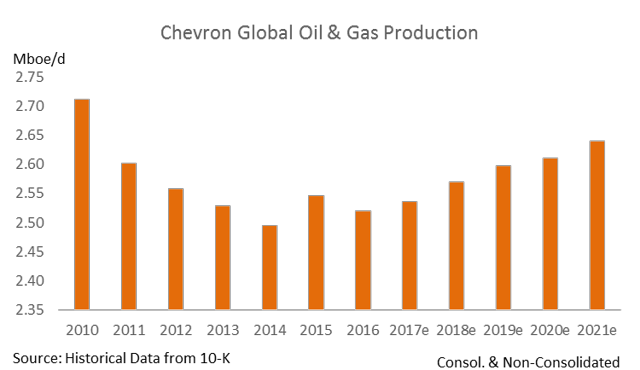 Nominal realized prices are expected to increase at 10% escalation rate.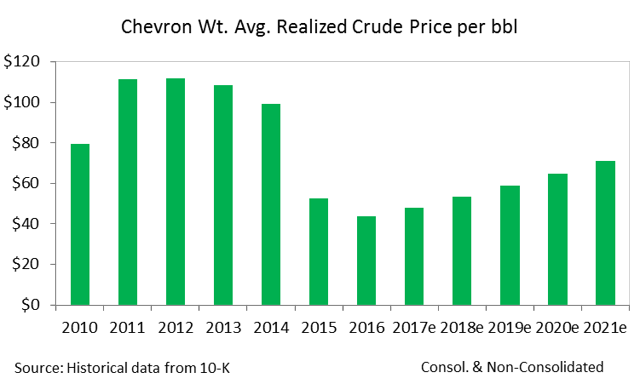 Expected production costs per boe of production are expected to hold steady due to increasing production.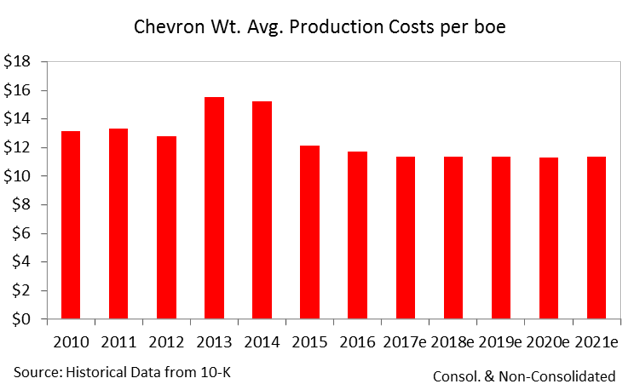 Overall, operating margins are expected to expand as production increases.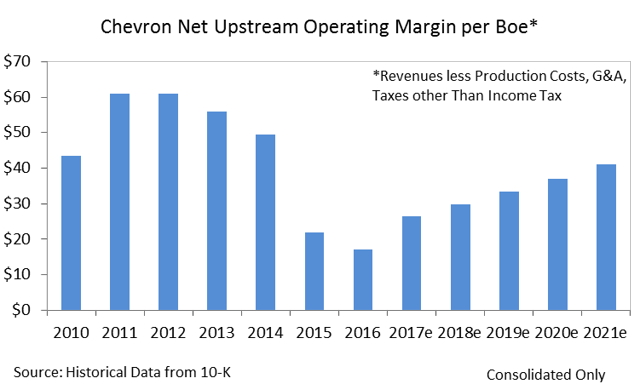 Other assets, net working capital or current assets less current liabilities, long-term liabilities and minority interest are assigned their balance sheet values. The difference between the appraised assets less liabilities and minority interest is the net worth or equity appraised valuation. Our model indicates that Chevron's appraised equity is $128.30 per common share. Chevron's market price is trading at a discount of roughly 17% to its appraised equity value.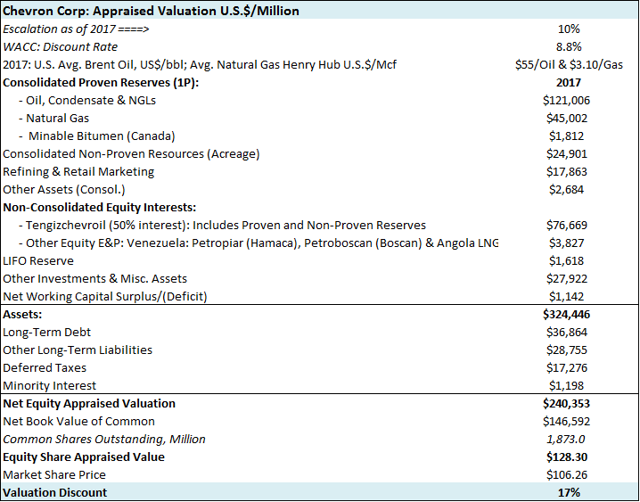 Expected Earnings & Net Cash Flow Forecasts
Our discounted cash flow model generates a pro-forma earnings and cash flow on an annual basis.
From 2017 to 2021 rising production, modest price and production cost growth should drive earnings and operating cash flow higher.

During the forecast period, with no equity offering, operating cash flow and capital spending per common share could increase roughly 8.5% and 8% per annum, respectively. Capital spending is expected to range from just under U.S. $18 billion in 2017 to nearly U.S. $24 billion in 2021. Net operating cash flow (NCF) or operating cash flow less capital spending and dividends could possibly turn breakeven in 2017 and may turn slightly positive by 2018.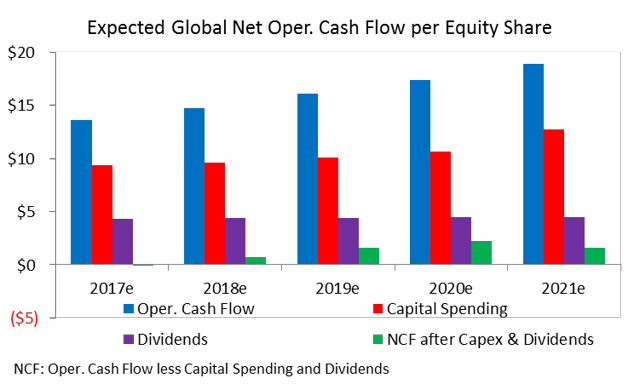 In the table below, net operating cash flow is presented on a boe basis of production.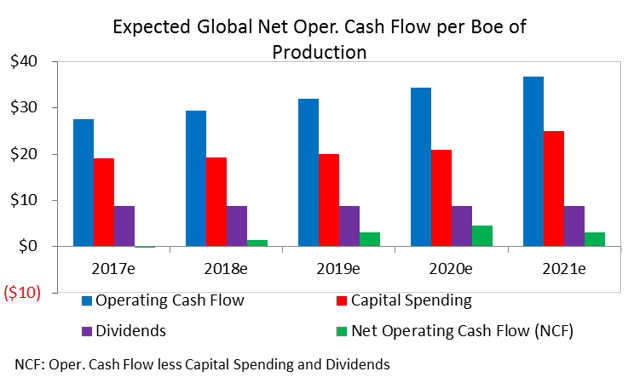 Conclusion
Our models indicate that Chevron's stock does have upside potential. However, it is important to keep in mind that valuation by itself is not a catalyst. Positive catalysts that could propel CVX's equity higher are greater-than-anticipated higher oil & gas prices, higher production volumes, lower production costs, or significant oil & gas discoveries. Essentially, better-than-anticipated growth prospects would provide a tailwind to CVX's share price. It is also worth noting that this is a conservative valuation case. As we mentioned in the beginning, our price deck in the model is essentially held flat in present value terms at $55/bbl by escalating and discounting at roughly the same rate.
Looking at the share price, CVX is and has been trading at its weighted moving average for a period of time. This meandering in its share price is reflected in other indicators shown below. Its relative strength and price to volume indicators all show that the stock appears to be currently directionless. The stock is undervalued but needs a tailwind catalyst to jolt it out of its doldrums. Look for better-than-expected production and higher than expected prices in 2017 to pivot CVX's stock to the upside.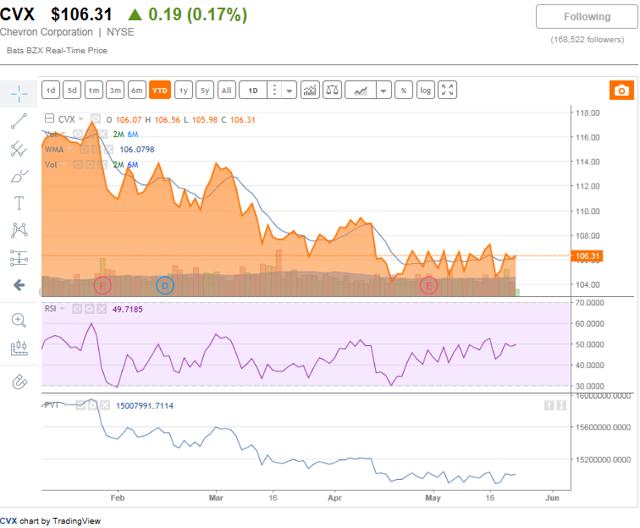 Note from author: Thank you for reading. If you like this article, then please follow me by clicking the "Follow" button at the top of this page.
Disclaimer: Please do your own research on the company's SEC filings, press releases and any relevant information to determine whether this company is suitable for your investment risk profile. The reader should contact a qualified investment advisor. I am not a registered investment advisor, and this article is not an advice to buy or sell stock in any company. I am not responsible for investment decisions you make.
Disclosure: I am/we are long CVX.
I wrote this article myself, and it expresses my own opinions. I am not receiving compensation for it (other than from Seeking Alpha). I have no business relationship with any company whose stock is mentioned in this article.