The USD is currently going through a rough patch, not helped by the President of the United States being embroiled in a saga which could potentially see him being impeached due to efforts to obstruct an FBI investigation into ties between him and Russia by sacking then-FBI director Comey. Messy.
Of course, the markets had priced in a stronger USD prior to this controversy, with expectation of Trump pushing through infrastructure spending, as well as tax reform - both of which would have translated into a stronger currency.
Is the market currently under-pricing USD strength? There are a few catalysts going forward which could see some reprieve for the USD:
Firstly, members of the Federal Reserve have been coming out in strength to raise the probability of a June rate hike. During the Fed meeting in May, officials pushed the probability of a June rate hike to above 90%, effectively signaling they want to prepare the markets for the decision. Currently, the market is pricing in 78.5% of a June rate hike. Should the Fed raise rates in June, there is room for the USD to appreciate as the markets are not fully pricing in the decision yet. Watch FOMC minutes tonight, as well as the lead up to the Fed meeting in June.
Secondly, the Senate will review the healthcare reform bill late Wednesday and give it a "score" based on its viability and feasibility. If positive, this paves the way for the healthcare reform to take place and to allow the Republican camp to move on to other goals, such as infrastructure spending and tax reform. Healthcare reforms might also free up coffers, which would make it more easy to pass infrastructure and tax reform. The healthcare reform has fallen off the radar of late, and if it gets a good "score" from the Senate, this would provide positive soundbites for the USD.
Thirdly, from a technical perspective, the USD Index is currently testing the lower bound of the support zone 97.3 to 98.5, which are levels last seen when Trump won the elections. This presents a decent level for an investor to accumulate some USD, especially given that the Fed remains the only central bank on a hiking path.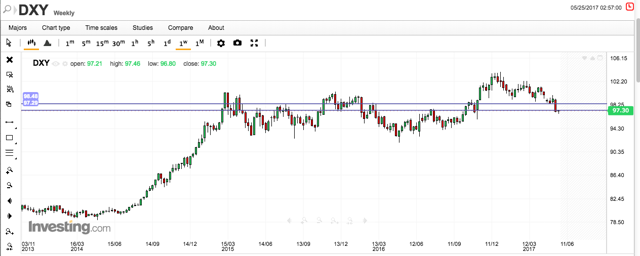 Disclosure: I/we have no positions in any stocks mentioned, and no plans to initiate any positions within the next 72 hours.
I wrote this article myself, and it expresses my own opinions. I am not receiving compensation for it (other than from Seeking Alpha). I have no business relationship with any company whose stock is mentioned in this article.