New home sales missed their mark this month. Last week's fall in mortgage applications could have been an indicator of what was to come with this week's release of April's new home sales data. While the real estate industry has some potential, there is not much activity in new home sales. On the one hand, I see a great deal of opportunity for home builders; on the other, I see that the industry itself may be beginning a continued decline in purchases. In certain areas of the nation, there is a shortage of inventory in homes for sale. But the U.S. economy is slowing, and before builders get busy fulfilling that demand, there is a likely contraction in the sector first. This stems from the lack of growth in incomes along with lenders starting to contract from delinquencies. The opportunity for builders to sell homes exists. They are simply missing this opportunity and it may be too late with the economy slowing.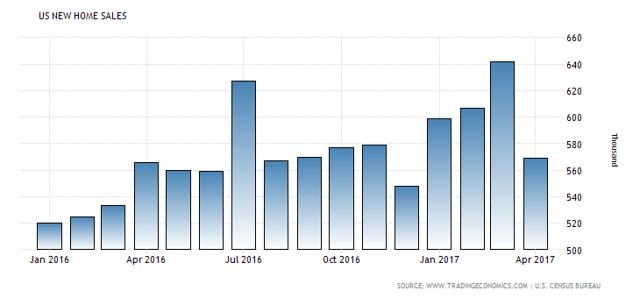 After the presidential election in November 2016, confidence levels and consumer consumption increased. In the chart below, you can see the rise in confidence. Don't be fooled with October's drop. The number was 87. That is still a very impressive number, albeit the lowest in the bunch. But the most recent months are what is striking, pushing to levels of confidence that we see during Dot-Com Era economies. I'm not sure this current economy is at that level.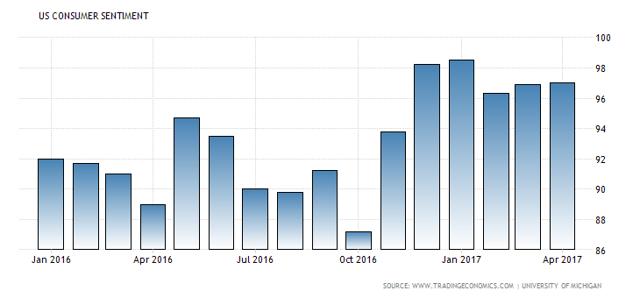 Regardless, homes and autos saw purchase increases during that time, in the last part of 2016. Now, however, there are some declines in both auto sales and home purchases. In 2016, credit expansion was brisk. However, the last part of 2016 saw a 7% decline in the last quarter on a year-over-year basis. Some are claiming that Dodd-Frank is holding back lending. That is silly.
Dodd-Frank has been in effect for some time. If you are going to claim Dodd-Frank is holding back lending, I am going to ask how all the other loans up until that point happened... And I am prepared to wait until hell freezes over for your response.
One thing that did happen in the last part of 2016 is Trump was elected President. That brought in one of the biggest bull market moves in the history of the United States when the Dow moved from 16,000 to nearly 21,000 now, a 5,000 point move in about 4 month's time. However, interest rates followed upward, albeit in far less grandiose style: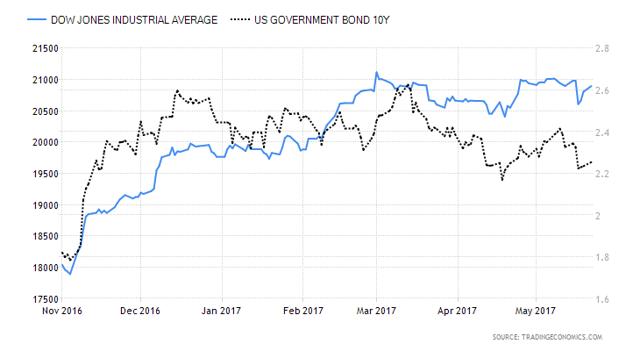 The thinking is that the economy would aggressively advance with tax cuts, rolling back tight business restrictions and infrastructure spending. That spurred confidence, and on some level, a lot of spending, even if individuals were not qualified to get a loan. The moves in interest rates upward have held back purchases in real estate. At the same time, there have been some people on the proverbial fencepost hoping that a Republican dominated government would come up with ways to make owning a home less expensive and less cost-prohibitive. Unfortunately, this government can't even get its #1 key legislation through, repealing and replacing Obamacare.
Low interest rates and consumer confidence increases may explain the pace of the housing industry, but there is nothing to explain the gap between new homes sold and existing homes sold. The below chart shows the two data points, existing home sales versus new home sales since 1990, and a clear correlation up until the bottom of the housing bust: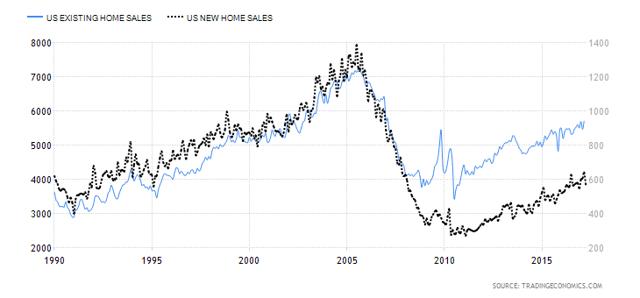 Unfortunately, a lot of the credit extended in late 2016 is now turning 90-days delinquent for both auto loans and credit card loans. Lenders are starting to tighten their criteria due to having to set aside extra capital for loan loss provisions. Last month, Capital One Financial Group (NYSE: COF) missed earnings by over 20% off of consensus for this reason.
Despite increases in expenditures, there was not a corresponding increase in incomes. You can cheer for the future all you want when a new president gets elected. But if the administration fails to deliver on the very reasons you cheered, and the bills come due, how do you make the mathematics work? You don't. And, so, you become a statistic and let your bills go unpaid.
On the one hand, there is a void of opportunity as inventories dry up in certain markets of homes for sale. Home builders should be able to make a mint off of that lack of inventory, bringing a great deal more inventory to market, selling and building more; they are not - in Denver, the average inventory for homes for sale is 14,500; there is only 3,848 currently and this city is not an outlier as other cities are experiencing the same issues. Instead, as this month's data release shows, there was a decline in new home sales.
On the other hand, the economy is slowing, lending is tightening because of loan loss provisions and incomes are not increasing at a rate that will spur the economy forward. How do home builders increase sales and profits during an economy that is beginning to contract?
Regardless of the reason why home builders are not keeping up with necessary demand, the weight of the economy is going to prevent them from increasing market share and closing the gap between existing home sales and new home sales. If lenders continue to shrink their lending and home sales drop 5% over the course of the next 6 months, how does that play out with home builders? The economy was growing and home sales were increasing. Home builders are failing miserably at keeping up with inventory levels. How are they all of a sudden going to turn things around?
I watched the increases in confidence and expenditures and thought this would give a good shot in the arm to the economy. It did not. Around March, when the data started to turn negative showing us the reality of where our economy was, I turned negative towards future growth. I am still not sure we will enter a recession. Instead, what I think is most likely is that a mild slowing, or contracting, of economic growth will bring the GDP rates down to levels that get this economy nowhere. Wait... We are already there with the latest 0.7% GDP release. That may be the norm for some time.
Incomes need to increase in order to get this economy moving forward. And, until then, the new home sales levels are likely to continue to falter, and move lower from here. The effects of this will be for builders to see lower sales and, hence, lower profits. They are already behind on demand. If the aggregate levels of home purchases declines, the fortunes of the builders will follow suit. This is springtime. This is the time for builders to be selling. Their sales are declining. That should tell you something.
I want to believe that builders will expand their sales. As a shopper in Denver, I am astounded at the inventory levels and lack of choice in the marketplace. And, yet, builders cannot bring more supply to market? That makes no sense. I am sour on builders because they are not getting their job done. The economic data says builders are heading lower. I agree.
Here is the latest chart on the SPDR Homebuilders ETF (NYSEARCA:XHB). I expect the high is in for now and the ETF will head lower: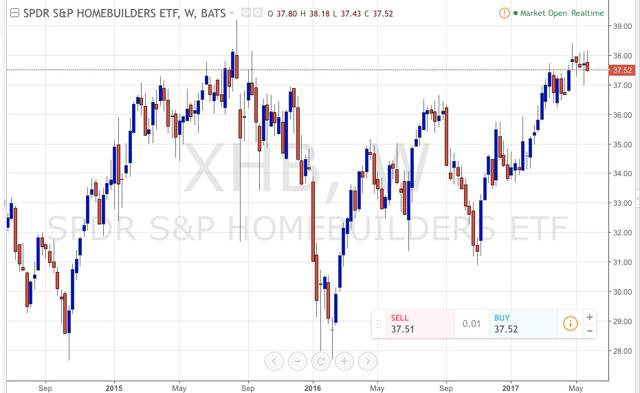 Disclosure: I/we have no positions in any stocks mentioned, and no plans to initiate any positions within the next 72 hours.
I wrote this article myself, and it expresses my own opinions. I am not receiving compensation for it (other than from Seeking Alpha). I have no business relationship with any company whose stock is mentioned in this article.