Brookfield Real Estate Services (OTCPK:BREUF) is a small cap stock trading primarily on Toronto Stock Exchange under the symbol BRE as well as OTC in the US. All amounts expressed in Canadian dollars unless specified otherwise.
The Business:
Brookfield Real Estate Services Inc., (the "Company") through its relationship with Brookfield Real Estate Services Manager Limited (the "Manager"), is a leading provider of services to residential real estate brokers and a network of more than 18,000 REALTORS®* operating in Canada under the Royal LePage, Via Capitale Real Estate Network and Johnston & Daniel brands.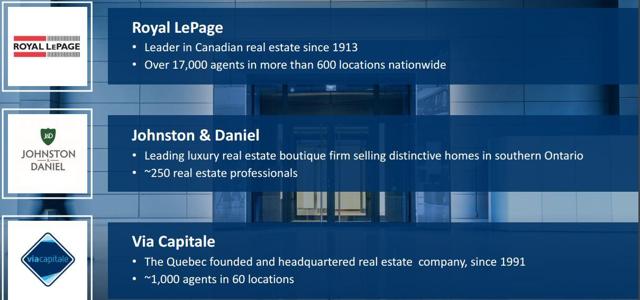 Sources: Company website and 2016 AGM presentation.
The 3 owned brands collectively have approximately 18,000 real estate agents working under them. These agents are contracted to pay royalties under long term contracts that run as long as 20 years giving it great revenue visibility. Historically, the company has achieved a 90-95% renewal on its expiring contracts due to its extremely well recognized brands.

Source: Company annual report.
The company also periodically "acquires" franchise agreements from its Manager. Brookfield Business Partners LP owns 25% of the outstanding shares and 100% of the "Manager". Hence their interests are well aligned with the common shareholders. The company has paid the same or higher dividends every year since 2011 when it converted from a Trust structure.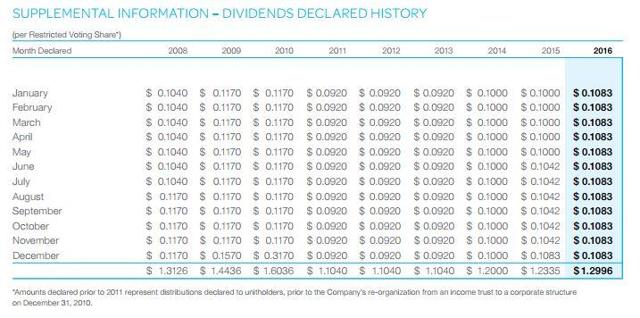 Revenues, Earnings and Cash Flow:
The company collects fixed royalties for using its brands which are indexed to CPI and move up every year. It also collects premium fees (for markets in the Greater Toronto Area), variable fees depending upon sales volumes and other technology fees. The premium fees will end in August 2018. Approximately 72% of its fees were fixed in nature in 2016.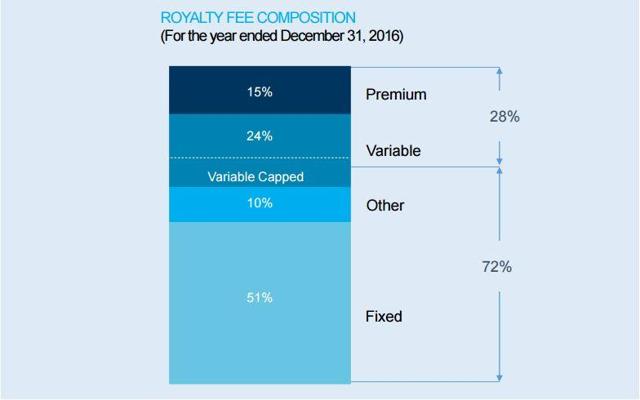 This is one company where the income statement is virtually useless to assess its value. The earnings are impacted by depreciation of its contracts and the change in value of the exchangeable units. Considering BRE has a 90%+ renewal on its contracts and that the exchangeable units owned by Brookfield Business Partners can only be converted into common units, neither is of material consequence.
Cash flow on the other hand as been trending higher year after year. In 2016, the Cash Flow From Operations was $2.42 per share. As reported, this excludes income taxes so the after-tax cash flow per share was about $2.18 a share. This compares very favorably to a $1.30 per share payout. Based on a share price of $15.90 CAD, this gives it a 8.17% yield. This converts to an approximate $11.80 USD price at current exchange rates.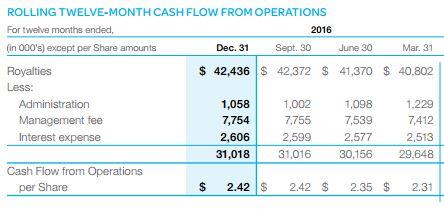 The Worry:
The perception of a housing bubble in Toronto and Vancouver where the company derives more than 60% of its revenue is keeping valuations depressed. While a severe hit to the housing market could certainly take the wind off BRE's sails, I don't think the dividend is any danger.
Here's why:
1) Toronto and Vancouver while expensive are quite affordable when compared to other top-tier cities around the world. While a pullback and retrenchment is likely, an outright collapse is highly unlikely.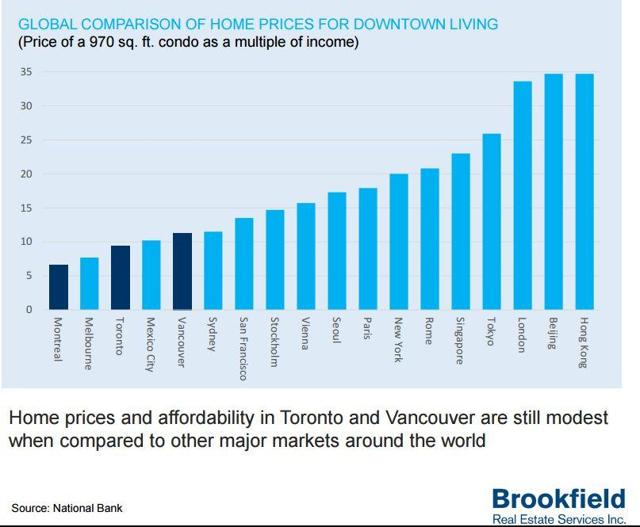 2) Assuming mild inflation in 2018, I am expecting BRE's after tax cash flow to fall to about $2.00 a share in 2019, mainly due to the loss in premium fees. About $1.40-$1.50 of this will be fixed royalties and technology fees. Even an extreme drop in the housing market would make it unlikely that the after-tax cash flow will drop below $1.80, giving it a worst case 138% coverage of its dividend.
3) There is a high likelihood of acquisition of additional franchise agreements from its manager. The company has historically paid about 7X-8X annual royalties to acquire additional franchise agreements. Considering that these run 10-20 years, increase with inflation and have a high renewal, this is an excellent growth modality. Since cash flow comfortably exceeds dividends, additional acquisitions can be expected in 2017 and 2018. These should increase dividend coverage even more.
Modeling a 2% increase in base fees due to inflation and acquisition of new franchise agreements with all non-dividend cash flow results in a dividend that can grow at 8% a year for the next 10 years. This model assumes 100% renewal of franchise agreements as they come due, but zero organic growth.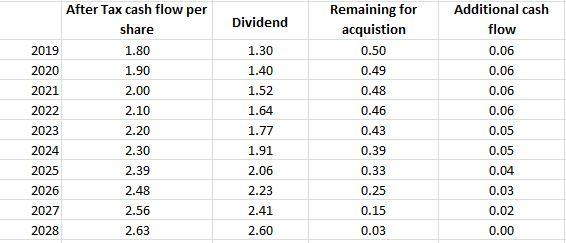 Debt and Interest Coverage:
Debt is about 2.5X after-tax cash flow per share and interest coverage is about 9X. Both extremely conservative ratios.
OTC Trading and Tax Withholding:
Brookfield Real Estate Services trades OTC in the US where the volumes are quite low. Please take into account the current price of the BRE on TSX along with the current exchange rate while placing your order. Always use limit orders. Dividends are subject to 15% withholding taxes for US residents unless shares are held in an IRA. This is for general information only and should not be construed as tax advice.
Disclosure: I am/we are long BREUF.
I wrote this article myself, and it expresses my own opinions. I am not receiving compensation for it (other than from Seeking Alpha). I have no business relationship with any company whose stock is mentioned in this article.