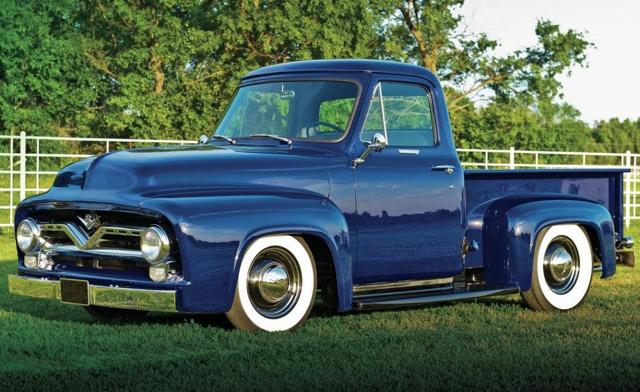 Source: Ford stock photo
Old Out, New In - Challenges Remain
Ford (NYSE:F) fired former CEO Mark Fields earlier this week. Apparently, Ford's Board of Directors (BOD) were not happy with the stock performance since Fields took the helm back in 2014. During this time, the stock has fallen 40% (see chart below). With the announcement of the new CEO, the stock price increased about 3% before pulling back. In the long run, Jim Hackett, Ford's new CEO, has a number of challenges ahead. Here is a very good link that provides a perspective on possible reasons why the CEO was replaced.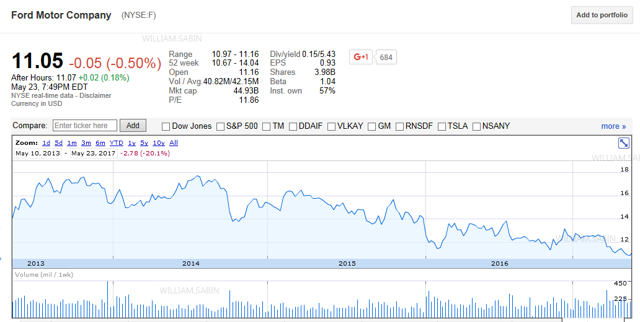 Source: Yahoo charts
Poor Stock Performance
The poor stock performance obviously is being put on the back of Fields. If you can't blame stock price on the CEO who can you blame? Fields has done a fairly good job representing the brand. He expanded Ford globally and invested in R&D in China.
The BOD apparently found it necessary to do something - anything - to try and jumpstart the stock. This might point to the BOD being somewhat short sighted and, in my opinion, their decision is more of a confidence knock on the board rather than on Fields.
Industry Cycle
In a recent article I mentioned that it appeared that the stock price decline is bigger than just a Ford company issue. Unfortunately, automobiles are not selling - and it's not just a problem for Ford (whose April sales tanked by over 7%).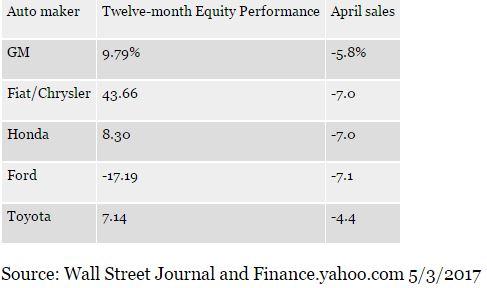 While Ford reported adjusted pretax profit of $2.2 billion in 1Q17 and executives expect total company adjusted pretax profit to be $9 billion for the fiscal year, sales crashed after months of very generous incentives and very low financing offers; this does not bode well for future sales. With these incentives, Ford appears to be robbing the future to bolster today's bottom line. The good news is that they have $39 billion in cash and short-term investments.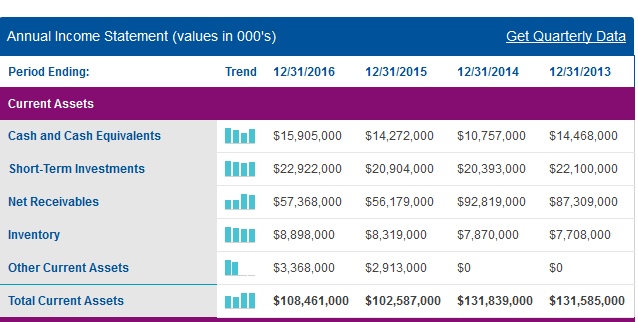 Rather than company mismanagement, it appears to be that the longer-term automobile economic cycle is turning downwards. At the same time, consumers have taken on too much debt - over-extended themselves - in order to buy the best and shiniest car or truck now rather than waiting to purchase it when they could afford it for cash. Personal debt levels are so high that it will likely delay new car purchases. This doesn't bode well for the car industry.
The Federal Reserve Bank of New York, Center for Microeconomic Data's recent report - Quarterly Report on Household Debt and Credit - reveals that 'total household debt increased by 1.8% in the fourth quarter of 2016, rising $226 billion to reach $12.58 trillion, only $99 billion shy of its 2008 third quarter peak. Balances increased across all debt products, with a 1.6% increase in mortgage balances, a 1.9% increase in auto loan balances, a 4.3% increase in credit card balances, and a 2.4% increase in student loan balances this quarter.'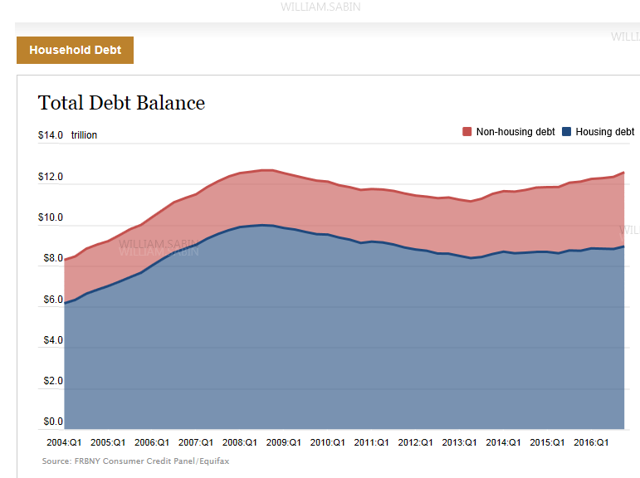 Will the New CEO Be Better For Ford?
Ford's problems are not going away anytime soon. While Ford pushed its way into the self-driving car market via the announced $1 billion investment in a venture with Argo AI to partner in self-driving car technology, it is way behind the curve.
Will the new CEO be able to get Ford's stock price up? In the short tern, probably. He will need to clearly show investors something new, exciting, and cutting edge. Clearly, Hackett is well liked and not afraid to make quick and big decisions. He definitely will give the company a new perspective and hopefully a bigger push into new technology. Hackett served as CEO of Steelcase for nearly 20 years before leaving the post in 2014. He also performed well during a 16-month period as interim athletics director at the University of Michigan. As such, he has proven himself and might be able to transform Ford in the longer term.
The Impact on Share Price with a New CEO
There have been several studies researching the impact of CEO turnover on equity valuation. The study entitled "The Impact of CEO Turnover on Equity Volatility" was based on a sample of 872 CEO turnovers at publicly traded companies during 1979-1995. They found that stock price volatility increased following CEO turnover. Forced turnovers increased volatility by 24% in the first year (good for option traders like me). They also noted that there was a greater stock price response to earnings announcements following CEO turnover. The authors stated that they believe this is due to the markets placing greater weight on these announcements.
A different (albeit old) study entitled "Share Price Reactions to CEO Resignations and Large Shareholder Monitoring in Listed French Companies" found that forced CEO resignation at large companies with an internal candidate resulted in a positive return of 0.5% within 1-2 weeks due to the change in leadership.

Source: ssrn.com
Trade Idea
Nothing (except for the dividend) from a technical perspective makes Ford appealing at this point. The stock continues to hover near 52-week lows. The Relative Strength Index is just over 43 and no real trend is yet to be seen.
The break below 11 on May 16 was significant. While the stock is back above 11 now, it is still showing signs of weakness. With the announcement of the new CEO, the stock got a small bump, but it appears to be a 'so what' to the market as the stock started to trend lower.
I suspect that the overall market is in for a small correction (approximately 5%) and that, Ford with a beta of just over 1, will follow suit.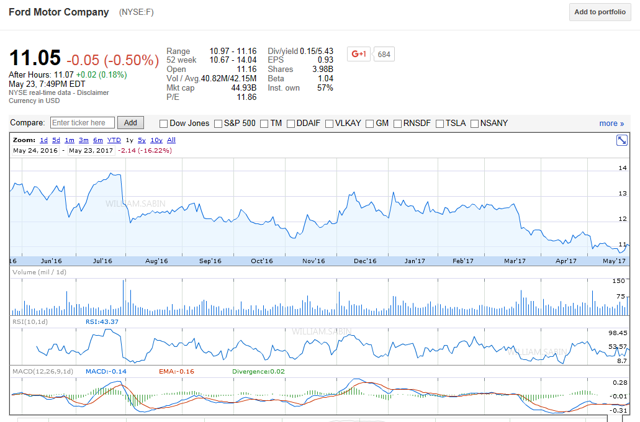 Source: Yahoo Charts
Take Away
Ford's 5.4% yield continues to be tempting, and with as much cash as Ford has, I don't believe there is a risk of Ford cutting their dividend anytime soon.
Ford might be a decent company to own in the long term and it has a great dividend yield. However, given the overall industry weakness, the high levels of consumer debt, as well as the breakdown in the technical patterns, it appears one would want to be prudent and wait to invest in Ford.
I continue to take a wait and see approach with Ford before committing any funds. The new CEO's vision will also be a factor.
Additional disclosure: Thank you for your time in reading the above article. I read and write on a wide range of companies on a regular basis. If you would like to stay informed with articles like these, please click the "Follow" button at the top of this report and select "Get email alerts." If you have additional insights on the topic or contrasting views, please kindly share them in the comments section.
This article is intended to provide educational information to readers and in no way constitutes investment advice. Investing in public securities is speculative and involves risk, including possible loss of principle. The reader of this article must determine whether or not any investments mentioned in this article are suitable for their portfolio, risk tolerance and accepts responsibility for their decisions. Neither information nor any opinion expressed in this article constitutes a solicitation, an offer or a recommendation to buy, sell, or dispose of any investment or to provide any investment advice or service. An opinion in this article can change at any time without notice.
Disclosure: I am/we are short F.
I wrote this article myself, and it expresses my own opinions. I am not receiving compensation for it (other than from Seeking Alpha). I have no business relationship with any company whose stock is mentioned in this article.