"Tobacco bonds" are an important constituent group in high yield municipal bond portfolios, especially in some mutual funds or ETFs. Because of their complex structures, their behavior can be counterintuitive. For example, tobacco bonds do not benefit directly from tobacco company profits. However, they do provide some important benefits - payments are pledged in perpetuity. In this article, we look at tobacco bonds and the part they can play in high yield municipal bond portfolios.
You may remember a time not too long ago when the tobacco industry's very existence seemed threatened. In the mid-1990s, 46 states, five U.S. territories, and the District of Columbia sued the five largest tobacco manufacturers to recover the financial burden that smoking was placing on their respective public health systems. In 1998, a Master Settlement Agreement (MSA) was arrived at. Under the MSA, the signatories agreed to settle their lawsuits in exchange for cessation of certain marketing practices on the part of the tobacco companies, in particular the marketing of cigarettes to children.1 Most relevantly for Tobacco Settlement Securitization Bonds (TSSBs), the tobacco companies also agreed to annual payments to the states, U.S. territories, and DC in perpetuity, which would, at least in theory, compensate them for the medical costs associated with caring for those afflicted with smoking-related conditions. Over the intervening years, those payments have averaged $8 billion per year.2
Many states chose to securitize this revenue stream, issuing TSSBs (often colloquially known as "Tobacco Bonds"). The bonds essentially served as a way to offload the risk of declining MSA payments to investors. As of March 2016, these bonds stood at $27 billion in tax-exempt debt outstanding.2
Tobacco Companies are Rolling in Cash
Although fewer Americans are smoking (15.1% nationwide as of 2015, down from 20.9% in 2005),3 tobacco companies' bottom lines have been quite healthy as of late. According to market research firm Euromonitor International, in 2016 Americans spent more on cigarettes than they did on soda and beer combined - an estimated $93.4 billion. The MSA and additional regulatory requirements may have led to the tobacco industry incurring heavy costs initially, but companies have simply responded by raising prices. Over the past 10 years, the S&P 500 Tobacco Index4 is up 178%, outperforming the S&P 500 Index, which has only risen 58% over the same period.5
What is Driving the TSSB Market?
At first blush, healthier tobacco companies might appear to be good news for TSSBs. However, thanks to the way the MSA is structured, this line of thinking is misleading at best. Tobacco industry payments into the MSA fund are calculated based on a number of factors, including inflation and non-participating manufacturers' market share. Crucially (and unfortunately for TSSB bondholders), settlement payments are calculated not from revenue but from the actual number of cigarettes shipped, which has been steadily declining by about 3.33% annually since it peaked in 1981.2 For example, if tobacco companies hypothetically raised cigarette prices by 5%, causing volumes to fall by 3%, the companies might see higher profits but the MSA would receive lower payments as shipments declined. Moreover, MSA payments do not include the proceeds from non-cigarette revenue or shipments: cigars, pipe tobacco, smokeless tobacco, nicotine gum, electronic cigarettes, and other "vaping" products are all excluded from the calculations.
When it comes to the TSSBs themselves, they have a more complex structure than typical municipal bonds. Because payments are pledged in perpetuity, if a tobacco bond defaults (i.e., fails to pay all interest and principal due), it doesn't necessarily mean bondholders won't get paid, it just may be on a much longer payment schedule.2
Although the bonds were initially issued as investment grade, many have since been downgraded to speculative ratings. Most of the TSSBs were structured under the assumption that cigarette consumption was fairly inelastic and would not react strongly to price increases - a -1.8% average decline rate to 2042 was predicted by IHS.6 Average declines have proven to be significantly higher than this; in 2009, when the federal tax on cigarettes was increased by 158% to $1.01 per pack, the annual decline reached -9.09%, declining a further -6.36% the following year.2 This prompted a sell-off in the tobacco bond market, with speculation that some of these bonds would never see a dollar of revenue.
There are also important technical considerations to take into account when looking at TSSBs. For starters, when compared with the high yield corporate bond market - which was approximately $1.61 trillion as of April 20167 - the high yield muni market is much smaller, approximately $211 billion.8 Puerto Rico bonds make up roughly $70 billion in par amount outstanding of that market, with TSSBs accounting for about $32 billion in par amount outstanding.9 As Puerto Rico general obligation bonds have gone into default, TSSBs have risen to prominence in portfolios as their most liquid assets when it comes to high yield munis. Of the $32 billion TSSB market, $14 billion becomes callable in the coming months. This raises the prospect that the TSSB market could be significantly diminished in size by refinancing, leaving no large sectors within the muni high yield space where sizable amounts of capital can be deployed.
Breakdown of the High Yield Municipal Bond Market
Par Amount Outstanding as of 5/17/17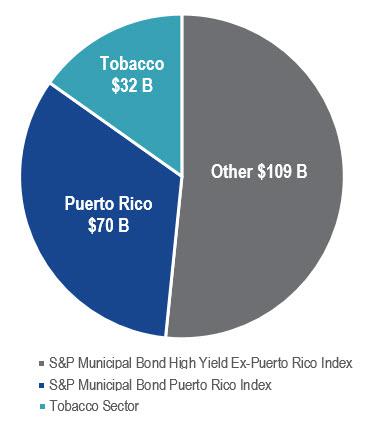 Source: S&P Indices
Understanding Tobacco Bonds is Complex and Requires Expertise
Unlike the tobacco companies themselves, which do better as revenues increase, TSSBs only benefit if cigarette sales volumes increase, which seems a very remote prospect. In the short term, tobacco companies have been able to use higher prices to turn their financial fortunes around even in the face of heavy taxes and increased regulation. On the other hand, the long-term picture is far from rosy for TSSBs, whose reliance on cigarette sales volume is problematic in the context of continuing downward trends in cigarette sales. Thanks to their complex structures, many of which guarantee payments in perpetuity, TSSBs may continue to pay out to bondholders on an extended schedule even if they go into technical default.
Understanding both tobacco bonds and the constructive role they can play in a high yield municipal bond portfolio is complex. As are the market forces to which they are subject. We believe professional management, knowledge, and experience in this sector of the municipal bond market are of paramount importance. VanEck offers these through its ETFs, thereby providing investors with an attractive way to access this dynamic part of the market. The ETF structure is relatively low-cost, flexible, transparent, and diversified.
Post Disclosure
1 Public Health Law Center - Mitchell Hamline School of Law: Master Settlement Agreement
2 Morgan Stanley: Tobacco Settlement Securitization Bonds (March 2016), Brian Connery
3 Centers for Disease Control and Prevention: Morbidity and Mortality Weekly Report (November 11, 2016)
4 S&P 500 Tobacco Index is a capitalization-weighted index developed with a base level of 10 for the 194-43 base period.
5 The Wall Street Journal: Against All Odds, the U.S. Tobacco Industry Is Rolling in Money, April 23, 2017
6 IHS Global (formerly Global Insight): A Forecast of U.S. Cigarette Consumption (2004-2043) for TSASC, Inc., January 2006, p. 123
7 Peritus Asset Management, LLC: The High Yield Market: Market Size, Ownership, Funds, and Opportunities, August 26, 2016
8 S&P Dow Jones Indices: Total par value of the S&P Municipal Bond High Yield Index, May 17, 2017
9 PIMCO: Municipal Tobacco Settlement Bonds: Seeking Value in the Ashes, July 2015
IMPORTANT MUNI NATION® DISCLOSURE
This content is published in the United States for residents of specified countries. Investors are subject to securities and tax regulations within their applicable jurisdictions that are not addressed in this content. Nothing in this content should be considered a solicitation to buy or an offer to sell shares of any investment in any jurisdiction where the offer or solicitation would be unlawful under the securities laws of such jurisdiction, nor is it intended as investment, tax, financial, or legal advice. Investors should seek such professional advice for their particular situation and jurisdiction.
VanEck does not provide tax, legal or accounting advice. Investors should discuss their individual circumstances with appropriate professionals before making any decisions. This information should not be construed as sales or marketing material or an offer or solicitation for the purchase or sale of any financial instrument, product or service.
Please note that MUNI NATION® represents the opinions of the author and these opinions may change at any time and from time to time. Not intended to be a forecast of future events, a guarantee of future results or investment advice. Current market conditions may not continue. Non-VanEck proprietary information contained herein has been obtained from sources believed to be reliable, but not guaranteed. No part of this material may be reproduced in any form, or referred to in any other publication, without express written permission of VanEck. MUNI NATION is a trademark of Van Eck Associates Corporation.
All indices listed are unmanaged indices and do not reflect the payment of transaction costs, advisory fees or expenses that are associated with an investment in a fund. An index's performance is not illustrative of a fund's performance. Indices are not securities in which investments can be made.
Municipal bonds are subject to risks related to litigation, legislation, political change, conditions in underlying sectors or in local business communities and economies, bankruptcy or other changes in the issuer's financial condition, and/or the discontinuance of taxes supporting the project or assets or the inability to collect revenues for the project or from the assets. Additional risks include credit, interest rate, call, reinvestment, tax, market and lease obligation risk. High-yield municipal bonds are subject to greater risk of loss of income and principal than higher-rated securities, and are likely to be more sensitive to adverse economic changes or individual municipal developments than those of higher-rated securities. Municipal bonds may be less liquid than taxable bonds.
The income generated from some types of municipal bonds may be subject to state and local taxes as well as to federal taxes on capital gains and may also be subject to alternative minimum tax.
Diversification does not assure a profit or protect against loss.
Investing involves substantial risk and high volatility, including possible loss of principal. Bonds and bond funds will decrease in value as interest rates rise. An investor should consider the investment objective, risks, charges and expenses of a fund carefully before investing. To obtain a prospectus and summary prospectus which contain this and other information, call 800.826.2333 or visit vaneck.com. Please read the prospectus and summary prospectus carefully before investing.