We believe Shopify (NYSE:SHOP) has introduced a game-changing solution. Shopify Pay for Shopify Payments. Think Apple Pay for Shopify merchants and their customers. A universal payment platform, where your payment and shipping information is saved securely with Shopify. Every Shopify merchant with Shopify Pay enabled will allow a customer to access their payment information with only an email address and an authentication code sent to their smartphone. That's two-touch payments, and so much easier on a smartphone than the alternative.
Shopify is reducing the friction for customers to make purchases. This is a "big win" for Shopify in the hyper-competitive e-commerce space. We believe Shopify's end to end capability with Shopify Payments is a huge differentiator to its competition. We believe Shopify Pay will drive higher Gross Merchandise Volume (GMV) for its merchants, we also believe it will drive more merchants onto Shopify Payments to drive higher Gross Processing Volume (GPV). This is further evidence to justify our long-term forecast.
E-commerce vs Brick & Mortar
Yesterday, we listened to the replay of Starbucks (NASDAQ:SBUX) 2Q17 earnings call. Something very interesting was said.
"Before getting into Starbucks' Q2 results, I thought I'd comment on a recent Wall Street Journal article noting that more retail stores have closed in the first quarter of the calendar year 2017 than closed in all of 2016. And that more retail stores are expected to close in the U.S. this year than closed in any year during the Great Recession that began in 2008. The article illuminated once again the seismic shift in consumer behavior underway and the devastating impact that this sea change in behavior is having on many traditional brick and mortar retailers." - CEO of Starbucks Kevin Johnson (transcript)
In the article from the Wall Street Journal, Credit Suisse, estimates 8600 US retail locations will close in 2017, while 2880 were announced through April 6. For comparison about 2000 stores were closed in 2016 and 5000 in 2015. See the chart below.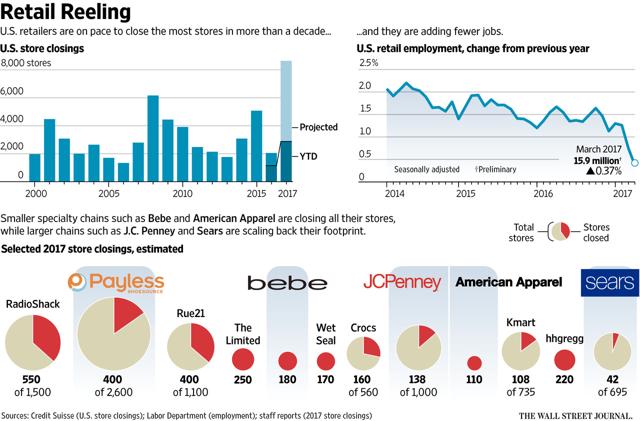 Many of these companies have built supply chains around brick and mortar retail. While many online merchants are "online-first", many of these brick and mortar retailers have hard investments in a strategy that has worked for them in the past. Making the change is a much harder decision and requires a different skill set. Instead of only competing with the stores in their city or in their mall, they now must compete with every online retailer in the world.
There are many solutions for these retailers to make their way online. Including (but not limited to): Shopify, Magento, BigCommerce, Volusion, WIX, Woocommerce, Shopping Cart Elite, X-Cart, 1 Shopping Cart, Netsuite, Clarity-Ventures, Weebly, 3dCart, Baozun.
We don't pretend to know the ins and outs of every solution out there. You can do a web search for head-to-head reviews from web designers and experts for that.
What we do want to point out is that Shopify has been able to grow at a rapid rate over the last few years, despite the volume of competition. So either the market opportunity is so large that it is lifting all boats or Shopify is doing something special and some merchants are recognizing it.
The Long Game
From an investment point of view, we are looking for signs of a solution that is playing the long game and solving the big wins. While we are big believers in doing the little things right, we think it is just as important to look for those big wins that might take years to develop, but lock in a competitive advantage. We are looking for the difference between saving a couple of bucks on a cup of coffee and saving thousands on a mortgage or car payments.
Shopify is developing their long-term competitive advantage with Shopify Pay. Not to be confused with Shopify Payments which is Shopify's payment gateway. Shopify Pay is a unique feature to Shopify Payments and not available with any third party payment gateways, where customers no longer need to spend time typing in their shipping and payment details on a Shopify store.
Imagine wanting to make an impulse purchase at a brick and mortar store, it's easy to pull out your phone, credit card, or cash to pay and go. There is almost no friction in getting you together with your new toy. With Shopify Pay, that experience is being brought to online shopping.
After entering shipping and payment details the first time at a Shopify Pay enabled store, the customer will be asked to save their information with Shopify Pay. On future purchases, they only need to type in their email address and a verification code they receive via SMS. If you have ever used Apple Pay, the concept is similar, except without Touch ID. We believe this solution will increase conversion for purchases made by mobile phones. According to Criteo, mobile will account for 70% of e-commerce sales by the end of 2017, up from 40% in 2015.
Link to a gif of how Shopify Pay works
Shopify has removed a barrier to conversion for merchants. This is a "big win" feature that, we believe, other e-commerce solutions cannot provide today. From what we have seen, Shopify's competitors, are not focused on developing their payment solutions business, and rather leaving those services to third parties. Shopify has understood from the very beginning that e-commerce is more than just a website where people can select items to put into their shopping cart. The key to making online shopping easy is to make shipping easy, and payment easy. These are the things that stop customers from following through with a purchase.
Retailers already using Shopify Pay have seen checkout completion times up to 40% faster, and 18% higher conversion for returning customers.
The Network Effect
Because Shopify Pay is going to be put front and centre on merchant shopping carts, Shopify will gain brand exposure from this service as well.
Shopify Pay not only benefits customers returning to the same merchant but also benefits customers shopping on other Shopify merchant stores. Enabling Shopify Pay brings the added benefit of a network of other merchants that have pioneered online payments with their customers. Instead of each merchant storing credit card information Shopify Pay stores it, so it can be used for thousands of merchants.
Conclusion
In a world where enterprise level brick and mortar retailers are closing shop, Shopify is offering solutions like Shopify Plus to bring these high volume retailers online. While some may say Shopify does not have the most options and capabilities of the smaller more agile solution providers, we believe Shopify is gaining the scale necessary to offer innovative and higher value solutions like Shopify Pay. It is still early days, but as Shopify expands the availability of Shopify Payments to more countries, it will be able to do the same for Shopify Pay and other unique solutions.
In our 10-year Revenue Forecast , we see Gross Merchandise Volume (GMV) growing from $15.4 billion in 2016 to over $300 billion in 2026. We believe Shopify Pay is one of those features that will help merchants reach that level of transaction volume and at the same time drive Gross Processing Volume (GPV) on Shopify Payments. Consumers are going to find purchasing online to be easier and easier, even on their mobile phones.
This is further evidence to justify our long-term forecast. We are long-term shareholders of Shopify.
Disclosure: I am/we are long SHOP, SBUX.
I wrote this article myself, and it expresses my own opinions. I am not receiving compensation for it (other than from Seeking Alpha). I have no business relationship with any company whose stock is mentioned in this article.