Problems aren't supposed to be always intractable, are they? It has gone on so long that maybe long ago memories of minor adjustments are a bit fuzzy, but seemingly no matter what over the last decade every that issue arises and is met by the usual, standard efforts, is instead of being solved by them becomes another brick in the wall of malaise, a steady state of nothing but issues. It is often said that the stock market climbs a wall of worry, but that idea was always debatable and more so now. It's easy to just ignore all of them when everything is and remains of great concern.
OPEC announced at the end of last November that it would for the first time in eight years cut production. It was in many ways the crowning achievement for "reflation", the last remaining obstacle before the disaster of the "rising dollar" could be put totally behind. In its own right, the accord was a thing to behold; nations that had squabbled to a point near open conflict signed on to it. The Russians, for example, would allow unprecedented cuts in domestic output, while Iraq was assigned a quota for the first time in decades.
For an organization once declared dead, or at least irrelevant, it was a striking feat. The reason for it, however, was far less monumental. As Amrita Sen, chief oil analyst at Energy Aspects Ltd. told Bloomberg at the time, "the group [OPEC] wants to push inventories down." Jeff Currie, Goldman Sachs' chief of global commodities research, told interviewers on BloombergTV the goal was strictly "inventory normalization."
The initial deal was for six months and was expected from the outset to likely be extended. But in March, the institutional organization behind the group unexpectedly though officially dropped the recommendation that cuts be prolonged in favor of a "review" of oil conditions worldwide. Among the factors cited was a seasonal end to refinery maintenance as well as a "noticeable slowdown in US stock build as well as the reduction in floating storage." There is no other way to read that but as buying the "reflation" narrative.
OPEC officials have today gathered in Vienna to discuss the global inventory situation. Far from the apparently more optimistic take from just a few months ago, it is now believed that the organization will be considering not just a six month extension for the supply cut but maybe a further nine months, perhaps a year. The latter timeframe would be quite unusual, but so is the world of 2017 where every fix fixes very little.
Saudi Energy Minister Khalid al-Falih gave the thumbs up when asked whether the committee had agreed on a nine-month extension, but his Russian counterpart Alexander Novak surprised later by saying a 12-month prolongation was also on the table.
The issue is apparently 2018, meaning that official expectations concede balancing supply with demand can no longer happen in 2017, only at this year's end. Fears are growing that it might not be realistic for next year, either. The physical buildup of the commodity over the past three years is simply immense, and may be bigger than commonly recognized (China). But contrary to the more optimistic takes issued throughout late 2014 and early 2015, this is no mere "supply glut."
Financial firm Natixis sees rebalancing extending into 2019. "Based on our current levels of withdrawals, expected at 280,000 bpd, that means at least two and half years, unless withdrawals increase rapidly," chief energy analyst Abhishek Deshpande said.
That is likely why the WTI futures curve here in the US just can't seem to manage backwardation. It is uncertainty about all these more rosy predictions, plied with good reason given their track record. But it also oil investors keeping a cautious eye on "dollar" and it as a proxy for demand, or just the global economy in general.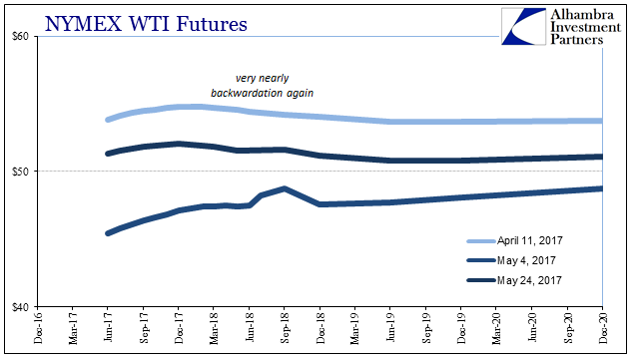 Every time oil prices rise toward or above $50, the curve flattens and nearly stretches into more natural backwardation; and every time a "secondary speculator" is forced to instead liquidate it lurches back into unnatural, unfixed contango all over again. No one, I think, was expecting an end by this point, but I do believe it was widely believed that there would at least be a high degree of clarity and visibility long before now.
It is one of those murky conditions that tells us a great deal about the state of the world without stating it directly. More than a year after oil prices bottomed and the global economy avoided careening further toward something like concerted and coordinated recession, a serious downturn no matter how you wish to characterize it, there remains today no momentum in anything. Where is it? This may not be overall a business cycle as these circumstances are almost unique in economic history, but surely there would be cyclical forces given that condition last year pressing things obviously upward, like oil demand. But no, the lack of everything is what we find instead, a dull and flat "improvement" that barely qualifies under that label. We still in 2017 are forced to wait for "next year" and for the nth time already.
Looking at it apart from the tragedy of leaving us a world in depression, one that technically is growing but in every other way (non-linear) that actually matters is not, it is quite impressive that "something" could restrain world growth so thoroughly and for so long. Who in 2007 imagined that ten years on we would still be talking about the same things and hoping by 2018 or maybe 2019 conditions more toward normal, not actually normal, would still be a gamble?
Problems arise and they never get solved. Fixes are introduced but the catalog of woe only grows. There aren't many things that could accomplish such misery, and only one that could do it on a global basis.