I last wrote about Bitcoin two weeks ago, when I warned that: The Bitcoin Investment Trust Is Irrationally Overpriced. And, for a while, my concerns played out. The spread between the Bitcoin Investment Trust's (OTCQX:GBTC) NAV and its market price closed sharply. For several days, Bitcoin continued to rally, while the GBTC vehicle lost value.
However, with Bitcoin's latest parabolic rally, GBTC has soared again, and is now even farther above NAV than before.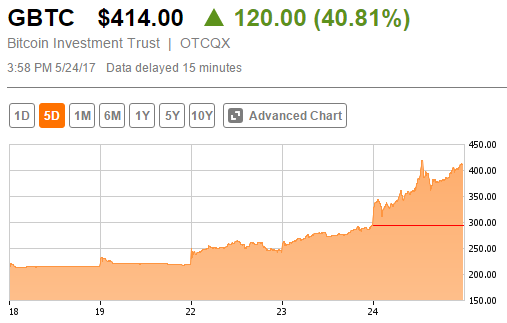 That's a jaw-dropping 41% one-day for the Bitcoin trust. And that move comes on top of decent rallies both Monday and Tuesday for GBTC.
Now sure, Bitcoin continues to rally. In fact, it's been up nine days in a row. It's turning into a run-up for the record books. Excluding the most minor of dips in mid-May, Bitcoin has been up continuously since late March: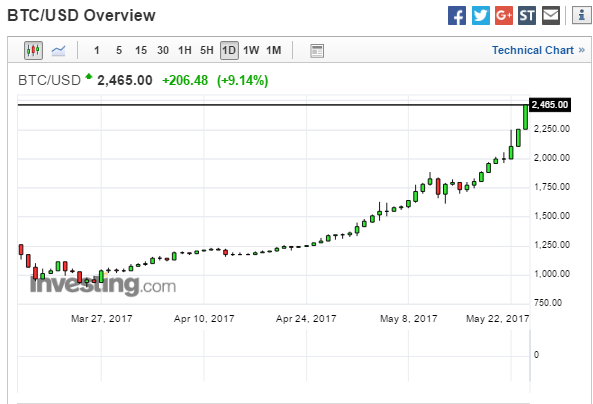 You'll note that Bitcoin was up just 9% on Wednesday, however, while GBTC soared 41%. What accounts for the gap in the two products? Simple, investor enthusiasm is once again running far ahead of Bitcoin's rally.
As of Tuesday night, GBTC had re-opened a massive 46% premium to its net asset value (from GBTC's website):

With Wednesday's 41% gain for GBTC and just 9% gain for the underlying the premium has blown out to historic levels. Based on the at-this-writing $2,465 Bitcoin price, a share of GBTC is backed by $229 of Bitcoins. Yet, GBTC's last trade was $414. That's a more than 80% premium! You're spending almost two bucks to get a dollar of assets if you buy here.
Why is this dangerous? Simple - even if Bitcoin continues rallying, there is a good chance that GBTC will fail to appreciate much farther, if at all. The period between mid-2016 and year-end is instructive. At that point, premium hit well over 50%. From then on, Bitcoin would double before GBTC rallied much farther - you could have been totally right on your Bitcoin call and yet not made any money: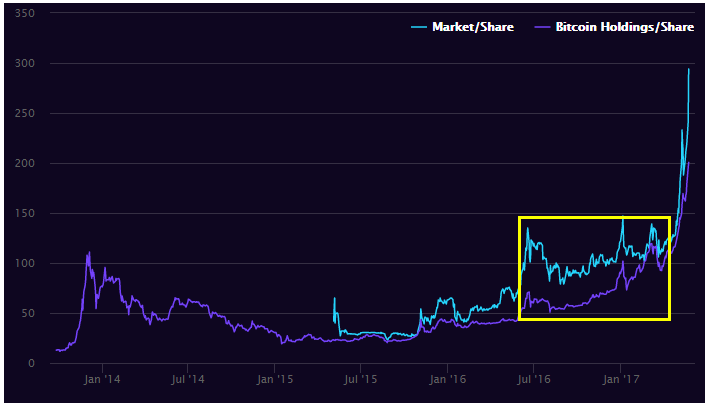 I've highlighted the previous example in yellow, a GBTC holder made virtually nothing while Bitcoin-per-share jumped from 60 to more than 100.
Is There Any Justification To Buy Here?
You now need a Bitcoin price of $4,500 to justify the current price of GBTC. At first blush, that sounds crazy - the price of Bitcoin is under $2,500. However, when I wrote two weeks ago, we needed a Bitcoin price in the high 2,000s to justify GBTC's then-market price of around $250. Two weeks later, GBTC's 250 price is almost fully backed up by Bitcoin assets.
Simply put, this is an exponential price run. If you're a short-term trader with speculative money, I can see the appeal of getting involved; the odds might be better than a casino.
There's one bit reason to suspect Bitcoin could continue to go up for a while; most people think the rally is absurd. Look at this poll (with a fairly large, though potentially biased, sample):
I voted overvalued, in case anyone is curious. However, the results are telling - 76% of more than 2,000 voters view Bitcoin as either overvalued or a bubble, with an outright majority declaring it to a bubble right here and now (in fact, back at $2,200/Bitcoin).
As I noted two weeks ago, Bitcoin can fundamentally go up a lot farther than other such dollar-alternative commodities like gold or silver because there is no easy way to short Bitcoin with much volume (either GBTC or the coins themselves).
In 1980, for example, when traders tried to corner the silver market, there were plenty of futures traders willing to short silver heavily into the buyers, making those trying to manipulate the market put up more capital. If there hadn't been short sellers, the price almost certainly would have gone a lot higher before peaking.
Since silver is a useful industrial commodity (in some applications), buyers were able to protest and get the exchange to involve itself in the price of silver as well, raising margin limits and causing the price to crash. Given Bitcoin's cloudy legal stance and lack of much mainstream economic usage, it's unlikely the government or other regulators would step in to try to cap Bitcoin's upside either.
Now, all that said, I find it really hard to justify owning GBTC here. It's classic greater fool theory and nothing else. Not only are you buying into an exponential run in Bitcoin, but you're paying an 80% premium to that already frothy price. To call this a high-risk play would be an understatement.
Regardless of your views on the long-term future for Bitcoin (I'm guardedly optimistic), the price will almost certainly correct in the short run. I'd be quite surprised if we don't see a sub-$2,000 price at some point in the next few weeks. Given that GBTC is also at a near-record premium to its NAV, this is a great time to take profits and go to the sidelines.
Disclosure: I/we have no positions in any stocks mentioned, and no plans to initiate any positions within the next 72 hours.
I wrote this article myself, and it expresses my own opinions. I am not receiving compensation for it (other than from Seeking Alpha). I have no business relationship with any company whose stock is mentioned in this article.