Financial markets continue to be fixated with the latest developments in geopolitical news, and there is little reason to believe that these trends will be ending any time soon. The prior decisions by the Trump administration to send military strikes to Syria present a stark disagreement with his earlier comments on the issue, and any further escalations will benefit the precious metals space. The resulting turmoil has already pushed many investors out of stocks at their elevated levels, and into safe haven assets like the SPDR Gold Trust ETF (NYSEARCA:GLD). This has sent the ETF to a critical inflection point that could be the first indicator of whether or not a real bull move is starting to unfold.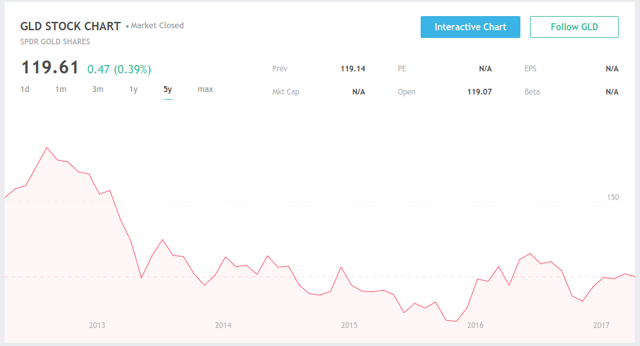 Broader trends in GLD have been discouraging for metals investors for quite some time now, and this has come largely as a result of the massive rallies seen in the SPDR S&P 500 ETF (NYSEARCA: SPY) and the SPDR Dow Jones Industrial Average ETF (NYSEARCA: DIA). There are plenty of legitimate reasons for why these moves have made sense but when we look at the elevated nature of valuations in equities, it is becoming more and more likely that investors will be looking for reasons to book gains at the highs and reposition in other areas of the market.
We have already seen some of this after the missile strikes in Syria were made public but continued rhetoric from the Trump administration suggests that these moves types of moves could continue. Additionally, hostilities in the North Korean peninsula have reached a fever pitch with government officials threatening a powerful response if the Trump administration does not reverse course with its stated intentions. The potential ramifications here are extreme, as declining emerging markets assets will almost certainly increase financial volatility and force stock investors to look for safe haven alternatives in precious metals.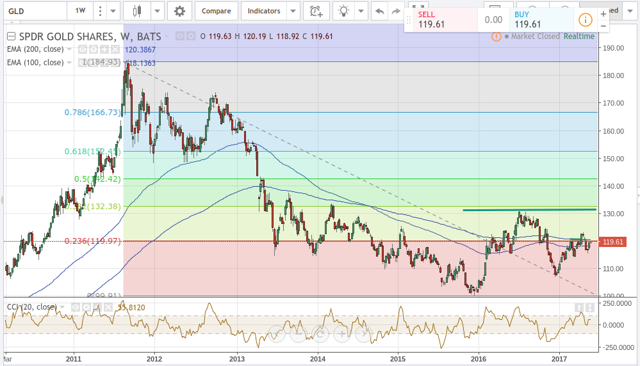 In a previous trading call, we suggested that the 115 level in GLD will act at a pivot for gold bulls -- and this has largely turned out to be the case. Relatively minor extensions from here could generate significant breakouts, however, as a cluster of important resistance levels lies just ahead near 130.
From a trend perspective, the recent moves in GLD are significant. Market prices have formed a clear series of higher lows all through 2017, and we now find ourselves trading at critical resistance near 120.40. We can add this to the fact that the 100-day and 200-day exponential moving averages are ready to form a bullish cross after having vaulted above both indicators last month. Longer term, the real level to watch comes in at 132, as this is the 38.2% Fibonacci retracement of the decline beginning in 2011. It would not take much to force prices through this critical area and if this occurs, anyone that is currently short these markets will likely be forced to capitulate as momentum readings gain traction.
Tensions in both Syria and North Korea should be viewed alongside waning stock valuations as potential catalysts for these moves. Hawkish rhetoric on both sides shows no signs of going away, and this gives stock investors little incentive to hold onto their positions. CCI readings are still holding within their mid-range bands and this means that there is still room to extend higher before all of these factors fade from the news headlines.
The bullish bias will change if markets fall through support at 115.55 but, at this stage, this is looking highly unlikely. One factor that could create this type of event would be a scaling back in the interest rate expectations at the Federal Reserve. Changes in rates can benefit gold markets and we have been seeing a more cautious tone in the rhetoric that has been made public by the Federal Reserve. There is little reason to believe that we will see alterations in the next suggested rate hike but if this raises volatility in the stock space, it could be another factor that pushes GLD solidly through the 120 mark. This would open the way to the real line in the sand, which stands roughly 10 ticks higher. These are the factors that should define trends in gold over the next several months.
Disclosure: I/we have no positions in any stocks mentioned, and no plans to initiate any positions within the next 72 hours.
I wrote this article myself, and it expresses my own opinions. I am not receiving compensation for it (other than from Seeking Alpha). I have no business relationship with any company whose stock is mentioned in this article.