This research report was jointly produced with co-author Big Dog Investments.
Five dividend champions to choose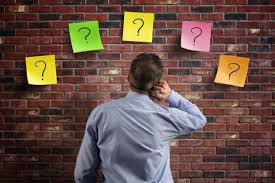 I have five dividend champions which have at times been a large portion of my portfolio over the last few years. As of now, I'm only invested in four of them because of the current market valuation. I chose dividend champions which I believed would be worth buying and holdings for decades. So far the five companies together have been performing very well and have given me better returns then if I just invested in the S&P 500. Well, with the notable exception of Target (NYSE:TGT). Target has not done well.
The dividends from Target keep piling up, but the market is convinced time is running out on this dividend champion.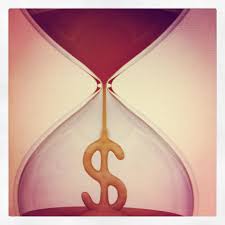 Strategy for Choosing Investments
For my own personal investments in dividend champions, I emphasis buying companies with practical yields that have a high probability of growing their dividend at a reasonable rate over the conceivable futures. I'm also in favor of more defensive companies, especially now with how insanely valued the market is overall(personal opinion, P/E ratios are just too high). There's no way I'm able to tell when the market is going to panic, or even if it is, although I believe the risk of a major setback within the next few years is elevated. Defensive companies with a history of good dividends was a major criteria in my decisions for companies.
There's no way I can tell (with any certainty) when the market will go up or down. What I can do is find a valuation I'm happy with and then purchase when the price is right.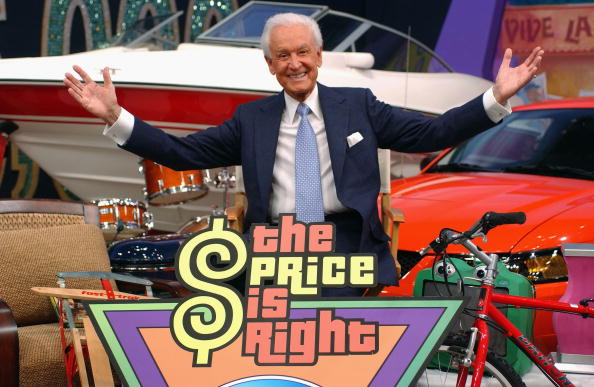 The one company I don't hold a position in right now is National Retail Properties (NYSE:NNN). I sold shares over the summer of 2016. It was a great company, but after seeing shares run up nearly 30% from my entry price in about 9 months, it was time to walk away and pocket the gains. I will probably reopen this position in the future, because it is a strong company. As it stands, my retail exposure is pretty high and the market's general panic on retail is just starting to get under way in the higher quality retail REITs. Realty Income Corporation (NYSE:O) took a bit of a dive, as did STORE Capital (NYSE:STOR). Both are strong companies and similar to NNN, but the general retail panic is still only starting there.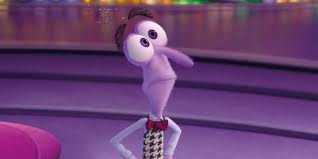 For comparison, retail REITs like Washington Prime Group (NYSE:WPG), CBL & Associates (NYSE:CBL), and Spirit Realty Corp. (NYSE:SRC), are trading at less than 55% of their 52-week highs. That kind of decline is vastly more than you would get on correlation between bonds and equity REITs. If we go a step deeper into the big falls, we see DDR Corp. (NYSE:DDR) and Pennsylvania Real Estate Investment Trust (NYSE:PEI) trading at 47% and 43% of their 52-week highs.
While the high quality REITs took a hit and it seems massive to shareholders, it isn't nearly as bad as the beating taken by the other companies. NNN is trading at about 70% of their 52-week high. Cheap by comparison to prior values, but still not facing the same level of intense panic.
The Correlation That Isn't There
Ironically the mortgage REITs like Annaly Capital Management (NYSE:NLY) and AGNC Investment Corp. (NASDAQ:AGNC) are not too far off their 52-week highs despite literally holding a portfolio of interest rate sensitive bonds. It is remarkable that retail is dragging down the retail REITs and that correlation with bonds is driving down the greater REIT sector, but rising bond yields (falling prices) and higher Treasury rates are not driving down the mortgage REITs that literally hold the bonds that are declining and finance them at short-term rates, which are increasing.
Other mortgage REITs like Blackstone Capital Management (NYSE:BXMT) have credit sensitive portfolios that should excel because the interest rates on the loans resets based on LIBOR. However, their portfolio is exposed to significant loans on real estate used for retail. Again, it is interesting that the retail REITs got hammered but leveraged exposure on the loans did not.
Only four remain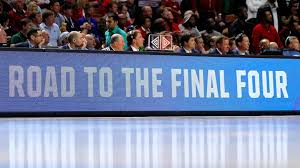 The four remaining in my portfolio are Wal-Mart (NYSE:WMT), Target (TGT), Philip Morris International (NYSE:PM), and Altria Group (NYSE:MO). There were a few others worth consideration: Apple (OTC:APPL), Johnson & Johnson (NYSE:JNJ), Procter & Gamble (NYSE:PG), Disney (NYSE:DIS), 3M (NYSE:MMM)
Compared to the S&P 500 since 2008
I went with a time right before the market took a very large drawdown towards the end of 2008. This helps us see how companies have done through significant volatility. Here's a chart with start date on March 17, 2008 from InvestSpy: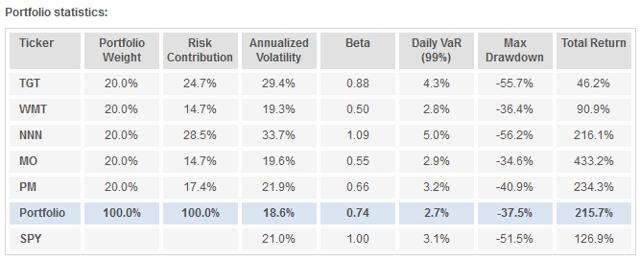 This is just to show that overall they have done comparatively well during a long investment horizon. I still think TGT is undervalued and has started to climb back up which I describe in this article. Regardless, no one can be too impressed with Target's total return.
Timing impact
Here's a portfolio chart from InvestSpy for the last 2 years. This compares an equal weight portfolio of those stocks against the S&P 500: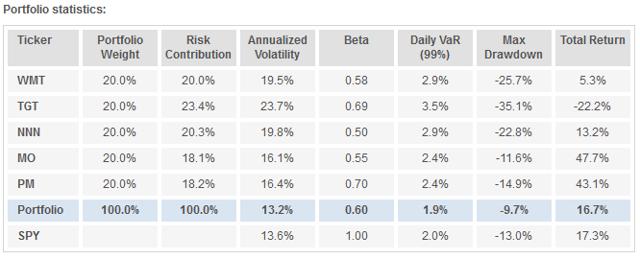 The two year chart isn't so pretty, but fortunately I entered Wal-Mart at a much lower price. Wal-Mart was priced relatively high prior to a panic regarding the impact of higher wages on the company's future earnings. It turned out that panic was completely overdone, and I bought my shares in early 2016 at significantly depressed prices.
Do Due Diligence, Don't Panic
When I research companies, in this case strong dividend champions, I'm looking for long-term holdings. Before I put my money into an investment, I need to make sure I've done my due diligence in research. My investment is going to be relying on the underlying stock and the available entry price. A great example of this is Costco (NASDAQ:COST). I see a great retailer with an ideal strategy for combating against E-tailing. Their membership strategy combined with low prices on high quality goods sold in bulk amounts is excellent. The problem here is only that I can't get the right entry price.
If I were to purchase, say Target, and watch the price fall (as it seems to do all too often) when I think it should be on the rise, then want to raise my position. However, I will still go back and see if I missed anything. On Target, I decided that even though the price kept dropping the underlying company was far better than the market price implied.

Wal-Mart
Seeing management seriously committed to the plan of increasing wages and praising the work of their lower line employees was enough to get me to pull the trigger. On May 14th, 2016, I published a piece explaining why I bought Wal-Mart from the bargain bin.
Philip Morris
Philip Morris benefits from a weaker dollar and the impacts are profound. If the dollar becomes materially weaker, it could send PM's earnings up substantially. Their sales growth in recent years was weak on a GAAP basis, but in constant currencies they were doing double-digit growth.
Philip Morris offers another unique factor; it serves as international exposure. Technically the company is considered domestic on stock-screening systems, but 100% of sales are international. When all the revenue is coming from foreign countries, shouldn't that be seen as an international investment? This is a way to get international exposure into the portfolio without dealing with the massive fluctuations in valuations and growth rates of the economies.
Philip Morris formally has less than a decade of history. It was previously a part of Altria Group. I count them as a dividend champion because I credit them with their history as a part of Altria Group.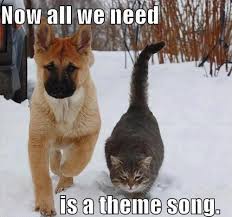 Altria Group
The choice for Altria Group was fairly simple. The company has an addictive product and over 50% market share. Their enormous presence gives them a position to influence legislation for the industry. If the company wasn't strong enough in their own right, they can help choose the rules for the competition. I don't expect Altria Group to have the kind of returns they had in prior periods, but sales growth remains sensible and the company is using mobile applications to connect with customers.
If MO could pay out a 3.5% dividend (my yield on cost is higher) and grow earnings and dividends at a rate of 4% per year over the next 20 years, that would be a great investment. Such a situation would only suggest 7.5% annual returns, but I sure don't see the S&P 500 returning that over the next 20 years if we are starting at the current price.
Tobacco Alternative
If investors want an alternative company for exposure to this great space, they should start with inspecting Reynolds American, Inc. (NYSE:RAI). I have only two regrets about investing in tobacco. One is that I didn't double my position in Philip Morris at the start of the year when it was absurdly cheap and the other is that I didn't add some RAI when I was starting the positions.
Strong Consumer Staples
Pepsi (NYSE:PEP) and Coca-Cola (NYSE:KO) are beasts among the dividend investing community. I don't expect them to get slaughtered at any point, but I don't foresee such great growth for them. Aldi's is coming into America and competing hard against Wal-Mart with a plan to focus on lower prices and using in-house brands. As the company grows, I expect Wal-Mart to be putting pressure on their suppliers to lower prices or to shift more orders to generic products. This same issue could plague other brand name companies such as Kellogg (NYSE:K), Mondelez International (NASDAQ:MDLZ) and General Mills (NYSE:GIS). All strong companies, but facing potential headwinds as competition among the retailers picks up.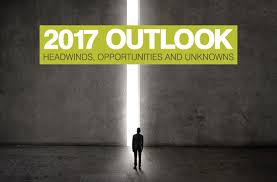 Way Too Much Risk
While I love going after high yields, I'm not comfortable going into the traditional high-yield sectors all the time. For instance, if investors plan to live on their dividend income, it may be too risky to be buying shares in Prospect Capital (PSEC), Ares Capital (NASDAQ:ARCC), or Fifth Street Finance (NYSE:FSC). That isn't to say those companies are not capable of providing strong returns, but investors depending on that precise dividend amount would be better served accepting lower yields from dividend champions. If they are taking the higher yields, than their income needs to very materially exceed their expenses. In my opinion, the best BDC is Main Street Capital (NYSE:MAIN), but they are, or very recently were, selling at a premium of over 70% to book value.
Individual Stocks Vs. ETFs
Some investors prefer buying ETFs rather than individual stocks, but the SPDR S&P 500 Trust ETF (NYSEARCA:SPY) simply carries more risk than I would want for a large chunk of my portfolio. I prefer the more defensive allocations. That means when I do go with ETFs I'd rather use the Vanguard High Dividend Yield ETF (NYSEARCA:VYM), or the Schwab U.S. Dividend Equity ETF (NYSEARCA:SCHD) as opposed to SPY. I also find the Vanguard Consumer Staples ETF (NYSEARCA:VDC) to be very attractive. For investors that are willing to be a little more aggressive, the Vanguard Dividend Appreciation ETF (NYSEARCA:VIG) is a solid choice, though all of the ETFs are currently well beyond my range for acceptable entry prices. When I felt comfortable running a higher beta on the portfolio, I saw the Vanguard Total Stock Market ETF (NYSEARCA:VTI) as an excellent alternative for having an extremely low expense ratio and great liquidity while incorporating the entire market as opposed to just the S&P 500.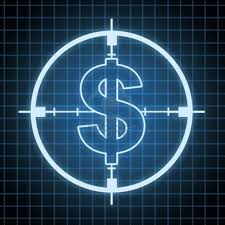 At the end of the day, with market valuations at record highs, it just makes more sense to be hunting selectively for attractive entry opportunities and picking individual companies. Even with a defensive fund, the correlation between returns is just a little too strong.
Conclusion
The dividend champions have been serving me well and are a critical piece in my portfolio plan for the next several decades. Each dividend champion selected for my portfolio is a company where I would feel comfortable doubling my position if shares declined.
With the exception of NNN, the allocations are overwhelmingly to companies that operate in oligopolies. Dropping NNN from the portfolio was a matter of reducing risk when the valuation simply become too high.
Competition is great for customers, but it isn't so great for the owner of the company. With consolidation coming in retail, we can hope for things to move back in that direction.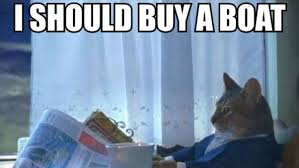 Disclosure: I am/we are long MO, WMT, TGT, FSIVX, PM, FSITX, BMNM, WPG, ANH-C, GBLIL, CYS-B, CMO-E.
I wrote this article myself, and it expresses my own opinions. I am not receiving compensation for it (other than from Seeking Alpha). I have no business relationship with any company whose stock is mentioned in this article.
Additional disclosure: No financial advice. Investors are expected to do their own due diligence and consult with a professional who knows their objectives and constraints. The ideas, opinions, and ratings in this article reflect the views of Colorado Wealth Management Fund. Joint efforts primarily consist of having Big Dog Investments paraphrase or quote the views expressed by CWMF. CWMF actively trades in preferred shares and may buy or sell anything in the sector without prior notice. Tipranks: Buy Target