Axsome Therapeutics (NASDAQ:AXSM) is a clinical stage biopharmaceutical company with two drugs in Phase 3 and a real chance of a positive readout from these trials. The market cap is currently just under $100 million.
Interim data from a Phase 3 trial in knee osteoarthritis approaches
The first Phase 3 trial from which we will see data is the COAST-1 trial, a double-blind, randomized, placebo-controlled trial of AXS-02 in osteoarthritis of the knee with associated bone marrow lesions. AXS-02 is an oral formulation of zoledronate, a drug of the bisphosphonate class normally given intravenously to treat osteoporosis, bone complications occurring during cancer and Paget's disease. The drug slows bone resorption by osteoclasts, which benefits those with reduced bone mineral density, but AXSM is also interested in the drug because of its ability to reduce inflammation and reduce activation of ion channels involved in pain.

Figure 1: AXSM has initiated three Phase 3 studies. Interim data from a trial of AXS-02 in knee osteoarthritis is expected first.
Source: Company website
A Phase 2 randomized, placebo-controlled, double-blind trial of intravenous zoledronate in 59 patients with osteoarthritis of the knee and bone marrow lesions showed a reduction in knee pain and bone marrow lesion size. The unadjusted data were not close to statistical significance, but following correction for medication use, age, sex, and baseline pain score, zoledronate beat placebo (p = 0.04) in terms of pain scores at six months but not at three months or 12 months. Given the small size of this study and the fact that the route of administration is oral with AXS-02 rather than intravenous, it is hard to say with certainty that the COAST-1 study will succeed. The primary endpoint in the COAST-1 study is change in patient reported pain intensity at week 24, and the study has a planned enrollment of 346 patients. The data from an interim analysis is expected in Q3'17.
AXS-02 has a good chance of being effective in complex regional pain syndrome
The CREATE-1 study is a double-blind, randomized, placebo-controlled trial of AXS-02 in complex regional pain syndrome or CRPS. Multiple bisphosphonates have shown efficacy in reducing pain in CRPS when infused intravenously such as alendronate, clodronate, pamidronate, or neridronate (Figure 2). While these studies were small, statistical significance over placebo in terms of pain was achieved by each bisphosphonate.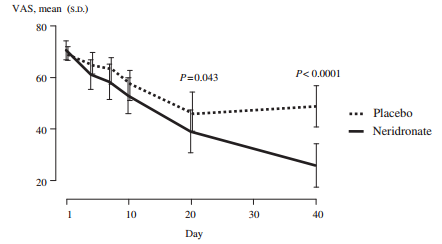 Figure 2: Change in pain as measured by visual analogue scale score (higher scores denote worse pain) in an 82-patient trial of the bisphosphonate neridronate in CRPS
Source: 2013 publication in Rheumatology
A small trial of oral alendronate was also conducted in CRPS, which also achieved a statistically significant benefit over placebo in terms of pain reduction. The question then becomes why is there a need for AXS-02 if oral alendronate has already shown efficacy in CRPS? AXSM notes that the bisphosphonate in AXS-02, zoledronate, is far more potent than other bisphosphonates, which is indeed true. However, this simply means that the dose of zoledronate administered is lower. Whether or not this will translate into increased efficacy in the treatment of CRPS is another question. To date, there have been no head-to-head trials comparing the efficacy of bisphosphonates to one another in CRPS. Intravenous zoledronate does appear to be slightly superior to other bisphosphonates in terms of reducing skeletal related events in breast cancer, although even this analysis requires much cross-trial comparison since there are only a few head-to-head studies. Intravenous zoledronate may also be superior to oral alendronate in osteoporosis.
It is unclear if zoledronate will maintain this apparent superiority over other bisphosphonates when dosed orally (as AXS-02) or even if an advantage in CRPS would be seen over other bisphosphonates if it were dosed intravenously (which it won't be). Those are the two uncertainties of the CREATE-1 study, in my opinion. Zoledronate is not one of the bisphosphonates that have thus far shown efficacy in CRPS, and changing the formulation of zoledronate to oral from intravenous might nullify any superiority zoledronate has in terms of efficacy over other bisphosphonates. Data from a Phase 1 trial of AXS-02 goes a long way to alleviating my concerns regarding the switch in formulation from intravenous to oral. The company selected the dose of AXS-02 from these Phase 3 trials based on the blood concentrations of the drug compared to intravenous zoledronate and the activity of the drug as assessed by measuring serum markers of bone resorption (Figure 3).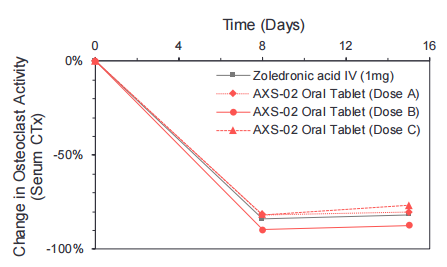 Figure 3: AXS-02 performed similarly to intravenous zoledronate in terms of inhibition of osteoclast activity
Source: May 2017 corporate presentation
Oral alendronate is available in generic form, so doctors looking to treat patients may choose to prescribe a bisphosphonate which is cheaper than AXS-02, even if AXS-02 is the only bisphosphonate shown to have efficacy in a large trial in CRPS (CREATE-1 will enroll about 190 patients). The question of whether or not AXS-02 would sell will become a question for later, however. Interim data is expected from CREATE-1 in Q4'17. I am more comfortable predicting a positive readout from the CREATE-1 study than I am from the COAST-1 study. This prediction is despite the fact that expectations are probably higher for AXS-02 in CRPS than knee osteoarthritis.
AXS-05 has potential in treatment resistant depression
The second member of AXSM's pipeline is AXS-05, a combination of the antidepressant bupropion and the cough suppressant dextromethorphan. Dextromethorphan is a drug which is converted to its metabolite dextrorphan by an enzyme in the liver called CYP2D6. Bupropion inhibits the action of CYP2D6 and thus inhibits the conversion of dextromethorphan to dextrorphan. Inhibiting the metabolism of dextromethorphan (so that the drug sustains higher concentrations for longer) may be of value in the treatment of depression. AXSM has shown in Phase 1 that dextromethorphan concentrations in serum are greatly elevated following coadministration of bupropion.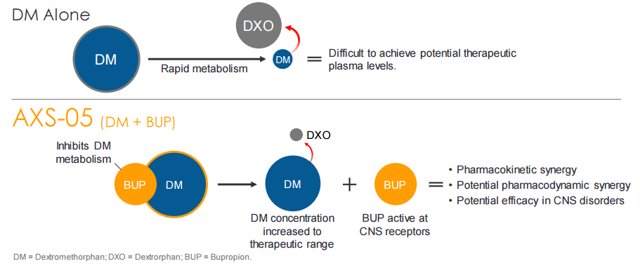 Figure 4: Diagram explaining how dextromethorphan concentrations are elevated by coadministration of bupropion
Source: May 2017 corporate presentation
Dextromethorphan is an inhibitor of serotonin reuptake (a validated mechanism of action in depression) and an NMDA receptor antagonist (believed to be of value in treatment resistant depression). Bupropion is an inhibitor of norepinephrine uptake (also a validated mechanism of action in the treatment of depression), an inhibitor of dopamine reuptake (how much this contributes to bupropion's efficacy in depression is questionable), and an antagonist of nicotinic acetylcholine receptors (potentially of value in depression).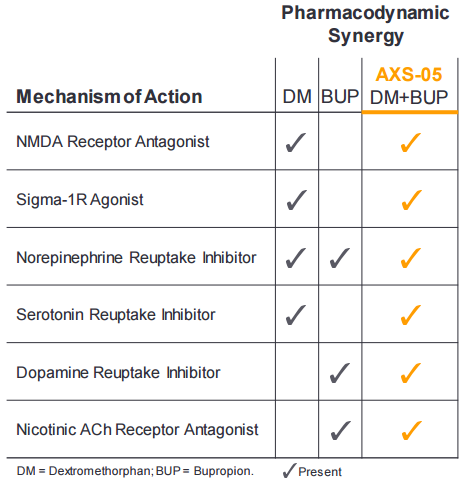 Figure 5: AXS-05 will add a few additional mechanisms of action to bupropion alone
Source: May 2017 corporate presentation
I'm not sure if AXS-05 is going to be the next blockbuster in the depression space. However, I think STRIDE-1, a Phase 3 trial of AXS-05, may succeed. The trial contains an initial open-label six-week period where patients will be treated with bupropion. Patients enrolling in the trial must have had an inadequate response to one or two antidepressants. Those who achieve an inadequate response will then be randomized 1:1 to receive bupropion again, or AXS-05. What we will likely see is that a small portion of those randomized to receive bupropion will respond, even though they did not previously.

Figure 6: Design of the STRIDE-1 study
Source: May 2017 corporate presentation
In trials designed to minimize the placebo effect, which is often large enough to cause trials of established antidepressants to fail, patients who do not respond to placebo during the first phase of the study are often re-assigned to receive a drug, or placebo again, in the second phase of the study. Some of the patients who did not respond to placebo in the first phase will go on to respond to placebo in the second phase of the study.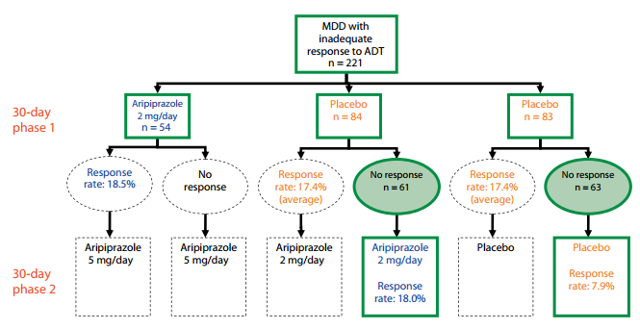 Figure 7: Design and result of the ADAPT-A study. Patients who did not respond to placebo in the first stage of the study were re-assigned to receive aripiprazole or receive placebo again. Some patients who had not responded to placebo initially went on to respond to placebo (7.9 percent). Note that the average response rate following the first phase of the study was 17.4 percent.
Source: Publication in Psychotherapy and Psychosomatics
The STRIDE-1 study differs from the ADAPT-A study substantially. The point of showing you the above example from the ADAPT-A study is that patients who do not initially respond (even to placebo) may respond when followed for additional time (such as during the second phase of a study). We cannot then expect the bupropion arm in the double-blind portion of the STRIDE-1 study to have a response rate of zero. Patients who initially did not respond to bupropion in the first part of the study might respond to bupropion in the second part of the study.
The more important question, of course, is if the response rate in the AXS-05 arm of the study will be significantly higher than that in the bupropion arm of the study. Analysis of smaller open label studies suggests that non-responders to serotonin reuptake inhibitors may respond when bupropion is added (there are actually multiple trials showing this). Less common are trials showing that patients initially on bupropion may respond when a serotonin reuptake inhibitor is added. This latter situation closely resembles what AXSM is hoping for in the STRIDE-1 study since dextromethorphan will function as a serotonin reuptake inhibitor. Since these previous trials have all been open label, it is hard to say with certainty that they predict success for the STRIDE-1 study.
Perhaps the additional mechanisms of action of dextromethorphan, beyond being a serotonin reuptake inhibitor, will help get AXS-05 over the line. Dextromethorphan also functions as an agonist of the sigma-1 receptor, but fluvoxamine, an antidepressant which acts as a serotonin reuptake inhibitor and sigma-1 agonist, is no more effective than other serotonin reuptake inhibitors which do not have this mechanism of action. Dextromethorphan also functions as an NMDA receptor antagonist, and NMDA receptor antagonists have for many years now garnered interest because of the ability of ketamine (an NMDA receptor antagonist) to alleviate treatment resistant depression. More selective NMDA receptor antagonists have been developed but many have failed for one reason or another so far. Overall, I am not convinced the multimodal action of dextromethorphan will be responsible for AXS-05's efficacy.
Would AXS-05 be approved specifically for treatment resistant depression?
If the STRIDE-1 study succeeds, it might just be because adding a serotonin reuptake inhibitor to those not responding to bupropion sometimes results in a response, even if the patients have previously failed to respond to serotonin reuptake inhibitors. The FDA might ask the question; what if the double-blind portion of the study included a third arm where a selective serotonin reuptake inhibitor was added to bupropion? Would this arm be any different to AXS-05? AXSM would suggest, yes, because dextromethorphan is not just a serotonin reuptake inhibitor. I wouldn't be so sure, and in the absence of any data, I might ask AXSM to run another trial showing AXS-05 was more effective for treatment resistant depression than just trying again to treat the patient with any other approved serotonin reuptake inhibitor. AXSM notes that the Phase 3 design for COAST-1 (the trial of AXS-02 in knee osteoarthritis) is being conducted under a Special Protocol Assessment from the FDA. I think AXSM should have sought an SPA for the Phase 3 study of AXS-05 before beginning Phase 3. I find the design of the study a little odd because although it will tell us if AXS-05 works, it won't tell us if it would work better than just adding a serotonin reuptake inhibitor to bupropion. Don't worry about what the FDA might say yet, though; if the company reports positive data with AXS-05 in STRIDE-1, the stock will go up. Top-line data from STRIDE-1 is expected in Q1'18.
The financial position
AXSM reported a net loss of $8 million for the quarter ending March 31, 2017, and had cash of $45 million. At the current burn rate, cash could be expected to last just short of six quarters. AXSM seems to guide for cash to last slightly longer than that, suggesting cash should be sufficient to fund operations until Q1'19. Although the burn of $8 million in Q1'17 was up from $5.9 million in Q1'16 due largely to increasing R&D cost from the CREATE-1, STRIDE-1, and COAST-1 trials, I don't think cash burn will return to these reduced levels upon completion of these trials. Regulatory activities following the completion of these trials and potential prelaunch activities may, in fact, increase cash burn and loan repayments will increase.
An additional source of cash for the company comes from a term loan with Silicon Valley Bank. AXSM entered into the loan agreement November 2016. The company has already drawn $10 million, but the company may draw upon a further two tranches each of $5 million ($20 million total). If the company draws upon the second tranche, then the interest-only period of repayments will be extended from 12 months to 18 months. Otherwise, it appears the interest-only repayment period will end in November 2017, and so repayments will be much larger in 2018.
Table 1: Planned schedule of repayments on loan
Source: Recent 10-Q

The company notes 2.1 million options outstanding and 0.3 million warrants, which, relative to the 23.5 million shares outstanding, is an acceptable cap structure for a biotech company.
Table 2: Outstanding options and warrants
Source: Recent 10-Q

This discussion of cash runway based on current reserves may be a moot point since the company is likely to conduct an offering if positive data is seen from any of the upcoming Phase 3 readouts. It makes sense for AXSM to conduct this offering at a time when it will be tolerated (following positive Phase 3 data), and for a reason, that makes sense (NDA submission and pre-launch activities). AXSM is unlikely to let a chance for an offering pass if top-line data from STRIDE-1 are positive in Q1'18. It is also possible that AXSM conducts an offering following interim readouts from COAST-1 and CREATE-1 if interim data are positive. Since the company just completed an offering in March 2017, another offering six months later in Q3 with interim data from the COAST-1 study might not be perceived well unless the data are stellar. Offerings tend to follow full data, not interim analyses.
Recommendation
I think a long position makes sense in Q4'17 in anticipation of interim data from the CREATE-1 study. I feel that COAST-1 and STRIDE-1 have a good chance of success too, but I am not confident enough to recommend investors play those catalysts alone. As part of a longer term investment, holding through results from all three of these clinical trials gives one three shots on goal, which I also feel is an acceptable strategy. I notice that AXSM trades at over twice cash, and I wonder how investors divide the extra value among the company's pipeline. If CREATE-1 and COAST-1 fail or produce mixed results, the downside might be limited due to speculation regarding STRIDE-1 since treatment resistant depression is a huge market. The fact that the clinical data expected in Q3 and Q4 is interim data means the market might not expect the drug to achieve statistical significance over placebo. Investors might like to take any potential profit following interim data in Q4 from CREATE-1, although an argument could be made for closing out only part of a long position, leaving some exposure to data from STRIDE-1.
Investors in AXSM holding through all three clinical data releases can expect the stock to trade to cash or below if the market doesn't like the data. While I feel that downside is limited from initial data releases in Q3 and Q4 (because they are interim), the market may in fact expect positive data even from interim analyses. Competitors making progress in the same indications (knee osteoarthritis, CRPS or treatment resistant depression) could also negatively impact the stock. The company also plans to initiate a Phase 2/3 trial of AXS-05 in Alzheimer's disease agitation, so any delays in initiation or enrollment of the trial could also weigh on the stock.
Disclosure: I/we have no positions in any stocks mentioned, and no plans to initiate any positions within the next 72 hours.
I wrote this article myself, and it expresses my own opinions. I am not receiving compensation for it (other than from Seeking Alpha). I have no business relationship with any company whose stock is mentioned in this article.
Editor's Note: This article covers one or more stocks trading at less than $1 per share and/or with less than a $100 million market cap. Please be aware of the risks associated with these stocks.