I think it's fair to say McDonald's (NYSE:MCD) share price is getting a little frothy. The rally since November last year is the kind of move we usually see in younger growth stocks.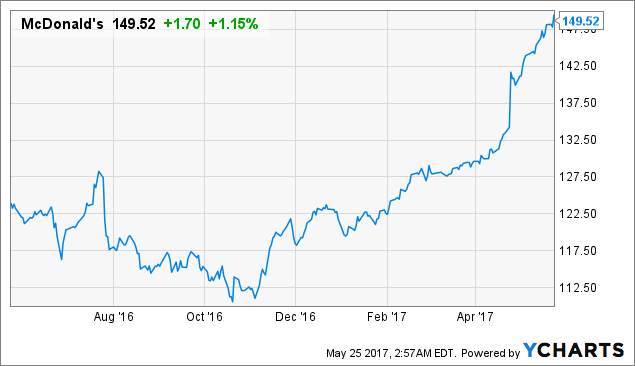 And just in case there was any doubt, McDonald's is definitely not young or growing.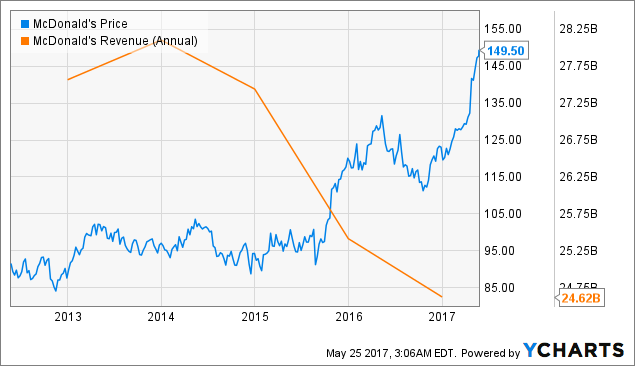 And while EPS may be a bright spot, MCD holders should know what is behind most of it (and it's not the all day breakfast).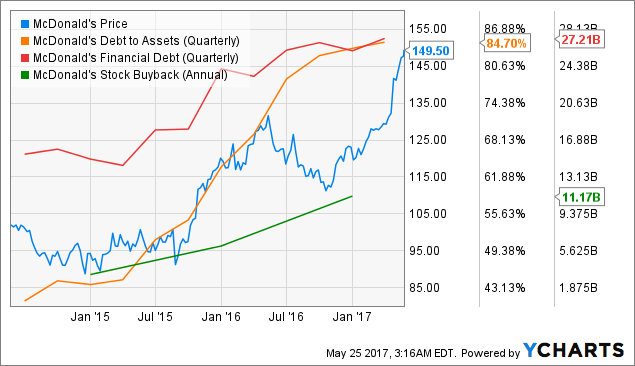 So while the share price may be flying high, the drivers of price are a little worrying.
Plus we don't know how much of the 35% jump since the 2016 election is due to investors pricing in Trump's proposed tax cuts.
McDonald's will be a huge beneficiary of a 15% rate as it currently pays over 30%. A re-rate is justified on this alone, but what if it doesn't happen?
We have already seen many stocks and instruments turn back down after the post election rally as doubts about the new administration surface. This insulates them from any further let downs and sets up potential rallies on any follow through on pledges. McDonald's doesn't have this dynamic.
To cut a long story short, I will repeat the opening line of this article: McDonald's share price is getting a little frothy.
But what could this mean for prices going forward? There are plenty stocks rising far ahead of what could be fundamentally expected. The situation can go on for years. Thankfully, McDonald's has been here before.
A Price Comparison
The previous section shows us that price can be driven by all kinds of factors. Fundamentals will eventually have to catch up, but expectations can take price a long way.
Take the rally into the 2000 highs, for instance. Plenty stocks traded into bubble valuations and MCD didn't miss the party.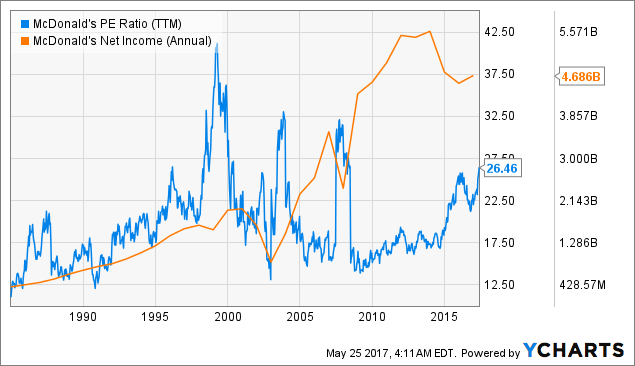 It wasn't fundamentals driving prices higher in the late 1990s, it was sentiment and speculating. And it's happening in exactly the same way again.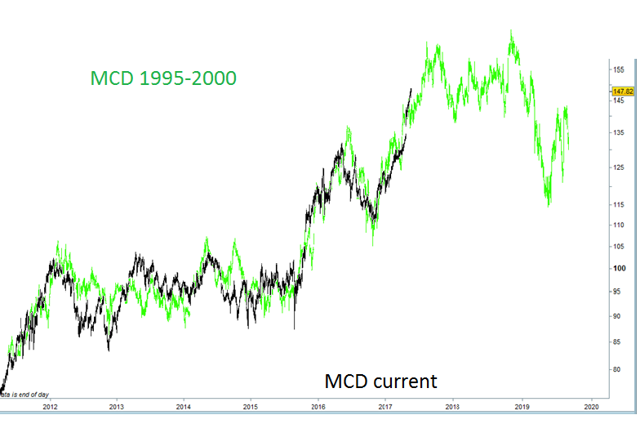 The chart above superimposes the MCD chart of 2011-2017 (black) onto the MCD chart from 1995-2000 (green).
Although the circumstances may be very different, the price patterns and behavior of speculators are not. In fact they are nearly identical, and barring any significant fundamental change, the similarities could continue.
This provides us with a useful visual guide. It doesn't call for an immediate reversal, or a crash, but rather a continued trend to around $160, after which a period of distribution will likely begin.
It makes sense that this will eventually happen; those who bought during the consolidation from 2012-2015 are bound to take some profits at some point.
And a later decline back down to $115 may not be driven by terrible news, or an event, merely a gradual shift in sentiment and positioning. Tax cuts may not materialize or the broader market may roll over like it did back in the year 2000.
Whether these price moves concern you or not will depend on your time frame and investment objectives. Dividend investors who bought before the current run up may see little reason to do anything. Momentum players may decide to get out above $155. Shorts may hold off for a year or two. Personally, I will buy any dip down to $135 again, but that may be much later in the year.
Conclusions
McDonald's is rallying strongly, but fundamentals are lagging. Much of the gains are driven by speculation on future tax cuts, buybacks and sentiment.
Whether or not fundamentals can catch up remains to be seen, but sentiment alone can take price a long way. Using the late 1990s as a guide, it seems prices could continue higher for at least another year in a topping process, before declining down again.
Disclosure: I/we have no positions in any stocks mentioned, and no plans to initiate any positions within the next 72 hours.
I wrote this article myself, and it expresses my own opinions. I am not receiving compensation for it (other than from Seeking Alpha). I have no business relationship with any company whose stock is mentioned in this article.