Alibaba Group Holding (NYSE:BABA) is the largest e-commerce player and cloud-computing provider in China. It is currently trading at $123/share, more than doubled since Feb. 2016. Overall investors are positive about BABA, however I think its upside potential has not been fully recognized. This article is to provide more color on how BABA is building its e-commerce, cloud and media empire. In my opinion, BABA is: 1) an upgraded e-commerce play; 2) an IaaS dominant leader that will enjoy Amazon AWS-like growth; 3) an exceptionally strong media empire that is usually misunderstood. I recommend a buy with 12 month Price Target of $167, 36% upside from current price. $167 is based on SOTP (Sum-of-the-parts) for e-commerce, cloud computing and media businesses. Furthermore, I believe Alibaba is a long-term play and I expect a 3-year price target of $281 (129% upside).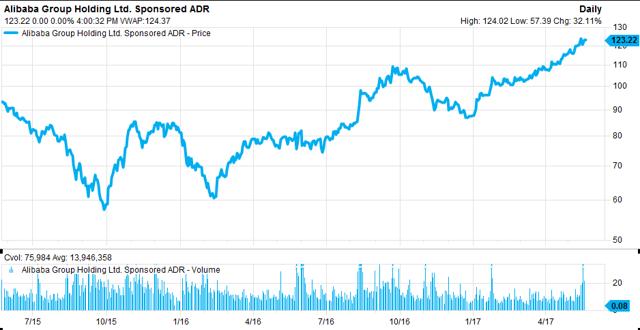 Source: Factset
Business Overview:
BABA was established in 1999, and its subsidiaries include Taobao.com, Tmall.com, Alibaba.com, etc. BABA initially built its brand through wholesale and retail e-commerce and its mission is to make it easy to do business anywhere. Over the past few years, it owns established businesses across commerce, cloud computing and media (as shown in the following chart).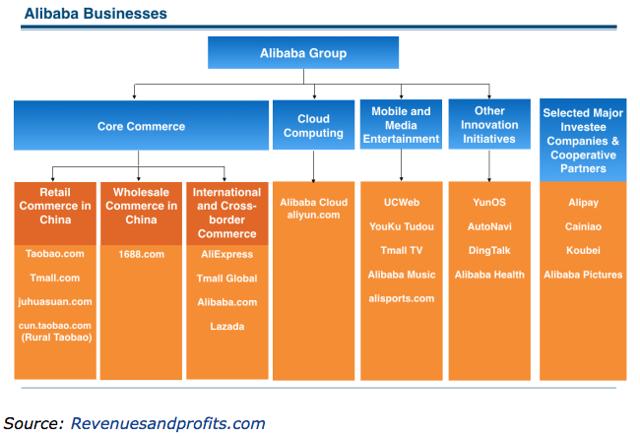 BABA has enjoyed rapid growth for quite a few years, benefiting from the secular trends of e-commerce/mobile commerce and business IT transformation from legacy data centers to the cloud. Going forward I expect BABA to accelerate growth through a variety of strategic initiatives.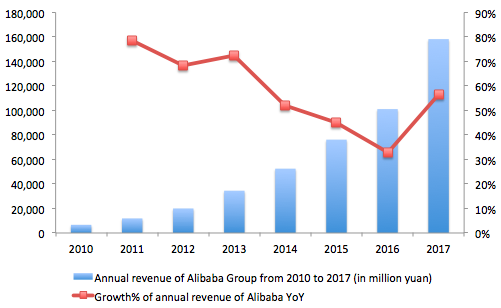 Source: Company filings
Investment Thesis#1 BABA's upgraded e-commerce play will accelerate growth through international and cross-border GMV
BABA's Marketplaces have comprehensive lines of e-commerce businesses, including retail commerce in China, wholesale commerce in China and international and cross-border commerce.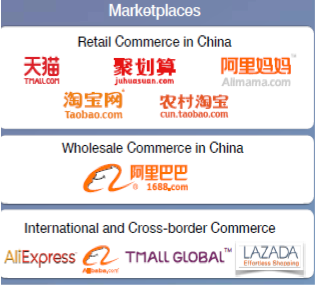 BABA's core commerce businesses, Source: Company presentation
BABA's Marketplaces are exceptionally strong. Some evidences as follow:
10 million annual active sellers and 1+ billion listings. 75% consumer brands among Forbes' top100 in TMall. Revenue/active buyer is Rmb251 in Q1 2017, up 32.8% from Rmb189. YoY User stickiness as measured in DAU/MAU (Daily Active User/Monthly Active User) is 41%.
BABA's vision is to achieve Rmb6 trillion GMV by FY2020 (2x FY2016 GMV) and 2 billion global consumers by 2036 (4.7x FY2016 active buyer). Key drivers include customer acquisition, category expansion and digital transformation of offline GMV (a potential market of Rmb30 trillion).
I would like to provide a few examples to demonstrate the attractiveness of the BABA Marketplaces. The C2C platform Taobao.com goes far beyond what a traditional retailer can offer. Consumers can literally buy EVERYTHING, such as homegrown fresh lily bulbs, customized jade jewelry, tailor-made dresses, fresh seafood from fishing villages, etc. Taobao unarguably enriches consumers' daily life. Meanwhile, Tmall enables brands to gain invaluable consumer insights for new product launches, brand-building, customer acquisition and customer lifecycle management. For example, the luxury auto brand Alfa Romeo formed an exclusive strategic partnership with Tmall to market and sell its cars online in China. Mattel, the leading global childhood play and development company, began working with BABA AI Lab to develop new and innovative products designed to aid child development through cutting-edge technology.
The upgraded play is called globalization. The following chart clearly shows why globalization is a must for BABA. In Q1 2017, the revenue growth of ecommerce is driven by 7.3% active buyers growth and 38% increase of revenue/active buyer. When the saturation rate in China is extremely high, globalization essentially becomes the way to maintain its rapid growth.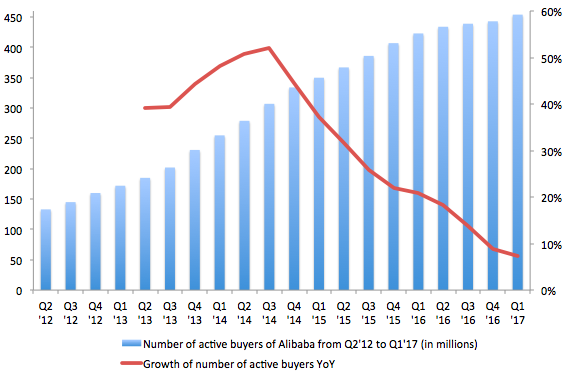 Source: Statista
Globalization is not new to BABA. So far BABA's international consumer platform AliExpress and Lazada achieved 83 million annual active buyers as of the end of March 2017. AliExpress currently operates sixteen local language sites, including sites in Russian, Spanish and French.
Globalization is the dream of Jack Ma (founder of BABA). In the past year, Jack Ma visited 40 countries and regions along the belt and road. A big positive is that the China government's 13th five-year planning confirmed "The belt and road" to be one strategic focus for the sake of cross-border commerce development in the next five years. Correspondingly on Apr. 21 st 2017, Ali Research institute and DT finance released the Big Data Report of e-Road. This is definitely not a coincidence. Instead huge efforts must have been paid by BABA and China's government to make this happen.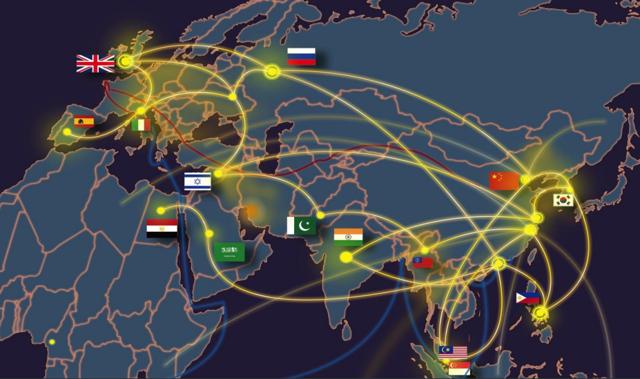 The belt and road, Source: Ali Research and DT Finance report
This report compiled ECI ( E-Commerce Connectivity Index) for the countries (as shown in the above chart) along "The belt and road". The higher the export index is, the more made-in-China products are sold to those countries. The higher the import index is, the more Chinese consumers purchase products from those countries.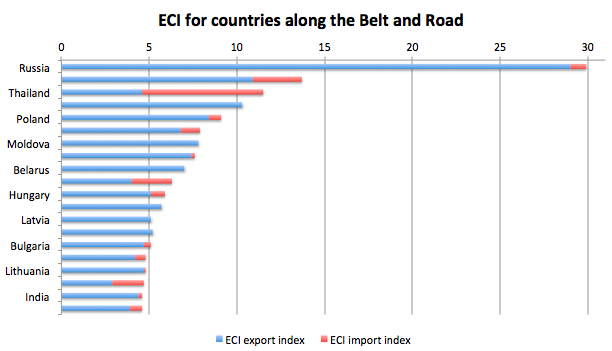 Source: Ali Research and DT Finance report
Ali Express is the only cross-border B2C retail platform that covers all the countries and regions of the belt and road. Ali Express users reached 100 million from over 220 countries and regions. Countries along the belt and road account for 45.4%.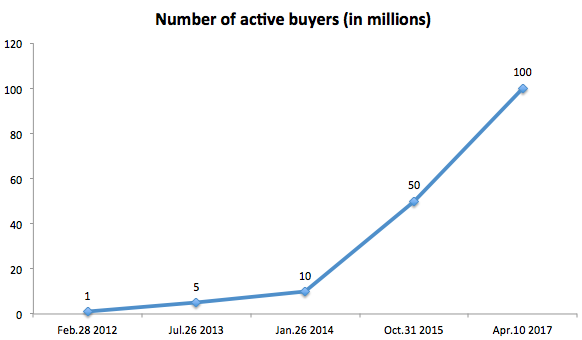 Source: Ali Research and DT Finance report
Regarding globalization, BABA has enlisted China government to support. Meanwhile, it is making great efforts on its own. Its Cainiao Network has created 17 warehouses in countries along the belt and road. Ant Financials built up presence in India, Thailand, Philippines and Indonesia. Alibaba Cloud owns data centers in Singapore, Dubai. The recently announced eWTP in Malaysia facilitates cross-border trade between China and Southeast Asia and among Southeast Asian countries. Given that Jack Ma has visited nearly 40 countries and regions, I bet the 2nd, 3rd ehubs will come up soon.
Considering BABA's globalization outlook, I believe the e-commerce growth will accelerate in the next couple of years.
Investment Thesis#2 Alibaba Cloud is expected to enjoy AWS-like growth
With the ongoing transformation of business IT on the globe, the cloud computing market is extraordinarily promising. Global cloud market grows at a CAGR of 16% during 2013 to 2019E (as shown in the below chart). According to Morgan Stanley and IDC, in 2016 the China Public Cloud market was ~ $2 billion, in which Alibaba Cloud currently accounted for 50% and has gained 10% more market shares in 2016.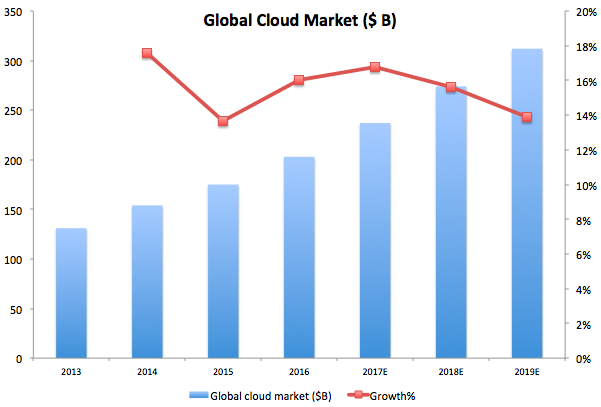 Source: Gartner
The China IaaS (the particular segment that Alibaba Cloud focuses on) market is in its early-stage fast growth phase ,with growth rate higher than 100%.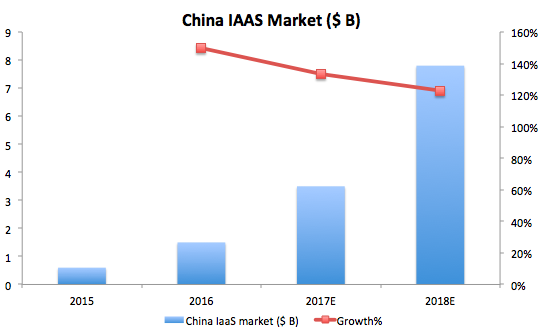 Source: Gartner
As of March 2017, Alibaba Cloud paying customers grew to 874,000, driving revenue growth to 103% YoY. Alibaba Cloud is building its global scale. So far Alibaba Cloud has 13 global nodes. One node was created in Hongkong in 2014. In the past three years, 7 overseas nodes were established, including US East, US West, Singapore, Japan, Australia, Dubai and Europe. Additionally, 3 nodes in North China and 2 nodes in East China were established.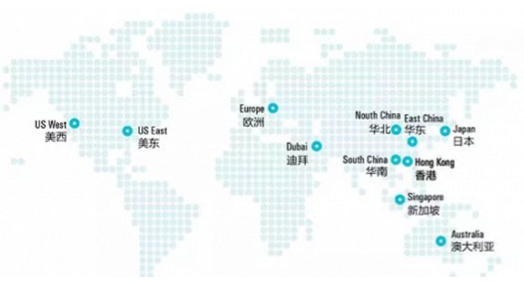 Alibaba Cloud Global Data Center
Regarding the competitive landscape, admittedly there is some so-called pricing war between BABA and Tencent going on. However, I believe the competition is relatively rational, with BABA focusing on IAAS and Tencent leaning towards video & game markets. I also would argue the competitive landscape is a bit similar to US that although multiple players are competing, each of them has its edge. Like AWS in US, BABA's first-mover advantage will greatly help grow its market leadership in China. Comparing the growth of Alibaba Cloud and AWS, Alibaba Cloud growth rate of over 100% indicates it is still in the early fast growth stage. Three years ago AWS growth rate peaked at 80%. With that I think Alibaba Cloud will soon enjoy AWS-like growth, only two to three years down the road.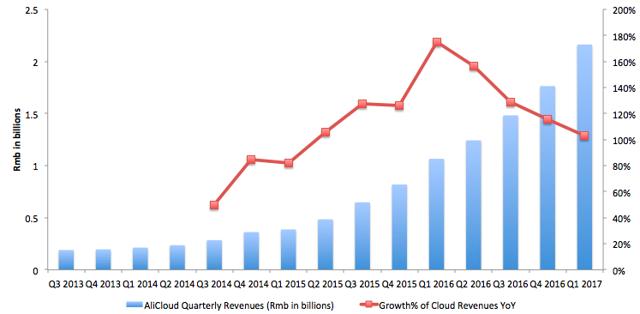 Source: BABA Company filings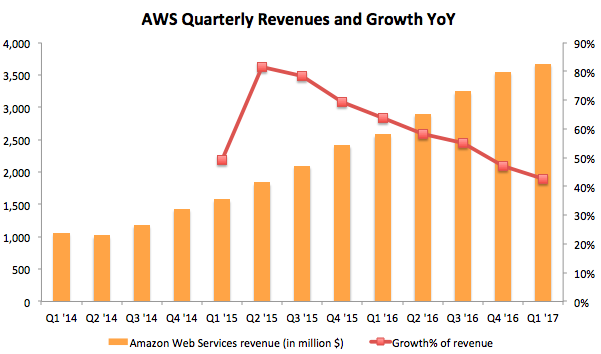 Source: AMZN Company filings
If you compare the SOTP valuation for AMZN and BABA by sell-side research, AWS accounted for more than 50% of AMZN valuation whereas Alibaba Cloud currently is less than 3% of BABA. Although Alibaba Cloud is an emerging business (comparing with its e-commerce), I think Alibaba Cloud has all the attributes to be a long-term winner. I expect the capital market to appreciate Alibaba Cloud as much as they do to AWS in no more than three years.

JP Morgan SOTP valuation of BABA
Investment Thesis#3 BABA's media empire is surprisingly strong, synergy to be realized between media and e-commerce
BABA media business covers online video, music, sports and movies.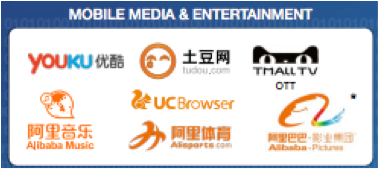 Source: Company presentation
Youku is China's Youtube (Youtube was blocked by Great Fire Wall of China) with a massive user base of nearly 570 million users and 22% market share in China. Interestingly over 55% of the online video market is dominated by BAT (Baidu iQiyi, Alibaba Youku and Tencent Video).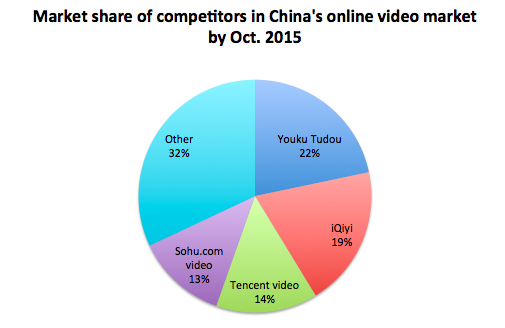 Source: Internet
What investors should know about the China online video market are its fast growth and explosion of original contents.
According to iResearch (a Chinese market research firm), the online video market in China grows at a CAGR of 39% during 2014-2018E and will reach $14 billion by 2018E. Advertising will continue to remain the key revenue driver within this market, accounting for over 60% by 2018.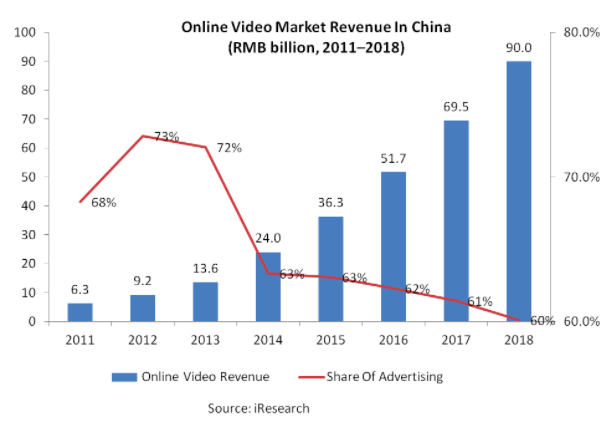 China's online video market, Source: iResearch
To expand market leadership, each player spends a ton on original contents. In 2017 Youku bought the first-run of "Ten great III of peach blossom", which is one of the best TV series in China. Total broadcast times exceeded 30 billion, and Youku platform accounted for over 42%.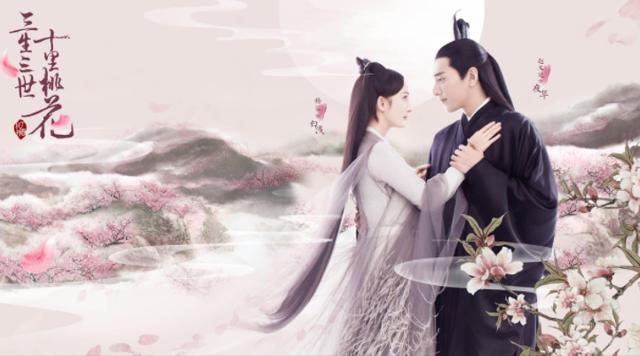 Ten great III of peach blossom, source: Internet
As one of the three major players in China's online market, Youku really stood out with BABA's acquisition. I expect a tremendous synergy to be played out between media and e-commerce, and this is essentially a close-loop ecosystem. First, original contents will attract more users. Just like Amazon's streaming services for prime members, it would be equally feasible for BABA to monetize through user subscriptions. Second, on top of an increasingly strong user base, Youku could generate comprehensive data from user activities on Youku, highly complimentary data points to the existing consumer transaction data on BABA. With that, BABA can drive better-personalized recommendations to consumers and help brand owners and sellers with more effective marketing. Third, BABA's 10 million sellers will fuel ad revenue growth on the Youku platform.
If you take BABA's equity investments into account, BABA's media empire is extraordinarily strong. This media empire will ensure BABA to always have a say and continue to build a strong and positive brand image.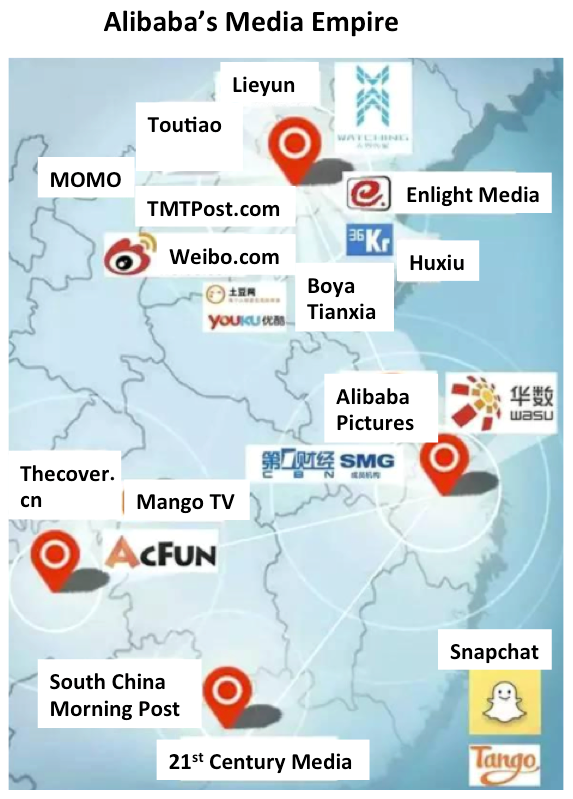 BABA's media empire, Source: Sina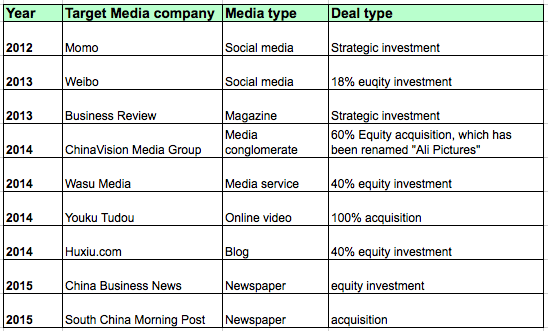 Some Alibaba Investments in Media, Source: Sina
Valuation
My SOTP valuation is based on SOTP of BABA's three main businesses: Core Commerce, Cloud Computing and Media, as well as its Equity investments. My base case valuation shows 12-month price target of $167 and 3-year price target of $281. Further upside is expected. My valuation is relatively conservative as I only attribute less than 16% of the valuation to Alibaba Cloud by 2020E.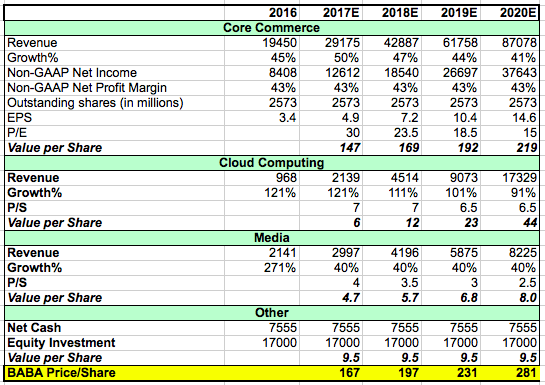 Investment Risk
I would not apply any conglomerate discount to BABA, as I expect significant synergy to be realized within BABA's whole ecosystem. However the main risk I realize is, BABA, as a foreign company that is doing business mainly in China and Asia, might not be fully recognized by overseas investors.
Disclosure: I/we have no positions in any stocks mentioned, and no plans to initiate any positions within the next 72 hours.
I wrote this article myself, and it expresses my own opinions. I am not receiving compensation for it (other than from Seeking Alpha). I have no business relationship with any company whose stock is mentioned in this article.