Recently, a reader asked me about Annaly Capital Management's (NYSE:NLY) preferred stock. She also asked me my thoughts on AGNC Investment's (NASDAQ:AGNC) preferred stock. While reflecting upon this, I thought it might be helpful to answer in a different way - by putting the two mREITs' preferreds into the ring and seeing which one walks out.
In the corner to your left, Annaly Capital Management. The following are the preferred stocks of NLY:

The pricing on the preferreds:

The first thing that has to be realized is that half of Annaly's preferreds are currently callable, and the other two are redeemable within four months, while they do not offer much in the way of call protection. That said, the Series A has been redeemable for years, and it has not been called. Despite this fact, I believe in buying protection when it is cheap, so I tend to shy away from those issues with a negative yield to call.
In order to select the preferred stock that will represent NLY, the table above is first referenced in order to get an idea of what is available today and what the characteristics are. From the table above and with my tendency to ignore negative yield to call, I would rule out Series A and C and focus on Series D and E.
Historical perspective of the various Series can provide us with a feel for the relationship between the various Series.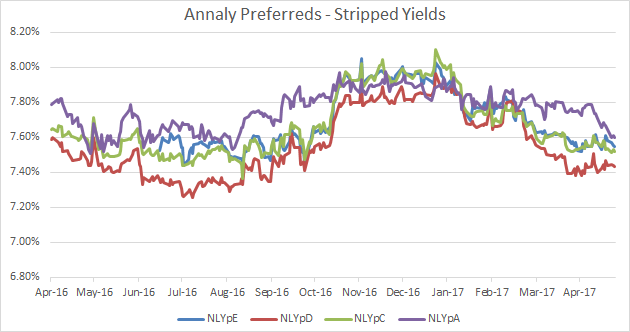 The relationship between the Series D and the Series E can be shown as: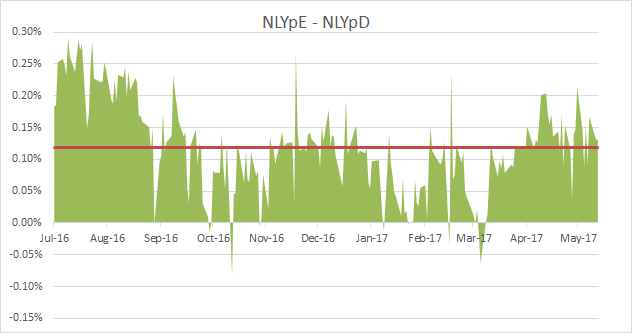 The above chart shows that the Series E trades wide to the Series D and is currently marginally above average. Winner, Series E.
In the corner to your right, AGNC Investment Corp. The following are the outstanding preferreds of AGNC:

The pricing on the preferreds:
AGNC is a more difficult choice as buying a couple years' call protection costs 37 basis points on a stripped yield basis.
Again, a look at the historical relationship between AGNC's two preferreds: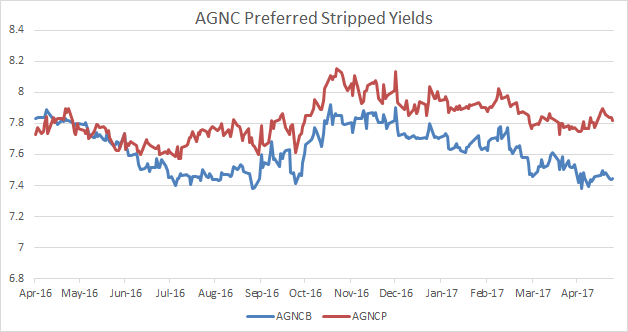 The differential between AGNCB and AGNCP is near its wides, as the currently redeemable AGNCP has a higher stripped yield (despite a significantly negative yield to call). This makes buying call protection even more unpalatable but potentially necessary in order to avoid getting called and having a significantly negative yield. Winner: AGNCB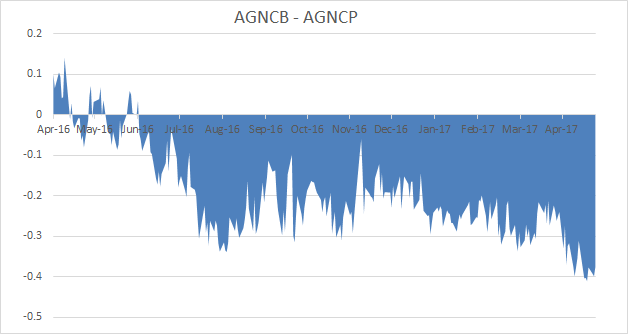 Having selected Annaly's Series E and AGNCB, a look at the historical relationship is in order.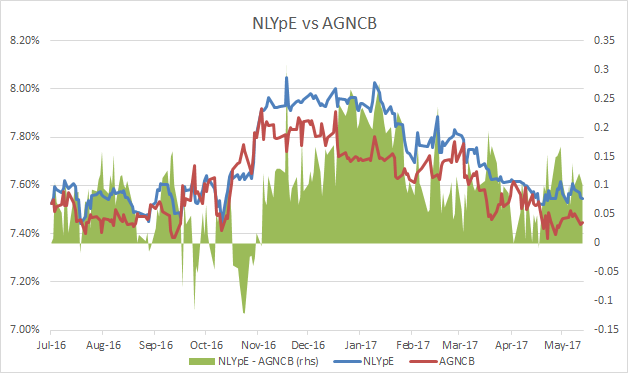 Eliminating the yield noise and focusing on the yield differential results in the following chart: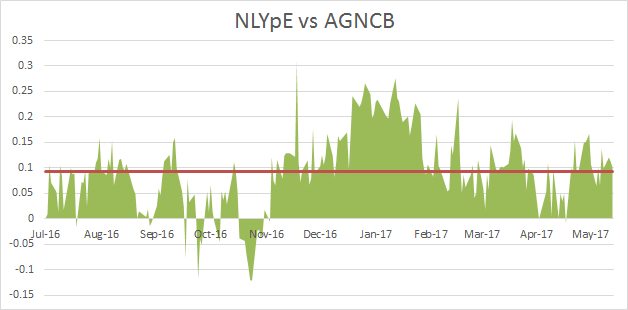 Annaly Capital's Series E currently trades 9 basis points wide to AGNCB, which is right around average and is, therefore, neither cheap nor rich but, well, average. Winner: Annaly Capital Series E.
The following table compares the selected NLY and AGNC preferred series to mREIT peer preferred (from the agency and residential sub-sectors):

Compared to nearly all of the peers, AGNC and NLY have lower stripped yields: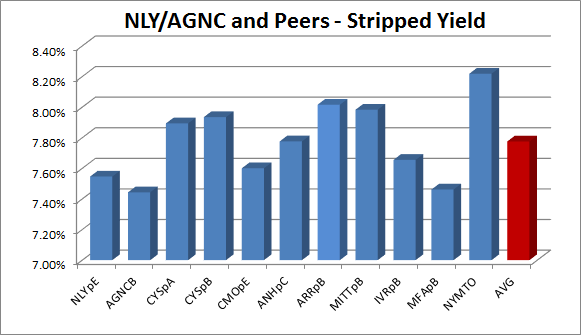 And lower yield to calls: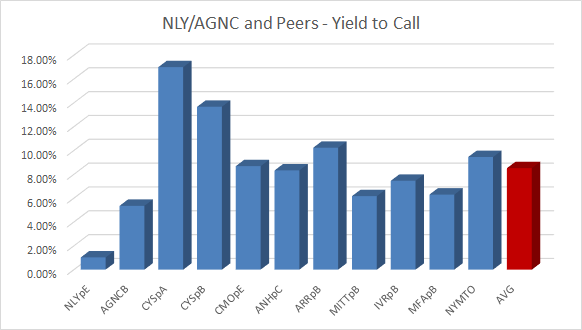 They also have higher prices: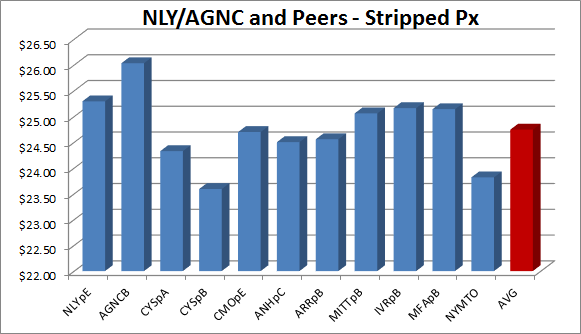 The "cost of stability" of the peer group varies, but NLY and AGNC are about average to a little above average: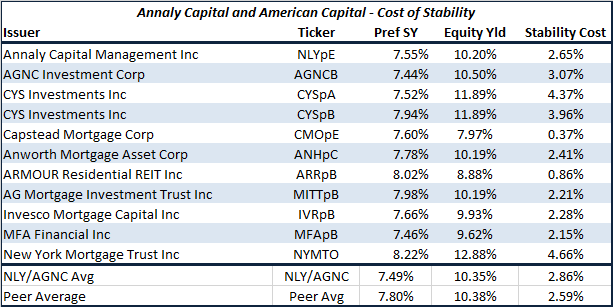 Shown graphically: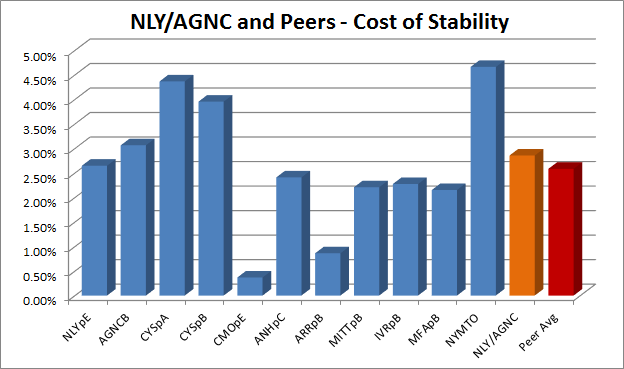 Finally, a look at the equity of the two contestants:
Price: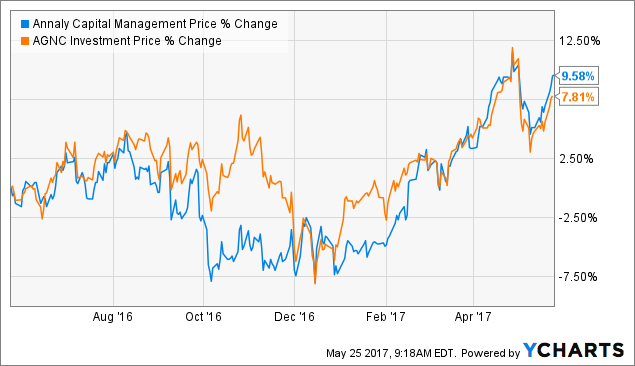 NLY data by YCharts
Total return price: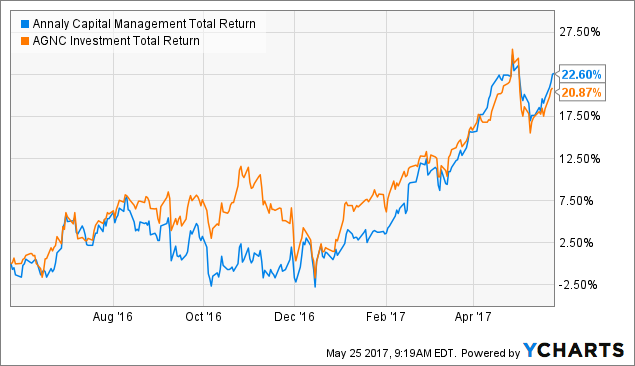 NLY Total Return Price data by YCharts
Disclosure: I am/we are long NLY.
I wrote this article myself, and it expresses my own opinions. I am not receiving compensation for it (other than from Seeking Alpha). I have no business relationship with any company whose stock is mentioned in this article.
Additional disclosure: Long NLY common