I got an email from an old trading friend who used to work out of HSBC in Hong Kong, right there in the tower on the options trading floor. He wanted to know if I had been paying attention to the latest developments: The Hong Kong dollar is getting clocked. Last January 2016, there was speculation that the peg to the USD would end. That sent the HKD downward sharply. The dollar recovered for a period but has begun collapsing again sharply over the past few sessions. More will continue. There are mounting problems in China and this is endemic of what is going on. At the same time the HKD is falling, Hong Kong government interest rates are heading lower which will serve to exasperate the problem. If the peg is ended, if the government allows the HKD to free-float, the move lower in HKD will pale in comparison.
Below is the weekly chart on HKDUSD (typically quoted as USDHKD):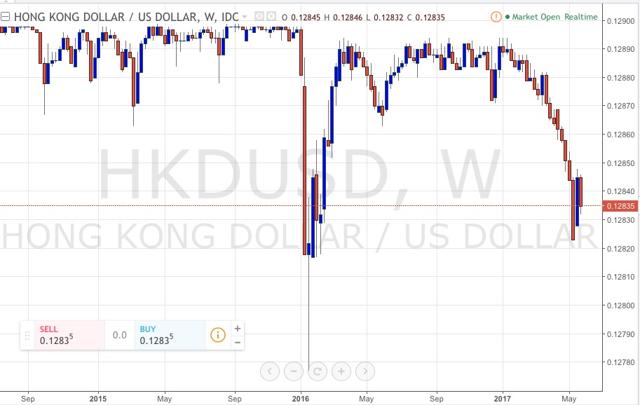 I listed this chart inverted to show how HKD is responding for the visual. There are large shifts financially occurring in China right now. The Chinese government is intent on riding the non-performing loans that Chinese banks have on their books. The government has taken several steps to enact this policy. They have restricted loans to businesses and individuals for mortgages. The effects of this has been that money has been leaving the country to invest elsewhere. Hong Kong has been one of the destinations for this money.
This has strained the CNH versus USD and HKD:
I expect that CNH will continue to fall. However, I did not expect the HKD to fall. The currency has been pegged for forever. Now, with the peg falling apart, the currency has been falling. But, what is odd is the next move. Interestingly, there has been a sharp divergence between government yields in Hong Kong and China.
What is happening is that the amount of money flowing out of China and into Hong Kong is too great for the USD peg to last. The flows of funds out of China and into Hong Kong have pushed up the rate of Hong Kong's foreign exchange reserves.
Because of this, Hong Kong is forced to drop the USD peg. The peg will exasperate the reserves. Keep in mind how China's reserves are dwindling while the People's Bank of China (PBoC) defends its daily band for their currency. The central bank has had to step in and sell yuan versus other currencies to maintain the band. As more and more money flows outward, the daily band's range gets tested. The PBoC has had to use its massive foreign currency reserves to defend their currency. However, in the past two years, what was once $4 trillion in foreign currency reserves is now only $3 trillion, a 25% haircut.
The problems stemming from China having to address their debt/GDP ratio and zombie loans are going to exasperate other country's economies. The World Bank estimates that some 30% of business loans on China's bank's books are non-performing. By pushing to rid the banks of these bad loans businesses have had to resort to other kinds of lending to get financed, they have been utilizing China's shadow banking system, basically a workaround of wealth management where banks sell bonds to wealthy Chinese investors on behalf of businesses looking for loans.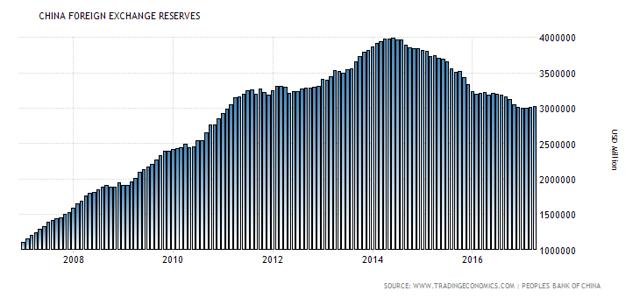 By doing this, the banks keep these loans off of their books. But, there are two things wrong with this. First, the Chinese government is pretty sure the massive size is destabilizing. The shadow ban loans are estimated at $4 trillion itself and pushing the debt/GDP ratio upward from 245% to 277% in just one year. The second problem, and quite possibly the bigger issue is that banks are starting to buy these bonds from other banks; they have become interconnected much like what happened to banks in the United States that caused the financial crisis of 2008.
China's problems have begun to spill over to other nations. The visuals in Hong Kong can give an idea of the potential that is going to happen. The Chinese government's moves to end the zombie loan problems will be a catalyst for an economic meltdown. This will drag other economies around the world through the ringer. While I applaud the Chinese government for addressing this issue, it is a double-edged award. The government is ineffective at managing the banking system and these problems of loose regulation are their own doing. There will be consequences for letting these issues get as massive as they are. A potential economic meltdown is one thing. However, because of this the United States and other nations are very likely going to be affected by this meltdown. When I get asked how big this could be I always tell people: Think United States 2008. Then double it.
Disclosure: I/we have no positions in any stocks mentioned, but may initiate a short position in HKD over the next 72 hours.
I wrote this article myself, and it expresses my own opinions. I am not receiving compensation for it (other than from Seeking Alpha). I have no business relationship with any company whose stock is mentioned in this article.