In his opening address to the 172nd meeting of the OPEC conference, Saudi Energy Minister Khalid Al-Falih remarked, "The market is now well on its way toward rebalancing."
However, in OPEC's own May Monthly Oil Market Report (MOMR), its data for March (the last month available) clearly shows global OECD stocks are higher in March than they were in December, before the cuts went into effect.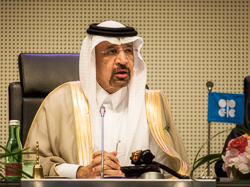 HE Khalid A. Al-Falih, Saudi Arabia's Minister of Energy, Industry and Mineral Resources, and President of the OPEC Conference. Source: OPEC.
After the meeting, Mr. Al-Falih said that the current production quotas will "do the trick" of rebalancing stocks to normal levels within six months. But they extended the cuts to nine months because of the seasonal decline in demand expected in the first quarter of 2018.
According to its May MOMR, OECD global inventories are 276 million above the 5-year average. OPEC estimated its production in the first quarter to be 31.944 million barrels per day. Assuming April's production of 31.7 holds for the remainder of 2017, there will be a total global stock draw of just 29 million in 2017:
(mmbd)

Demand

Non-OPEC

OPEC NGLs

Call on OPEC

OPEC Prod

Stock Ch

Stock Ch (Pending:MMB)

1Q

95.44

58.15

6.12

31.17

31.944

0.774

70

2Q

95.33

57.57

6.17

31.59

31.73

0.14

13

3Q

97.27

58.2

6.26

32.81

31.73

-1.08

-97

4Q

97.47

59.05

6.33

31.89

31.73

-0.36

-14

2017

-29
Conclusions
OPEC's new president's words don't match his organization's own data analysis. There may be a seasonal stock decline in the second half of 2017, but that will depend on how quickly production rises in the US, Libya and Nigeria. In any event, I do not expect much of any progress to be made in 2017 overall in reducing "visible" (reliably reported) global oil inventories.
At the end of the nine-month agreement, I expect global OECD stocks to be higher than they are now. And there will be another meeting claiming that inventories are on the verge of rebalancing, if a market share battle hasn't erupted by then.
For more information about Boslego Risk Services Premium in SA Marketplace, click here.
Disclosure: I/we have no positions in any stocks mentioned, and no plans to initiate any positions within the next 72 hours.
I wrote this article myself, and it expresses my own opinions. I am not receiving compensation for it (other than from Seeking Alpha). I have no business relationship with any company whose stock is mentioned in this article.