What's Up With Bitcoin?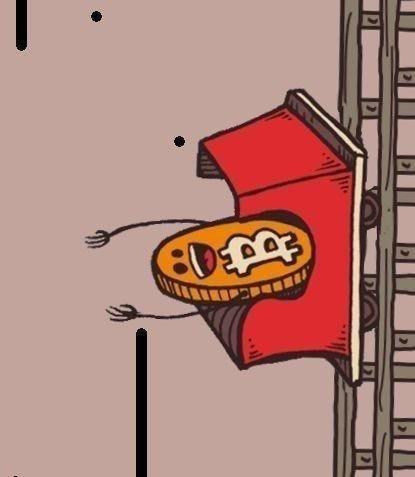 (Reddit)
I'll tell you what's up with Bitcoin: Bitcoin (COIN, OTCQB:BTCS) is going nuts! Our news item quotes a price of $2,500, though I've seen $2,700 quoted elsewhere during the day, which would make for a 35% increase since Saturday.
In addition to the roller-coaster image above, leading Bitcoin news source Reddit is providing some tongue-in-cheek live commentary. For instance: "Last call for cheap sub-$3000 coins!"; and "We've gone full parabolic. Time to get exponential, cuz we have ambitions!"
An alleged catalyst: A "bitcoin scaling agreement" that should make Bitcoin easier to use. It's a bit paradoxical: I would guess that ease of use would mean greater stability of value, and it's not obvious to me that increased prevalence of Bitcoin means demand exceeding supply. In any case, the fundamental story of Bitcoin is notably absent among Reddit's top Bitcoin posts. Instead, a fun comic strip:
(Reddit)
I am not convinced that the current price action reflects Bitcoin's underlying fundamentals. But with Bitcoin coverage ramping up, let's pause to take the cryptocurrency somewhat seriously, at least from a high level asset allocation perspective.
An insightful article from Constantin Gurdgiev explores Bitcoin's volatility relative to gold. Bitcoin is a volatility monster, with historical volatility 5x that of gold. That's our risk piece.
Now return. From a starting price of $829 in early 2015 to $2,730 today, Bitcoin has delivered a geometric mean return of 61% annually. Gurdgiev's daily standard deviation calculation of 2.7% annualizes to 42%. Eyeballing a risk free rate of 2% (somewhere in the middle of the 10-year Treasury yield chart), this gets us a Sharpe ratio of 1.4. That beats the S&P 500's five-year Sharpe of 1.3.
Keep in mind I'm using a volatility estimate that ignores the recent run-up, which would increase standard deviation of returns and reduce the Sharpe. Also, you could make a good case that the recent run-up is an outlier (the chart is essentially vertical). So let's call the February value $1,050. That gets us a mean return of 10% and a Sharpe of 0.18, which is not great!
How about Bitcoin as an uncorrelated asset? There's a paper on Bitcoin's beta here (Scribd account required). Here's a relevant chart from that paper: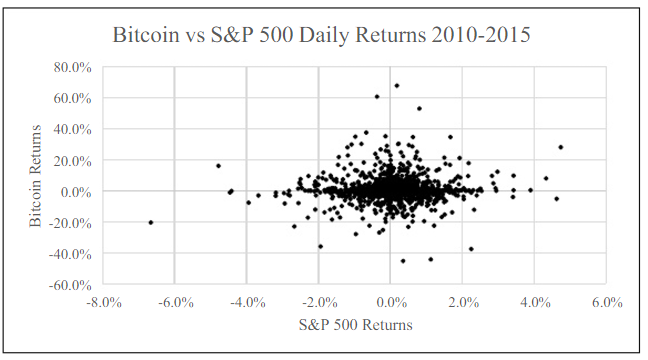 Looks pretty clear that there's not much correlation. Bitcoin probably then has some value as a portfolio diversifier, assuming it carries a positive return. I am shaky on that assumption.
See also: S&P, Nasdaq sprint out of the gate to all-time highs
Retail Watch
(Night Tree. Bottoms Up. Wikipedia)
Programming note: When I do earnings squibs, I take Seeking Alpha's five-year financial information (at least the income statement and usually the balance sheet - and I know they are not perfect matches for the SEC filings, but they're easier to manipulate), download to Excel, then track the year-to-year and five-year growth of each line item, and also create a common-size statement (all items presented as percentages of revenue). I've uploaded the Dollar Tree (NASDAQ:DLTR) income statements to Google Sheets and left them open for comments, in case anyone would like to share insight on a specific line item. I did the same for Best Buy (NYSE:BBY), link below.
Dollar Tree earnings: The past five years have been good for Dollar Tree on a sales and profit growth basis, although revenue growth of 180% over the past five years (including 80% from 2015 to 2016) has not trickled down to the bottom line as fast - net income is up 45% in the past five years. My first guess would be growth in tangible assets, as depreciation expense has grown even faster than revenue. Gross margins excluding D&A are fairly consistent and even improving, suggesting that a 30% gross margin is to be expected here. Efficiency as expressed in the net margin also seems to have declined (8% in 2013 vs. 4% in 2017). I'd be a little concerned that there's some empire building going on here.
The balance sheet tells a similar story: PP&E up 224% over the past five years, buildings up 367%, land up 277%. All these jumps happened in 2016, and oh yes, Dollar Tree bought Family Dollar in 2015, potentially only fully recognizing the acquisition on the 2016 balance sheet. One note for equity holders: debt registers at $6.13 billion, down from $7.21 billion a year ago but up massively from the mid-$200 million range in 2013. Has the leverage improved return on equity? I get 2014 ROE of 42% and 15% for 2017. So far I'm not sure the returns are justifying the strategic decisions. No positions, and all analysis approximate, but I'm a little surprised to see a 20 P/E multiple on the stock.
So I'm seeing Dollar Tree as a solid but increasingly capital intensive business. If I were listening to the call I'd be wondering about realization of expected synergies from the Family Dollar deal. Here's one management comment from the press release tangentially related:
In the first quarter of 2017, the Company evaluated the collectability of its divestiture-related receivable from Dollar Express, which acquired the stores that the FTC required the Company to divest. Dollar Express is in the process of liquidating, is in default of its obligations to the Company including its obligation to pay the receivable, and is not cooperating.
The result is a receivable impairment charge. We'll have to wait for more about how the integration is going. Maybe it was addressed on the conference call. The transcript went live while I was doing other things.
Best Buy pops after U.S. results shine: Best Buy is the kind of company you would expect to suffer amid the putative Amazonification of Planet Earth. Over the past five years, though, net income has flipped from negative to positive, and SG&A declines have outpaced revenue declines.
On the balance sheet, maybe the massive tangibles growth in Dollar Tree has me gunshy, but PP&E at only 16% of total assets has me wondering about whether we'd need to adjust for any capital leases. Sure enough, the 8-K mentions capital lease obligations, so that'd be something to check on further.
On the quarterly results, the press release mentions a 22.5% increase in comparable online sales. Maybe that's where the market saw some value here? Might just be an operating leverage story since net margins have ranged from -1% to 3% over the past several years. Add a low PE and a bump like this might not be so shocking. Looks like we're in the middle of an 18-month uptrend, which I wouldn't have predicted if you'd asked me which way Best Buy's stock had been going lately. Just one of those things, I guess. No positions and no views, as should be clear.
Here's my five-year financials Google sheet, opened for commenting.
See also: Uplifting day in retail sector
GM May Have Emissions Issues
(Scandals are exhausting. Wikipedia)
SA is citing a report from Bloomberg about a class action suit alleging emissions testing cheating by GM (NYSE:GM). Fiat Chrysler (NYSE:FCAU) also got dinged this week.
Volkswagen (OTCPK:VLKAY) had to pay $14.7 billion in an emissions cheating kerfuffle roughly a year ago. With shares down 2% as of this writing, it actually seems like GM could be getting off easy. The stock has been in a downtrend for a bit now, though. Sometimes it can be a little harder to know what the market's pricing in instantaneously and what's just the latest bit of a mid- or long-term story.
Anyway, there's now some additional evidence that emissions cheating has been a bit of an industrywide practice. Something to consider amid other uncertainties in that area of the market.
Gaming The VIX?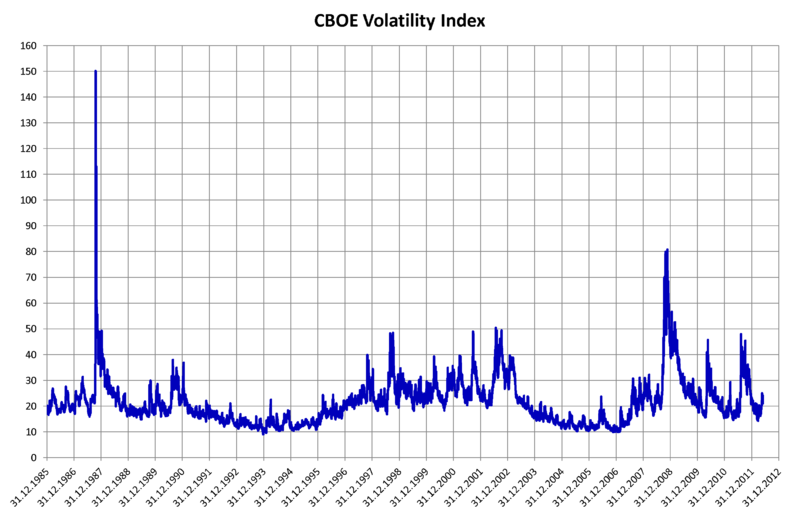 (They'll try to play you. Wikipedia)
I don't use the VIX for much of anything, but other people do, so it's interesting that University of Texas researchers who think there's an exploitation opportunity in a VIX manipulation vulnerability. It's not clear to me whether this is an arbitrage that would prompt eventual price convergence or whether there's some sort of wealth-generating feedback loop. Hopefully not the latter; that'd be just as scary as when Bane broke into the Stock Exchange in The Dark Knight Rises.
Quick Macro Thumb To The Wind
Fed Governor Lael Brainard, historically dovish, has switched to hawk mode. Does this bolster our narrative that the economy is muddling along? Maybe, but also let's not forget to be cautious about overweighting the Fed's role in the Treasury market, as I learned in the comment thread of yesterday's column.
See also: Crude oil slips as OPEC takes "safe bet" nine-month extension, Beijing isn't pleased with Moody's
FinTwit Corner
To get this daily market recap as soon as it publishes, please click on my profile, hit the big, orange "Follow" button, and choose the real-time alerts option.
Disclosure: I/we have no positions in any stocks mentioned, and no plans to initiate any positions within the next 72 hours.
I wrote this article myself, and it expresses my own opinions. I am not receiving compensation for it. I have no business relationship with any company whose stock is mentioned in this article.