What happened?
General Electric (NYSE:GE) shares sunk near 52-week lows after CEO Jeffrey Immelt stuck his foot in his mouth once again. Immelt now says the company will have to stretch to meet a goal of earning $2 per share in 2018. He stated the company is contending with a difficult oil market and headwinds on equipment pricing.
This has caused the stock to revisit the recent low of $27 and change.
Current Chart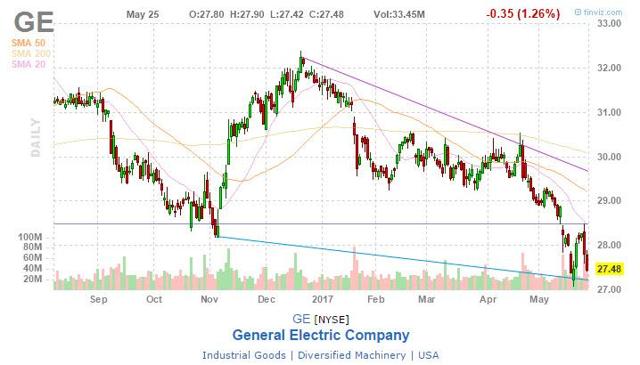 Source: Finviz.com
The stock turned from green to red as Immelt spoke the following words:
"The $2 target would be at the high end of expectations, given current market conditions."
This was the last straw for me. Three strikes and you are out I say, and Immelt has had about five at this point. He needs to step down like Ford's (NYSE:F) CEO did a few short days ago. Even so, I see any dip in the stock as a buying opportunity for the following reasons.
Jeff Immelt's days are numbered
It is put-up or shut-up time for Immelt at this point. This is due to the fact General Electric failed to meet operating income numbers for 2016. What is significant about this is the fact that 2016 was Trian Partners' first full year of being invested in Jeff Immelt, and management failed to meet expectations right out of the gate.
My guess is Trian Partners isn't following me or it may have known this was to be the case. Even so, I like the fact Trian used this miss to put management on notice. Basically, Immelt is now trapped between a rock and a hard place. Either Immelt meets the extremely high expectations which should cause the stock to soar, or General Electric fails to meet the lofty goals and Immelt steps down. Personally, I believe Immelt will step down regardless in the next year. Once Immelt announces his departure, I believe the stock will initially pop. Yet, I would fade this rally as the incoming management will surely kitchen sink the following quarter. Nonetheless, we will finally be rid of the Immelt overhang. At this point he has lost all credibility with me. The following is another major catalyst many have now discounted.
Pro-growth policies still to come
Tax reform, regulatory relief, and overseas cash repatriation are still on the agenda in Washington. General Electric's stock rallied nearly 10% in short order after Trump was elected. Yet, the stock has given up nearly the entire Trump bump gain over the past few weeks. I warned of this in a previous article titled: "General Electric: Chasing A Rainbow Is Never A Good Idea." I knew it would not be a walk in the park for Trump once he got to Washington. The good thing is his pro-growth policies to come have support from both sides of the isle. What's more, the repatriation of overseas cash holiday, lowering the corporate tax rate to 15%, and substantial regulatory relief should do wonders for General Electric's bottom line. Nevertheless, the potential positives from these solid tailwinds are not priced into the stock at present. Furthermore, General Electric management has not factored in any of these into the present guidance. The last point I would like to make is I believe in the company's long-term growth prospects. Here is why.
The future looks bright
I fully expect emerging markets to be a huge engine of growth due to demand for the company's infrastructure products. Middle class populations across the globe are expected to grow exponentially over the coming years. General Electric's shift toward industrial operations has opened up a plethora of opportunities for the company across the globe servicing this burgeoning demography's newly minted needs. This should underpin the company's results for some time to come. I have no reservation General Electric will be around to pay dividends for a long time. This helps me sleep very well at night. Furthermore, Immelt reiterated the company's 2017 $12 billion CFOA guidance and stated General Electric continues to be focused on return of capital to shareholders. I have zero concerns the dividend will be cut.
The Bottom Line
As Templeton's most famous saying goes, "Buy at the point of maximum pessimism." I am not sure of whether we have reached Templeton's point of maximum pessimism yet, although I'd say we were darn close. With the stock currently yielding 3.45% and trading just off its 52-week lows, I say the time to buy is fast approaching. If you are a dividend growth or income investor looking to start a position, now would not be such a bad time. Nevertheless, definitely layer into a full position over time to reduce risk. We could see $25 before we see $30. Yet, the risk/reward at this point favors staying long. With Immelt on his way out, expectations about as low as they have ever been, and the long-term growth story intact, I am not selling but looking for an opportunity to buy more shares. Those are my thoughts on the matter. I look forward to reading yours.
Your input is required!
The true value of my articles is provided by the prescient remarks from Seeking Alpha members in the comments section below. Do you think General Electric presents a value trade or trap? Why or why not? Thank you in advance for your participation.
Final note: If you enjoyed this article, please click the "Follow" button next to my name. I would greatly appreciate it.
Disclosure: I am/we are long GE.
I wrote this article myself, and it expresses my own opinions. I am not receiving compensation for it (other than from Seeking Alpha). I have no business relationship with any company whose stock is mentioned in this article.