Warning
What you are about to read is an abbreviated version of an in-depth earnings prediction I have written for Exposing Earnings subscribers. Here, "abbreviated" simply means I had to cut down on the massive 2,000 word article so as to give you the streamlined picture of the earnings play. This article is still large, at ~1,000 words, which is longer than my usual articles, so rest assured that the meat of the thesis is contained in this abbreviated article.
Still, if you want to see it, the full, extended analysis can be found here. It includes three additional sections:
Macro concerns
Entry timing
Analyst error
The Earnings Analysis
A high-volume stock that is playable is the topic of today's report:

KMX Reaction Type
The reaction to news is slightly more than expected for CarMax (NYSE:KMX). This stock has some cognitive dissonance built in; investors who have held KMX since February were forced to rationalize their poor decision. The result is expected (to me at least, as I have recently been running this "reaction type" analysis on many stocks) - KMX investors buy more on good news to "double down" and are more likely to sell on bad news because the news adds to the mounting pressure to sell.
This is relevant to earnings, as KMX will likely move more than expected. You can check the expected movement through option prices. The options market is pricing in a 5% move (formula: price of the at-the-money straddle, divided by the stock price), but even more can be expected if you believe my analysis.
Gains of over 5% should satisfy most earnings traders. If you play it with options, as I plan to do, you should make even more.
Seasonality
Seasonality is interesting. It is useful in both the earnings trade and in position timing. In KMX, we see abysmal Junes. Since the new volatility regime begun, we have only seen 20% of Junes ending in the green for KMX: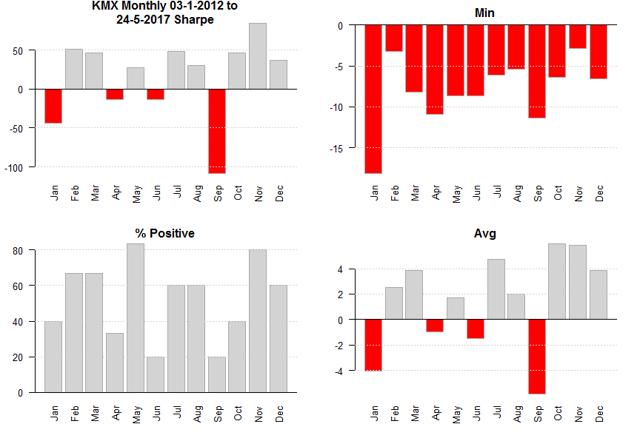 If we want to maximize our accuracy for predicting earnings, we need to know whether the months that cover earnings (e.g., April, June, September, and December) have excess gains or losses. With the exception of December, KMX sees its earnings months to be its worst months, further supporting a short position into earnings.
The months surrounding June are typically good, which again points to earnings being a selloff catalyst and also supports the overreaction theory (KMX should not break its upward trend by so much, so consistently without human irrationality).
The finding above is exactly what we want to see for a trade like this.
Valuation
If you believe that stocks move toward their true valuations, you should believe that KMX is headed downward. The metrics important in calculations of valuation are declining. I usually look at free cash flow and the growth rate when I perform this type of analysis: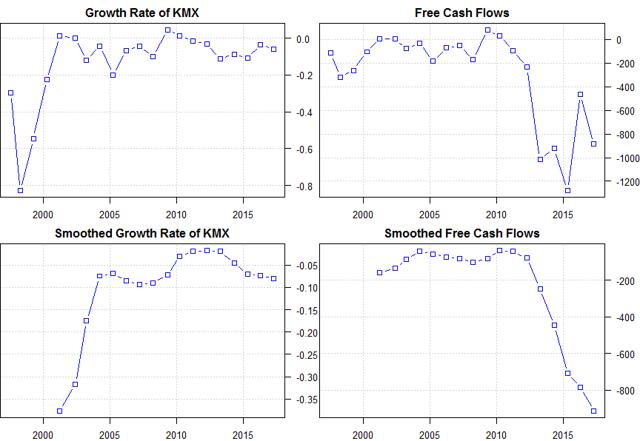 The chart shows how KMX is not only negative in key metrics but becoming more negative over time. The more common means of determining intrinsic valuation is a point-estimate of the discount cash flow valuation, which I will produce below. It should be no surprise that even the mainstream metrics show KMX to be grossly overpriced:

If it follows the fundamentals, KXM could fall by over 50%.
The Trade
KMX shows a pattern of falling during the day when it opens low. Thus, if you are looking for a precise entry point, you should probably open this position when KMX is lower at the opening bell than it was the prior day's close. But overall, day-by-day position timing isn't that important for this trade, especially when you consider the upside of this trade being so large that the small initial deviations won't matter much.
On that note, I should probably mention that my machine learning analysis shows the max upside of this trade to be 57%. That's generous and optimistic. This could only happen if KMX ignores the support levels below; none are particularly strong, but selloffs tend to "find a bottom" before falling 20%.
The earnings report is more likely to lead to a selloff than a rally. All things considered, I give the trade a 74% chance of a selloff. That's my prediction that will go on my prediction record.
Here's the play:
Happy trading!
Exposing Earnings
Get my earnings trades: Exposing Earnings.
Have questions about Exposing Earnings? Contact me.
Note: Get my articles as soon as they are published by clicking the big orange "follow" button at the top of this page. Make sure you choose "real-time alerts." Trade alerts sent through "Copy My Trades."
Note: All unlabeled figures were created by me. I used R to pull data directly from Yahoo and ADVN. Charts with blue backgrounds are from Etrade Pro. Fundamental charts from a paid subscription at simplywall.st.
Disclosure: I am/we are short KMX.
I wrote this article myself, and it expresses my own opinions. I am not receiving compensation for it (other than from Seeking Alpha). I have no business relationship with any company whose stock is mentioned in this article.