May 25 turned out to be a very bad day for offshore drilling stocks. OPEC decided to extend cuts for 9 months, but the market wanted more. As a result, oil suffered a 5% decline and offshore drilling stocks were under intense pressure. In this article, I'll discuss the decision itself and individual drillers one by one.
OPEC decision
I believe that OPEC had no choice, so the decision to extend production cuts was almost automatic. However, the cartel was not ready to deliver deeper cuts. In my view, OPEC should have initially let market forces determine the price of oil. The cartel clearly underestimated U.S. shale and is now paying the price for this. Currently, OPEC/non-OPEC group is not ready to leave the price of oil to the market because Saudi Arabia wants to sell a stake in Saudi Aramco and Russia has presidential election in March of 2018. After this, the 1.8 million barrels will return to the market.
It looks like oil could remain rangebound for 2017 and 2018, which is bad news for drillers who need $60+ oil for a material rebound. I have many times indicated in the comments to my articles that my base case for Brent (NYSEARCA:BNO) in 2017 is $52.50 - $62.50 and $50 - $60 for WTI. I maintain these expectations after OPEC decision, although currently the high end of my predictions looks optimistic to me.
Atwood Oceanics (NYSE:ATW)
Atwood Oceanics management team sounded optimistic during the latest earnings call. I'm more cautious and I continue to believe that Atwood Oceanics is a very risky play due to backlog challenges. In case oil price develops negative momentum after OPEC decision, I fully expect to see the company's stock below $7.
Diamond Offshore Drilling (NYSE:DO)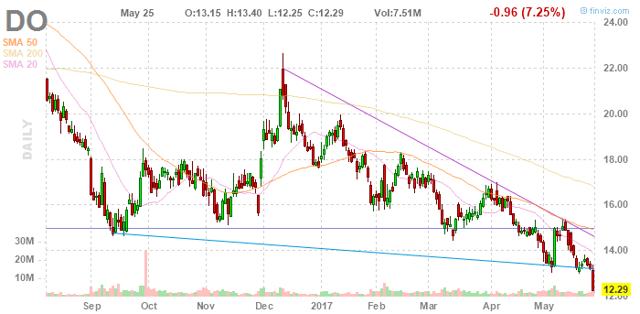 Diamond Offshore Drilling manages to keep its non-cold stacked rigs busy, but it does not help the company's stock which just broke to new lows. Fundamentally, Diamond Offshore Drilling is one of the strongest companies, but poor prospects of UDW market recovery will continue to put pressure on the company's shares. I don't see a big reason to catch a falling knife here and prefer to see some stabilization in the stock price first.
Ensco (NYSE:ESV)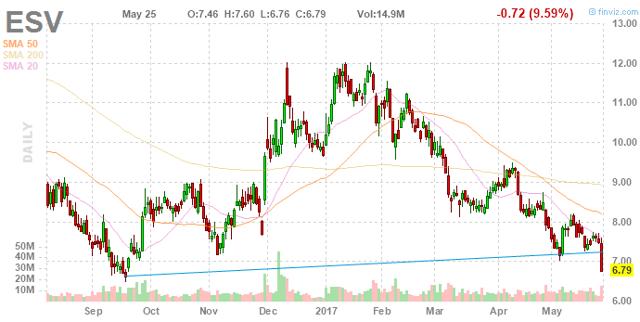 I recently wrote "Ensco: Worth Waiting for $6.50 - $7.00". This level has just been reached by Ensco shares. I believe that Ensco could be an interesting bet here, but I'd prefer to see it below $6.50 first as the negative oil price momentum may develop further.
Noble Corp. (NYSE:NE)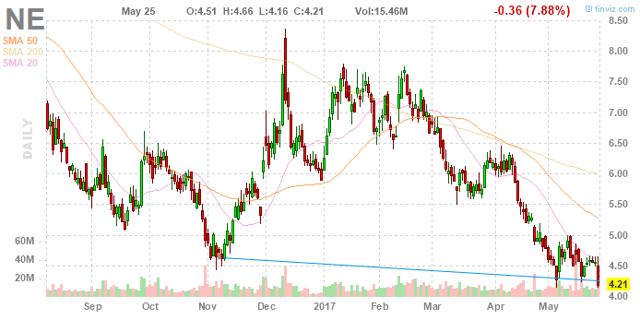 Noble Corp. continues to decline and seems ready to reach new lows. I believe that the company is increasingly interesting to watch. If market pessimism pushes Noble Corp. further down, it will become an attractive long candidate.
North Atlantic Drilling (NYSE:NADL)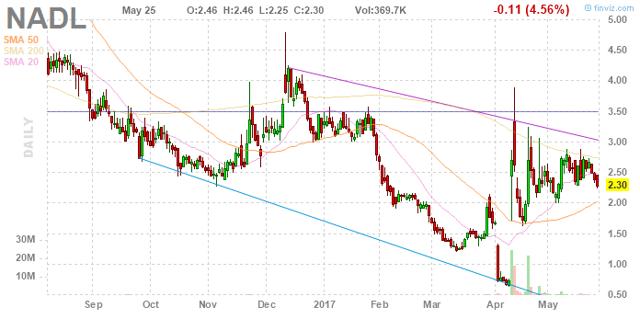 The stock market is very strange sometimes. In its latest report, North Atlantic Drilling stated that shareholders may receive no recovery at all in restructuring, but this news did not affect the stock at all. Perhaps, people trading North Atlantic Drilling now are daytraders who never read financial reports and make decisions on charts. The stock is a firm avoid for everyone who is not a daytrader.
Ocean Rig (NASDAQ:ORIG)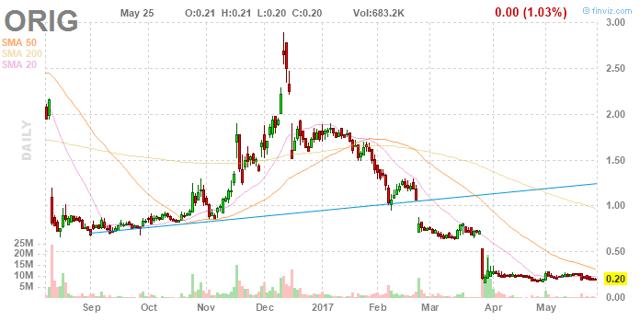 Ocean Rig shares are waiting for the end of restructuring. Until then, avoid Ocean Rig.
Pacific Drilling (NYSE:PACD)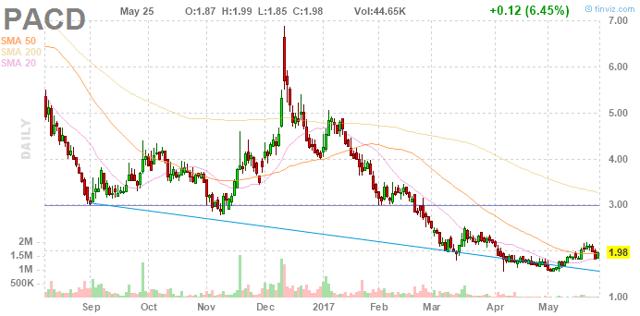 Pacific Drilling is currently trading on expectations that shareholders will get 2% of the post-restructuring equity. Current stock price looks fair to me and I do not see much potential neither for upside nor for downside.
Rowan (NYSE:RDC)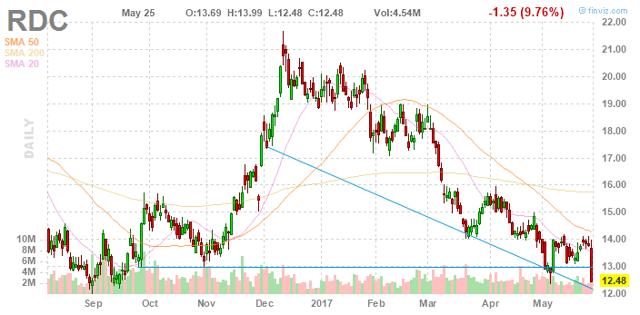 Fundamentally, Rowan is probably the strongest driller right now. If Rowan shares manage to stabilize near current levels, they will make an interesting setup for a long play.
Seadrill (NYSE:SDRL)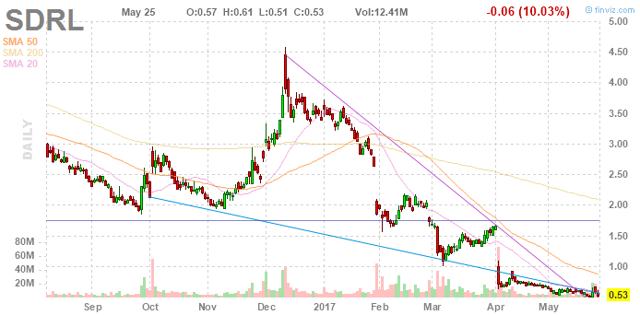 Seadrill's latest report indicated that John Fredriksen is finally taking part in the company's restructuring. I maintain my expectations that shareholders will receive little if anything in the restructuring, although I'm still expecting that some speculative upside moves are possible before restructuring details are announced.
Seadrill Partners (NYSE:SDLP)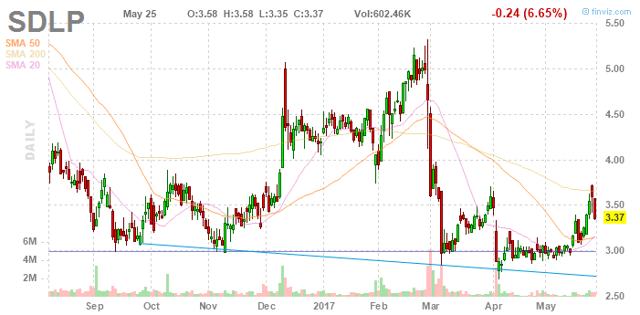 Seadrill Partners has a strong support at $3 and will likely stay at or above this level even if oil continues to drop. However, the main catalyst is the company's ability to insulate itself from Seadrill restructuring, which is not a given at this point.
Transocean (NYSE:RIG)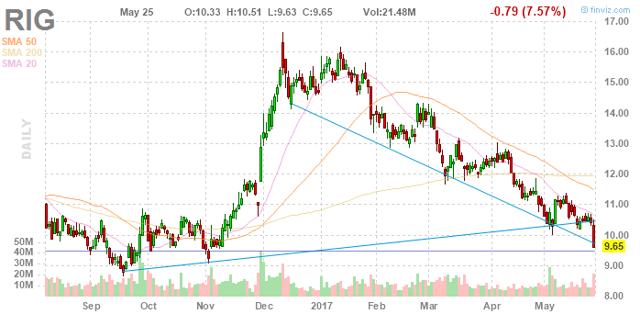 In my view, Transocean has more room to fall if downside oil price momentum develops. The company's decision to sell the jack-up segment to Borr Drilling makes it a pure-UDW play, so $50 oil will continue to put pressure on the company's shares as this price is not sufficient enough to spur any activity in the UDW segment.
Bottom line
The lower for longer scenario continues to develop. In the short-term, the market could become very pessimistic on drillers, which will lead to attractive entry points in best names.
P.S. I'm leaving for a holiday and won't be able to answer your questions and private messages. Good luck to you all! See you in June.
Disclosure: I/we have no positions in any stocks mentioned, and no plans to initiate any positions within the next 72 hours.
I wrote this article myself, and it expresses my own opinions. I am not receiving compensation for it (other than from Seeking Alpha). I have no business relationship with any company whose stock is mentioned in this article.
Editor's Note: This article covers one or more stocks trading at less than $1 per share and/or with less than a $100 million market cap. Please be aware of the risks associated with these stocks.