In my previous article, I outlined seven criteria by which I profess to evaluate "Core Conviction" stocks for my portfolio. Yet, these conviction positions are at least, in part, an accident of my investing history. If these companies were put to the test, would they truly make the grade? Or are there better choices I might focus on for the future?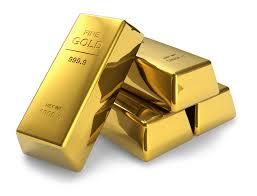 I will begin by looking at the three companies with which I have the longest history and the highest degree of conviction, those I consider the "gold standard" for the core of my long-term portfolio: Johnson & Johnson (NYSE:JNJ), The 3M Company (NYSE:MMM), and Procter & Gamble (NYSE:PG). These will be first analyzed on the basis of quality and stability and then on the basis of growth and valuation. These same standards can then be applied individually to my four other largest holdings: Nike (NYSE:NKE), Apple (NASDAQ:AAPL), Becton Dickinson (NYSE:BDX), and CVS Health (NYSE:CVS). Do they merit Core Conviction status in my portfolio? Or should I monitor them more closely, trading on valuation swings?
In my research, I draw on a variety of resources. Credit ratings can be obtained directly from Standard & Poor's (free registration required). The CFRA reports (previously S&P Capital IQ, accessed through Fidelity) offer an Earnings Quality rating that I find helpful. The Morningstar Analyst Reports (accessible through my public library) include Moat and Fair Value Uncertainty ratings, and their Financials pages organize a wealth of data. Their Key Ratios page includes many of the most useful numbers in a more easily accessible format. And Jefferson Research (through Fidelity) takes a different approach, publishing a "Financial Sonar" for companies that truly help to differentiate the best companies from their weaker peers.
Quality And Stability
For a stock to be considered a Core Conviction holding in my portfolio, the most important characteristic is quality. I want to know that these are companies that will still be supporting the portfolio in thirty years, regardless of recession, technological change, or political upheaval. Consider the words of Psalm 18:2
The Lord is my rock and my fortress and my deliverer,
My God, my rock, in whom I take refuge;
My shield and the horn of my salvation, my stronghold.
I want my Core Conviction holdings to be the foundation of my portfolio, the strength that shelters my investments from market turmoil. These are companies that will pay me unabated dividends throughout retirement and to my heirs after I pass on. Do these companies measure up to that standard?
JNJ

MMM

PG

Safety

S&P Credit Rating

AAA

AA-

AA-

S&P Earn. Quality

A

A+

A

Moat

M* Uncertainty

Low

Low

Low

M* Moat

Wide

Wide

Wide

Jefferson Research

Earnings

4

4

3

Cash Flow

4

4

3

Oper. Eff.

4

4

3

Balance Sheet

4

4

3

Dividend History & Sustainability

Years Increase

55

59

61

Dividend Yield

2.7%

2.4%

3.2%

Last Div. Increase

5.0%

6.3%

3.0%

Payout Ratio

56%

57%

72%**

Div/FCF

57%

58%

79%

LT Debt/ OCF

1.39

1.69

1.26
**The PG payout ratio is calculated on the basis of projected 2017 operating earnings, as there was a one-time gain in 2016.
As the data illustrates, these three companies are seen as exhibiting exemplary quality. They have top credit ratings and earnings quality, wide moats with low uncertainty in the outlook, and exceptional dividend histories with a moderate yield and sustainable payout. (The payout ratio for PG is on the high side, but not yet concerning.) None carry excessive leverage, especially in light of their stability and strong free cash flow. These can be rocks in the foundation of my portfolio.
Margins And Growth
My portfolio target is for a nominal 7% rate of return in an environment with 3% inflation, though any real return of 4% would suffice. Clearly, I need more than a steady dividend to achieve this goal, I need continuing moderate growth. Can these mature mega-cap companies deliver? Should I be concerned about light revenues in recent years, or will they continue to perform for the next half-century as they have throughout the last?
JNJ

MMM

PG

TTM Margins

Operating Margin

29.5%

23.7%

20.8%

ROE

23.1%

44.9%

26.7%

ROIC

16.9%

22.9%

17.3%

5-year
Growth

Revenue

2.0%

0.3%

-4.6%

Net Income

11.3%

3.4%

-2.3%

EPS

11.2%

6.5%

-1.3%

Projected
Growth

CFRA 3-yr CAGR

7%

9%

8%

M* 5-yr Consensus

3.7%

7.6%

7.2%

Valuation

Price

$127

$196

$86

CFRA Fair Value

$122

$153

$67

M* Fair Value

$108

$180

$94
Looking at margins, we see again what makes these companies special. Their brand strength and position as industry leaders support strong operating margins that shelter them from economic turmoil. Weaker peers may be pressured in a recession, but these companies have the wherewithal to survive and even take advantage of a downturn.
Growth is a greater challenge for these multi-national blue chips, as the highlighted fields indicate. 3M has seen a stagnant top line over the last five years, though reductions in the share count have driven continued EPS growth. Analyst projections for J&J are distinctly weak, perhaps questioning the direction of the US healthcare sector.
Procter & Gamble's recent growth looks even worse, yet that has to be interpreted in the context of their transition. They have been working to shrink their unmanageable portfolio from almost 200 brands to a more focused collection of the 65 strongest. That transition is now complete, with the spin-off of 40 beauty brands to Coty (NYSE:COTY) and some smaller moves over this past year. As a result of this restructuring, the top line has been shrinking while the bottom line has been erratic. Nonetheless, FCF has strengthened throughout the process and earnings are expected to grow more predictably from here.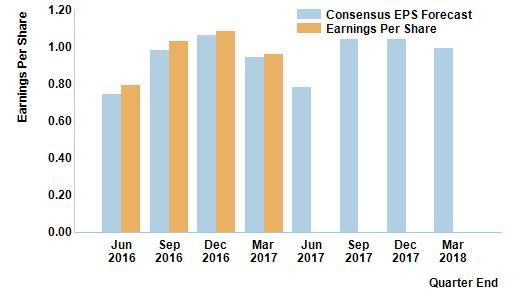 The valuation is perhaps the greatest obstacle to investors looking to enter these stocks. I could certainly point to times in the past three years when they have been cheaper, in contrast to the present ~10% premium to fair value. Yet, those periods of weakness rarely last long, and another year of steady growth could easily raise these price targets above the current range. I am not presently adding to these positions, as they are already among my largest, but I would do so in an instant if I were beginning a new portfolio.
Younger investors interested in these as core holdings might consider beginning with a few shares, adding opportunistically over time to build a substantial position. I previously detailed my thoughts on Johnson & Johnson and on 3M, and nothing has changed to alter my high esteem for these companies. That constancy is what matters most to me, not the valuation at which the first shares are purchased.
With all that in mind, let's take a look at my other four top holdings. Do they make the grade or should they be considered in a lower tier in my portfolio?
Nike Inc.
Safety

S&P Credit Rating

AA-

TTM Margins

Operating Margin

13.6%

S&P Earnings Quality

A+

ROE

32.6%

Moat

Morningstar Uncertainty

Medium

ROIC

26.7%

Morningstar Moat

Wide

Jefferson Research

Earnings

4

5-year Growth

Revenue

9.2%

Cash Flow

4

Income

12.0%

Oper. Eff.

4

EPS

14.5%

Balance Sheet

4

Dividend History & Sustainability

Years of Increase

15

Projected Growth

CFRA 3-yr Est.

13%

Dividend
Yield

1.4%

M* 5-yr Consensus Est.

11.5%

Last Dividend Increase

12.5%

Payout Ratio

30%

Valuation

Price

$52

Div/FCF

42%

CFRA Fair Value

$56

LT Debt/ OCF

0.88

M* Fair Value

$58
In my previous article, I used Nike as an example of what I am looking for in a company, and the above chart makes my reasons for that abundantly clear. Nike is a top-quality company, with pristine credit rating and earnings quality. The company does not have quite the dividend history of my "big three," and the yield is lower; however, the historical and projected growth rates more than make up for that. Nike is one of the few top-quality companies presently selling at a discount to fair value, pressured by concerns over the deterioration of conventional retail distributional channels.
While this is certainly an element to be considered in corporate strategy, I believe Nike exhibits the brand strength necessary to perform just as well under the new paradigm as under the old. You may find yourself ordering directly from Nike online, rather than shopping at Sears (NASDAQ:SHLD), but the brand sales are not about to disappear. In fact, a reputation for quality and the assurance offered by direct channels may be even more important in an environment where counterfeit goods are a growing problem. Nike will find ways to profitably adjust.
Apple Inc.
Safety

S&P Credit Rating

AA+

TTM Margins

Operating Margin

26.9%

S&P Earnings Quality

B+

ROE

34.6%

Moat

Morningstar Uncertainty

High

ROIC

19.8%

Morningstar Moat

Narrow

Jefferson Research

Earnings

4

5-year Growth

Revenue

14.8%

Cash Flow

4

Income

12.0%

Oper. Eff.

3

EPS

16.0%

Balance Sheet

3

Dividend History & Sustainability

Years of Increase

5

Projected Growth

CFRA 3-yr Est.

6%

Dividend Yield

1.6%

M* 5-yr Consensus Est.

6.8%

Last Dividend Increase

10.5%

Payout Ratio

29%

Valuation

Price

$153

Div/FCF

26%

CFRA Fair Value

$159

LT Debt/ OCF

1.27

M* Fair Value

$138
Despite supposedly being a "technology" company, I see Apple as being closer kin to Nike than to its nominal competitor Microsoft (NASDAQ:MSFT). First and foremost, Apple is a powerful consumer brand with the ability to command margins that are the envy of its peers. While this was built on a foundation of innovation, they have done very little that was groundbreaking. Apple did not invent the "smartphone." The concept had been in development since the early 1990s, and in mass production since 1999. Yet, Apple came out with a user-friendly device that captured public imagination and owns the bulk of category profits to this day.

The same is true of the "smartwatch," a concept that dates back to Dick Tracy! Despite several competitors beating them to market in the category, Apple almost immediately dominated sales once they released their own version and remains the global leader. Apple doesn't need to be first or the best. They simply need to produce a quality product and allow the brand perception to do the heavy lifting.
The growth history and financial metrics are unquestionably strong for AAPL; however, the dividend is young, and the earnings from one quarter to the next can be unpredictable. To own this ticker, you have to be comfortable with a little volatility and a lot of media speculation! Nonetheless, I'm willing to grant AAPL a place in my core due to the enduring quality of the consumer brand. I would only reconsider this position if it appeared the reputation with consumers was fading.
Becton Dickinson Co.
BDX

BDX

Safety

S&P Credit Rating

BBB+

TTM Margins

Operating Margin

15.2%

S&P Earnings Quality

A-

ROE

16.8%

Moat

Morningstar Uncertainty

Medium

ROIC

8.4%

Morningstar Moat

Narrow

Jefferson Research

Earnings

3

5-year Growth

Revenue

9.8%

Cash Flow

3

Income

-5.1%

Oper. Eff.

3

EPS

-4.4%

Balance Sheet

2

Dividend History & Sustainability

Years of Increase

45

Projected Growth

CFRA 3-yr Est.

10%

Dividend Yield

1.6%

M* 5-yr Consensus Est.

9.6%

Last Dividend Increase

10.6%

Payout Ratio

49%

Valuation

Price

$184

Div/FCF

34%

CFRA Fair Value

$199

LT Debt/ OCF

3.52

M* Fair Value

$186
This screen is not so pretty!!! Their balance sheet is leveraged, and they carry a weaker credit rating than I would prefer. Jefferson Research rated them highly until the last two quarters, but has noted deterioration in their metrics since then. The margins have fallen off the last two years, while the reported net income and EPS are actually down over a five-year period. So how can I possibly be considering this company for my portfolio core?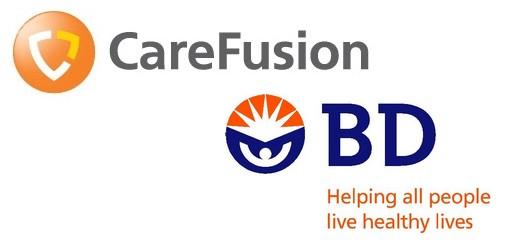 The story behind these numbers is the $12.2B CareFusion acquisition, which closed in the middle of FY15. Becton Dickinson more than tripled its LT debt, from $3.8B in 4Q14 to $12.1B in 2Q15, and incurred substantial one-time charges to its 2015 and 2016 earnings "related to the attainment of cost synergies." The weakness in the margins and earnings noted in the table above stems wholly from those issues, and the operating earnings are expected to rebound to new highs in 2017.
Complicating this evolution, however, is the recently announced $24B acquisition of C.R. Bard (NYSE:BCR). Becton Dickinson has not previously been active in M&A, so two major acquisitions in the space of two years mark a departure from past history, and the Bard acquisition is likely to extend the window of adjustment by another two years. I would anticipate further one-time charges, as well as potentially a further increase in the debt. It may be tough to get a handle on their operations again until 2019.
Though the debt load is concerning, the cash flow has been strong. Becton Dickinson has already made excellent progress over just two years, reducing the LT debt to just $9.1B as of the most recent quarterly report. I trust that management knows what they are doing, and in the absence of negative developments will continue to consider Becton Dickinson as a Core Conviction holding. That said, I will monitor this position for signs that their financial strength might be eroding.
CVS Health Corp.
CVS

CVS

Safety

S&P Credit Rating

BBB+

TTM Margins

Operating Margin

5.6%

S&P Earnings Quality

A+

ROE

14.7%

Moat

Morningstar Uncertainty

Medium

ROIC

9.2%

Morningstar Moat

Wide

Jefferson Research

Earnings

4

5-year Growth

Revenue

10.6%

Cash Flow

4

Income

9.0%

Oper. Eff.

3

EPS

13.8%

Balance Sheet

3

Dividend History & Sustainability

Years of Increase

14

Projected Growth

CFRA 3-yr Est.

10%

Dividend Yield

2.6%

M* 5-yr Consensus Est.

14.7%

Last Dividend Increase

16.3%

Payout Ratio

42%

Valuation

Price

$76

Div/FCF

23%

CFRA Fair Value

$103

LT Debt/ OCF

2.30

M* Fair Value

$104
CVS Health has also been working through a couple of major acquisitions of their own, most notably the $12.9B Omnicare acquisition which closed in August 2015. As you would expect, expenses related to these acquisitions held earnings back in both 2015 and 2016, so we should expect to see a leap forward in GAAP earnings for 2017. Analysts are expecting $5.86 EPS this year, vs. $4.91 EPS last year, a YOY increase of 19%! Still, the adjusted earnings tell a different story. Even if CVS hits that target, it will be barely higher than the $5.84 adjusted EPS reported for 2016. Growth at CVS has suddenly stalled, and margins are declining under competitive pressure.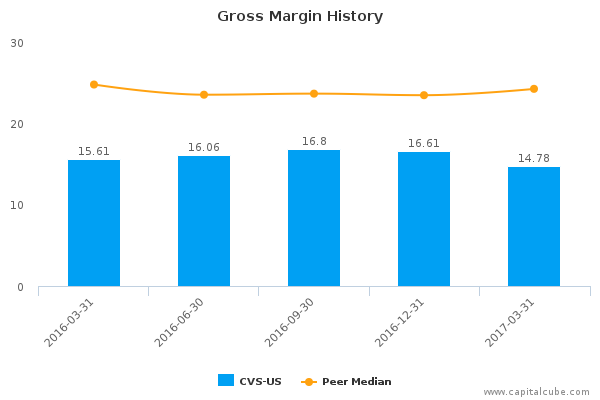 CVS Health is a middleman and retailer, not a manufacturer. The Caremark operations as a PBM face stiff competition from UnitedHealth (NYSE:UNH) and Express Scripts (NASDAQ:ESRX), while the pharmacy operations compete with Walgreens (NASDAQ:WBA), Wal-Mart (NYSE:WMT), and other large chains. (There are further rumors that Amazon (NASDAQ:AMZN) is considering competing in the pharmacy business, though I do not find them especially credible at this time.) Morningstar gives CVS a "wide moat" due to their size and purchasing power; however, we can see that this "moat" does not support wide margins. Their ROE and ROIC are lighter than I generally prefer, and the debt is on the high side.
On the other hand, CVS generates massive free cash flow, in the vicinity of $7 to $8 per share! The company has the capacity to continue raising the dividend aggressively (the latest increase was 17.6%), buy back 4%-5% of the outstanding shares annually, and still pay down the debt over time. I am not concerned about their balance sheet, and there seems to be a wide margin for safety in the analyst estimates.
Despite these strengths, I have concluded that I should not view CVS as a Core Conviction holding in my portfolio. I believe CVS to be a strong company and an excellent value below $85; however, the company is potentially vulnerable to margin compression or to structural changes in the US healthcare system. I will continue to hold a large position in CVS, but will consider trading out of it if further concerns develop or if the price rebounds.
Conclusion
This has been a challenging exercise for me! While JNJ, MMM, and PG have been Core Conviction holdings of mine for a long time, and I see their strengths exhibited in the table, it is also clear that their growth expectations from this point are pretty modest and the valuations high. I imagine they will continue to form the core of my portfolio for decades to come, but I realize that I need to look elsewhere if I wish greater growth.

As previously discussed, I see NKE as a near-perfect stock at this time, combining quality, growth, and value in a powerful package. It would be nice if the company also paid a higher dividend yield; however, it makes sense for them to continue investing in the business as long as doing so continues to be so dramatically profitable.
AAPL is questioned by many, who believe the company "lost its mojo" when Steve Jobs died, yet I still see enthusiasm among consumers for their products. Nor do they stint on R&D, so it is reasonable to hope that some of their efforts will ultimately pay off. Dominance in the smartphone category will likely give them another decade of exceptional earnings with which to figure out the next step, and the brand strength will give them an immediate advantage in any area where they compete. I am comfortable putting these shares away for a decade.
BDX is making its second aggressive acquisition in three years, a marked change from the staid history that resulted in a 45-year dividend streak. They have done a good job assimilating the first acquisition, but there are risks inherent in any new move - especially when they haven't finished paying down the debt from the first. I will trust management for now, but check in on BDX at the end of the year to see if the company still deserves to be considered a Core Conviction holding for the long term.
But while I have done well with CVS over the years, and believe the company to be an excellent value today, I feel the business is too competitive to be properly considered a "core holding" by my standards. I question whether or not they truly have a "moat," given how rapidly alliances seem to shift in health care these days, and the narrow margins make the earnings somewhat unpredictable. The outlook remains strong and the value is evident, but my conviction is limited.
My next article will explore this final point in greater detail. While I express a high degree of conviction in the companies above, my past experience demonstrates that this can change over time. I will discuss three companies that were once Core Conviction holdings for me that no longer merit inclusion in my portfolio at all. Was my original conviction misplaced? Or is it inappropriate for me to express a decades-long conviction in a changing world?
I will conclude with the eloquent words of E. E. Cummings below. I want stocks that can be for my portfolio what my wife is for me: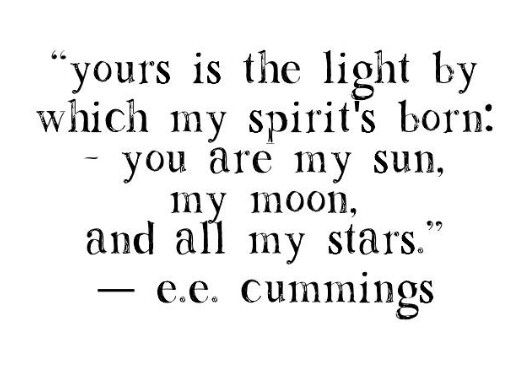 Disclosure: I am/we are long AAPL, BDX, CVS, JNJ, MMM, NKE, PG.
I wrote this article myself, and it expresses my own opinions. I am not receiving compensation for it (other than from Seeking Alpha). I have no business relationship with any company whose stock is mentioned in this article.