Introduction
Exactly a year ago, in May-2016, we published our analysis of Gold (NYSEARCA:GLD) demand trends published by the World Gold Council. We wrote:
Gold price charts and physical gold demand trends offer a dichotomous view on the future of gold price. On the one hand, the extremely lose [sic] monetary policies of the world, and the phenomenal 1st quarter performance of gold relative to every other major asset in the world makes for a very compelling bullish case and on the other hand the physical gold demand trends paint a very bleak, if not scary, picture.
Some salient points from our previous report:
Consumer demand for gold in high demand areas like India, China, and the Middle east were down 41%, 15%, and 11% year over year (YOY) respectively.
Gold demand for jewelry, which has consistently been the largest source of demand for gold, is down 19% YOY.
Despite points 1 & 2 total global gold demand was up 21% YOY thanks ONLY to investment demand, which surged 122% YOY, of which most of it came from 'ETFs and similar products', which themselves increased over 300% YOY.
Since we wrote that last post, here's what's happened to the gold market (a whole bunch of nothing):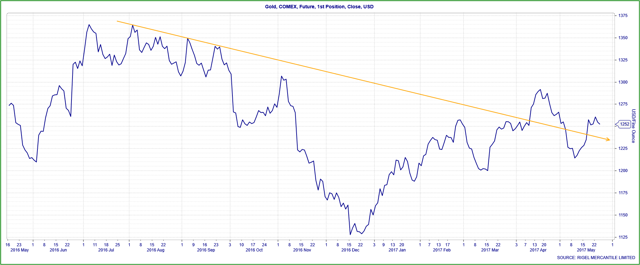 The World Gold Council recently published their 1st quarter 2017 report on gold trends but this time our analysis of that report leaves us with anything but a bearish outlook on gold. For the first time, since Rigel's inception, we have turned massively bullish on gold and we will outline our reasons below.
Thesis - Long Gold
Our thesis rests on three main reasons:
Declining global mine production in years to come -- a result of past, massive, haircuts to capex by some of the largest gold miners around the world. Gold miners' Capex has declined 65% from 2012 to 2016.
Gold is a safe haven asset and according to world Gold Council's most recent report on demand trends, current uncertainties in China and Europe are driving these flows.
Technical analysis of gold price chart reveals a strong bullish set-up at a time when this trade is far from being crowded.
Reason 1: Supply
As per the World Gold Council's most recent report, total year over year supply of gold was down -12% in Q1 2017.

Source: World Gold Council
While recycling was the main villain this time around, and will likely continue to be until much higher gold prices entice another surge in recycling, we see mine production becoming the bigger, badder [sic], villain in the years ahead.
As you can imagine, when gold prices fell from their 2011 highs and kept-on falling, major gold miners around the world started slashing their capex around 2012. Capex by miners is the bedrock of future mine supply and according to some estimates, total global capex has declined 65% between 2012 and 2016. The last time we witnessed such large cuts in capex was in the 90s and 2000s. Here's how gold was behaving then: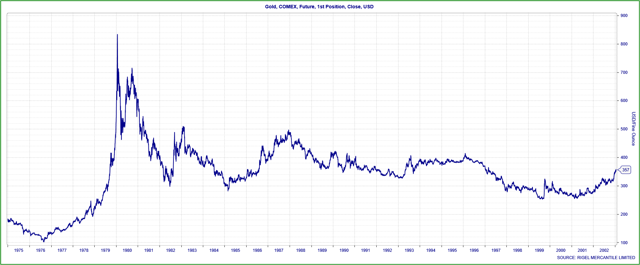 Here's how it ended: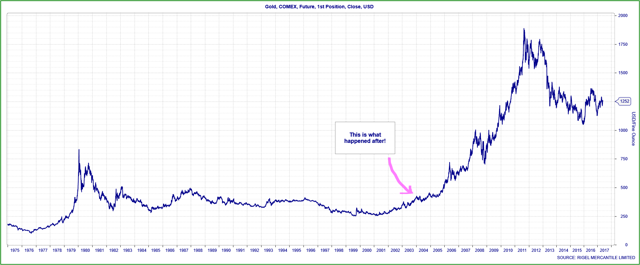 According to projections from the World Gold Council, there is a high probability that global mine production of gold will drop by at least 20% by 2022.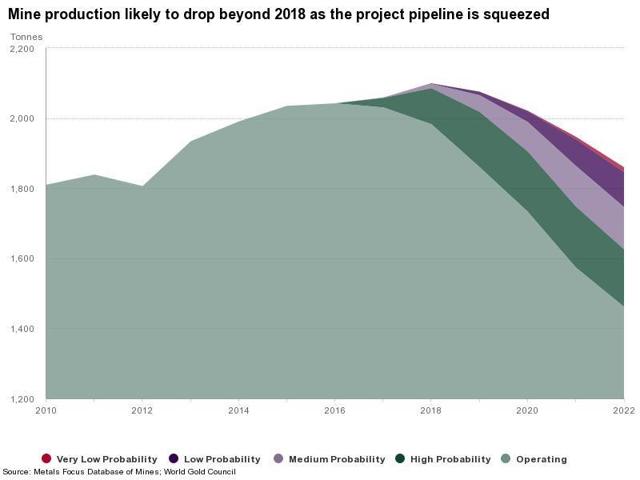 Reason 2: Gold is a Safe Haven Asset
Rather than drumbeat about all the usual points about value, fight against fiat, etc. that everyone knows anyways, I'll highlight two current themes that will attest to the fact that, to many, gold is still the go-to safe haven asset.
Theme 1: All of Europe chasing German paper and Germans chasing Gold.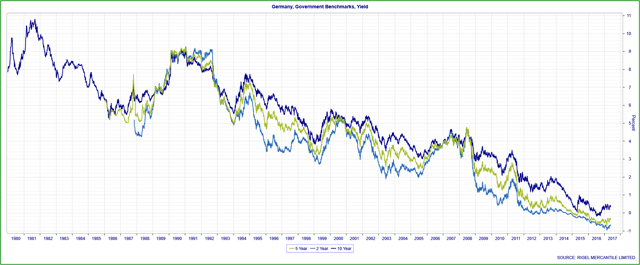 While the whole world is buying up German assets (see what's happened to German sovereign yields in the chart above) what are the Germans doing? They're buying gold.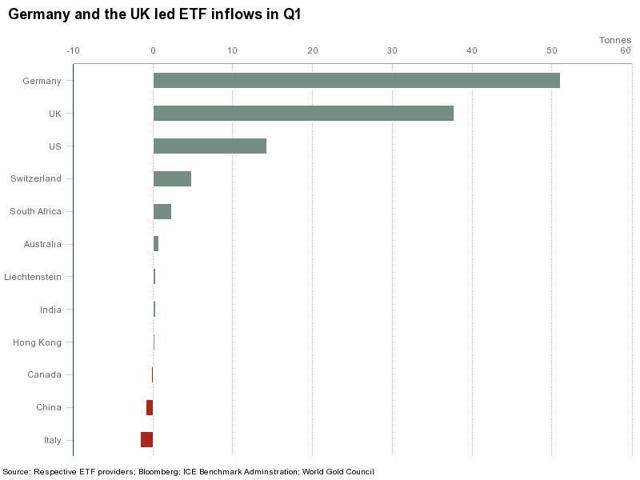 Germany was responsible for more than half of the total inflows into Gold ETFs in Q1 2017.
Theme 2: Uncertainty over China's debt/economic/social problems.

Source: World Gold Council
China's demand for gold bars and gold coins, in a single quarter, breached 100 tonnes for the fourth time on record in Q1 2017. This represents a 30% year over year rise in demand.
Reason 3: Charts favor the diligent!
First, a look at the speculative positioning: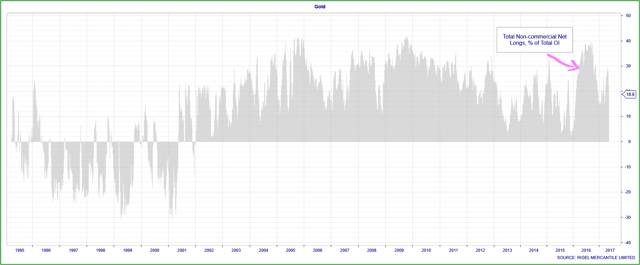 According to the CFTC's Commitment of Traders report, net speculative long position in Gold is closer to the bottom 10th percentile of positioning looking back a year. This trade is far from being crowded.
Second, a look at the price chart: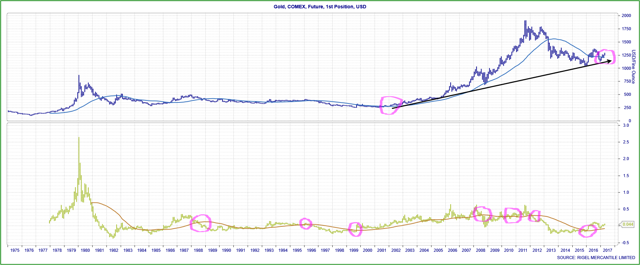 The top panel in the chart above is a price chart (blue line) and the bottom panel in the chart above plots the price's deviation from its long term mean "DFM" (green line). As you can see, gold's price seems to have bounced off from a rising trend line support that dates back to 2002 (coincidentally, the last time we had a similar situation of declining capex and supply was during the 90s and early 2000s). The DFM chart reveals a very strong underlying bullish undercurrent. The DFM line itself has had a bullish cross over on its long term moving average.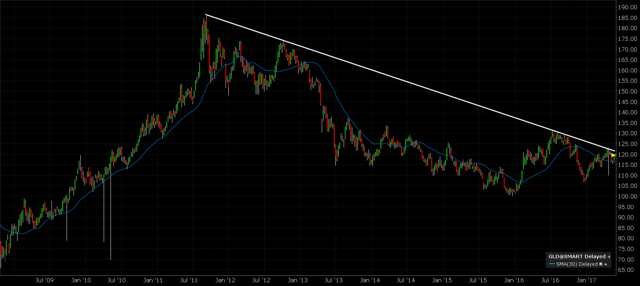 GLD - Weekly Chart; Source: Rigel Mercantile Limited
The SPDR Gold trust is threatening to take out a down trend line, that goes back to the highs of 2011. A break of this downtrend line will open up doors to much higher prices.
Gold miners both the large miners (NYSEARCA:GDX) and the juniors (NYSEARCA:GDXJ) have taken a nice beating over recent months but on the weekly charts, they have both come back to very attractive levels. Both GDX and GDXJ seem to have bottomed in early 2016.
Large Miners: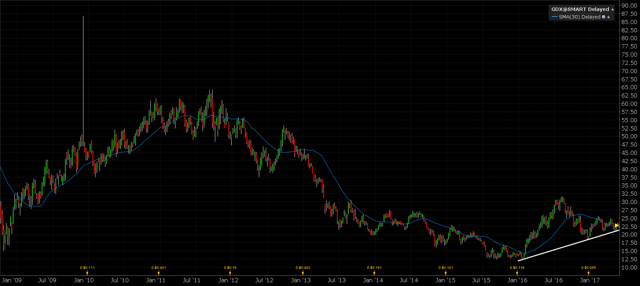 GDX - Weekly Chart; Source: Rigel Mercantile Limited
Junior Miners: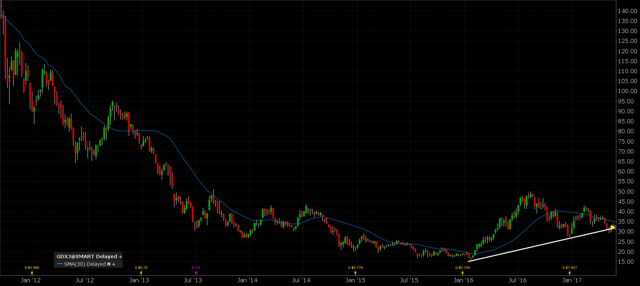 GDXJ - Weekly Chart; Source: Rigel Mercantile Limited
In our view gold , and gold miners (GDX, GDXJ) sitting on proven gold deposits, will do extremely well over the next few years. We are long gold and we will be looking to build up a long position in miners through individual miners and/or GDX and/or GDXJ once the rebalancing process of the two ETFs is completed.
Disclaimer: Rigel Mercantile Limited specializes in Macro/Value Research and Systematic Trading. The views expressed above are our discretionary ideas that we have arrived at using discretionary analysis and, therefore, are limited to our discretionary portfolios only. Our systematic strategies may or may not have a position (long or short) in the securities mentioned above. Under no circumstances should the information contained herein be used or considered as an offer to sell, or a solicitation of an offer to purchase, any security or investment service. The information presented herein is presented in summary form and is, therefore, subject to qualification and further explanation.
Disclosure: I am/we are long GOLD.
I wrote this article myself, and it expresses my own opinions. I am not receiving compensation for it (other than from Seeking Alpha). I have no business relationship with any company whose stock is mentioned in this article.