CNBC: 8:50 EST

ES futures (NYSEARCA:SPY) pulled back slightly overnight, after breaking out from the highs of the range the market has occupied since the beginning of March. Session highs have been posted at 2415.75, with lows currently at 2408. Both Dow (NYSEARCA:DIA) and Nasdaq (NASDAQ:QQQ) futures are trading marginally lower as well.
Gold (NYSEARCA:GLD) futures are moving up in the overnight session, trading higher by about 0.70% as crude oil (NYSEARCA:USO) futures for July delivery are continuing their down move from yesterday. Prices dropped nearly 7% yesterday, from highs at $52 to lows at $48.45 after details of the new OPEC deal disappointed markets. Front-month crude oil traded over 1.1 million contracts, nearly matching the Thursday volume of S&P futures.

Spot VIX is up 4% before the opening bell, currently printing 10.44.

CNBC: Thursday Close

Both S&P and Nasdaq indexes closed at record highs yesterday, seemingly unconcerned about falling energy prices. Consumer discretionary (NYSEARCA:XLY), utilities (NYSEARCA:XLU), and technology (NYSEARCA:XLK) all posted solid days, leading the broader market higher as energy (NYSEARCA:XLE) stocks shed 1.82%.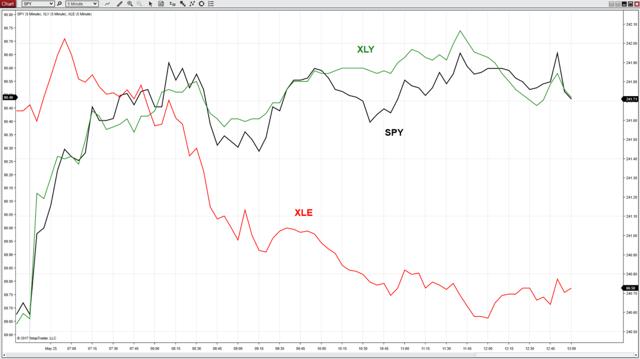 Source: The Balance of Trade
Also noteworthy for investors, the Fed Funds futures market sees an ever increasing probability of a rate hike at the June meeting. Currently the market is pricing in an 87% chance of a June rate hike, up from 83% yesterday, and 74% last week, before the minutes from the May meeting were released.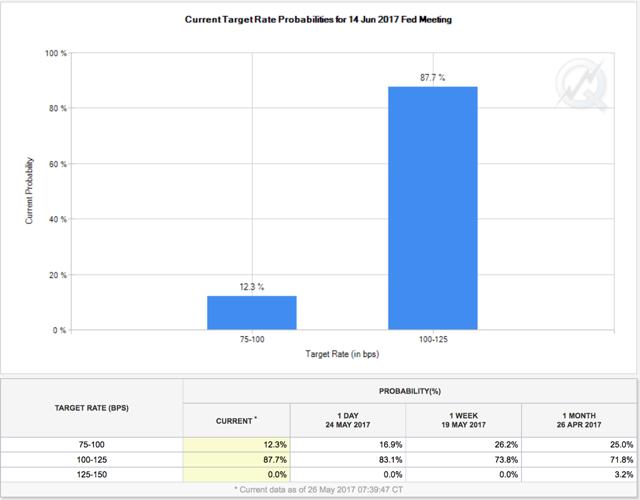 Source: CME FedWatch
Q1 GDP was revised higher to 1.2% from .7%; durable goods disappointed.
Shout-Out
Today we feature a Thursday afternoon article written by SA contributor Elazar Advisors, LLC: Blowout Jobs Number Coming Next Friday. As readers may guess by the title, the piece uses the Continuing Jobless Claims number as an indication on future NFP job numbers.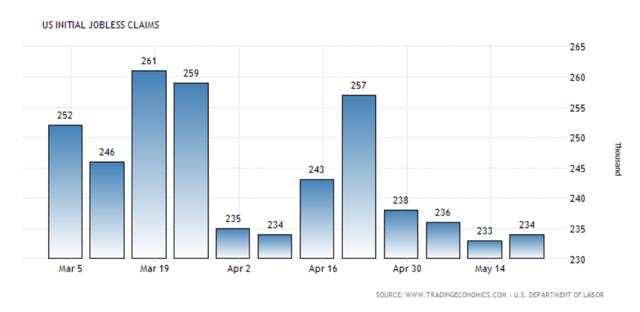 Source: Elazar Advisors, LLC
Observe the downtrend of US jobless claims; Elazar makes the claim that these values can be inversely predictive of future NFP jobs reports.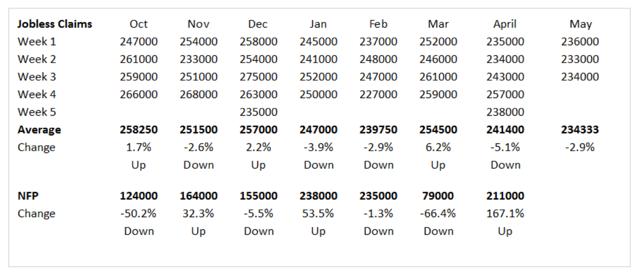 Source: Elazar Advisors, LLC
Shown above, as the jobless claims numbers moves higher from month to month, the NFP number tends to show lower.
From April, jobless claims are lower, implying an up move in the NFP number for May. Wall Street analysts are expecting the number to come out next week in the area of 211,000 jobs; according to Elazar's predictive model, this figure is a significant underestimate.
Thoughts on Volatility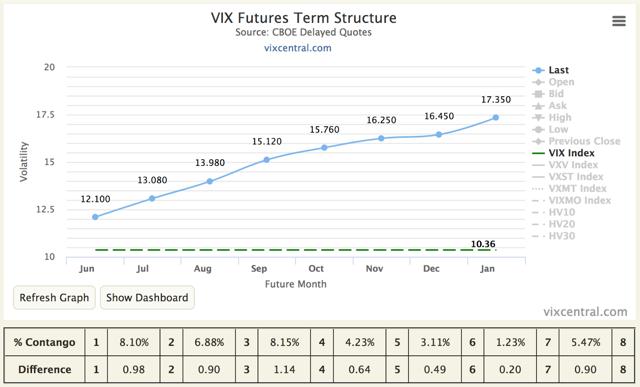 Though up marginally during the overnight session, volatility in nearly all forms has been slammed down over the past week. As noted on Wednesday, the area around 10-flat on the VIX has continued to act as short-term support; we did manage to see spot print below 10 in yesterday's trade.
Spot VIX is currently printing around 10.40, with F1 (NYSEARCA:JUNE) futures for sale at 12.15 and F2 (July) futures at 13.10.

Whether looking at VX futures or volatility ETPs, we continue to see the recent theme of quickly compressed volatility play out.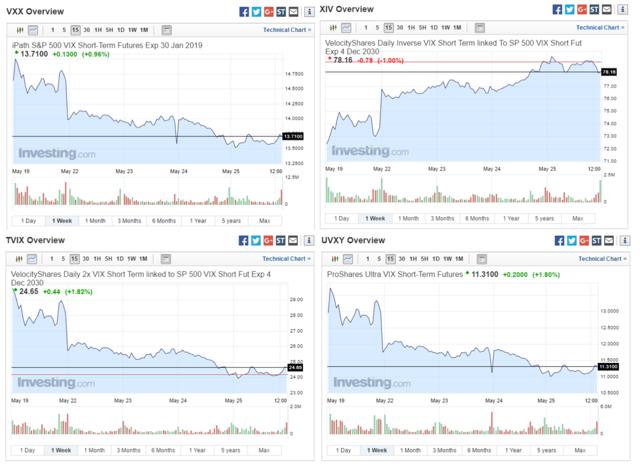 The unleveraged ETPs are changed roughly 8% from this time last week, with VXX lower and XIV higher. As the overall uptrend in the inverse ETP stays well intact, buying dips in the XIV remains a successful and viable short-term trading strategy, especially for those who maintain a short-vol bias, but are unable or unwilling to trade in the futures market.
The ETPs we follow that do employ leverage were both hit to the tune of nearly 16% over the last week, with both hitting their peaks in early trading last Friday. While we report on ETPs regularly, we believe the actual term structure, as well as ES options, are more important to track than how some particular retail product or other did in a given day or week. Point: if you trade one of these products, make sure that you understand the product, as well as the underlying term structure.

Weekly at-the-money vol appears stronger this morning. The monthly and the quarterly vols need to be taken with a grain of salt because we rolled both of them back (used to be June23 and Aug18); if we look at the dates from yesterday to calculate monthly and quarterly vol, there is no change.
So the weekly is up, while monthly and quarterly are in truth flat. We must emphasize here (as nearly always) that the absolute levels of organic at-the-money volatility are quite cheap.
Quarterly vol at 10% essentially amounts to saying that one standard deviation of movement for the quarter is 5% (2290-2530) of where we stand now. We' re not disagreeing with the figures so much as we are relaying the fact that these are not big moves.
Conclusion
We will close out the trade we've been following in the Tracking the Trade segment over the long weekend. We wish you a safe and enjoyable Memorial Day, and invite your thoughts on recent price action, whether it be in VIX ETPs such as (VXX, TVIX, XIV, or UVXY), SPY, VX futures, or what have you.
In particular, do you believe yesterday' s upsurge was a result of the Fed minutes release? Markets frequently exhibit a bit of a delayed reaction to these releases. If you do believe this, what was it about the minutes that caused the ES to rise (what did traders like?)
Finally, with crude volatility on the rise, do you believe these moves will bleed over into S&P volatility, or will the moves be largely contained?
Thank you as always for reading!
Please consider following us.
Disclosure: I am/we are short SPY.
I wrote this article myself, and it expresses my own opinions. I am not receiving compensation for it (other than from Seeking Alpha). I have no business relationship with any company whose stock is mentioned in this article.
Additional disclosure: We actively trade the futures markets, potentially taking multiple positions on any given day, both long and short. It is our belief that the S&P 500 is meaningfully overvalued. As such, we typically carry a net short position using ES options and futures.