After 3+ years without an acquisition, many of Biglari Holdings' (BH) investors were wondering how long it would be before CEO Sardar Biglari made another move. Thursday, we got our answer in a big way.
The company announced an agreement to purchase specialty insurer Pacific Specialty Insurance Company (PSIC) and related companies for $299.5 million from owners Michael and John McGraw. The company was initially started by their father in 1976, and has grown into one of the leading motorcycle, personal watercraft, and residential insurers in the country. Importantly, the company does not do auto insurance, a market I believe will be decimated over the next 15-20 years by the rapid deployment of autonomous vehicles.
In 2013, the most recent year I could find, the company wrote direct premiums of $188 million, had assets of $377 million, and a surplus of $205 million. Those figures are significantly higher than the $60 million, $115.5 million and $57.5 million figures from 2002. That's premium growth of 10% annually. More importantly, the company has extremely disciplined underwriting standards, with a 10-year average combined ratio of under 93%.
The deal was made possible by Biglari Holdings' unique structure
Sardar Biglari has stressed for many years that his goal is to make Biglari Holdings a museum of businesses, a place that appeals to the certain type of business owner that wants to sell their business, but continue operating it with no changes. The First Guard Insurance transaction was the first such example, where owner Ed Campbell has continued to run the company spectacularly since being bought three years ago.
Biglari hinted at the annual meeting that this success was making it easier for them to get places with other potential insurance purchases, as well as have regulators be more comfortable with the company. Clearly, that came in handy for this acquisition.
I am excited to join Biglari Holdings' group of companies. We are an organization committed to profitable underwriting. Sardar Biglari has built a company we are proud to be associated with. We now have a permanent home for our family business, one we have developed over the decades. I'm looking forward to running the company as CEO for as long as possible.
- Mike McGraw, CEO of Pacific Specialty
Deal structure is unique as well
The total payment being made by BH to the McGraw brothers is $299.5 million, but only $24 million is due upfront. The remainder will be paid over the next 10 years, as laid out below: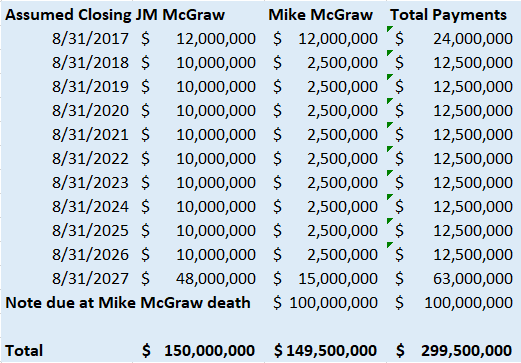 Author's own work based on 8-k filing
The deal was clearly structured in a way to minimize the tax consequences to the McGraw brothers, particularly Mike, as well as minimize the upfront out-of-pocket cash needed by Biglari Holdings. The $100 million promissory note will only be due at Mike's death, with 6% interest being paid annually in the meantime. BH expects to take out a life insurance contract on Mike to protect themselves in case of early death, and the note proceeds will be donated to Notre Dame upon Mike's death.
Deal Metrics
Unfortunately, we don't know how much PSIC earned in 2016, but there are clues regarding how much Biglari and the McGraw's expect the company to earn going forward. Specifically, p 19 of the purchase agreement mentions that Mike McGraw will receive a bonus if the companies' pre-tax profits exceed $20 million, starting in 2018. I've discounted this figure by 10% to estimate 2018 EBIT and come up with a 10-year projected IRR for this transaction: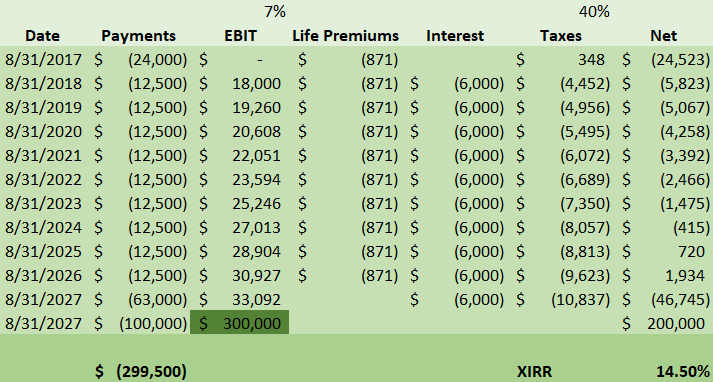 Author's own work
There are a few moving parts here, all based on assumptions I believe are quite conservative.
1. Annual Payments to McGraw's are known.
2. EBIT projected to be $18Million in 2018, then grow at 7% annually (remember sales grew at 10% annually from 2001 to 2013).
3. I assume annual life insurance premiums of $871k for a 10-yr, $100 million life insurance policy. This number will depend on the health of the insured. BH may also decide to set up a whole life policy, which would require a significantly higher amount of cash, but generate a positive IRR over time, and guarantee the insurance remained in force until McGraw's death. This would be my preference, even though it would lead to a slightly lower calculated IRR.
4. 6% interest on the $100 million note is $6 million annually.
5. Taxes of 40% will be reduced by the life premiums and interest payments.
6. The net annual cash out of pocket is shown on the last column.
7. I then assume the loan is paid off and the company is still simply worth $300 million in 10 years for my XIRR calculation, which generates an annual return of 14.5%.
Of course, the following figures don't account for any growth in the sales value of the company, or the value of any float PSIC may have.
Conclusion
While we can't be certain of the actual earnings until we see them, I believe that this deal will turn out to be a gem for Biglari Holdings, and that it might mark the beginning of a turnaround in investor sentiment towards Sardar Biglari. I still haven't managed to finish putting together my notes on the annual meeting, but it was clear there that Biglari continues thinking on long term basis. I increased my position by 20% with the recent dip under $390, and with this purchase I'm looking to add even more.
If you want to make sure you see everything I write about Biglari Holdings and other stocks I like, make sure to follow me by clicking the "follow" button at the bottom of the article.
Disclosure: I am/we are long BH.
I wrote this article myself, and it expresses my own opinions. I am not receiving compensation for it (other than from Seeking Alpha). I have no business relationship with any company whose stock is mentioned in this article.