Company Overview
Intuitive (NASDAQ:ISRG) designs, manufactures, and markets the da Vinci Surgical System and its related accessories and instruments. The da Vinci system and its related instruments are advanced robotic surgical systems and are used for minimally invasive surgeries (MIS). The primary markets in which Intuitive's products are used consist of Urology, Gynecology, General Surgery, and Cardiothoracic. Currently, Intuitive has an installed base of 4,023 da Vinci systems. Intuitive earns revenue through various sources which consist of Instruments and Accessories, Services and Systems. Of the 4,023 systems, 2,624 are in the United States and 1,399 are located internationally. Instruments and Accessories and Services are recurring sources of revenue (71% of revenue is recurring), while their Systems earn revenue through one-time sales. Below is a revenue breakdown by segment. The company typically sells most of its machines through service contracts, which run at an annual rate of $80,000 to $170,000. However, as of recently they have stated their plans to lease machines as they expand internationally. This will allow them to sell more machines in countries that are not as affluent as the U.S. The company also has noted that their leasing program has been quite effective and are willing to expand it based on customer demand.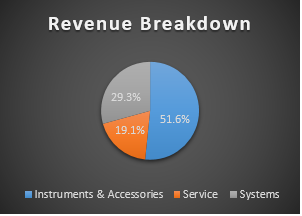 Source: Company Filings
Catalysts
Growth of General Surgery
As of the end of the last fiscal year, General Surgery accounted for ~25% of total procedure volume, making it Intuitive's second-largest specialty behind Gynecology. General Surgery procedures include hernia repair, colorectal procedures, and thoracic procedures. The reason we believe Intuitive can take advantage of this opportunity is because their da Vinci System has seen outstanding results from previous procedures. The da Vinci System has approximately 10,000 peer-reviewed publications and 1,700-plus comparative studies. For hernia repairs specifically, studies have shown that robotic-assisted procedures have given patients better care. According to Surgical Endoscopy, patient outcomes for both ventral and incisional hernia repairs resulted in quicker hospital discharges for patients who underwent surgery through robot-assisted operations. Their paper revealed that approximately 60% of patients were discharged the same day as their operation. In addition, 25% were discharged within one day of their operation. The vast majority of Colorectal and Ventral Hernia surgeries in the United States are still performed using traditional open procedures (see Figure 1). This creates a major opportunity for Intuitive as they can significantly grow market share within in this area.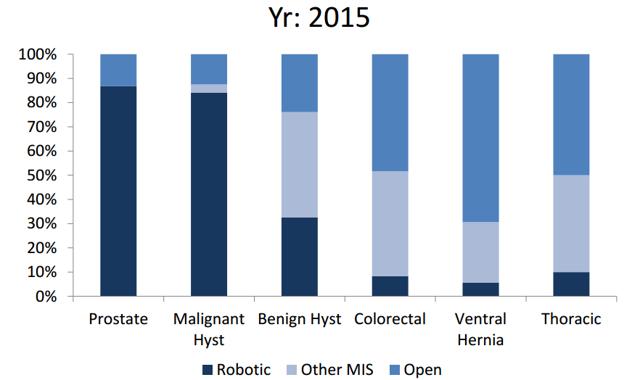 Source: Company Filings
Furthermore, a study done by Dr. Poulose of Vanderbilt University Medical Center found that robotic surgery patients had an average length of stay of 2.1 days, while open surgery patients had an average length of stay of 5.1 days. The study also found that site infections, readmission, and reoperation rates were quite similar between the two types of operations. We believe that more surgeries in the future will be performed using Intuitive's system due to studies that have shown the benefits of robotic-assisted surgery. When you compare the approximately 1,000,000 hernia repairs performed every year in the United States to the 753,000 total surgical procedures in which a da Vinci Surgical System was used in 2016, one can see that this is a significant growth opportunity, even if they only capture a fraction of the market. We believe they can continue to leverage their experience to capture a large share, which should help drive revenue growth. In addition to hernia repairs, Intuitive can grow in the colorectal procedure market. Although this market is smaller than the hernia market (there are about 140,000 people affected annually), it should help drive growth further. When using a da Vinci system for colorectal procedures, it was also found that patients also had a reduced length of hospital stay. Because of these growth opportunities, we believe Intuitive will experience procedure growth well into the future, which should drive revenue across all of their segments.
International Expansion
Although we believe international expansion will occur over the longer term, we believe it is worth noting. We believe that it could provide Intuitive with a larger opportunity than the US market. Japan for instance, presents a great opportunity due to their demographics. One reason we believe this is because Japan has the highest percentage of people over age 60. As people age, their need for medical care should increase. The Japanese market for surgical navigation and robotic systems is expected to reach $550 million by 2023. China also presents another major opportunity for Intuitive as they are projected to have 167 million people over the age of 65 by 2020. That's about half the size of the entire current population in the United States. Diseases like cancer and cardiovascular disease are more prevalent in elderly folks, especially in China where nearly 50% of the deaths are as a result of these two diseases. Lung caner is the most common form of cancer in China due to the pollution in the air. Intuitive's CEO has stated that around 50% of all of Intuitive's opportunities are the result of some form of cancer. In addition, their product pipeline consists of a new version of its robot, called the da Vinci SP (single port). This system is meant to give surgeons the ability to remove cancer from more difficult to reach areas such as the mouth and throat. With these geographic markets aging rapidly, we believe it is a fair assumption to think that Intuitive can keep growing through international expansion. They already sell products and have set up strategic partnerships in these geographic markets, so we feel they can be a major player in these regions.
Porter's Five Forces
Buyer Power - Moderate
Buyer power is moderate because Intuitive sells their products to hospitals. Intuitive's da Vinci Surgical System can cost between $600,000-$2,500,000, and some hospitals may not feel comfortable paying that much without significant evidence of its benefits. Intuitive does have 10,000 peer-reviewed publications and over 1,700 comparative studies regarding their system, which should help improve their ability to communicate the benefits. Once a hospital already has a system, the buyer's power is less. This is because Intuitive sells instruments and accessories, which are needed after a number of surgeries. Intuitive also does not have more than one customer who accounts for more than 10% of revenue.
Supplier Power - Low
Intuitive manufactures their da Vinci Surgical System at its own facilities. They purchase custom and off-shelf components from a large number of suppliers. These suppliers are subject to stringent quality processes. Some components for their system are currently only provided to Intuitive by single sources. The majority of their components are bought through purchase orders as opposed to long-term supply agreements.
Threat of New Entrants - Moderate/High
Because this is a high growth industry, the threat of new entrants is high. Intuitive faces the threat of entry from companies of various sizes including Verb Surgical, Medtronic, TransEnterix, Titan Medical, and Medrobotics. Due to the capital intensity of the industry many small competitors have entered into partnerships or have received investments from larger companies.
Many of the companies listed above already have stated their interest to enter the field, but do not have products currently on the market. For example, TransEnterix recently faced a setback with one of their products, as it did not receive FDA approval. As a result, it is likely that their product will not be on the market for a few more years. In addition, Verb Surgical's product is not expected to be on the market until 2020, which may even be too aggressive of an assumption.
As previously mentioned, the da Vinci Surgical System is a large investment for hospitals. Not only are they expensive machines, but surgeons also go through extensive training programs so they can learn how to use them. If surgeons spend valuable time training and operating on these systems, we feel it gives Intuitive a competitive advantage due to both the surgeon's and hospital's investment. With both time and money invested, we feel this will help deter customers from switching products.
Substitution - Moderate
Substitution is moderate because there are various ways to perform a surgery. Although MIS surgeries are growing in popularity, open surgeries are still common. However, we believe that MIS, specifically robot-assisted surgery, will continue to grow in popularity.
Existing Competition - Low
Intuitive is the market leader in robot-assisted surgery. They hold ownership and exclusive rights to over 2,350 U.S. and foreign patents. In addition, they have 1,800 U.S. and foreign patent applications. Their da Vinci system dominates the laparoscopic surgery market and is viewed as the standard in robotic-assisted surgery.
Valuation
Intuitive was valued using a discounted cash flow model. We forecasted cash flows out 10 years using a revenue CAGR of 11.3%. After year 10, we applied a terminal growth rate of 3.0%. In addition, we assume that their operating margin will improve as their higher margin instruments and accessories become a larger percentage of revenue.
Current price of $853.39. Target price of $992.17, potential return of 16%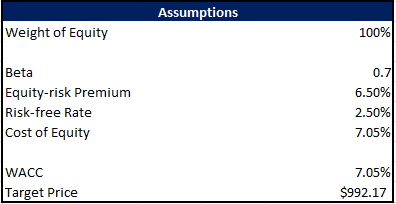 Source: Own Calculations
Risks
Competition happens sooner than expected.
A competitor enters that is able to produce a similar quality machine at a lower cost.
New studies find that the da Vinci System is not beneficial.
Hernia operations begin to slow.
Disclosure: I/we have no positions in any stocks mentioned, and no plans to initiate any positions within the next 72 hours.
I wrote this article myself, and it expresses my own opinions. I am not receiving compensation for it (other than from Seeking Alpha). I have no business relationship with any company whose stock is mentioned in this article.