Guess? wins in many other ways as well
Investing is to choose between many different and disparate assets, to try and find those which present the best return/risk profiles. In this process, we will often compare what is seemingly incomparable. Things like comparing cash to gold, or gold to stocks, or bonds to crude, or Apple (NASDAQ:AAPL) to Kohl's (NYSE:KSS), as I actually did in my article titled "How Does Apple Compare To Ugly Duckling Kohl's?" (and before you criticize this one, check the outcome).
It is in this context, that I'll do it again. I'll be comparing Guess (NYSE:GES) to BlackBerry (NASDAQ:BBRY). I'll be doing this, because the two actually share some striking resemblances - given the way I'm going to compare them.
You see, BlackBerry today doesn't trade on the whole of the businesses it (still) has. Instead, it trades solely on its software and services segment, which is all it's going to have a couple of years down the road. This is a near certainty, since BlackBerry has already abandoned mobile hardware, and high-margin SAF (Service Access Fees) revenues are trending towards zero.
Though not exactly the same, Guess, too, could be said to be trading on just part of the company as well. For instance, take Guess' Q1 2017 revenues, and see what segment they came from: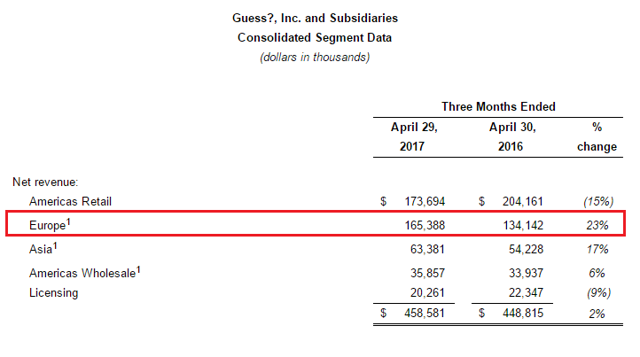 Source: Guess Q1 2017 Earnings Report
Now notice I highlighted the European segment. Why did I do this? Well, let's pretend that the entire company was just that segment plus licensing and overhead. What would we have?
We'd have:
A company doing ~$900 million in revenues per year now.
Growing at around 18.7% year-on-year.
Trending towards at least 10% operating margins (licensing would pay for overhead … in fact if there was only Europe there, licensing would provide excess profits on top of that because of less overhead being needed, but let's ignore it).
And the whole thing would be valued at an EV (Enterprise Value) of ~$653 million.
Now, on BlackBerry's side, what do we have, for the software and services segment alone?
A company doing ~ $687 million in revenues per year, so a lot smaller than Guess Europe+Licensing.
Guiding for 13-15% growth, so slower-growing than Guess Europe.
Trending towards 4.8% operating margins. This comes from the consensus FY2019 EPS of $0.08, over 590 diluted shares, on $982 million in revenues. Since

BlackBerry

has significant accumulated NOLs (Net Operating Losses), I assume no income tax. So, less than half the prospective Guess Europe margins.
And at how much is this smaller, slower-growing and less profitable business valued at, in EV terms? Taking out $2 billion in net cash, which already includes the Qualcomm (NASDAQ:QCOM) litigation award, it still carries a $4,667 million EV. That's 7.1x more than Guess Europe+Licensing alone, on a smaller, slower-growing and less profitable business.
Conclusion
This little exercise shows why I can be positive on Guess and negative on BlackBerry at the same time.
BlackBerry represents a business that's not that different from Guess Europe+Licensing alone on most relevant metrics. Indeed, the remaining BlackBerry software and services segment is smaller, growing slower and less profitable than Guess Europe+Licensing alone. Yet, BlackBerry is valued at SEVEN times more, by the market, in spite of this.
I believe that over time, Guess is likely to outperform BlackBerry.
Disclosure: I am/we are long GES.
I wrote this article myself, and it expresses my own opinions. I am not receiving compensation for it (other than from Seeking Alpha). I have no business relationship with any company whose stock is mentioned in this article.
Additional disclosure: I am also short BBRY