We've all read the articles and seen the posts, sugar is our new public enemy number one. The negative health effects of sugars have always been a part of the public consciousness, but recent peer-reviewed studies and constant media attention have hammered home the dangers of excessive sugar consumption.
Most adults consumed 10% or more of calories from added sugar (71.4%) and approximately 10% consumed 25% or more in 2005-2010... The risk of CVD mortality increased exponentially with increasing usual percentage of calories from added sugar.
The rise of the Ketogenic diet with its high-protein, high-fat, low-carb, and no sugar approach has also caused many to rethink their diets. Fat is no longer the whipping boy it has been for 50+ years.
The effects of the 'war on sugar' can already be seen in the declining growth in consumption. The expected growth of only 1.04% during 2017/18, according to Platts Kingsman, is a substantial fall from the 2% average over the past decade.
Today, with the 'war on sugar' in mind, I want to discuss the well thought of and buffet-backed, Coca-Cola (NYSE:KO). With 55 straight-years of growing dividends, a yield around 3.1%, and solid fundamentals, on the surface Coke seems to be a decent investment for a dividend growth investor like myself; but current market pressures and declining revenues are illustrative of dangerous stagnation in my opinion.
Declining Revenues and Poorly Covered Dividends
Coca Cola is trading right around its 52-week high of $46 a share. The company trades at ~32X earnings and has an EPS of 1.42. This doesn't compare favorably to its main rivals Pepsico Inc. (NYSE: PEP) and Dr. Pepper Snapple Group (NYSE: DPS), which trade at much more reasonable figures.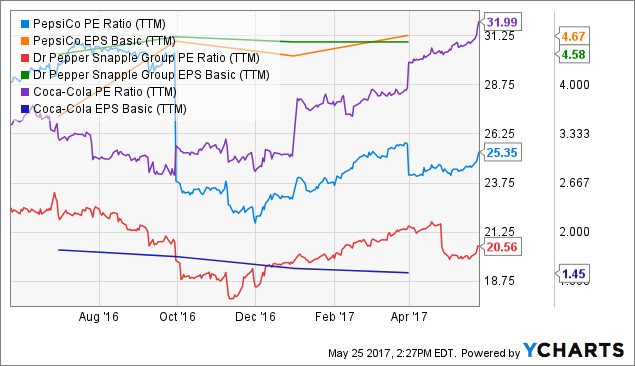 data by YCharts
During Q1 2017 Coke's profit fell 20%, this can be explained(at least in part) by an "accelerated refranchising effort", two fewer days in the cycle and the shift of Easter to the next quarter. Still, net revenues fell 11.3% which is yet another confirmation of a disturbing trend for the company. Each of the past eight quarters have seen a decline in revenue. Stagnation in earnings and falling revenues in these markets should mean tumbling share prices, but this hasn't been the case.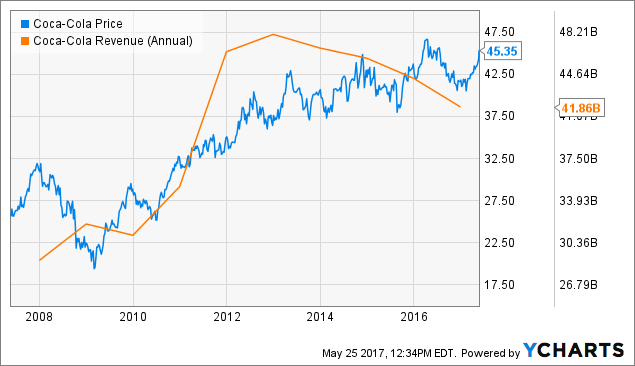 KO data by YCharts
Coca-Cola's ever-increasing dividend and stable history have attracted many to the stock, but upon further inspection the dividend appears to be on less than stable ground. With a payout ratio of over 72%, the dividend yield at 3.13% will be difficult to sustain unless the company sees solid revenue and earnings growth. With the 'war on sugar' just beginning I don't see how this growth is attainable. Additionally, Coke has an FCF yield of only 3.45%, this means an FCF payout ratio of just over 90%, which for me is a worrying figure.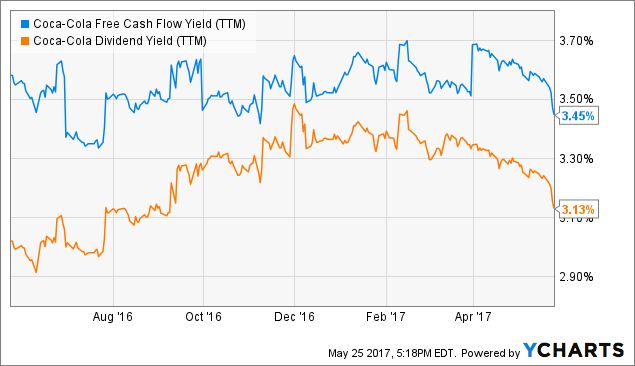 KO Free Cash Flow Yield (TTM) data by YCharts
Market Pressures
Demand for CSDs (Carbonated Soft Drinks) and concentrates (fountain drinks) is falling sharply, as people look for healthier options. At the University of Oregon I have seen demonstrable changes in the attitudes of students towards sugar and soft drinks, in a relatively short period of time. Young people, more than ever, recognize the dangers of excessive consumption of sugar and the University has responded, removing some vending machines and adding more healthy food options around campus. Below is a chart from IBIS world that illustrates the drastic fall of per capita soft drink consumption.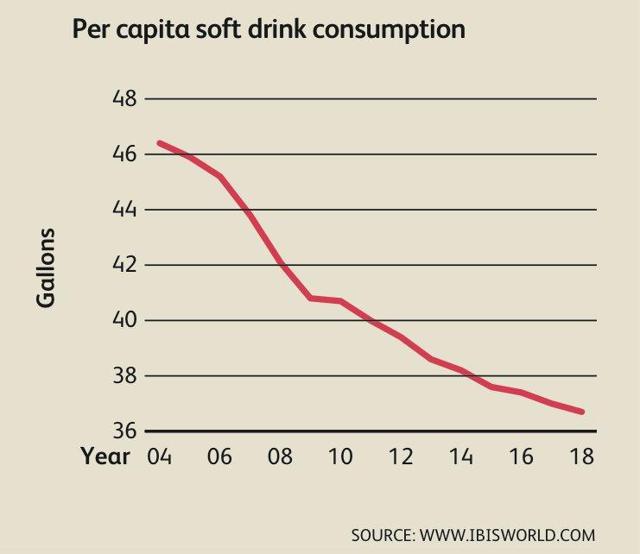 I wish that the management at Coke would show a little more urgency compensating for what I see as a permanent decline in some of their most important products. The falling revenue for CSDs and all sugar-laden drinks has really just begun. During the Q1 earnings call the topic of attempting to improve CSD sales was almost wholly avoided. Management at Coke have attempted to add revenue streams to make up for poor CSD sales instead. Still, these sales continue to make up a huge portion of Coke's profits. Some believe the changes in Coke aren't happening fast enough, when asked about the rate at which M&A is occurring James Quincey, President and CEO of Coca Cola Co. responded:
Of course, we would love to increase the run rate at which we broaden our portfolio, and we will certainly seeking to do so. But the law of big numbers is also true. It's not going to magically change overnight.
Don't get me wrong the 'war on sugar' hasn't gone unnoticed at Coca Cola. I applaud their diversification efforts, but I believe they are only part of the solution and have been focused in the wrong areas. They now own, or are invested in, a wide variety of beverage brands, but most of these still use copious amounts of sugar in their products (Honest Tea, Fanta, Monster). Although Coke has 'diversified' they have remained a purveyor of unhealthy solutions and solely a beverage company, unlike rival Pepsi who bought Frito-Lay. Only recently have they begun to acquire more health conscious companies like the health drink company Xiamen Culiangwang Beverage Technology Co., Ltd. ("China Green"). They also have invested in companies like CHI Limited ("CHI"), a Nigerian producer of value-added dairy and juice beverages. However, I'm not sure these moves are sufficient.
I also don't buy that the use of artificial sweeteners like Stevia will be enough to fill the void left behind by falling soft drink sales. The allure of fake sugar is fading, we can see this in the slowing of Diet soda sales. The negative health effects associated with Stevia and substances like it are scaring people away. Health is the reason why people want less sugar in the first place, so I fail to see how replacing sugar with another harmful substance would be helpful. I guess the goal could be to suppress the studies and articles about the negative effects of these substances like was done with sugar, until the brand has time to adapt with M&A.
Another issue for Coke is the downfall of malls around the country. With foot traffic slowing less people are likely stop for a quick and refreshing 39 grams of sugar to keep them going. James Quincey admitted this much in an interview with financial times.
If people are going to malls less because they're doing more shopping for clothes online, then we don't need as much equipment in malls. The way they shop is changing and affects where we need to be.
This is just another example of slowing demand for the bread and butter products of Coca Cola.
Conclusion
Coca Cola Co. is an American icon that, in the long term, isn't going anywhere. I have faith that overtime the company will adapt, continue to make acquisitions and right the ship. Despite that, in the short and especially medium term I worry that a lack of demand, an insecure dividend and falling revenues will lead to issues. Coca Cola Co. has focused on becoming more and more efficient, especially in its bottling and management, but at the end of the day the revenue needs to come in. When your hallmark products' future doesn't look so bright, drastic changes need to be made right away and the urgency just doesn't seem to be there. The 'war on sugar' isn't a fad, it's here to stay, and even a company as strong as Coca Cola will be affected. If revenues continue to decline as I expect them too, the dividend will be impossible to maintain. Coca Cola has been the ideal, safe, dividend stock for the past 55 years; I fear those days are over.