I am, and have been, unabashedly and enthusiastically bullish on cloud computing. The cloud is faster, cheaper, and - despite what you may have heard - more secure than traditional IT. By 2020, Gartner predicts the corporate shift from mainframe to cloud will attract more than $1 trillion in IT spending. The writing is on the wall: The cloud is here for the long run, and we are confident there will be very big winners in this market - and very big losers.
All of this led me to being long Amazon (AMZN) Web Services (AWS) years ago. (Read my article way back in 2013 on the subject). It was clear to me then that Jeff Bezos saw the shift happening early. Unencumbered by legacy business models, he began expanding Amazon's AWS division at a rapid clip.
According to recent research by Canalys, AWS now owns 33.8 percent of the global market share for cloud spending - while Microsoft (MSFT), Google (GOOG) (GOOGL), and IBM (NYSE:IBM) own 30.8 percent, combined. According to our own internal estimates, the AWS worldwide cloud has 10 million servers connected across 125 datacenters. That's huge.
But being bullish on cloud also led me to being short IBM. It's a company that, in my view, will end up being a casualty of Amazon's march to cloud dominance. Of course, IBM isn't the only company that's in the warpath of AWS. But what makes it a great short (and a great story) is that the company, in my view, is pretending to be the #1 player in cloud - when it is plainly not.
This is not a comprehensive list of reasons to be short IBM, but it's a starting point for those who are interested in starting to piece together what is, in my analysis, a very clear narrative of decline.
1. Sales have dropped for five consecutive years (and 20 consecutive quarters!)
When you see sales drop like they have at IBM, it's a major red flag; a sign that the business is under severe stress and is losing customers.
In five years, according to their own publicly-reported financials (available on MarketWatch), revenue dropped a total of about 25%. That's an enormous fall from grace.
| | | | | | |
| --- | --- | --- | --- | --- | --- |
| | 2012 | 2013 | 2014 | 2015 | 2016 |
| IBM Revenue ($Bil) | $105 | $98 | $93 | $82 | $80 |
Management will always promise better times, no matter how bad it really is, and IBM management is no exception. "Despite reporting its 19th consecutive quarter of declining sales, IBM insists it's on the right path," said a Fortune article in January 2017. Three months later, when IBM reported its most recent quarter, both revenue and gross profit had continued to decline.
Investors, it's up to you to dig further, to find independent verification for management's claims.
2. Bribes and bid rigging: Is there no end?
This is an issue I have written about extensively, but when there's smoke - there's usually fire.
And at IBM, there's a ton of smoke.
Companies with wonderful products don't need to engage in bribery to make a sale. What is particularly puzzling with respect to IBM's long history (i.e. more than a half dozen) of allegations of both bribery and bid rigging: How has IBM avoided severe sanctions for so long?
Another curiosity: A 2000 court order from the Securities and Exchange Commission to "cease and desist" from bribery has been seemingly ignored by everybody (authorities included). And where is the CFO, Martin Schroeter, in all of this, anyway? What happened to the company's internal controls?
It's not like the issues ever stopped. As the company noted in this year's annual report: "In August 2015, IBM learned that the SEC is conducting an investigation relating to revenue recognition with respect to the accounting treatment of certain transactions in the U.S., UK and Ireland. The company is cooperating with the SEC in this matter."
In other words, IBM is still under investigation and another shoe can drop at any point.
3. Way behind in cloud, and lying about it?
"With over $14.5 billion in cloud revenue over the last 12 months, we're the global leader in enterprise cloud..." - Martin Schroeter, IBM CFO, April 2017
Note that Schroeter touts enterprise cloud figures, not public cloud figures. First off, note that it's abundantly clear that IBM's cloud pales in comparison to AWS. Research from Synergy Research Group illustrates this point clearly in the public cloud domain.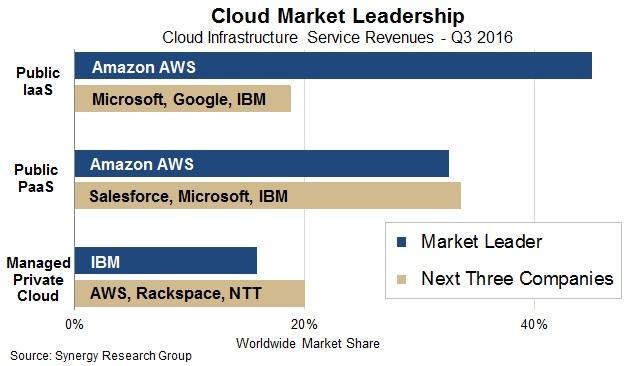 Other than $3 billion invested in SoftLayer, I don't see any other credible attempt by IBM to take on the infrastructure service capability of AWS.
Despite repeated assurances from both the CEO and CFO that SoftLayer was "enterprise capable" when it was purchased in 2013, it has failed to attract enterprise workloads, something that IBM management has yet to own up to.
4. Buyback Mania!
As I've written extensively, I'm a vocal critic of any company that's in decline buying back its own stock. IBM takes the cake.
Since 2012, IBM has spent $48 billion on buybacks. That's approximately one-third of the company's current market value - and most of that cash has been wasted by executives.
IBM executives went crazy for buybacks, but are they really to blame? Or is it the board of directors, who clearly incentivized management to go after earnings per share targets, above all else, even above building a competitive cloud infrastructure business. ("The payout of PSUs is based on IBM's three-year cumulative performance against operating EPS and free cash flow targets," the company explains in its most recent proxy. In other words, buying back stock can help executives reach their compensation targets.)
Also, with nearly $50 billion spent on buybacks since Rometty took over in 2012 (at an average price of $182 per share) and only $3 billion invested in SoftLayer and its capabilities, it's no wonder AWS has crushed SoftLayer.
5. Peers are not following IBM
Credit goes to John Chambers, then CEO of Cisco (CSCO) for standing up and calling out IBM by name in an attempt to warn investors two years ago. "When we talk about the top five IT players, watch how disastrous the last 2.5 years have been where an HP and an IBM haven't had revenue growth for two to three years," he said at a conference in 2014, reported by Business Insider.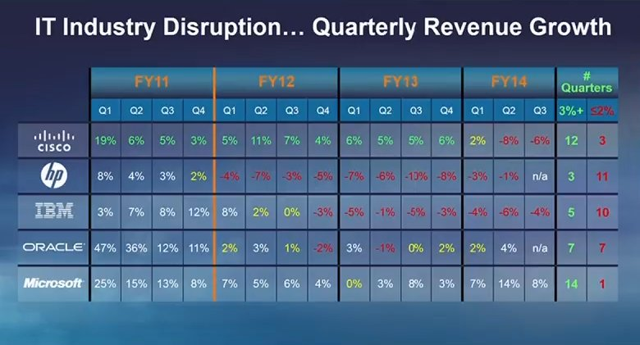 What should alarm investors right now is how IBM seems to be alone on an island, without interest or support from its peer group.
6. Accounting issues are seemingly endless
Besides a new SEC investigation into IBM accounting that was announced in 2015, much of the accounting "intrigue" has been happening in India in recent years. In addition to accounting fraud in multiple years in Bangalore, having to do with fake sales invoices and other sordid things, a most interesting case developed around a key customer of IBM, Bharti Airtel, which you can read about here.
As a forensic accountant, this is incredibly troubling. Bribery and accounting scandals are an indication that a company's products are not able to compete with its competitors, so managers are left to artificially win business through less-than-legal means.
7. IBM's mainframe is in trouble
The last bastion of IBM's business is its mainframe, given a second life a few years ago with the proliferation of mobile devices.
But recently, both AWS and Microsoft have launched cloud competition that takes direct aim at IBM's vaunted zSeries mainframe - which, by the way, has seen collapsing sales too.
A final word of warning
IBM has assured investors for years that a $20 earnings roadmap would be met (it wasn't) to unsubstantiated claims of being #1 in the world in the cloud (it isn't) and to the bizarre inclusion of mainframe in IBM's cloud business (it shouldn't be). There's a pattern here, and I think investors and shareholders will begin to see it. (Hell, Warren Buffett finally saw the light earlier this month).
So, agree or disagree, it's for all of these reasons that I, for one, have stopped taking what IBM leaders say at face value, and why I'm short IBM.