Many investors who are close to retirement or would like a secondary source of income look to high yield dividend stocks. In the long term, these methods of income could be amazing wealth creators.
As we stated in a previous article, buying high yield stocks is a bit like buying apples. You need to inspect every single apple to make sure that there is no mold or bruising. If you are not diligent in its inspection, then you may end up stuck with a bad apple. When buying stocks (especially ones with a high yield) you need to inspect them with care. Stocks with the highest yield may not always be the best, as they may consist of unsustainable stocks that will not be able to keep their high dividend yield. Don't get stuck with a bad apple.
This is especially true when choosing investments for an income or retirement portfolio. The best kinds of portfolios are the ones that you can forget about, and rely on growth in value and dividends over the long term.
How We Screened The Stocks
We chose the following stocks based on this criteria. First, the stock must be at least small-cap. Second, the company must have a history of dividend growth, and a sustainable yield exceeding 4.0%. Third, the stock must have predicted growth (upwards trends on the F.A.S.T. Graphs), no loss of over 10% since 2002 and be suitable for a 3+ year buy and hold. Please realize that some of these stocks are known for dividend growth and capital return, so investment growth could remain the same. Finally, the company must have a proportional and reasonable risk vs. reward.
The following companies passed these standards: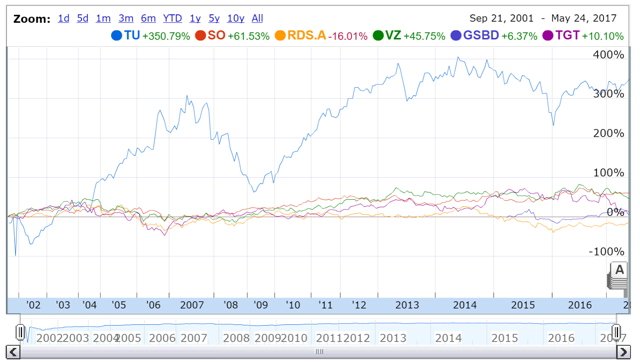 We calculated the risk values (seen in the 'takeaway' section) by taking an overall look at the stock. Past return, future growth and analyst opinions went into the scoring. Some sectors are riskier then others, but all the listed stocks do have a proportional reward to the risk.
TU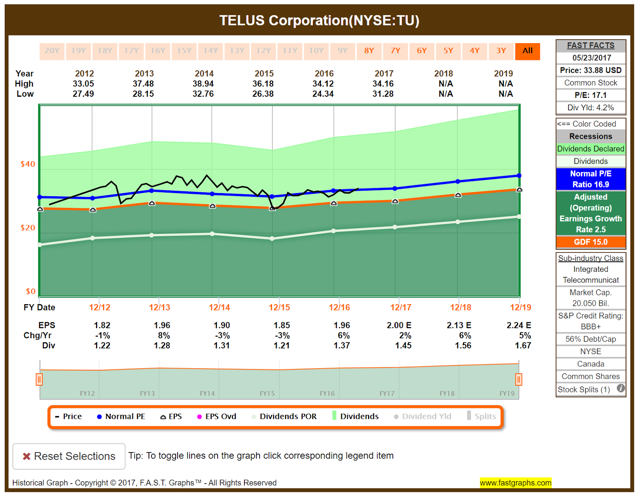 Telus Corp is the largest telecommunications company in Western Canada and the second largest in the country. The company provides clients with a full range of telecommunications products and services including data, Internet Protocol, voice and TELUS Mobility wireless services across Canada. As of Dec 31 2015, TU had a growing 12.5 million subscriber connections, including 8.5 million wireless subscribers, 1.6 million Internet subscribers, 1.5 million wireline residential network access lines, and 1.0 million television subscribers. The company yields 5.77%, and is widely known as an upcoming, safe telecom dividend stock.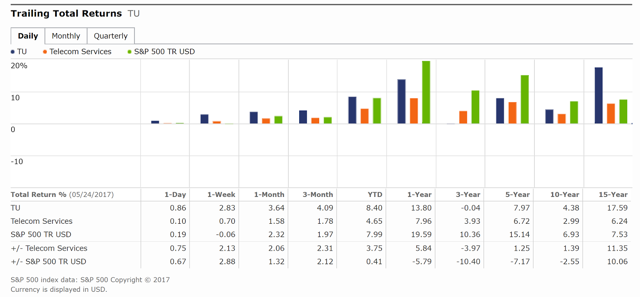 One of the best selling points of this stock is its long-term return. 15-Year return is 17.59% and vastly outperforms its telecom services industry and the S&P 500. TU beats its industry by a lot in all data categories except for 3-Year Return. For more short-term investors, YTD return is 8.4% and 1-Month return is 3.64, both outperforming the S&P 500 average. Tellus' one year target is 34.19, and while it is evenly valued now, the company has a lot of momentum and strong long-term returns.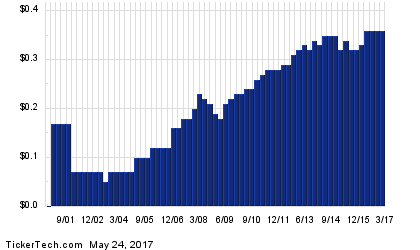 TU has seen rapid (but not consecutive) dividend growth from the early 2000s. From 2002-present the company has grown its dividend by over 370%. Simplywall.st states that currently "Dividends paid are covered by net profit (1.2x coverage), and dividends after 3 years are expected to be covered by net profit (1.4x coverage)."
Takeaway: Tellus is a fairly valued Canadian telecom dividend stock with very good long-term growth history. (Risk 1/5)
RDS.A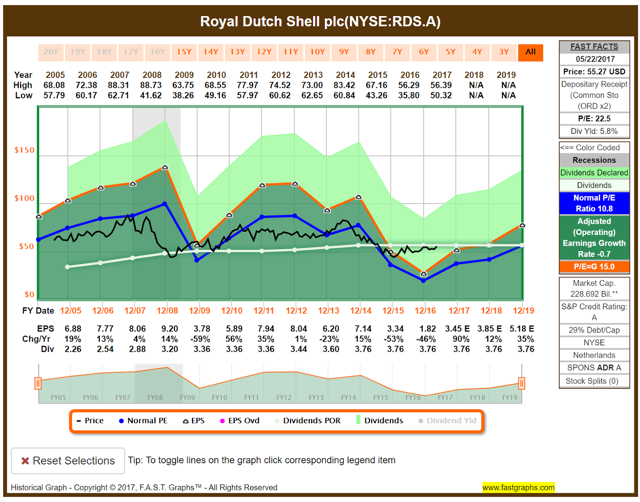 The Royal Dutch Petroleum Company owns 60% of the Royal Dutch/Shell Group of companies. These companies are involved in all phases of the petroleum industry from exploration to final processing and delivery. Its subsidiaries are engaged in the principal aspects of the oil and gas industry in over 80 countries, and are also engaged in bringing new oil and gas supplies on-stream from major field developments. RDS.A invest in growing its gas-based business through liquefied natural gas (LNG), R&D of new technologies and gas-to-liquids (GTL) projects. The company has a growing yield of 6.4%, increasing for over 6 consecutive years.

In one year the company has returned 19.93%, and 1-month has returned 7.08. The company experienced some loss in value in the 3-year category (5.71%), as the Oil and Gas Integrated industry dropped 6.69% due to economic strains. The company's 1-year target is $63.19. Analysts are optimistic for future growth, with 6/10 stating 'strong buy' according to Nasdaq.com.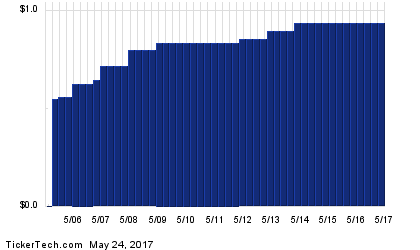 Looking at the dividend growth chart, we see a nice upwards trend of dividend growth. From 2005-present, RDS.A has grown their dividend by almost 70%. While the company has a payout of 105% now, "Dividends after 3 years are expected to be covered by net profit (1.1x coverage)," states Simplywall.st. In addition, the stock value is projected to grow in the future due to R&D and being a leader in their industry.
Takeaway: This is an undervalued stock in the Gas and LNG industries with projected growth and an attractive dividend yield. (Risk 2/5)
TGT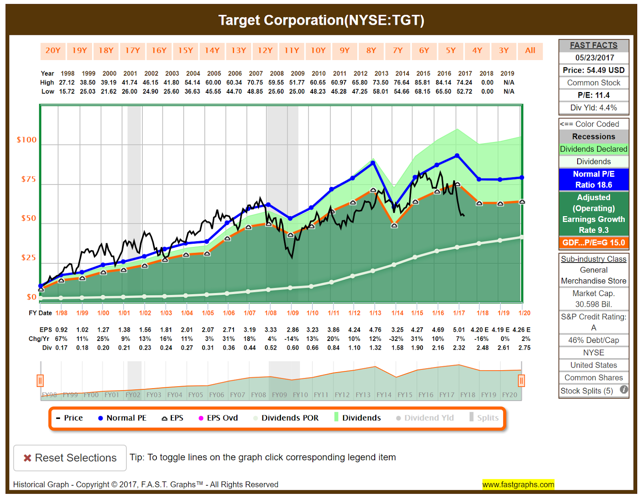 Target sells a range of general merchandise and food. The majority of TGT's general merchandise stores sell an edited food assortment, including perishables, dry grocery, dairy, and frozen items. Target's digital channels include a range of general merchandise, including items found in the company's stores, along with a complementary assortment such as additional sizes and colors sold only online. As of Jan. 2017, Target had 1,802 stores in the U.S. The company yields a quick growing 4.43%.
Return for Target is not very good. Though 3-year, 5-year 10-year and 15-year return are positive, they do not outperform the Retail industry and S&P 500, and in 1-week, month and year returns are negative. In addition, sales have been sliding down.
However, Target could be poised to be a good turnaround dividend stock. Despite its recent drop in value, effecting 2018's estimate, the company could see growth into 2020. In addition, the company has a strong upwards growth trend from 1998-present and a $7B capital investment was announced by management earlier this year to grow sales and earnings. "Investment in Target will come with its share of risk, but if the company can recover from its topline problem, investors can expect handsome capital returns and dividend payouts in the next few years," states the article.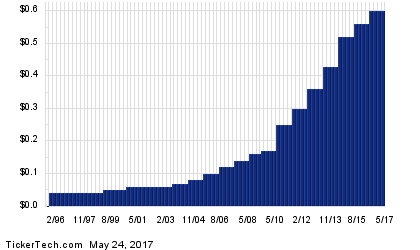 Looking at Target solely from a dividend standpoint, it is outstanding. They yield 4.43% while having a low payout ratio of 57.6%. In addition to this sustainable yield, it has a history of rapid dividend growth (49 consecutive years). From 1995-present they have raised their yield more than 1520%. According to F.A.S.T. Graphs, dividend yield could grow to 5.6% by 2021.
Takeaway: Though Target is weak in returns, it is amazing in dividends. If the company can get its act together, investors could see massive returns. (Risk 4/5)
SO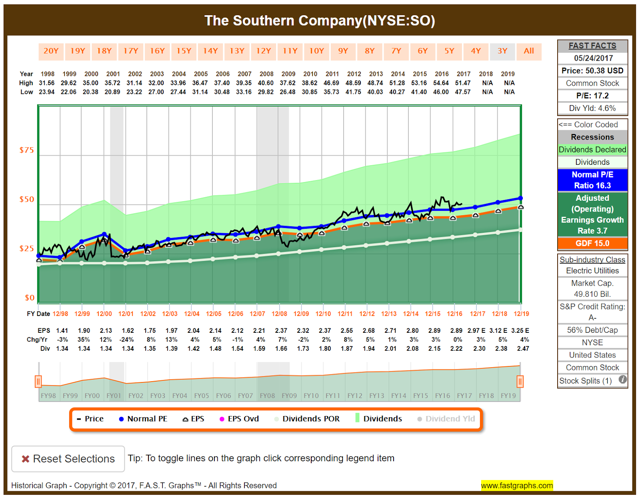 Southern Energy acquires, develops, builds, owns and operates power production and delivery facilities and provides a broad range of energy-related services to utilities and industrial companies in selected countries around the world. Through its subsidiaries, Alabama Power Company, Georgia Power Company, Gulf Power Company and Mississippi Power Company, the company provides power and utilities to over four states. The company yields 4.61%, with a sustainable payout ratio 78.1%.
Being a utility stock, the company has good positive returns but no rapid growth. 15-year return is 7.03%, and 3-year return is 9.75%. Both pretty much match the S&P 500 growth but are a little less than industry returns. Utilities aren't known for short-term returns, but SO has positive values in all categories. 3-month return is 0.92% and 1-month return is 1.62%. This stock is a long-term investment, with a consistent upwards trend since 1985. Its shares are expected to continue upwards growth into the next decade.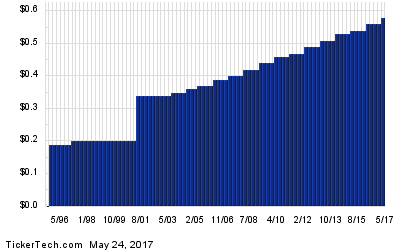 Looking at the dividend history chart, The Southern Company has consistently raised dividends since 2002, for 15 years at a fairly quick rate. Since then the dividend has increased 73% and if the upwards trend continues investors could see a dividend yield of 6.7% by 2026, according to F.A.S.T graphs.
Takeaway: The Southern Company is a fairly safe stock to buy and hold, has good returns and dividend growth. (Risk 1.5/5)
GSBD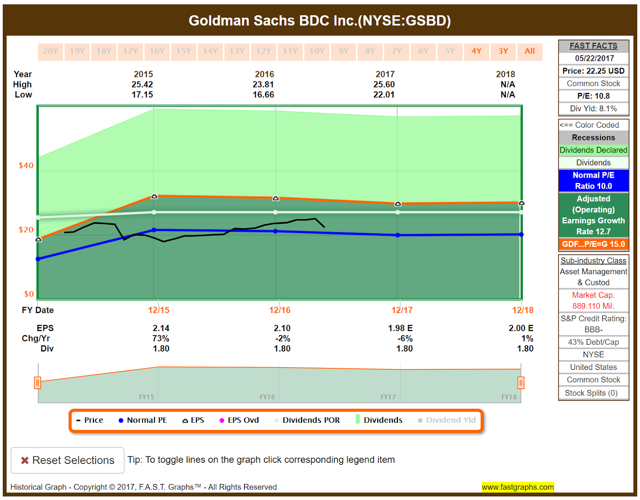 Though GSBD could see a small decrease of 1-2% in the coming years (predicted by the F.A.S.T. Graph P/E ratio), the company has a good, steady dividend yield. Goldman Sachs BDC is a specialty finance company focused on lending to middle-market companies. The company is a closed-end management investment company that has elected to be regulated as a business development company under the Investment Company Act. They invest primarily in U.S. middle-market companies, by loans. In many cases, Goldman Sachs BDC is the sole investor in the loan or security in its portfolio. They choose to be treated as regulated investment companies ((RICs)) for tax purposes, meaning that they must distribute at least 90% of their taxable income to shareholders, like a REIT. The company has an 8.03% dividend yield and a payout ratio of 91.8%, which is lower than most BDCs.
GSBD's IPO was in March 2015, and after experiencing a post-IPO drop had a pretty stable return. As seen in the F.A.S.T graph, P/E has remained pretty stable and is expected to do so continuing into the future. If you invested on the date of the public offering, you would have had a return of about 6%. 1-year return was 22.73%, but 1-month return was -9.20%.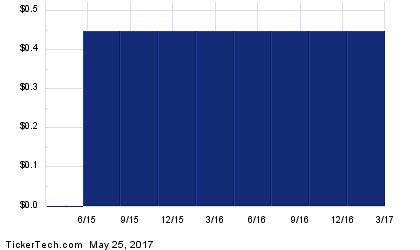 Since IPO in 2015, the company has kept a constant dividend yield of around 8%.

One of the main selling points of GSBD, and other BCDs are that most must distribute at least 90% of their taxable income to shareholders. As the company grows so will the dividend, as seen in the Earning Yield Estimates chart. By 2026, we could see a dividend yield of 11.8% and a related increase in value.
Takeaway: GSBD could be a good stock for capital return, and could see massive dividend growth. (Risk: 3.5/5)
VZ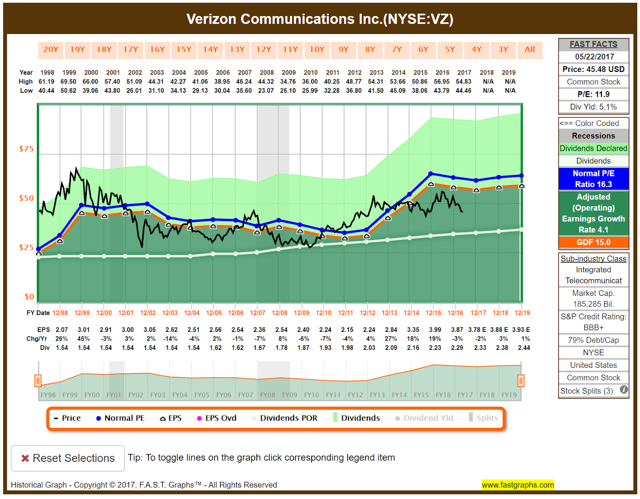 Verizon Communications, formed by the merger of Bell Atlantic and GTE, is one of the world's leading providers of high-growth communications services. Verizon's business can be broadly classified into two categories - wireless operations (86% of EBITDA) and wireline operations (14%). The company is also expanding into fast-growing areas such as the Internet of Things and managed security. The company currently yields a growing yield of 5.10%.
5-year return is 6.20%, but one month return is -4.57%. In the short-term, investors could be seeing an investment opportunity, and in the long term, the stock is good for buy and hold.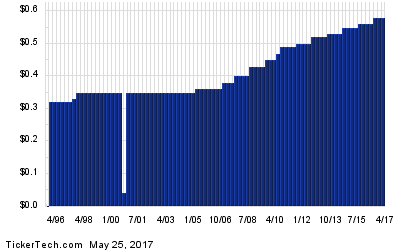 One of the main selling points of Verizon is its dividend data. Verizon's dividend has grown by 4.5% per year over the last decade, and while annual dividend growth has decelerated to closer to 2% more recently, Verizon's dividend will likely continue growing by 2% to 3% per year. For the future, acquisitions could fuel the company's future growth. They acquired AOL in 2015 and Yahoo! recently. Also, Verizon outbid AT&T with an all-stock deal for high-band spectrum owner Straight Path Communications.
Takeaway: Verizon is a mature telecom company that offers a great dividend. The company could see future growth due to recent and upcoming acquisitions. (Risk: 2/5)
Disclosure: I am/we are long VZ, TU. I wrote this article myself, and it expresses my own opinions. I am not receiving compensation for it (other than from Seeking Alpha). I have no business relationship with any company whose stock is mentioned in this article.
Additional disclosure: Investors should not make a decision to go long in any of these stocks based simply off the article. Please do extra research and fully understand the risks before investing.