America is on the cusp of a second shale oil boom, but you don't need to bet the farm on a wildcat well in order to make money.
Regular readers know I like "pick and shovel" companies to profit from a commodity boom. These firms don't bet everything on one project. Instead, they provide vital tools and services to an entire industry.
For investors, this can make for a far safer and surer way to profit. If an oil driller hits a string of dry holes, shareholders can get wiped out. Suppliers, though, can make money no matter who hits a gusher. It's the "sleep at night" way of investing.
Case in point: Plains All American Pipeline, L.P. (NYSE: PAA). This partnership owns thousands of miles of pipelines across the United States. And while most people try to strike it rich on the companies searching for oil, I prefer this picks and shovels play for a couple of reasons.
The Best Dividend Growth Stock of 2017?
First, we're on the verge of a second Texas oil boom.
American oil output peaked last year after the drop in energy prices. Drillers, though, have squeezed a lot of the costs out of their business, so many of these fields work even at low spot rates. This change recently forced the U.S. Energy Information Administration to hike its forecast for American oil production, with output now expected to average 10 million barrels a day in 2018.
Ground zero of this oil boom? The West Texas Permian Basin. Since 2007, Permian output has grown 60%, pushing the region past the Gulf of Mexico as America's leading oil field. Today, one out of every four barrels of the country's crude comes out of the area.
This might just be the beginning. Early estimates show the field could contain some 160 billion barrels of oil equivalent, according to Midland driller Pioneer Natural Resources (NYSE:PXD). You can write this claim off as just a producer trying to hype up their stock. But even if the Permian only lives up to a fraction of this hype, the field could still rank as one of the largest in the world.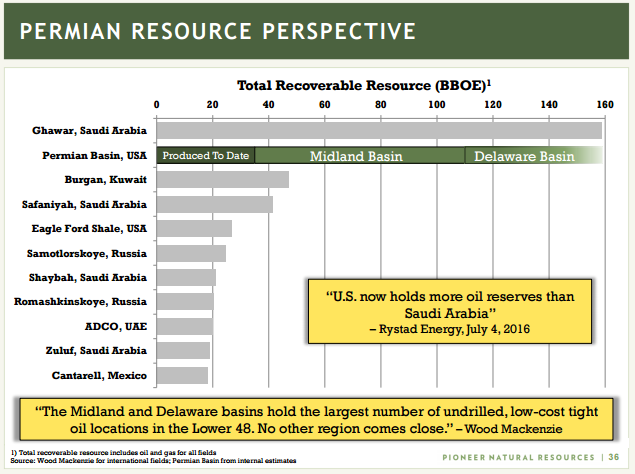 Source: Pioneer Natural Resources Investor Presentation
For suppliers, the rebound in production is great news. The boom has created a shortage for everything from rig hands to truck drivers. U.S. Silica Holdings Inc. (NYSE:UCLA) has seen the price of fracking sand hit $35 per ton, up 20% from last year.
The rebound has also created a dire need for new energy infrastructure. West Texas oil production is about to surpass current storage space. Some analysts have predicted output could overtake pipeline capacity by the end of the year.
Plains has positioned itself right in the middle of this boom.
The partnership owns thousands of miles of pipelines across the Midwest. This is the infrastructure that ships, stores, and processes much of the oil our country uses everyday.
Most of these assets are concentrated in Texas. Plains owns a number of pipeline routes connecting oil fields in West Texas to refineries on the Gulf of Mexico. Like a toll bridge owner collecting fees, PAA will earn more income as the number of barrels flowing through these routes increases.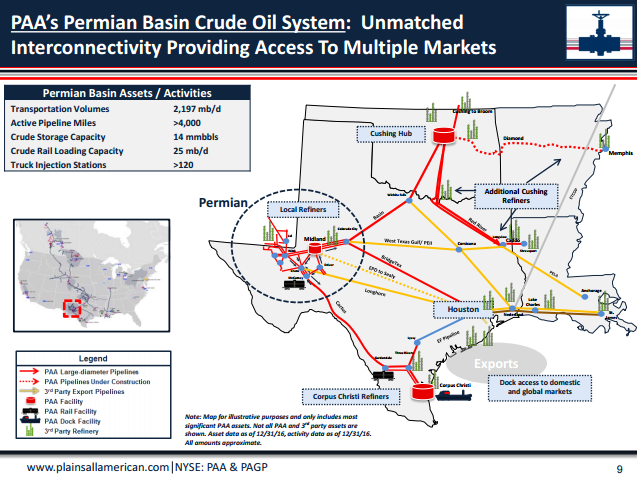 Source: Plains All American Investor Presentation
Management continues to build out operations in the area. Executives have spent millions to expand their BridgeTex and Cactus pipelines. In February, management closed a $1.2 billion acquisition of the Alpha Crude Connector network.
Furthermore, the partnership recently entered into a 50/50 joint venture deal with Noble Midstream Partners LP (NYSE:NBLX). These pipelines move 150,000 barrels of crude each day between the southern Delaware Basin from Reeves County to terminals in nearby Crane County. With nearby production surging over the past year, these routes will become increasingly important going forward.
You can already see this growth in the company's financial results.
During the first quarter, revenues topped $6.6 billion. This figure was up 62% year-over-year. Management upped their guidance for distributable cash flow to $1.5 billion for full-year 2017, up 9% from what the partnership earned last year.
"Producer activity levels in almost every area are ahead of levels included in our outlook at the beginning of the year, especially with respect to the Permian Basin," the company wrote in their press release.
"Consistent with our outlook, we are seeing increased interest from potential shippers for pipeline space currently available on our existing assets as well as for incremental pipeline capacity at rates that provide us an attractive return. All of this reinforces our outlook and confidence in a back-end weighted improvement during 2017 in our fee based growth and that we remain on-course for a meaningful increase in year-over-year performance in 2018 and beyond."
Most of these cash flows should get passed onto shareholders. Today, Plains pays a quarterly distribution of $0.55 per unit, which comes out to an annual yield of 8.2%. This payout will likely get bumped as those higher profits roll in, providing a possible catalyst for the partnership.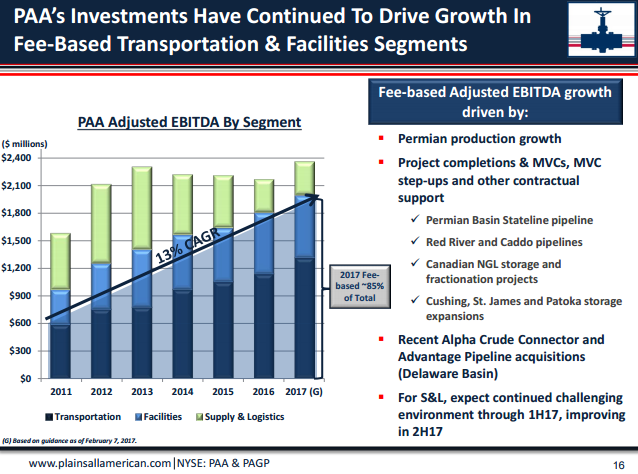 Source: Plains All American Investor Presentation
Of course, no thesis is fool proof.
Lower oil prices could cut into profits. The partnership's recent dividend cut is a big red flag for investors.
That said, I'm not too worried. Plains derives most of its profits from fee income. This depends more on the volume of crude flowing through its network, not the price. So while a slow down in the energy patch could crimp growth numbers, oil prices don't have the same impact on earnings like a drilling company.
No doubt the recent dividend cut was disappointing. Management overextended themselves during the last boom. Executives saddled the partnership's balance sheet with too much debt, which became a big problem after a small drop in pipeline volumes.
Plains, however, has swallowed a lot of tough medicine.
Management cut debt, raised new equity, and sold off non-core assets. These efforts have left a smaller, but more sustainable business from which executives can begin a new expansion.
The Bottom Line on Plains All American
Everything's bigger in Texas - including, it seems, the oil fields.
The Permian Basin will likely be the biggest growth story of the next 10 years. As dividend investors, however, we don't have to bet on the wildcatters searching for the next gusher. Pick and shovel plays like Plains All American make for a far safer and surer way to profit.
Disclosure: I/we have no positions in any stocks mentioned, and no plans to initiate any positions within the next 72 hours.
I wrote this article myself, and it expresses my own opinions. I am not receiving compensation for it (other than from Seeking Alpha). I have no business relationship with any company whose stock is mentioned in this article.