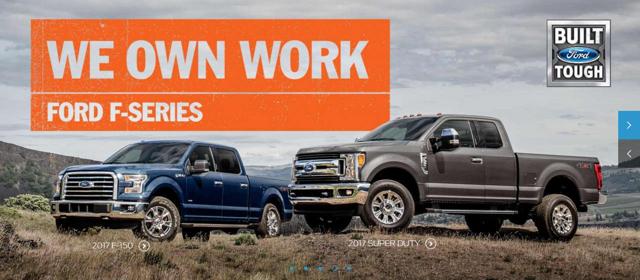 Source: Ford website
Recently, there has been a lot of news coverage about Ford Motor Company (NYSE:F), and there are many excellent articles on Seeking Alpha already, so I will not duplicate the headlines here. Instead, this article's focus is to provide an asset allocation view of why Ford's stock has underperformed.
On many fronts, Ford's business looks like it has outperformed over the last two years. A partial list of their achievements includes:
In 2016, launched 11 new products including all-new Super-Duty, Focus RS, and Lincoln Continental.
Had credit ratings upgrades from Moody's, Fitch, and DBRS.
In 2016, generated $12.9 billion in free cash flow.
Made significant investments in electrification, autonomy and mobility.
Source: Ford Motor's Deutsche Bank Global Automotive Conference presentation
So, why has the market reacted to the stock over the last year? Ford's share price was stuck in a range, and has then dropped 20% since March.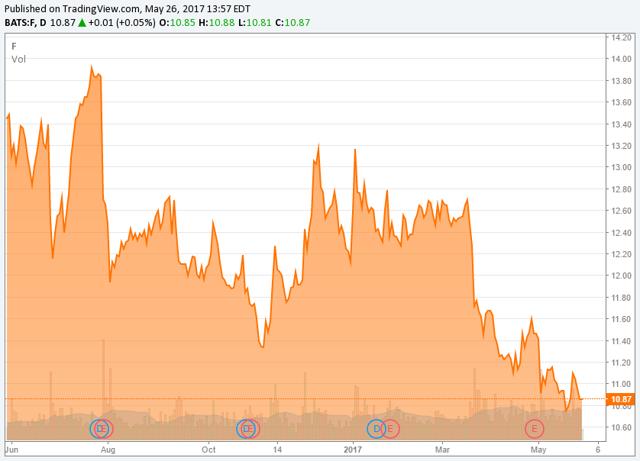 My valuation thesis is that the market is punishing Ford for being an inefficient asset allocator by returning too little cash to shareholders and recycling too much money into its low-return cash and Ford Finance assets.
Ford's Financial Performance and Where Does the Cash Go?
First, let's review Ford's financial performance. I think the best way to evaluate industrial companies like Ford is looking at Free Cash Flow (FCF). FCF is defined as the difference between Cash Flow From Operations (CFFO) and Cash Flow For Investments (CFFI). In plain English, this is what a business generates by selling its products, after paying for producing the products, paying workers, rent, interest, and other overheads, paying taxes, and reinvesting capital to maintain its business. The remaining cash is termed "Free Cash Flow" because it is what is left over for the owners of the business to either withdraw from the business (in the form of dividends) or make new investments to grow the business.

Source: Ford SEC Filings and author's calculations
The FCF is the green-tinted Row C of the table above, and it is just the difference between the CFFO (Row A) and the CFFI (Row B). So what did Ford do with their FCF? That is shown in rows D, E, F, and G. Taking 2016 as an example (the right-most row), here is how to interpret the "story" of where the cash came from and where it went:
$12,862 million was produced as Free Cash Flow by the business (C);
$9,465 million was raised by net borrowing from the market, or Treasury Operations (G);
$17,173 million was used to purchase vehicle financing debts (D);
$3,376 million was paid to shareholders as dividends (E); and
$145 million was used to repurchase stock.
As you can see, most of cash in 2016 was used for vehicle financing for their Ford Finance business. There is nothing inherently wrong with the Ford Finance business. In an earlier article on GM, I explained how the liabilities of the captive automotive finance arms are covered by the assets and of the finance arm and thus do not pose a material risk to the parent auto companies within the range of credit and vehicle resale value risks that we are seeing in the market. This is also true of Ford, as they manage their finance arm as conservatively as GM does, maintaining a significant asset cushion.
The Asset Allocator's Choice - Ford Compared to GM
In the section above, we saw that for 2016, the majority of cash went into the vehicle finance business. In order to see the impact over time of that asset allocation decision, I have produced the following table that shows the cumulative cash flows since 2015 Q1.

Source: Author's calculations
We can see that Ford's investment cash flows were allocated 85% ($39 billion) into vehicle finance, 14% into dividends ($6.55 billion) and 0.6% into share repurchases ($274 million). The sources of their funds were roughly evenly split between FCF (47%) and borrowing via Treasury Operations (53%). The net increase of their cash balance was $7.1 billion. The percentage of FCF paid out as dividends and share repurchases was 24.4%, with the balance going into increasing the cash balances and vehicle finance assets. So, from a financial perspective, Ford is a conservatively run enterprise.
To contrast Ford's conservatism, let's take a look at the same table for GM. By contrast, GM has paid out 103% of its FCF to shareholders via dividends and share repurchases. The increase in its vehicle finance asset base was funded by treasury operations (increase in debt) and by reducing their cash balances by $5.6 billion.

So, why is it bad for Ford to be run in a financially conservative fashion? It all has to do with cost of capital. In today's market, vehicle debt assets will yield about 3%, and cash will yield less than 1%. This compares unfavorably to the 20% return on investment targeted by other car makers. By my calculations, Ford has allocated over $21 billion of its excess FCF over the last two years into these two low-yielding investments.
Summary and Investment Thesis
Ford's business has had outstanding performance in terms of products, sales, profitability, and free cash flow. However, the market has not rewarded this performance in the valuation of its stock price.
While there are many possible explanations for this underperformance, one key contributor is Ford's capital allocation strategy. Ford has adopted a conservative financial management approach to allocate a significant part of its free cash flow to build its asset base in low-yielding cash and automotive finance assets.
While this asset allocation strategy will give Ford significant financial flexibility in scenarios of extreme market disruption events, as was experienced during the Great Recession crisis years of 2008-9, this has the knock-on effect of reducing Ford's average return on invested capital.
As Ford Motor Company is effectively controlled by the Ford family via their B shares with 40% of the voting power, it seems likely that this conservative financial management strategy was approved by the Ford family shareholders. Therefore, Ford will likely remain a dividend play with limited share price appreciation potential due to their financial strategy of targeting a relatively stable dividend payout, providing a fractional payout of FCF to shareholders, and deploying significant FCF to low-yielding assets.
Disclosure: I/we have no positions in any stocks mentioned, and no plans to initiate any positions within the next 72 hours.
I wrote this article myself, and it expresses my own opinions. I am not receiving compensation for it (other than from Seeking Alpha). I have no business relationship with any company whose stock is mentioned in this article.
Additional disclosure: I have a long position in GM common shares.