Company Introduction
Transocean Ltd. (NYSE:RIG) is the largest offshore drilling company by market cap at $3.5 billion. The company, like most offshore drillers, is unable to sign any new contracts for its rigs and jack-ups after oil collapsed from $100+ in 2014. However, Transocean is in a strong financial position and poised to survive the downturn for at least a few years. Speculative investors looking for offshore exposure may wish to consider starting a small position at the current valuation.
Company Facts
· Share price: $9.56 per share
· Cash on hand: $3.1 billion
· Current debt: $927 million
· Quarterly Contract Revenue: $785MM (decreasing from $974MM Q4 16)
Contract Situation
Transocean's current contract situation is becoming very worrisome in its latest fleet status report. The company has a total of 70 vessels, and approximately one third of them are idle, one fourth expires within the next six month, and the last forty percent are long term contracts capable of generating revenue beyond 2017.
| | |
| --- | --- |
| Total Vessels for Transocean | 78 |
| Stacked and Idle Vessels | 28 |
| Expiring within 6 months | 19 |
| Long term contracts lasting until at least January 2018 | 31 |
*Expiring contracts will be a big challenge for Transocean as the company will experience decreasing revenues even though it is barely breaking even currently.
Based on these figures, it can be predicted that Transocean's contract revenue, currently sitting at around 785 million, will decrease by about a third going forward. With this in mind, here are the predictions for Transocean's income statements going forward:
| | | |
| --- | --- | --- |
| Quarterly Report | Revenue | Net Income |
| Q3, Q4 2017 | $675MM | $0 |
| Q1 2018 | $518MM | ($70MM) |
| Q2 2018 | $485MM | ($90MM) |
| Q3 2018 | $450MM | ($100MM) |
Predictions on Transocean's income statements - not looking great but can still hold on for a few quarters.
Debt, Liabilities, and Capital Expenditure
Transocean has $10.8 billion in total liabilities, in which $1.45 billion are due within a year. Given that the company has $3.1 billion cash on hand and around $80 million in net income per quarter, it will not have any problems servicing its debt for the next year.
Of course, the company is also devoted to building ships, and it will spend a total of $200 million for the rest of 2017. However, the capital expenditure will drop to ~$100 million for the two years thereafter, which significantly helps Transocean's financial situation. Refer to the snapshot below for Transocean's capital expenditure plans in its new build forecast: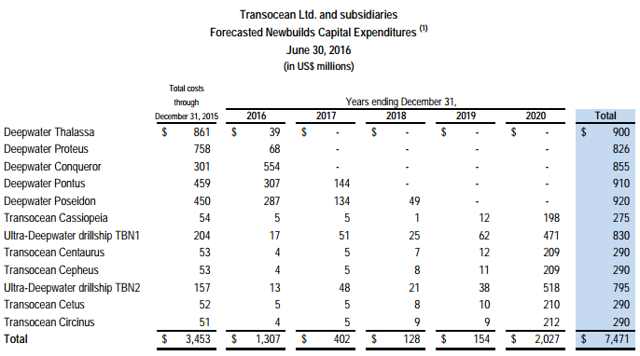 Transocean's expenditure plans. Notice how it does not plan to spend much during 2018 and 2019, which helps the company's bottom line.
Current Oil Prices and Transocean beyond 2017
Currently, oil is trading near $54 for Brent. Unfortunately for the company, an additional oil recovery in the next 12 months is expected to be limited, and oil is expected to stay between $55 and $60 per barrel for the next 12 months.
Supporting this view are NYMEX future prices and the U.S. Energy Information Agency's prediction for oil prices for the next 12 months. The image below shows the predicted future price curve stalling around $56 to $60 for the next year.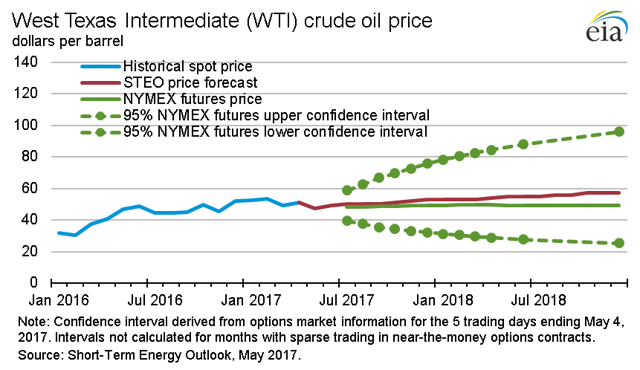 The IEA predicts a flat oil price for the next 12 months - stabilizing near $56 Brent.
Transocean's finances will turn for the better from 2017 and onwards. For one, Transocean will scale back capital expenditures from 2017 to 2019. In fact, there are almost no expenditures during these three years, which significantly helps the company avert any unforeseen circumstances in the oil market.
Conclusion
The offshore drilling industry has been hammered by the recent crude downturn, and Transocean has been part of the bloodbath. However, the company is well capitalized compared to its competitors. In closing, Transocean is in a good position to survive the downturn, and speculative investors looking for offshore exposure may want to purchase now.
Disclosure: I/we have no positions in any stocks mentioned, and no plans to initiate any positions within the next 72 hours.
I wrote this article myself, and it expresses my own opinions. I am not receiving compensation for it (other than from Seeking Alpha). I have no business relationship with any company whose stock is mentioned in this article.