The MLP index pushed higher Monday and Tuesday to reach its highest point since 5/2, before falling back again the last 3 days of the week on weaker oil prices and due to the challenge of funding a large equity deal on a Friday before a long weekend.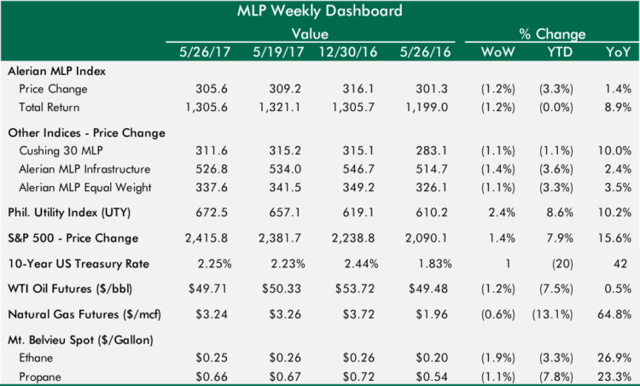 Now that OPEC is behind us, and now that we've had 7 straight weekly declines in U.S. oil inventory, expect sentiment for energy stocks to improve from here (can't get much worse). Oil prices in the $50-60/bbl range seem to "work" in terms of U.S. oil production growth. U.S. production growth benefits midstream as a whole.
Growing confidence in U.S. production growth outlook makes climbing the wall of negative midstream sentiment less macro and more sector-focused. Capital discipline and rationalization of spare infrastructure capacity balanced against efforts to protect existing and future market share.
The MLP version of the "Plunge Protection Team" can only do so much without a change in sentiment that leads to a renewal of MLP interest and a ramp-up of fund flows. In the absence of new flows, every MLP has to compete for limited capital and may feel the need to take drastic measures to shove their way to the forefront. Like NuStar Energy (NYSE:NS) did with its splashy Permian acquisition, like Targa Resources Corp. (NYSE:TRGP) did with its equity deal this week, and like Trump did when he shoved a lesser NATO member out of the way before a group photo in Brussels this week.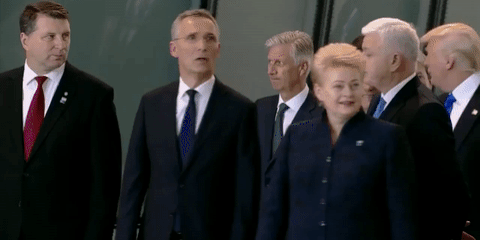 Betting Futures
Sentiment in midstream may hinge on a second half recovery that shows growth in cash flow per share, as opposed to the profitless recovery to date. That leaves the sector in something of a limbo period until that 2H2017 ramp. Investors are also being asked to pay to wait on that cash flow per share recovery as midstream capex ramps up again.
Dropdown MLPs struggled in the second half of the MLP downturn - the capital markets-driven portion of the downturn - because their business models depend explicity on access to capital. But it was not just their reliance on capital markets that hurt them, it was their willingness to issue equity at prices much lower than their current price. It was the reality that dropdowns would still be accretive - the math still worked even if their unit prices were 20% lower than their prior equity deals, and the market knew it.
If you are trading at 18-20x EBITDA and buying cash-flowing assets for 8-10x, then you don't really mind if you trade down to 15x and issue equity there. Your cost of capital still makes the dropdown "accretive."
This has bled over into non-dropdown MLPs now that they are ramping capital expenditures back up. If you have a 6-8x EBITDA project, issuing equity at a 10-11x multiple still works, even if you were trading at a 13-14x multiple just a few months before.
The chart below shows equity deals in the midstream sector since Sunoco Logistics Partners' (NYSE:SXL) offering to fund a Permian acquisition in September 2016. SXL stock purchased in that deal is down 15%+ since then, not counting the 7.4% discount if you bought just before the deal. Other MLPs have fared better, some worse, but overall MLP deals have traded better than corporate deals. The deeper pool of capital available to 1099 issuers has been tested this year with massive equity deals at tighter discounts and that have traded worse than MLP deals.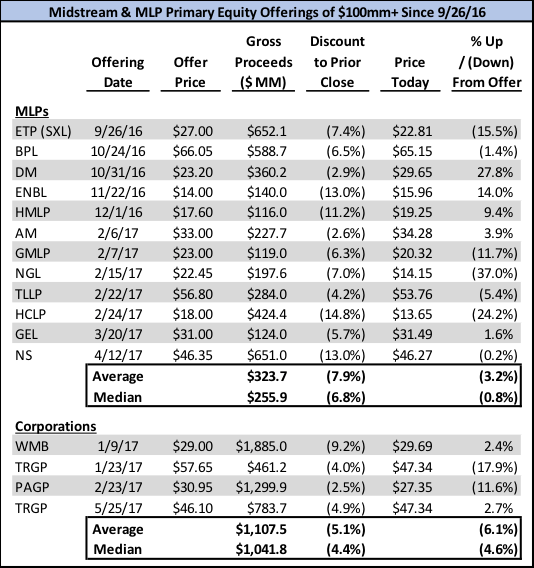 The cost of carry for high-multiple M&A and low-multiple (but long-dated) growth projects is borne by shareholders, and eventual accretion is likely to be masked by other strategic moves in the interim. This is nothing new for MLPs (MarkWest Energy Partners (NYSE:MWE) at the beginning of this decade comes to mind).
The timing doesn't help MLP sentiment, however, when investors are asked to bear the burden of additional growth projects despite not yet seeing a fulsome recovery with existing assets. It's basically the inverse of what Wimpy used to say in Popeye: "Pay me today for a (probable) hamburger Tuesday."
Competitive dynamics and market share concerns make offensive/defensive growth efforts imperative, sparking a movement towards greater scale, integration and insourcing of volumes. With a finite amount of investor capital, these big strategic moves will eventually lead to winners, losers and sector rationalization, but the weeding out process may take much longer and prove more costly to the eventual winners than I would have guessed 2 years ago.
This environment can actually be very good for stock picking because the stakes are so high. Even if it takes a long time, the eventual winners will be integrated operators with scale and access to capital that should put the sector on much firmer footing over the long term.
Winners and Losers
SunCoke Energy Partners (NYSE:SXCP) led the sector this week as the only MLP up 5%+. SXCP's only news was the successful tender of 2020 notes with proceeds from recently issued notes due 2025. World Point Terminals (NYSE:WPT) was positive on a revised offer from its sponsor. Teekay LNG Partners (NYSE:TGP) and Teekay Offshore Partners (NYSE:TOO) bounced a bit after last week's carnage.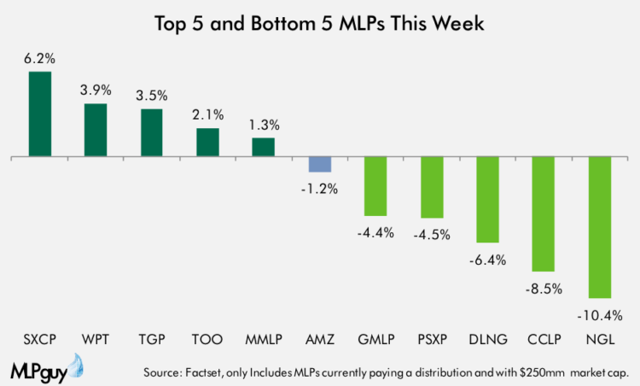 On the downside, NGL Energy Partners (NYSE:NGL) dropped another 10.4% despite meeting its pre-announced quarterly EBITDA in results released this week, as leverage remains a concern for the market. CSI Compressco (NASDAQ:CCLP) made it two straight weeks near the bottom of the group.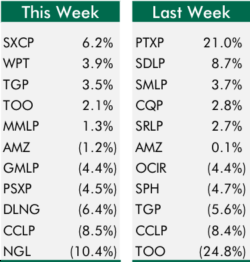 Year-to-Date Leaderboard
No change to the group at the top of the sector as compared with last week. On the downside, Enbridge Energy Partners (NYSE:EEP) continues to climb out of the hole as other MLPs falter. NGL's decline this week dropped it into second to last for the year so far.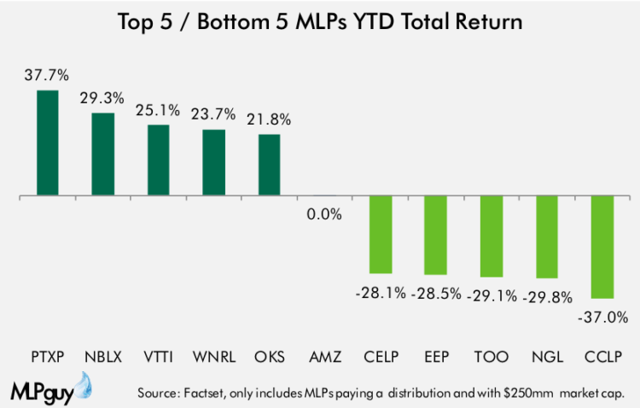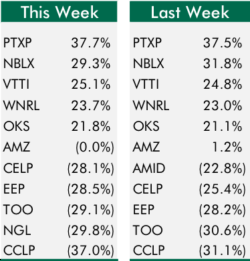 General Partners and Corporations
GPs and midstream corporations were roughly in line with MLPs this week, with the median down 1.4%. Only 3 out of the group were positive, with Antero Midstream GP LP (AMGP) as the clear outlier after a rough initial few weeks after the IPO. TRGP was the worst performer before its equity offering, which solidified its spot at the bottom. Other high beta names Plains GP Holdings (NYSE:PAGP) and Energy Transfer Equity (ETE) struggled with weak oil prices.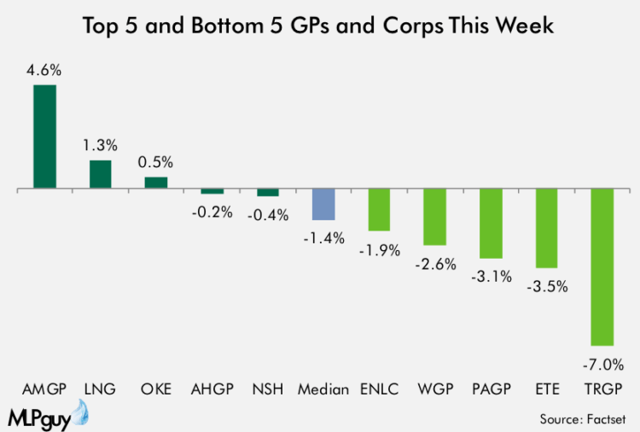 Cheniere Energy (NYSEMKT:LNG) and ONEOK, Inc. (NYSE:OKE) made it two straight weeks in the top 5, while EnLink Midstream (NYSE:ENLC) and Western Gas Equity Partners (NYSE:WGP-OLD) made it two straight weeks in the bottom 5.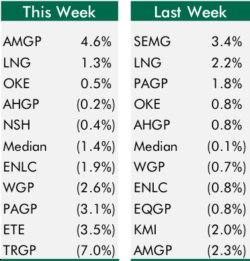 News of the (MLP) World
It ended up being a pretty busy week for news after a slow start. Kinder Morgan Canada (KML) priced its IPO and announced FID on its Trans Mountain Expansion, TRGP threw down an NGL pipeline gauntlet along with a boat load of equity, and Crestwood Equity Partners (NYSE:CEQP) announced incremental developments with its Permian plans. Also, Plains All American (NYSE:PAA) updated its outlook at its Analyst Day.
Capital Markets
KML priced its IPO of 102.9 million shares at C$17/share, raising C$1.75 billion in gross proceeds (press release).

The price is below the original prospectus price range of C$19-22, but the number of shares increased from the original range of 79.5-92.1 million, keeping proceeds unchanged.
Kinder Morgan (NYSE:KMI) will retain about 70% ownership in Kinder Morgan Canada, compared to previous plans of 75% at the higher price.
KMI announced FID for the TMX expansion, which had a financing contingency that has now been satisfied.
The IPO is expected to close no later than May 31.
TRGP priced a public offering of 17 million shares at $46.10/unit, raising $783.7 million in gross proceeds (press release).

Overnight offering, priced at a 4.89% discount, and traded up 2.7% in the following session.
The net proceeds will be used fund ongoing capital expenditures, including the Grand Prix NGL pipeline announced this week (see below).
TC PipeLines (NYSE:TCP) priced an offering of $500 million of 3.90% senior notes due 2027 at 99.35% of par (press release).
Growth Projects / M&A
TRGP announced plans to construct a new NGL pipeline ("Grand Prix") from Permian Basin to Mont Belvieu, Texas (press release).

The pipeline will be supported by Targa's volumes and other third-party customer commitments with an expected in-service date of 2Q19.
A capacity of 300k bpd, expandable to 550k bpd.
The total cost is expected to be approximately $1.3 billion, with $250 million of spending in 2017.
CEQP announced a contribution of Willow Lake assets to Delaware Basin Joint Venture with First Reserve and expansion of processing capacity (press release).
PAA announced extension of open season for Permian Basin to Cushing pipeline to 6/9/17 (press release).
Navios Maritime Partners (NYSE:NMM) acquired five 4,250 TEU container vessels from Rickmers for $59 million (press release).
WPT received a revised bid of $17.30/unit from its sponsor to acquire all outstanding units, a 3.0% increase from the price offered in April of $16.80/unit (filing).
Others
WES and WGP named Jaime Casas CFO, effective immediately (press release).
Sanchez Production Partners (SPP) announced name change to Sanchez Midstream Partners, with new ticker symbol SNMP (press release).

Just in time for the MLP conference next week.
An explosion at an oil tank owned by Anadarko Petroleum Corp. (NYSE:APC) killed one and injured three in Colorado (Denver Post).

APC was already under scrutiny for owning the well linked to the deadly Firestone house explosion in April 17.
Ongoing scrutiny of oil and gas activities in Colorado is worth paying close attention to as investigations continue.