The big banks are a staple investment here in Canada. The TSX is dominated by huge, high flying names such as Royal Bank (NYSE:RY) and Toronto Dominion (NYSE:TD). These are phenomenal institutions. Likely if you ask any retail Canadian investor to name a bank, CIBC (NYSE:CM) doesn't come to mind, and for good reason. It's the smallest of Canada's big five retail banks. It comes with a history of underperformance relative to its peers. And most recent on investor's minds, it made a questionable acquisition of PrivateBancorp (NASDAQ:PVTB) for US$4.9 billion. With that said, the smallest of Canada's big 5 delivered another knockout quarter this month. EPS continues to grow at 10% YOY, and the bank is rightfully beginning to lose its status of being the disappointment of Canadian banking. Is it worth your investment?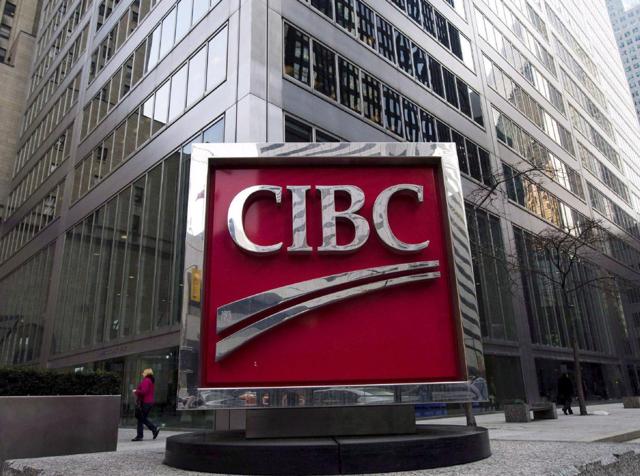 The PrivateBancorp acquisition should certainly be a concern to CIBC longs, a plethora of cheap stock was issued to cover the cost of an expensive US bank. CIBC was forced to raise the offer 3 times to close the deal. The third deal was forced to be made with a $3 per share boost, since CIBC stock had fallen 10% in the interim. While this is unfortunate, it should provide CIBC a platform for growth.
Let's examine the market's notion that CIBC has a history of failed execution. In 1999 under the leadership of John Hunkin, CIBC made one of the worst decisions a bank executive could make, he fired his customers. He reduced the number of CIBC's commercial lending business customers drastically. His intention was to reorient CIBC away from a commercial lender and instead target the higher margin investment banking business (read about it here). They killed off 100 year old relationships with commercial clients... Almost 2/3rds of CIBC's commercial bankers were let go. Many of these fired, experienced bankers in my neck of the woods,(Manitoba) now run the major credit unions. From the time of CIBC's shakeup to now have grown mortgage market share from 15% to 36%... CIBC's fighting like hell to gain back commercial lending market share, to little avail. History would seem to prove the market right on this one...
CIBC's management and longs would argue the PrivateBancorp purchase is about getting back to profitable growth. History would argue this point has no promise of coming to fruition. Canadian banking is a very different kettle of fish from US banking. My preferred pick in the Canadian banking sector, Royal Bank tucked tail and exited the US market in 2012 with a US$3 billion loss and a US$1 billion writedown. Their re-entry has proved somewhat more successful... It took the better run Royal Bank 16 years to develop a profitable US operation. Even if I wanted US banking exposure, CIBC is a horrible choice to get it. Assuming the acquisition goes well, the US operations will be a very small % of total revenue. TD has a HIGHLY profitable US operation that is doing phenomenal, has had better execution, less Canadian mortgage exposure, its multiples aren't even that much higher. You also don't need to be a rocket scientist that buying a bank that trades at near double the multiples of your company, and issuing stock to do it is dilutive to existing equity holders.
CIBC also has huge exposure to the questionably sound Canadian mortgage market.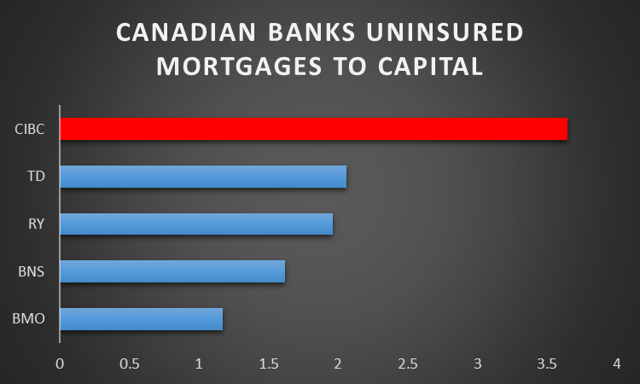 This exposure hit CIBC especially hard during the fallout of Home Capital Group (OTC:HMCBF), a Canadian uninsured mortgage lender. Now, Home Capital's collapse is more likely due to fraud then to bad mortgages, but it was enough to cause a ~8% correction in CIBC's stock in about a month's time.
Don't take my word for it? You don't need to. The market proves my point. CIBC is a chronic underperformer relative its Canadian banking peers.

Now with all this said. I see CIBC as a phenomenal value if its management stops shooting itself in the foot. The long case for the bank involves the knockout quarters its been putting out as of late. The bank trades dirt cheap too! While history paints CIBC as a loser, recent history paints a better picture.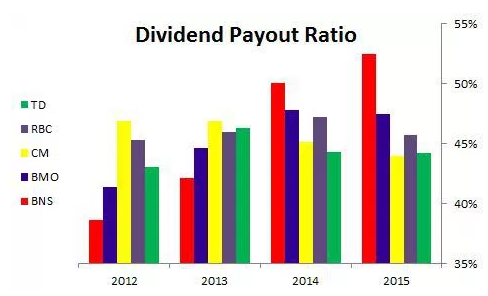 CIBC has kept its payout ratio low over the past years, while maintaining a yield near 5% (the highest of the Canadian banks.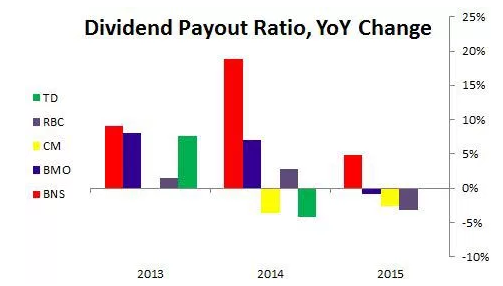 While growing its dividend aggressively over the past couple of years, CIBC is one of the few banks to consistently lower their payout ratio! Excellent! Recent earnings growth has blown past expectations, beating out many more expensive banks in terms of earnings growth!
With all these factors in play, I think that CIBC trades at a fair discount to its peers. While the higher yield and discounted multiples are tempting, its history of failed execution, expensive recent acquisition and overexposure to uninsured Canadian mortgages make CIBC a mixed bag... I myself have nibbled, but I'm wary to advise you make the same decision. IF CIBC continues to execute the way they have been, Canadian mortgages remain safe and the US bank works out, the bank could have a nice move in the coming years.
Disclosure: I am/we are long CM, TD, RY.
I wrote this article myself, and it expresses my own opinions. I am not receiving compensation for it (other than from Seeking Alpha). I have no business relationship with any company whose stock is mentioned in this article.
Additional disclosure: Thank you to the Financial Canadian for providing many of the useful graphs found in this article. Check out his article on CIBC's PrivateBancorp acquisition here. https://seekingalpha.com/article/4016239-cibcs-acquisition-privatebancorp-certainly-expensive-present-arbitrage-opportunity