It has been a wild ride lately for share holders of spirits producer Brown-Forman Corporation (NYSE: BF.B) (NYSE: BF.A). Shares spiked to new highs on reported rumors that the company had been approached about a take over by Constellation Brands (NYSE: STZ), most famous for its Corona and Modelo brands.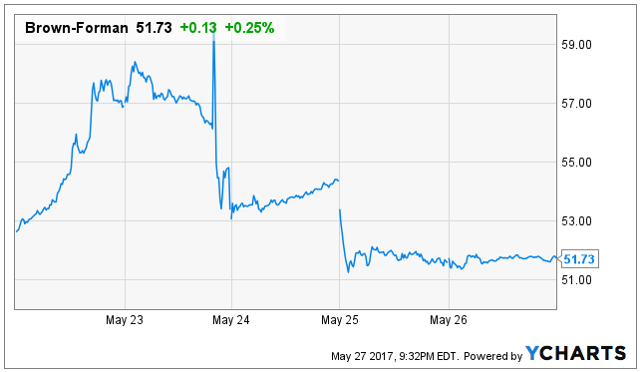 Shares settled down, after it had become known that the Brown Family turned down whatever Constellation Brands was offering. Share holders should be pleased by this news, as Brown-Forman's high quality brand portfolio, robust financials, and projected growth path make it a stock to buy and hold over the long term. There simply isn't a need for another company to come in, and "mess" with how things are already being done.
Brown-Forman is most known for its flagship brand Jack Daniels but in reality, the portfolio contains about 40 brands, with many that have competitive roles in the spirits market.

However, the heart of its portfolio is its whiskey brands. These brands include Jack Daniels, Woodford Reserve, and Old Forester among others. Jack Daniels has driven revenues as the flag ship brand of Brown-Forman with spin off brands such as its Single Barrel, Gentleman Jack, Tennessee Fire, and Tennessee Honey brands. Its Woodford Reserve and Old Forester brands have been growth drivers, with sales that have compounded annually at more than 20% each over the past five years. In all, Brown-Forman has managed consistent mid single digit revenue growth over the long term.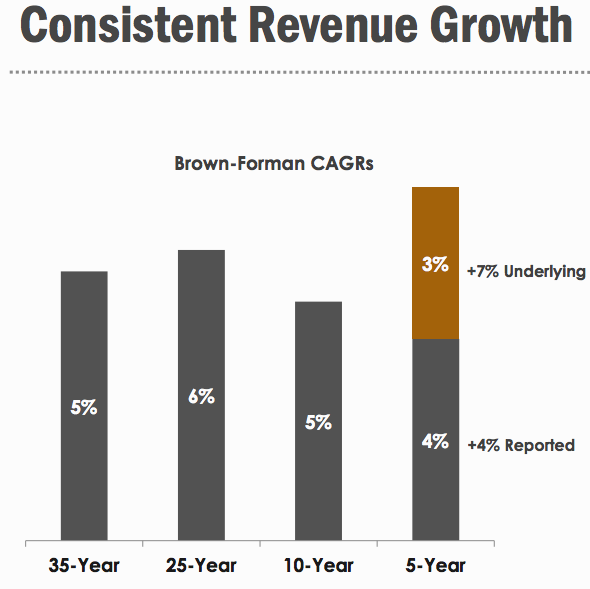 While revenues have grown, Brown-Forman has also successfully expanded its margins over time. The inelastic nature of alcohol, gives Brown-Forman the ability to use price increases to grow revenues, and increase margin without too much risk of hurting demand.
As an alcohol stock with strong brands, growing revenues, and expanding margins - Brown-Forman has seen consistent earnings growth. Over the past decade, earnings have grown at a CAGR of 7.24% per annum.
Brown-Forman diluted earnings per share from continued operations (excluding impact from sale of Southern Comfort brand):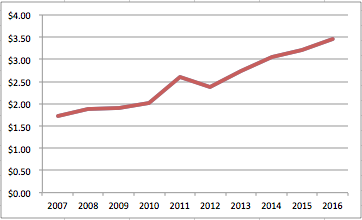 Brown-Forman is also a dividend champion. It has raised its dividend annually for 33 consecutive years and counting. Despite a 10 year dividend growth rate of 8.6%, the company has managed to grow earnings at a rate that has suppressed the payout ratio. The payout currently stands at a conservative ratio of 21% (based on 2016 earnings of $3.36 per share less impact of Southern Comfort transaction). Income focused investors may not appreciate the conservative dividend which has yielded 1.66% on average over the past decade. However, management is continuously putting its capital to work in various ways to ensure continued growth. All things considered, it should not surprise investors, that Brown-Forman has been a market beater for more than two decades.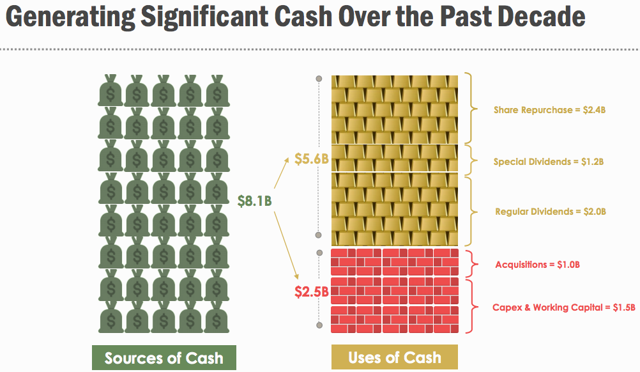 There is still room for more growth at Brown-Forman. The Jack Daniels family of brands is by far the most prominent within Brown-Forman's portfolio, at about 55% of volumes. There is still room for growth in the US, even as it holds the number one spot in market share. Brown-Forman invests heavily into advertising, and will likely continue to do so as it works to push its spin off brands of Jack Daniels such as Tennessee Fire and Tennessee Honey, further up the board.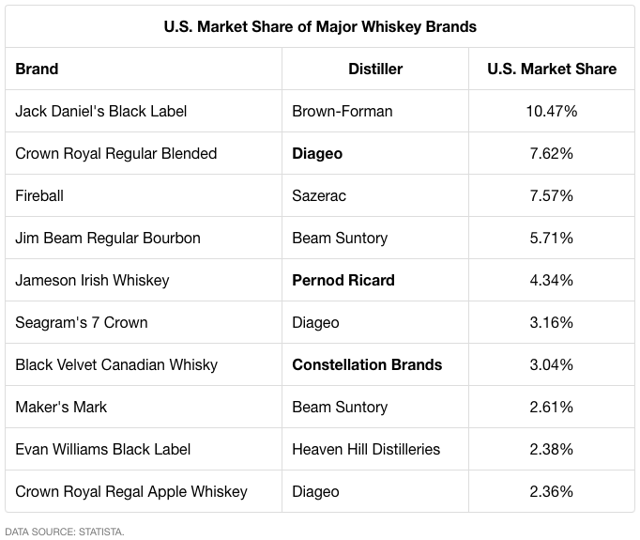 Aside from core markets, there is room for expansion internationally. Over the past decade the United States has gone from 59% of net sales, to 46% as sales outside the US continue to grow.

Even though Brown-Forman does multiiple billions of dollars in revenues on an annual basis, the United States remains the only $1M+ market for the company. Brown-Forman has an established presence in the UK, Australia, Mexico, Germany, Poland, France, Turkey, Russia, Canada, and Brazil among 160 countries world wide. If Brown-Forman were to succeed in breaking into Africa and Asia over the long term, it would unlock an entirely new growth frontier.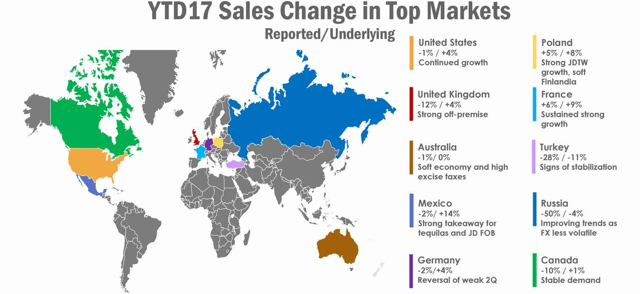 There are a few factors to consider when judging the valuation of Brown-Forman. It is an alcohol stock, with a consistent track record of top and bottom line growth. It has a paid a consistently growing dividend for the past three decades. Investors can expect to pay a premium to get their hands on shares.
In fact, over the past decade shares have traded at a median valuation between 21X-22X earnings over the past decade. With management expecting 2017 earnings to come in at around $1.75 per share this year (the EPS looks like it dropped only because of a recent stock split), shares are currently trading at almost 30X earnings.
This is partially product of a 10.58% surge in shares just over the last month alone - even after shares cooled off this week when Constellation Brands stepped aside. As much as alcohol stocks pay,it would be ill advised to fork over at 30X earnings for them, and still expect to get your money worth down the road. With such a deviation from its average multiple, I would bet that Brown-Forman will come back down to earth hard when the market faces a set back. Right now, we are at all time highs. If you wanted to pay in line with historical averages, 22X earnings would place shares at $38.50 per share.
The problem with that is, that in reality shares have very rarely traded in that range in the last 20 years. The recession has somewhat skewed traditional average data.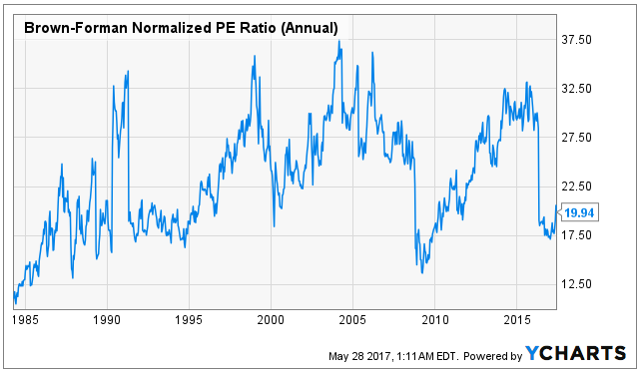 I don't typically pay more than 25X earnings for any company. After that point the risk of PE compression, or failure to meet such high standards becomes too high. There is no margin of safety at 30X earnings. Alcohol is one of the top performing sectors going back generations, and Brown-Forman has a solid growth trajectory in front of it. Again, it is OK to pay a reasonable premium for a quality stock in a lucrative sector such as Brown-Forman. I feel you could make a case for the 24-25X earnings range, the top end of my valuation scale. This would produce a price target of $42-$44 per share.
If you liked this article, please find my profile icon at the top of this page, and hit the "Follow" button. I enjoy engaging with those who comment, and am always looking for feedback that allows me to improve on the content I provide. As always, thanks for reading.
All graphics that are without labels, were sourced from Brown-Forman Corporation or myself.
Disclosure: I/we have no positions in any stocks mentioned, and no plans to initiate any positions within the next 72 hours.
I wrote this article myself, and it expresses my own opinions. I am not receiving compensation for it (other than from Seeking Alpha). I have no business relationship with any company whose stock is mentioned in this article.