Sales of Nintendo's (OTCPK:NTDOY) Switch drove a 25%, $77 million increase in new hardware revenues for GameStop (NYSE:GME) in the first quarter. However, the larger, higher margin new and pre-owned software segments continue to see substantial declines, down $47 million and $34 million respectively. Gross profit declines in these physical game segments of a combined $24 million outpaced the $10 million gross profit rise in new hardware.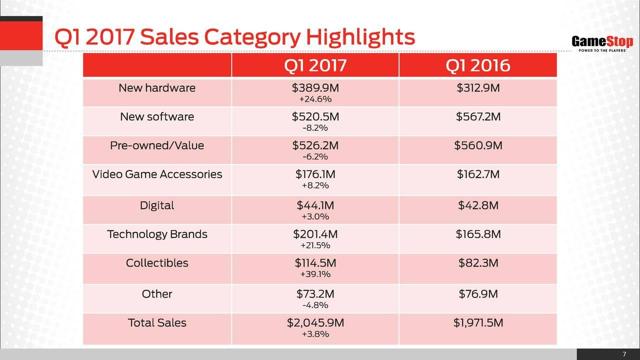 -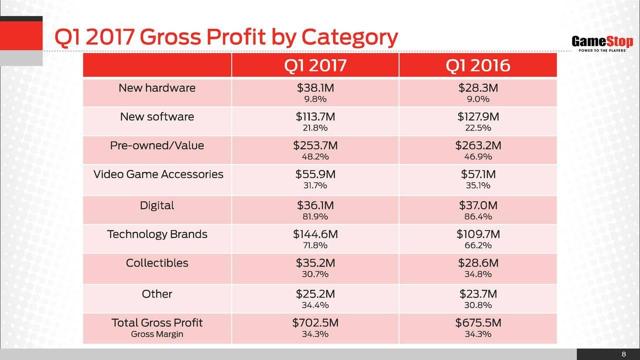 Source: GameStop Corp. 2017 Q1 Results Earnings Call Slides
Taken as a whole, GameStop's core gaming segment is facing substantial and sustained declines. New games software is pressured not just by the advent of full game digital downloads, but by the online networks and communities driving the shift. Specifically, the Xbox and PlayStation networks continue to shorten GameStop's all important B-tier game tail. And pricing in the used segment appears pressured by Amazon's (NASDAQ:AMZN) Trade-In program.
New hardware sales are supported by the Switch launch, though GameStop's allocation is unspectacular. Major retailers are running promotions for the Switch and its new titles. Target (NYSE:TGT), for instance, decked out shopping carts at 650 locations for the launch of Mario Cart 8 for Switch. GameStop's COO Tony Bartel added the following color on the Q1 conference call:
Yes, we were lower than our, what we would call, our average next-gen market share. So, and that's typical when you have a highly allocated product, it would take an incredibly bold company to allocate us at our normal market share. The calls they would get from our competitors would be, I can't imagine. So it would be a very bold move and it has never happened. So this is typical when there's a launch of a heavily allocated product.
Offsetting the slide in core gaming, collectibles continued to excel, up 39% over Q1'16. Though note in the charts above, the size of the segment and gross profit levels are subordinate to software. Stores in the U.S. are doubling shelf space from 7-15% for collectibles and the company is opening approximately 30 additional collectibles-only ThinkGeek locations around the world.
Tech Brands and the iPhone 8 Perfect Storm
As the crest of Switch sales and follow-on game sales abates, proponents of GameStop's diversification plan will shift focus to tech brands. Though inorganically, tech brands revenues were up 21% to $201 million. The company in Q2'16 had acquired 507 AT&T (NYSE:T) stores for $440 million. Interestingly, gross profit in the segment grew $35 million to $145 million and margins were improved on better mix.
But bottom line adjusted operating earnings declined 2% to $18 million. Comparable same-store gross profits were down 19% with traffic down 7%. Significant additional stores and better mix could not offset lower sales per store and the operating costs of newly acquired stores.
While the tech brands segment is currently floundering, later this year Apple (NASDAQ:AAPL) will launch the iPhone 8. GameStop's AT&T stores are well positioned to capture traffic and sales from the launch. Analysts believe this year will be a strong cycle as many iPhone 5 and 6 customers have waited but are now ready to upgrade, especially if the new device is well received. The timing combined with an innovative new device could present the perfect storm of phone profits.
However, while discussing the upcoming cycle on GameStop's Q1 conference call, SVP of Technology Brands Jason Ellis startled listeners by saying:
And then in terms of online, I mean, really, one of the things that's great about the category that we're in is it's been incredibly resilient to online activation. And so we're not seeing across the board much growth at all in any of the carriers' business online and we expect those customers will come buy the new innovation, they'll want to see it and transact in our retail stores.
This myopic vision of the future surprises because of the company's experience with their brick and mortar gaming stores. Everyone intuitively knew online/digital networks would eventually change GameStop's game business, though it did take until last year to manifest itself in declines. And while retail may dominate the current phone cycle, the future of mobile hardware and activation is online.
Conclusion
GameStop's historic value proposition was enabling hardcore gamers, through trade-in, to share the costs of a large B-tier game library/experience with their peers. Increasingly, hardcore gamers join networks and communities; the majority of content and experiences are acquired digitally. To offset this shift, GameStop increasingly retails collectibles to their gaming and geek customers.
While significant, collectibles earnings alone cannot equal declines in the core segments. GameStop is diversifying into wireless products and services. The diversification strategy revolves around acquiring and managing new brick and mortar locations. Over time, this business will likely face the same new economy pressures the gaming segment suffers.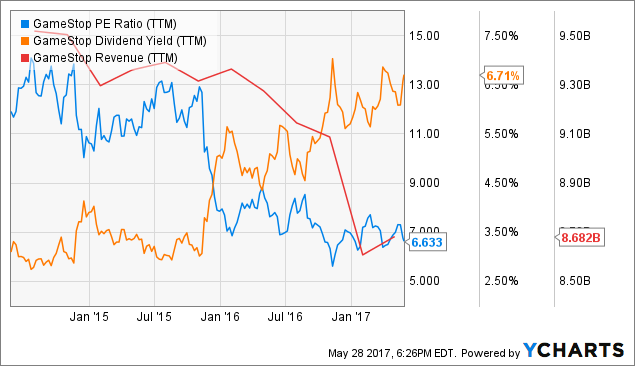 GME PE Ratio (TTM) data by YCharts
GameStop is conservatively financed and trades at a low multiple. However, the lack of a long-term value proposition for consumers will erode market confidence in future earnings and the dividend. GameStop is a textbook value trap.
Disclosure: I/we have no positions in any stocks mentioned, and no plans to initiate any positions within the next 72 hours. I wrote this article myself, and it expresses my own opinions. I am not receiving compensation for it (other than from Seeking Alpha). I have no business relationship with any company whose stock is mentioned in this article.