The Richmond Federal Reserve printed a rather dreary number for this month. I am betting that not too many traders make moves off of the Richmond Fed number. But, it is indicative of what is happening in the world's manufacturing base and the United States economy: Both are slowing. Inclusive of other manufacturing data around the world, the outlook is for lower manufacturing output and lower demand for a key ingredient in manufacturing: Copper. The price of copper is heading lower.
Copper is an industrial metal. The price of copper can be tracked from the demand for it in industry. If the economy begins to slow, the price of copper will follow suit. There is a correlation, however, there are disconnects at times. Lately, the correlation has been strong: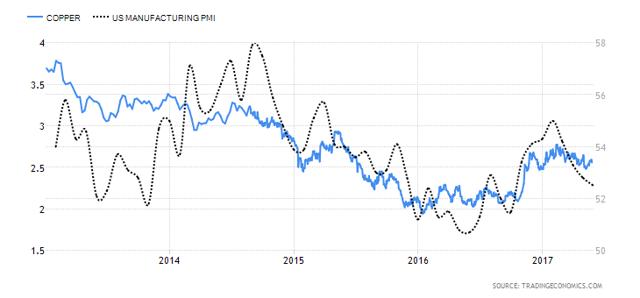 About two months ago, I had gone long copper (When PMI numbers were pushing higher). That trade went nowhere and my risk/reversal on the options expired out of the money. We are starting to get more and more data releases that are showing slower and slower economic growth; however, I do not see a recession on the way. Instead, I see very slow economic growth that basically is flatline and I see this for at least for the near term future.
I start all of my analysis with the consumer and their incomes. I analyze what is happening with the rate of growth in incomes. From there, what do individuals do with their incomes? If the rate of growth in America's incomes is increasing then the rate of growth in America's expenditures increases; One need look no further than personal savings to see that Americans spend what they make and they spend nearly all of it. Therefore, a high increase in the rate of growth in incomes means a high increase in the rate of growth in expenditures. Likewise, a low rate of growth or even a negative rate of growth in incomes equates to a respective low or negative growth rate in expenditures.
Incomes in the United States are growing. They are growing slowly. And, expenditures are moving about the same direction. Expenditures are off from highs over the past few months. It seems that many Americans were excited about the prospects of a Republican-controlled government and the potential that would have on the economy. However, the Republican-controlled government is far too busy avoiding a presidential impeachment than getting meaningful legislation through Congress.
Via the Bureau of Economic Analysis (My chart), personal incomes (blue line) and personal expenditures (red line) move in tandem, however, not at a purely 1:1 ratio. The rate of growth in incomes is just above 2%, although it has had a small bump upward recently. Despite that, this is off from the levels of 2014: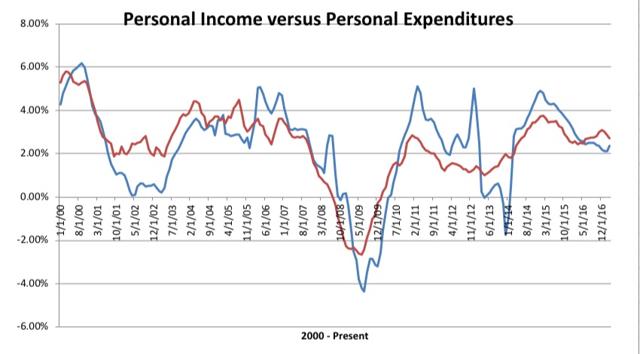 Inflation is up. In fact, the Federal Reserve's favorite inflation index is the Personal Consumption Expenditure Index and their target rate is 2.00%. Inflation is slightly above that rate. Unfortunately, inflation is a slightly lagging indicator. And, as this chart shows, inflation is likely to come back down at some point in the future based on the rate of consumption (Consumption: Blue Line, PCE Index: Red Line):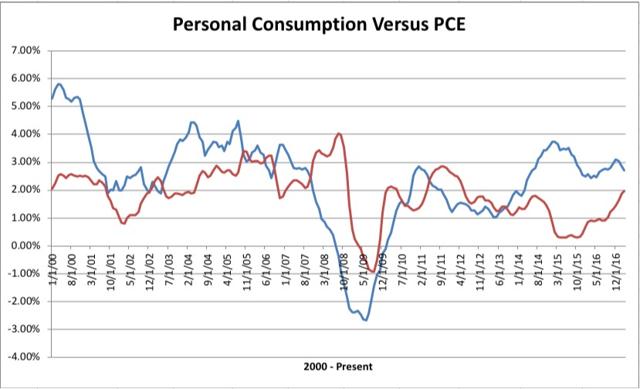 You can see the lags in the peaks from some of the highs in expenditures until it works its way into inflation levels.
Going into the end of 2016 in the United States, there was a large surge in expenditures for autos and surges with expenditures using credit cards. Now, there is a move higher in 90-day delinquency rates. If you look at the chart on personal incomes above, you do not see the move higher in incomes corresponding to the increases in expenditures that were witnessed in the economy. And, now it is time to pay those loans. That is the reason for the delinquency rate moving higher.
New home sales have printed lower numbers over the past month. Some lenders have started to restrict lending as they set aside money for potential loan losses. That will affect copper to some effect. But, it is the Richmond Fed that really cemented things for me.
China's manufacturing has been slowing down, but the slowdown has not been impressive enough to really push me to do something about it. Yet, if you think about China's manufacturing, you could easily think of it as America's manufacturing base since just about every American manufacturer has left for China. Then, if America, the world's largest economy, slows down, then China's would need to do the same seeing how China is largely going to manufacture what America needs. Here is a chart on China and America via Markit PMI: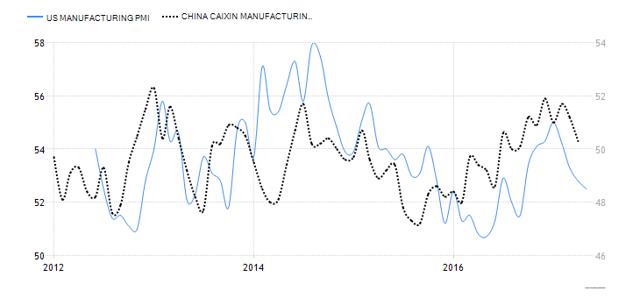 The two PMIs generally trend in line with each other. Both of these PMIs are starting to trend downward. This coincides with the Richmond Fed release we just got. Also, the New York Fed number saw a large drop and even went negative, as the two respective charts show:
To be fair, Chicago and Philadelphia were both positive for this month and moved higher. So, I am not declaring a complete meltdown in the manufacturing base. But, the general trend in the economy is slowing and these manufacturing reports are coinciding with that.
This brings up copper. The economy is beginning to slow. There is decreasing activity in both manufacturing and new home sales. Ultimately, this will equate to a lower price in copper with lower demand.
This may not be the exact point at which to sell copper and who can ever call that? But, the general trend that I see in the economy, along with commodity prices, is that the economy is slowing down from its current pace and, therefore, demand for copper will be doing the same.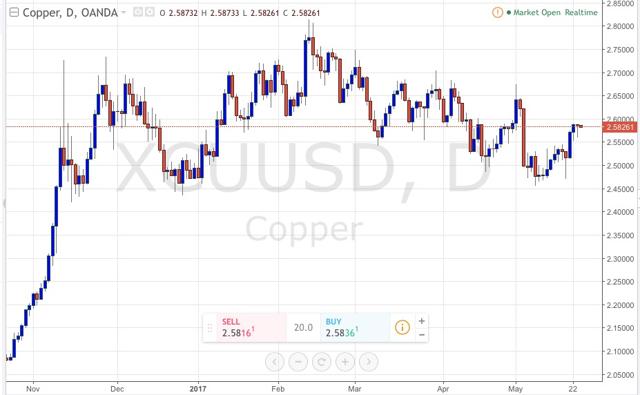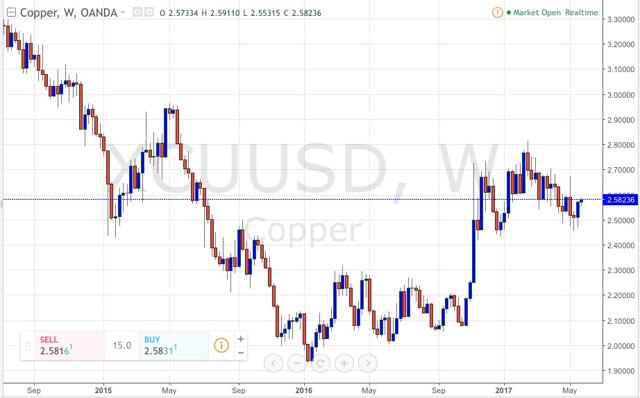 I am going to put on a risk/reversal with options shorting copper for a multi-month trade looking for a retracement of the move higher from October. There seems to be some buying coming in at $2.50. I am looking for a move below that. I think as we move through the summer, there will be more activity in China that is negative. Also, the Federal Reserve is expected to raise interest rates, a buzz-kill for home financing. There is already a shortage of affordable housing. Interest rate increases are just going to make that even more difficult.
The price of copper will fall with higher interest rates and lower economic growth.
Disclosure: I/we have no positions in any stocks mentioned, but may initiate a short position in COPPER over the next 72 hours.
I wrote this article myself, and it expresses my own opinions. I am not receiving compensation for it (other than from Seeking Alpha). I have no business relationship with any company whose stock is mentioned in this article.